I can't believe that only a few years ago I was used to buying granola at the supermarket. Once you try to make it yourself and you realize how easy it is, you wont'be able to buy it again!
The best part of homemade Vanilla almond granola is that you can use simple ingredients that most of us have in the cupboard. It's a great way to finish those leftover nuts, dried fruits or spices. All you need is a bowl and your hands!
I love how simple and healthy this recipe is. No fancy ingredients, just almonds and oats. Sweetened with maple syrup only, this recipe is low in sugar, vegan, dairy-free and can be made gluten-free just by making sure to choose certified gluten-free oats.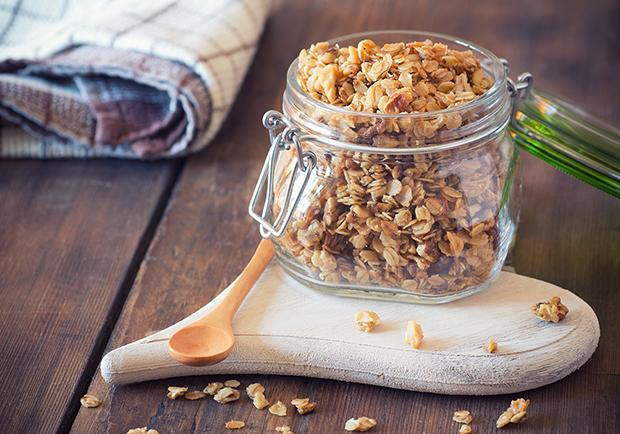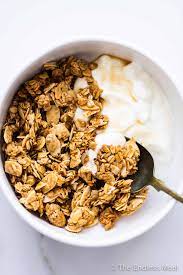 Vanilla almond granola
vegan, dairy-free, refined sugar-free, gluten-free option
Ingredients
130 

grams 

fine oats

60 

grams 

rolled oats

30 

grams 

oat flour

1/4

tsp 

pink salt

1/2

tsp 

ground cardamom

40 

grams 

almonds, chopped

50 

grams 

almond slices

70

grams 

pure maple syrup

50 

grams 

coconut oil, melted

1

tsp 

vanilla bean paste

1/2

cup 

coconut chips, optional
Instructions
Preheat your oven to 340˚F (170˚C/150˚C fan).

In a large bowl, combine, the oats, oat flour, salt, cardamom, chopped almonds and almond slices.

Combine the melted coconut oil with maple syrup and vanilla bean paste. Pour over the oats mixture and mix well. Use your hands!

Spread the granola evenly onto a baking sheet. Bake for about 16-18 minutes, stirring after about 10 minutes.

Leave to cool completely. Add the coconut chips, if using.

Store in an air-tight container.Enjoy with some milk, yogurt or snack it straight from the jar!
Notes
*choose certified gluten free, if needed
Cooking tips Vanilla almond granola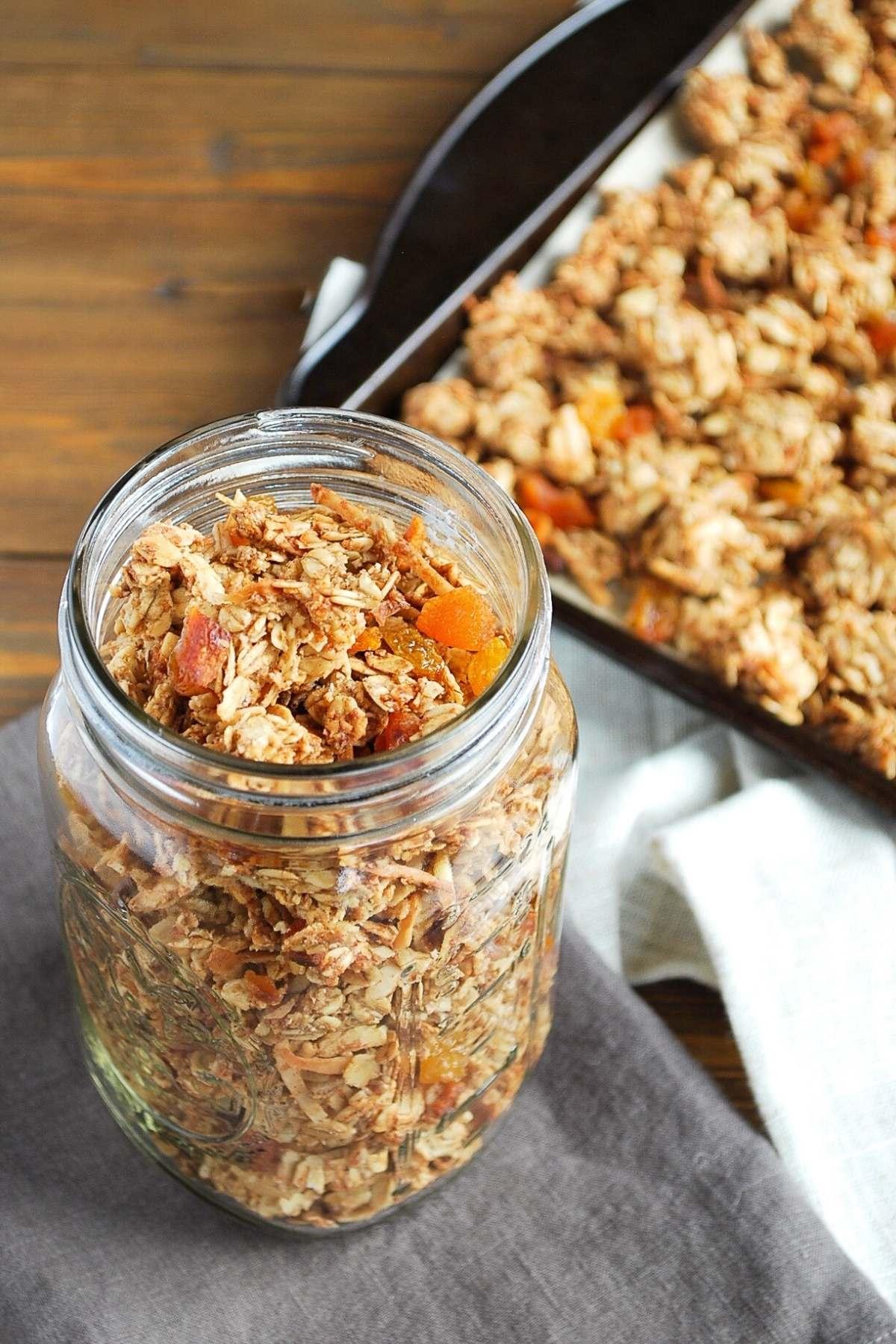 Sure, here are some cooking tips for making vanilla almond granola:
Use old-fashioned oats: Old-fashioned oats work best for making granola because they hold their shape and texture during baking. Quick oats may become too soft, and steel-cut oats may not cook evenly.
Spread the mixture evenly: To ensure that the granola bakes evenly, spread the mixture in a thin, even layer on the baking sheet. Don't overcrowd the pan, or the granola may become clumpy and uneven.
Stir occasionally: To prevent burning and ensure even baking, stir the granola every 10-15 minutes during baking. This will also help the granola to form clusters.
Add the almonds later: Almonds can burn easily, so it's best to add them to the granola mixture during the last 5-10 minutes of baking.
Let it cool: Let the granola cool completely on the baking sheet before breaking it into clusters. This will help the granola to become crispy and crunchy.
Store in an airtight container: Store the granola in an airtight container at room temperature for up to two weeks. You can also freeze it for longer storage.
Customize the recipe: Feel free to customize the recipe by adding other nuts or seeds, such as walnuts or pumpkin seeds. You can also add dried fruit, such as raisins or cranberries, after the granola has cooled. Just be sure to adjust the cooking time and temperature accordingly.
Nutritional ingredients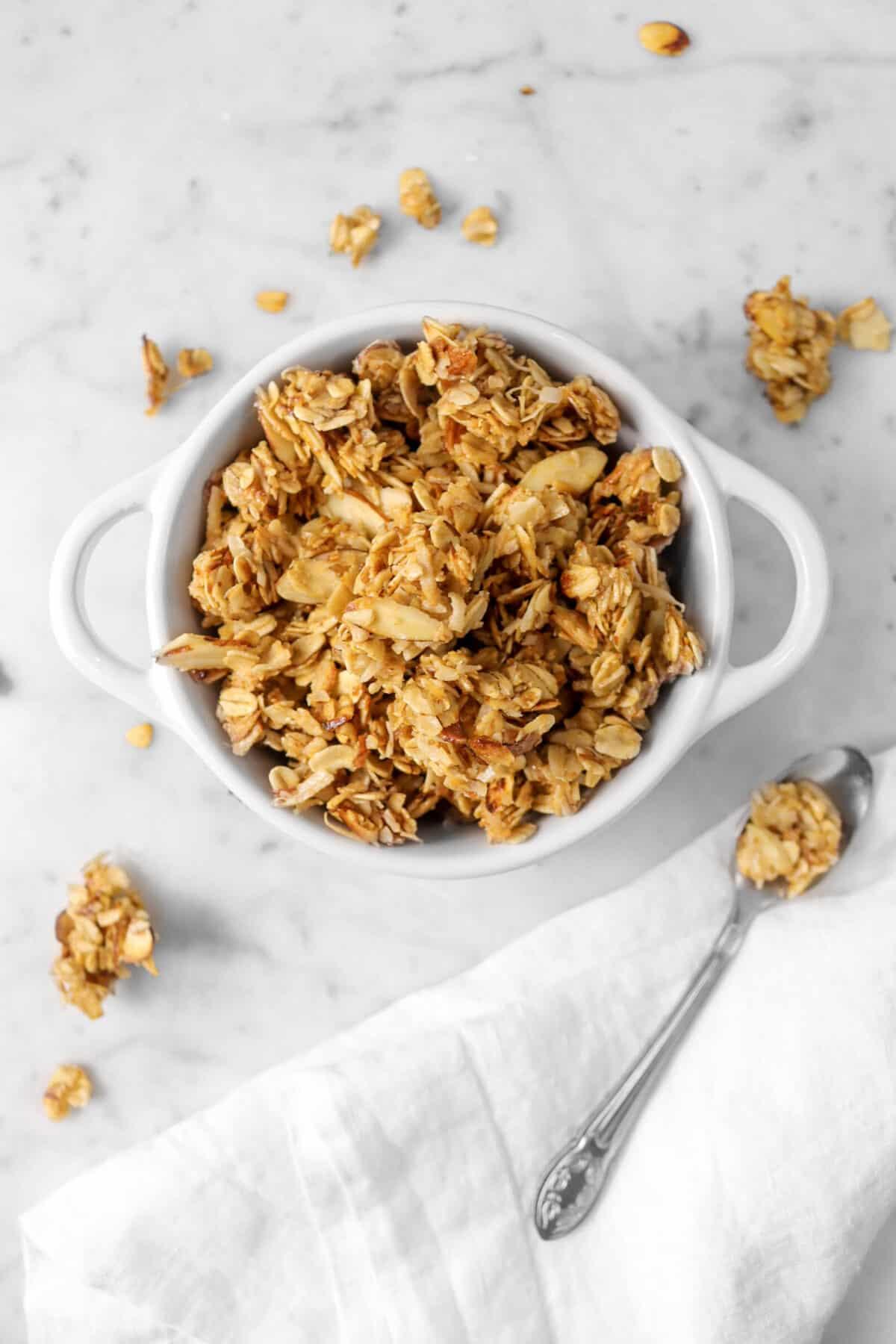 Here are some of the nutritional ingredients in vanilla almond granola:
Rolled oats: Rolled oats are a good source of fiber and protein, which can help keep you feeling full and satisfied. They are also rich in vitamins and minerals like iron, magnesium, and zinc.
Almonds: Almonds are a good source of healthy fats, fiber, and protein. They can help reduce inflammation, lower cholesterol levels, and promote heart health.
Honey: Honey is a natural sweetener that is rich in antioxidants and can help boost immunity. It also contains small amounts of vitamins and minerals like iron, calcium, and potassium.
Coconut oil: Coconut oil is a plant-based oil that is high in saturated fat. However, it is also rich in medium-chain triglycerides (MCTs), which can provide a quick source of energy and may have other health benefits.
Vanilla extract: Vanilla extract is a natural flavoring that can add sweetness and aroma to granola. It is also rich in antioxidants and may have anti-inflammatory properties.
Cinnamon: Cinnamon is a spice that can add warmth and flavor to granola. It may also have anti-inflammatory and blood sugar-regulating effects.
Sea salt: Sea salt is a natural source of sodium, which is important for fluid balance and muscle function. However, it's important to use salt in moderation as excessive sodium intake can increase the risk of high blood pressure and other health problems.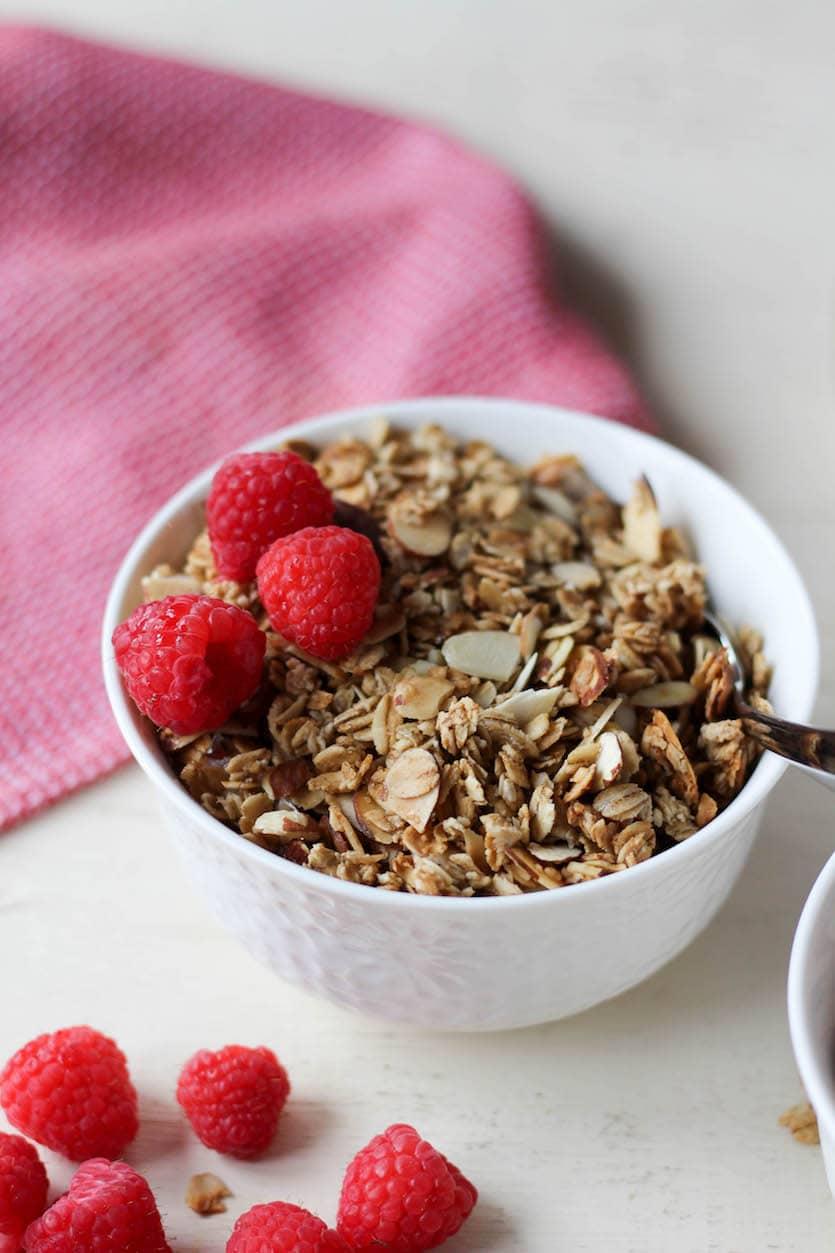 In conclusion, homemade vanilla almond granola is a healthy and delicious breakfast option that is easy to make at home. With a combination of rolled oats, almonds, honey, and other wholesome ingredients, this granola is packed with fiber, protein, and healthy fats.
It's also versatile and can be customized with different nuts, seeds, and dried fruits to suit your taste preferences. Whether enjoyed with milk, yogurt, or as a snack, vanilla almond granola is a tasty and nutritious way to start your day.