If you had to choose between one large waffle and 5 bite size mini waffles, what would you choose? I wouldn't esitate! In my opinion, Mini chocolate chip waffles are more satisfying and they taste even better!
If you're not a chocolate lover, or if you are looking for something lighter, check out my cinnamon version of mini waffles.
If you are looking for an Easter brunch idea, then you should absolutely make these!
Introduction to Mini Chocolate Chip Waffles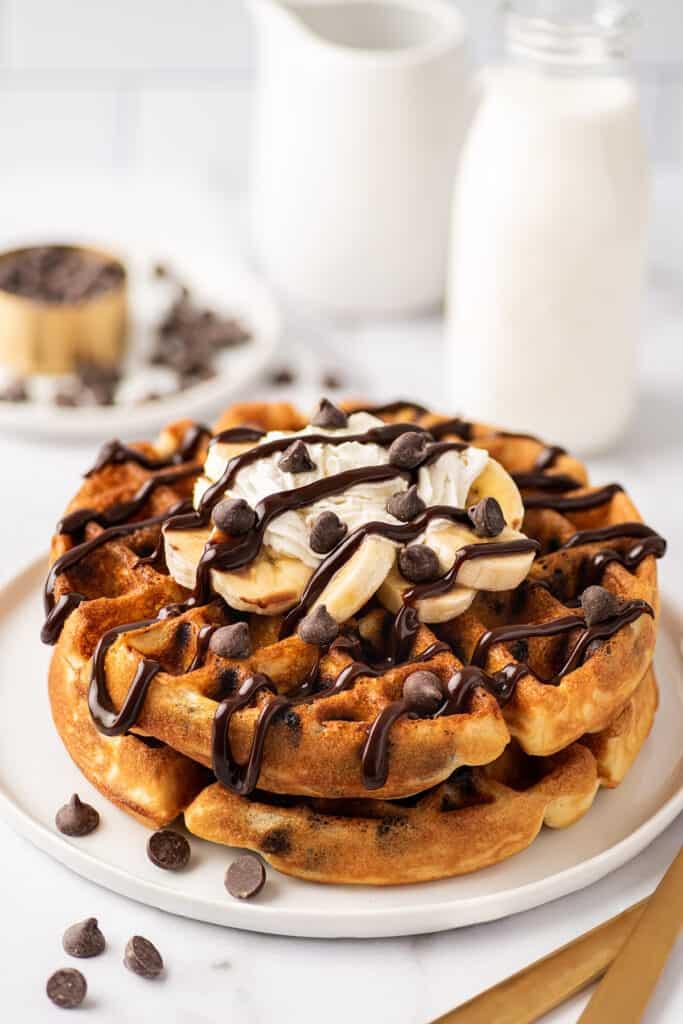 These mini waffles are super easy to make! All you need is a waffle iron (any regular one).
In order to make them mini, instead of making a batter, I made a waffle dough that can be easily divided into small portions.
To make the dough, I used a stand mixer. You can knead dough by hand but it will take longer.
The dough can be made in two ways:
Add the ingredients to the bowl of the stand mixer and knead a few seconds until just combined; cover the bowl for 5-10 min then keep kneading for 10 min. This method allow the gluten to develop during resting time, making kneading easier. Dough is soft and elastic.
Add the ingredients to the bowl of the stand mixer and start kneading without resting time for 10-15 minutes. It takes longer to get that soft and elastic texture we are looking for. Can overheat the stand mixer.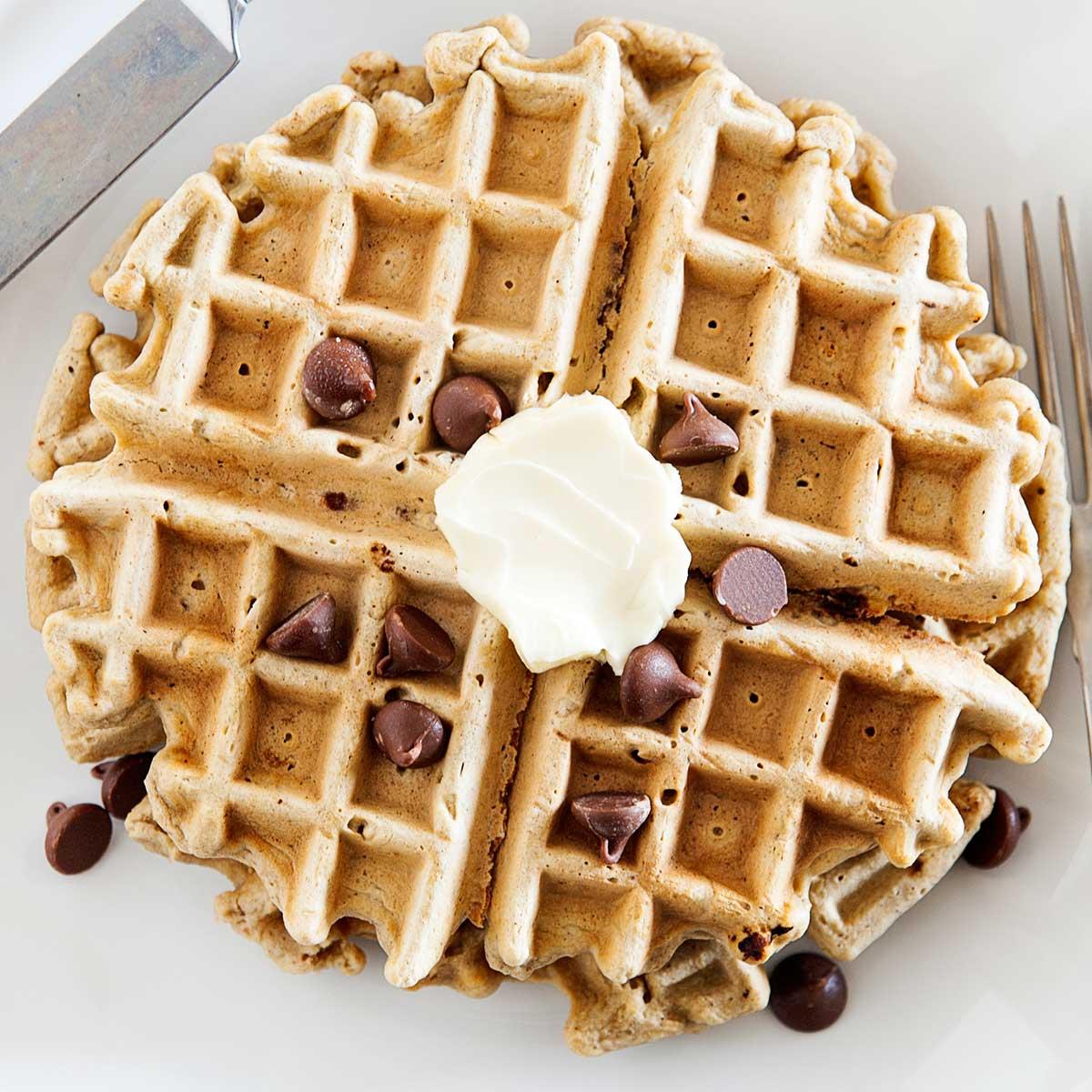 The mini waffles are best right after baking, but you can keep them covered on the counter for 1-2 days and microwave for 30 seconds before serving!
Sprinkle powdered sugar on top for extra sweetness!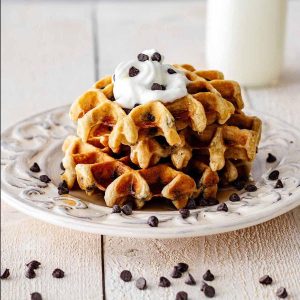 Mini chocolate chip waffles
dairy-free, egg-free, vegan
Equipment
Stand mixer, optional but recommended
Ingredients
250 

g

(2 cups) all purpose flour

1,7

g

(1/2 tsp) instant dry yeast (or 1/2 pack active dry yeast)

35

g

(3 tbsp) light brown sugar

1/4

tsp 

ground cinnamon optional

1/4

tsp 

fine salt

110 

g

(1/2 cup) softened plant based butter / dairy butter

120 

ml 

(1/2 cup) oat milk or other milk of choice

70 

g

(1/2 cup) mini chocolate chips
Instructions
Add flour, yeast, sugar and salt (and cinnamon, if using) to the bowl of a stand mixer. Whisk to combine.

Add milk and softened butter and knead with hook attachment until just combined.

Cover and let rest for 5 min.

Knead on medium until smooth (10 min).Cover and let rise in a warm place (ideally 35C degrees) for 1h- 1h 30 or until doubled in size.

Divide dough into small pieces (about 1 tsp/ 10 g each). Add some chocolate chips to each piece and roll into balls.

Bake according to the machine instructions. (About 1 min).
Cooking tips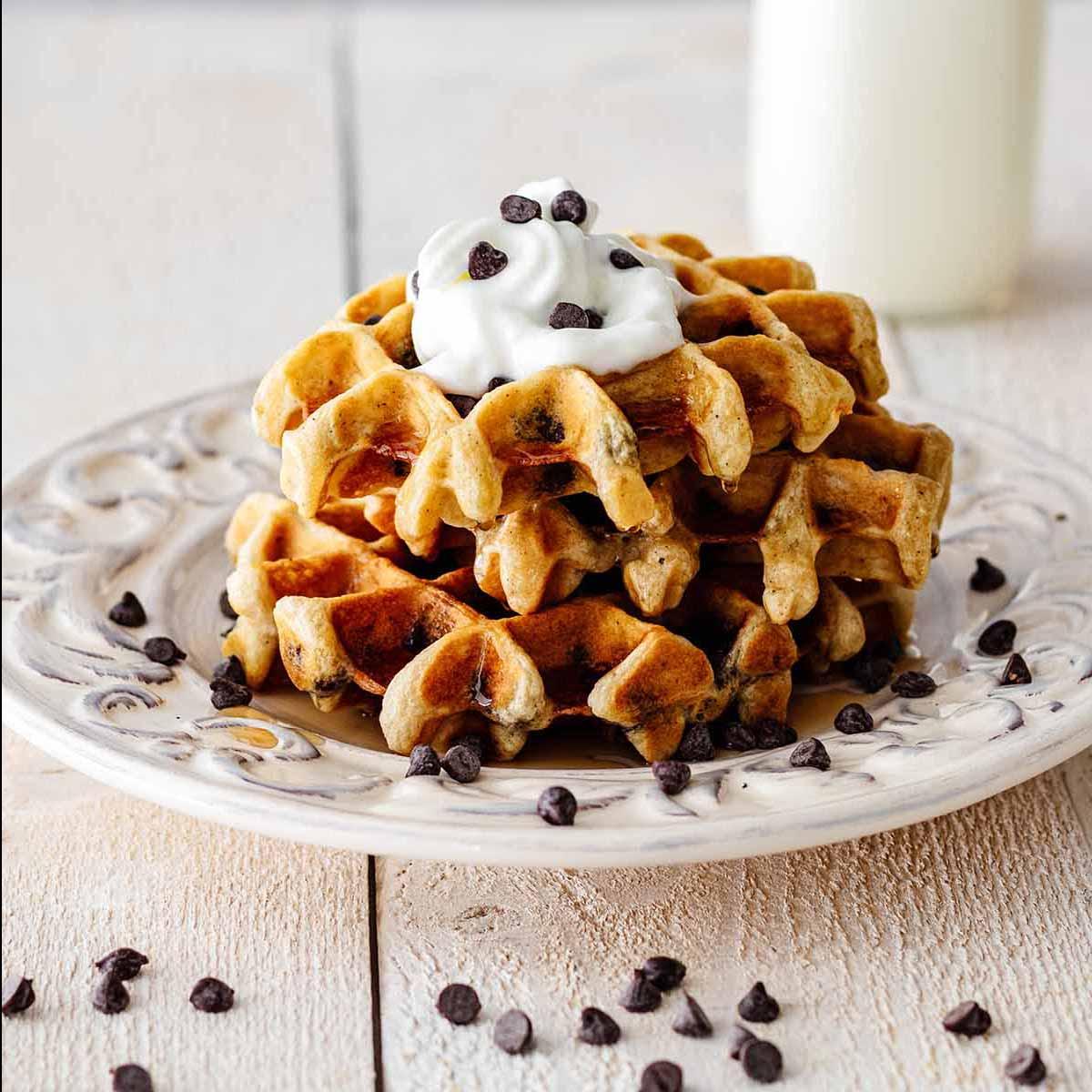 Here are some cooking tips for making mini chocolate chip waffles:
Preheat the waffle iron: Preheat your waffle iron according to the manufacturer's instructions before making the batter.
Use a non-stick waffle iron: Use a non-stick waffle iron or spray a regular waffle iron with non-stick cooking spray to prevent the waffles from sticking.
Mix the batter well: Mix the batter well with a whisk or fork to ensure that the ingredients are evenly distributed. Make sure to mix until there are no lumps in the batter.
Add the chocolate chips last: Add the chocolate chips to the batter last and stir gently to avoid breaking the chips apart.
Use a small scoop or spoon: Use a small scoop or spoon to add the batter to the waffle iron. For mini waffles, use about 2 tablespoons of batter per waffle.
Cook for the right amount of time: Cook the waffles for the recommended time in the waffle iron, or until they are golden brown and crispy on the outside.
Serve immediately: Serve the mini chocolate chip waffles immediately after cooking for the best texture and flavor. Top with additional chocolate chips, whipped cream, or fresh fruit as desired.
By following these tips, you can create delicious and fun mini chocolate chip waffles that are perfect for breakfast or brunch.
Nutritional ingredients
The nutritional content of mini chocolate chip waffles will depend on the specific recipe and ingredients used. Here's a general overview of the nutritional ingredients commonly found in mini chocolate chip waffles:
Flour: Provides carbohydrates and some protein to the waffles.
Eggs: Contribute to the structure and texture of the waffles and provide protein.
Milk: Adds moisture and richness to the batter.
Baking powder: A leavening agent that helps the waffles rise.
Salt: Enhances the flavor of the waffles.
Sugar: Adds sweetness to the waffles. Depending on the recipe, you may use granulated sugar, brown sugar, honey, or maple syrup.
Vegetable oil or melted butter: Adds moisture and richness to the waffle batter.
Vanilla extract: Enhances the overall flavor of the waffles.
Mini chocolate chips: Provide the delicious chocolate flavor and add texture to the waffles.
Optional toppings: Mini chocolate chip waffles can be served with various toppings like fresh berries, sliced bananas, whipped cream, maple syrup, or a dusting of powdered sugar.
It's important to note that the nutritional values will vary based on the quantities of these ingredients used in the recipe and the number of waffles the recipe yields. If you have a specific recipe, you can input the ingredients into a recipe calculator or use a nutrition app to get more accurate nutritional information. Also, consider any modifications or substitutions made to the recipe, as they may impact the nutritional content.