Cheesecake is one of my all-time favorite cakes but for some strange reason, I have never tried making Summer cheesecake with blueberry sauce at home before!
Maybe it's because every time I searched for cheesecake recipes, they all looked so complicated with all those steps and especially because of the water bath (which sounded so intimidating but it ended up being so much easier than I thought!)
Introduction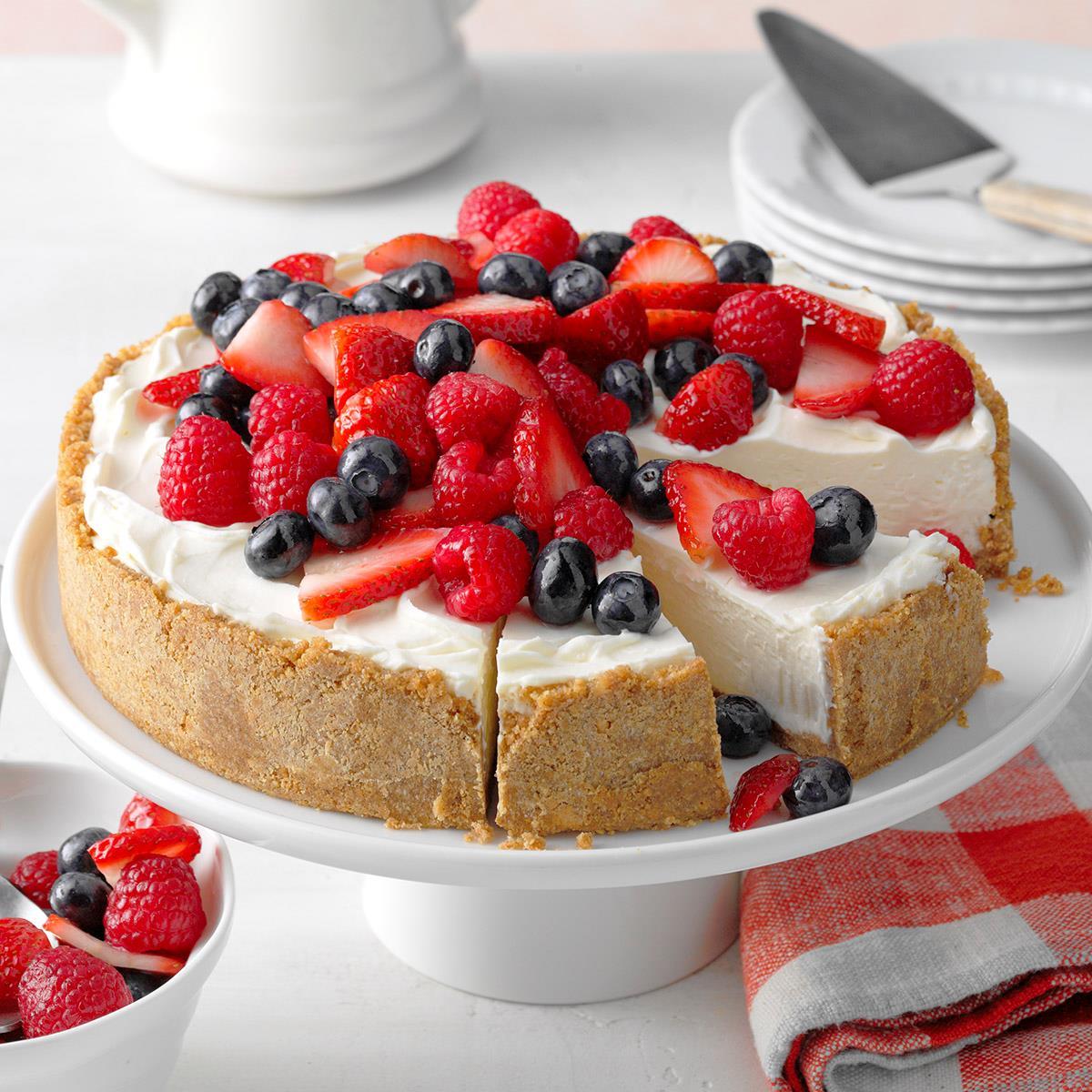 LatelyI, I really wanted to find my own recipe, a fail-proof one, easy and delicious. And after many attemps (and fails) I came out with THE recipe and I am so happy to share it with you guys today!
The texture is rich and creamy, fresh and summery! Serve it during a brunch or after a light meal to make everybody happy!
I made this recipe using regular, dairy, full fat ingredients. I am testing a vegan version and I'll be sharing it with you soon. For dairy-free, please replace dairy ingredients with full fat dairy-free ingredients.
For Gluten-free, make sure that you're using GF cookies for the base and GF flour in the filling.
You can use any cookie of choice to make the base. In my opinion, digestive cookies work best. But for an extra pinch of flavor, I also like to use half Biscoff and half digestive cookies, much like the infusion of matcha in a green tea cheesecake for that added twist.
Note for Summer cheesecake with blueberry sauce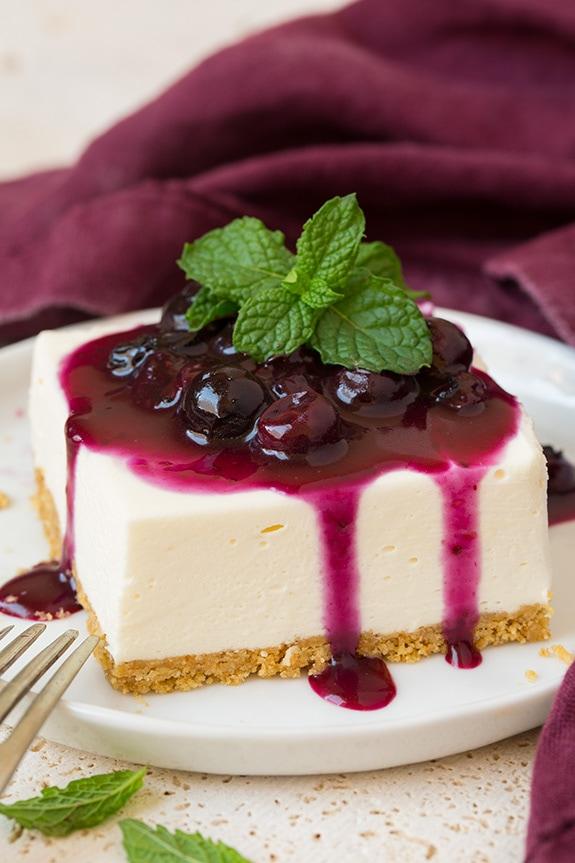 This recipe is not complicated, but you really need to be very precise. Just as the art of using dutch ovens for sourdough bread requires attention to detail, every step matters in creating this perfect cheesecake. Please make sure that all your ingredients are AT ROOM TEMPERATURE! This means, that you need to take out of the fridge cream cheese, yogurt, and eggs at least 4 hours before starting.
Use a SCALE to measure the ingredients properly.
Respect baking time. The cake is done when the sides are set and the center (just the center!) is a little bit woobly. If the cheesecake is browning too much, loosely cover with foil.
Respect resting time. The cheesecake needs to be refrigerated for at least 8 hours!
Be careful when beating the batter: always use low speed and a paddle attachment. NOT a whisk and NOT on high speed!
For this recipe, you'll need a SPRINGFORM PAN. I used a 20cm pan and the cake was tall and perfect. You can also use a 22 cm pan for a less tall cake. Make sure to grease the pan very well and to line the bottom with parchment paper.
Another important note: Use a large, heavy-duty aluminum foil to cover the cake pan carefully before placing it in the water bath. If you don't seal the pan perfectly, the water will find its way to the cake and you will have a soggy bottom.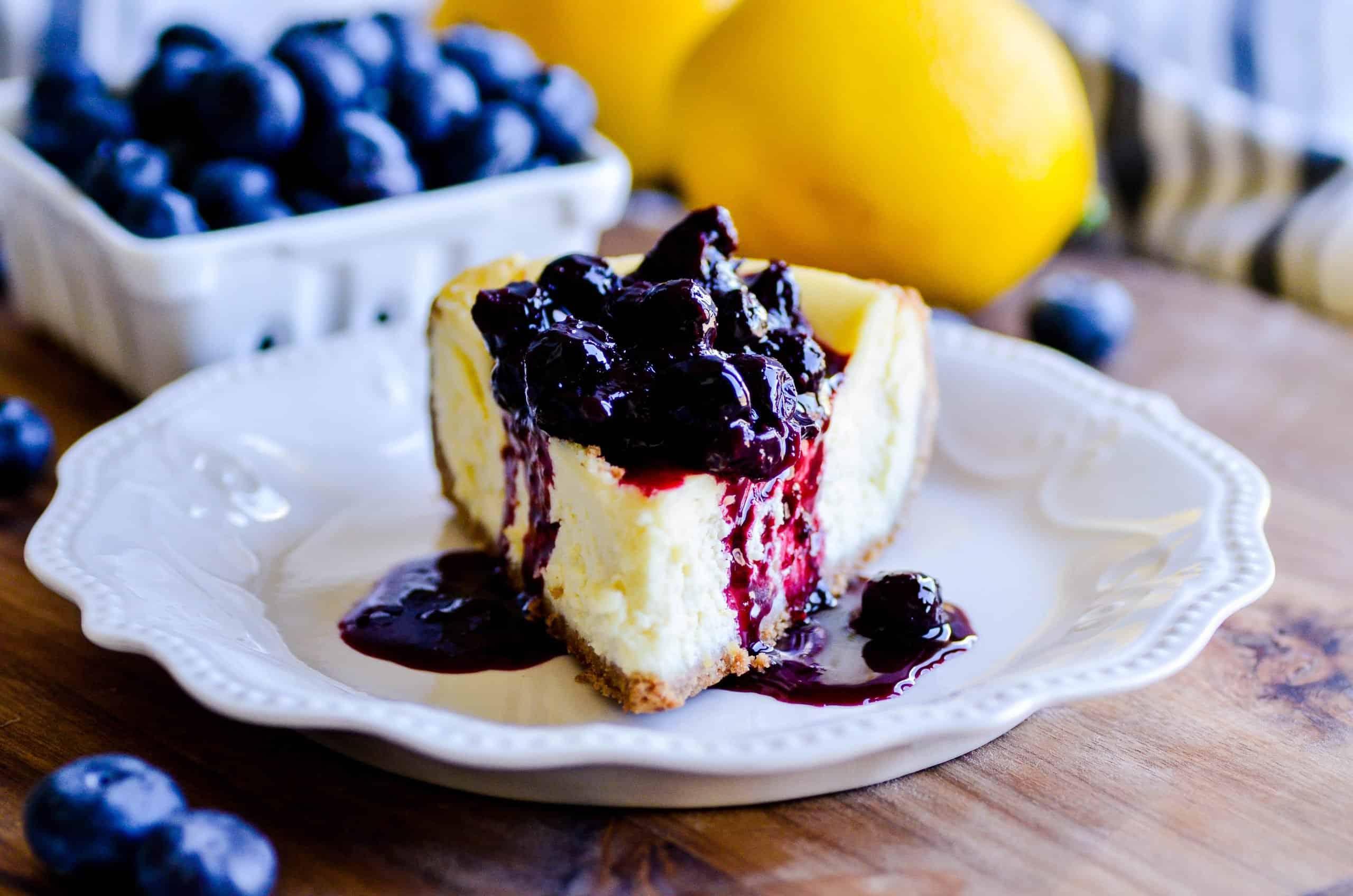 Please don't let all these notes scare you because this recipe is so worth it! The blueberry sauce is what makes this cake EXTRA and SUMMERY!
I got the idea for this sauce @thebakefeed and made my own version. It is made of fresh blueberries, vanilla and lemon. So delicious!
I am very happy that I now have my own cheesecake recipe and I really hope that you guys will love it too!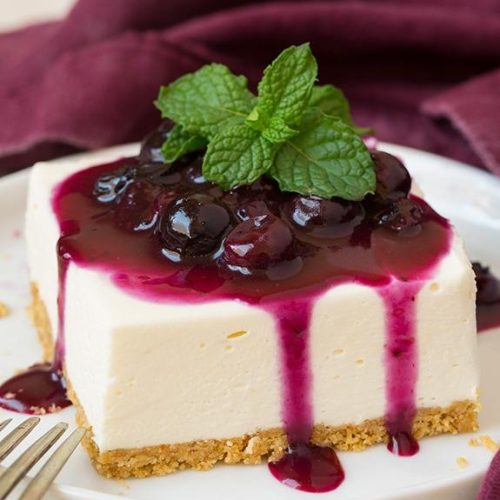 Summer cheesecake with blueberry sauce
Equipment
Stand mixer with paddle attachment, 20cm / – 22 cm springform pan
Ingredients
Ingredients for the base
250 

g

digestive cookies

50

g

butter, melted and cooled
Ingredients for the filling
680 

g

cream cheese room temperature

280 

g

caster sugar

4

(200g) eggs room temperature

180 

g

sour cream or full fat yogurt room temperature

1

tsp 

fresh lemon juice

1 1/2

tbsp

lemon zest

1

tsp 

vanilla bean paste

1/4

tsp 

salt

3

tbsp

all purpose flour
Ingredients for the blueberry sauce
300 

g

fresh blueberries, divided

80 

g

caster sugar

8

g

(1 tbsp) corn starch

30 

ml 

(1 tbsp) lemon juice

30 

ml 

(1 tbsp) water

1

tsp 

vanilla bean paste
Instructions
Make the base
Preheat oven to 180C degrees.In a food processor finely grind cookies. Add melted butter and blend until it resembles wet sand. Press evenly into bottom and halfway up sides of prepared pan.Bake until golden and set, 9-10 minutes; let cool completely.Reduce oven temperature to 170C degrees.
Make the filling
In the bowl of a stand mixer beat cream cheese with paddle attachment on medium speed until smooth and creamy (2 min).Gradually add sugar and beat until light and fluffy, 2 to 3 minutes.Add salt, lemon zest, lemon juice and vanilla and beat to combine.Sift in flour and beat to combine.Add eggs, one at a time, beating well after each addition.Beat in sour cream until just combined.Wrap the cake pan with heavy duty aluminum foil and place into a larger pan.Pour filling into pan.Pour enough boiling water into the larger pan to come halfway upsides of the cake and transfer to center rack of the oven.Bake until cake is puffed and golden brown on top and slightly wobbly in center, 1h30- 1h 40 min (if necessary, cover loosely with foil to prevent excess browning).Carefully remove spring-form pan from roasting pan; transfer to a wire rack and let cool completely (2hrs).Remove foil and run a small paring knife around sides of pan to loosen cheesecake.
Make the blueberry sauce
Combine sugar, corn starch, water, vanilla and lemon juice in a small saucepan.Stir in half of the blueberries and cook on medium heat until juicy and soft.Turn off the heat and add remaining blueberries. Let cool down completely.Pour the sauce over the cake and refrigerate for at least 8hrs (ideally overnight).Drape pan loosely with plastic wrap and refrigerate until cold, at least 8 hours and up to 3 days. Unmold cake and serve.
FAQs Summer cheesecake with blueberry sauce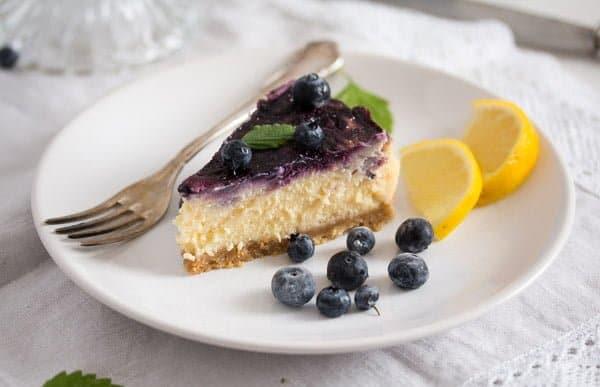 Q: What kind of cream cheese should I use for summer cheesecake with blueberry sauce?
A: Use full-fat cream cheese for the best texture and flavor in the cheesecake.
Q: Can I use frozen blueberries for the blueberry sauce?
A: Yes, you can use frozen blueberries for the sauce. Just make sure to thaw them first.
Q: How long should I bake the cheesecake for?
A: The baking time will depend on the recipe you are using. Follow the instructions in the recipe carefully and check the cheesecake frequently to ensure it doesn't overbake.
Q: Can I make the cheesecake ahead of time? 
A: Yes, you can make the cheesecake ahead of time and store it in the refrigerator for up to 3-4 days. Add the blueberry sauce just before serving.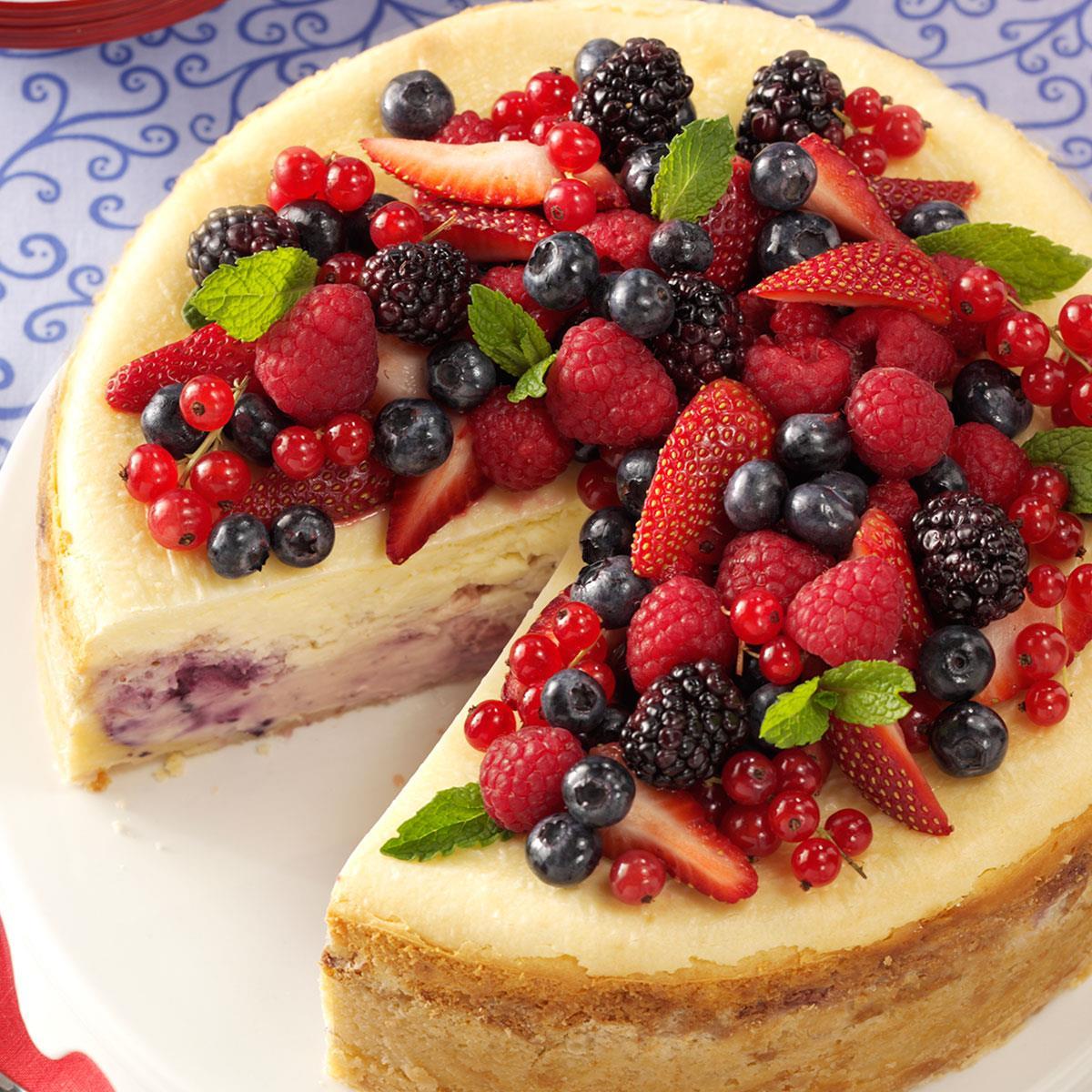 Q: How can I prevent cracks from forming on top of the cheesecake?
A: To prevent cracks from forming, make sure to not overmix the cheesecake batter and to bake the cheesecake in a water bath. You can also let the cheesecake cool in the oven with the door slightly open before transferring it to the refrigerator.
Q: Can I use a different fruit sauce instead of blueberry sauce?
A: Yes, you can use a different fruit sauce, such as raspberry, strawberry, or mango, depending on your preference.
Q: How can I make the blueberry sauce thicker?
A: To make the blueberry sauce thicker, add a small amount of cornstarch or arrowroot powder to the sauce and stir well. Cook the sauce over low heat until it thickens to your desired consistency.