These cute buns are called Zopfhasen (bread bunnies) in Switzerland and they're usually made during Easter time! Kids love them, but adults enjoy them even more!
The original Easter vegan Bunny Buns recipe is made of buttery bread dough with raisins or sultans.
I opted for a chocolate filling instead to make them even more delicious! Feel free to leave out the chocolate or to replace with raisins.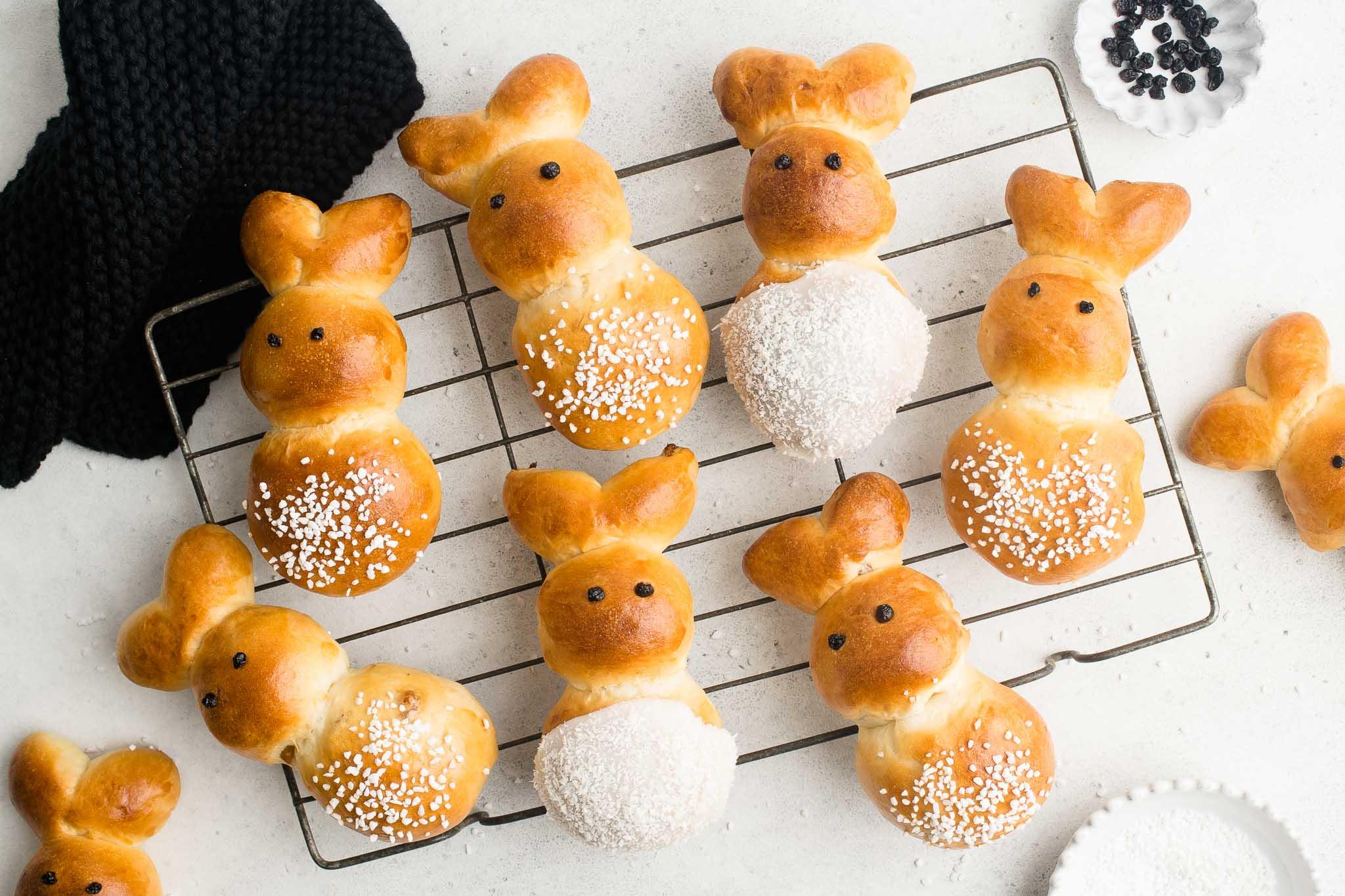 To shape the bunny buns, you will need 3 different dough balls: one bigger for the body, one medium for the head and a small one for the ears.
I usually divide dough as following: 50 g for the body. 30 g for the head and 20 g for the ears.
If you follow these measurements, you will get about 10-12 bunny buns.
I used vegan solid butter (not margarine) and soy milk. Feel free to replace with other plant mill (like oat or almond) or dairy milk and dairy butter if you don't mind the recipe not being vegan.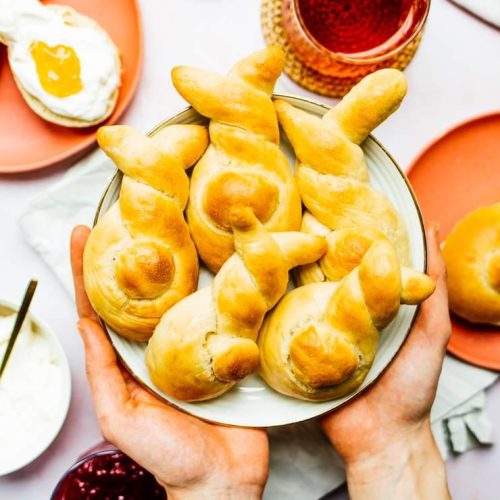 Easter vegan Bunny Buns
dairy and egg-free, vegan
Equipment
Stand mixer with hook attachment (optional, but recommended)
Ingredients
Dry ingredients
600

g

(4 cups) strong bread flour

100 

g

(1/2 cup) light brown sugar or caster sugar

1

tsp 

fine sea salt

12 

g

(4 tsp) instant dry yeast
Wet ingredients
360 

ml

(1 1/2 cups) soy milk warmed to 40°C (almond or oat is fine too)

1

tsp 

vanilla bean paste

60 

g

(4 tbsp) vegan butter, softened
Add-ins
10-12

chocolate squares for the filling

plant milk to brush the buns

mini chocolate chips for the eyes
Instructions
In the bowl of a stand mixer, add dry ingredients and whisk to combine.

Add warm milk, vanilla and softened plant butter and start kneading on medium-low. Knead for 10-15 minutes, until dough is smooth and elastic.

Shape dough into a ball and place into a lightly greased bowl.

Let rise in a warm place for 1h-1h30, until doubled in size.

When dough has risen, punch down to deflate and divide into 3 pieces, one big, one medium and one small (1x 500g, 1x300g, 1 x 200g approx).

Divide each piece into 10 pieces and shape into balls.

For each bunny, you'll need 1x50g (body)1x30g (head) and 1x20g (ears)dough pieces .

Assemble all the pieces to get 10-12 bunny buns. Place them on a lined baking tray, cover and let rise for 20 min.

While the buns are rising, preheat oven to 180C degrees.

Brush buns with plant milk, press 2 mini chocolate chips for the eyes (or use small pieces of dough to make a tail).

Bake at 180C degrees for 8-9 minutes.If the buns gets too dark, cover with foil.Enjoy warm!