Have you ever tried baked donuts? Easy vegan strawberry donuts  are much healthier than fried donuts and they're just as delicious as the classic ones! All you need is a donut mold, which is very easy to find.
These donuts are loaded with strawberries inside and they are dipped in a strawberry glaze for double yumminess!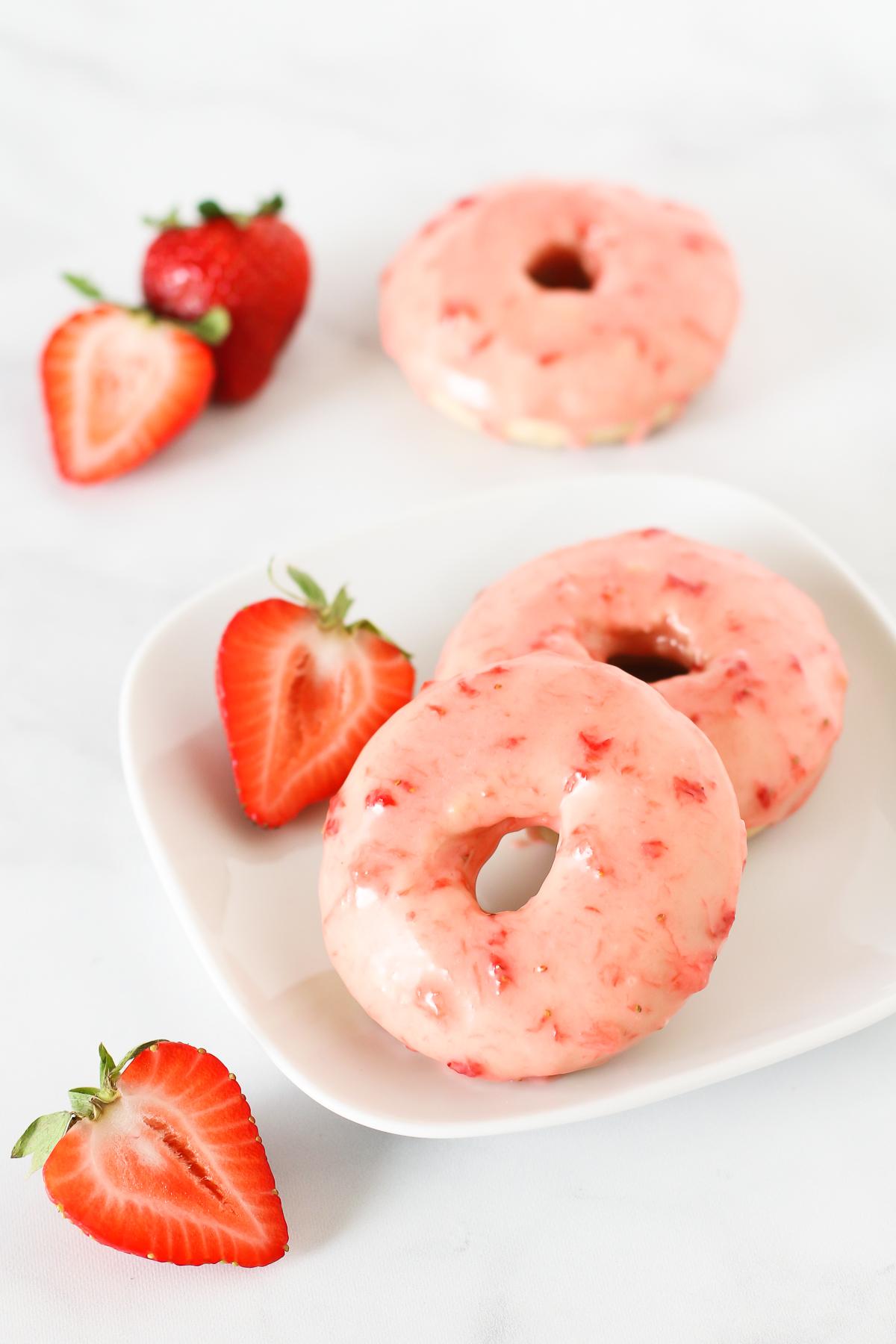 The glaze is absolutely optional, I prefer my donuts plain, so I only make the glaze for other people who ask for it. If you don't like glaze or you are limiting your sugar intake, just skip this step and enjoy the donuts right from the oven!
This Easy vegan strawberry donutsrecipe is super easy and so delicious, plus it's dairy and egg-free and suitable for a vegan diet.
In this recipe I used plant-based butter, the solid one that comes in a stick, not the margarine that is sold in a container. I always look for clean ingredients plant butter and I try to avoid the ones containing palm oil. You can also use regular dairy butter if you prefer.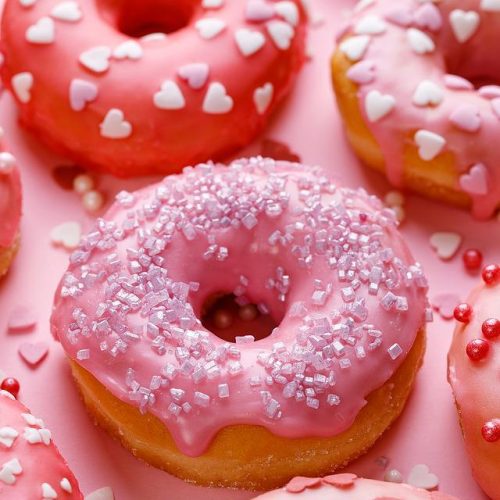 Easy strawberry donuts
dairy and egg-free, vegan
Ingredients
Dry ingredients
190 

g

(1 1/2 cups) all purpose flour

2

tsp 

baking powder

1/4

tsp 

fine salt

150 

g

(3/4 cup) light brown or caster sugar
Wet ingredients
180 

ml 

(3/4 cup) almond milk

40 

g

(2 tbsp) coconut yogurt unsweetened

50

g

(4 tbsp) melted vegan butter room temperature
Add-ins
150 

g

(1/2 cup) chopped strawberries

2

tsp 

corn starch
Ingredients for the glaze
140 

g

(1 cup) icing (powdered) sugar sifted

30 

ml 

(2 tbsp) almond milk

15

g

(1tbsp) vegan butter, melted room temp

4

medium strawberries

rose petals or sprinkles to decorate
Instructions
Instructions for the donuts
Preheat the oven to 350°F (180°C).

Prepare donut tray by spraying with non-stick spray or grease with little oil. Set aside.

Sift the flour, baking powder and salt into a mixing bowl and add the sugar. Whisk to combine.

Add the soy milk, soy yogurt and melted butter/ coconut oil and whisk to combine.

Place strawberries and corn starch in a small bowl and toss to coat. Add to the batter and gently fold to combine.

Transfer the donut batter into the mold with a spoon.

Bake for 17 minutes until lightly browned on top.

Remove from the oven and let cool for a few minutes before transferring the donuts to a wire cooling rack. Allow to cool completely before glazing.
Instructions for the glaze
Mash strawberries with a spoon over a fine mesh sieve to get the liquid out

Add sifted powder sugar, melted butter and soy milk to a small bowl and whisk to combine. Add strawberry liquid (about 3 tsp)and whisk to combine.

Dip the donuts into the sugar glaze and then place onto a parchment lined baking tray and decorate with toppings. 
Cooking tips Easy vegan strawberry donuts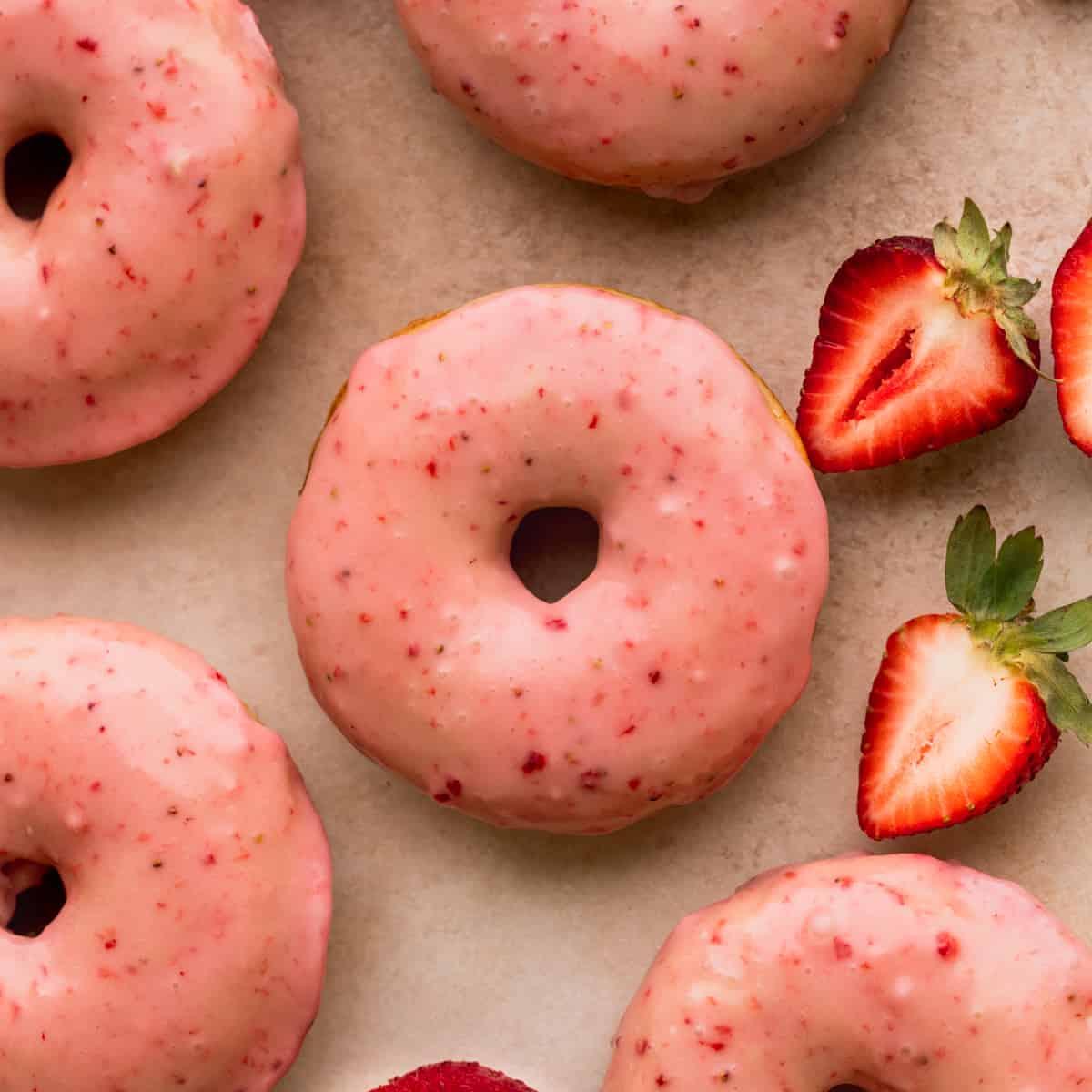 Here are some cooking tips for making easy vegan strawberry donuts:
Use a non-stick donut pan: Use a non-stick donut pan or spray a regular donut pan with non-stick cooking spray to prevent the donuts from sticking.
Use fresh strawberries: Use fresh strawberries for the best flavor. Wash and hull the strawberries before slicing them.
Blend the strawberries well: Blend the sliced strawberries in a blender or food processor until they are smooth and pureed.
Use a flax egg or applesauce as an egg substitute: To make the donuts vegan, use a flax egg (1 tablespoon ground flaxseed mixed with 3 tablespoons water) or applesauce (1/4 cup) as a substitute for the egg.
Use plant-based milk and butter: Use plant-based milk and butter, such as almond milk and vegan butter, as a substitute for dairy milk and butter.
Add the wet ingredients to the dry ingredients gradually: Add the wet ingredients, including the pureed strawberries, to the dry ingredients gradually while stirring gently. This will help to avoid overmixing the batter.
Bake at the right temperature: Bake the donuts at the recommended temperature in the recipe, and check them often to ensure they don't overbake. The donuts should be golden brown on the outside and a toothpick inserted in the center should come out clean.
By following these tips, you can create delicious and easy vegan strawberry donuts that are perfect for a sweet breakfast or snack.
Serving Suggestions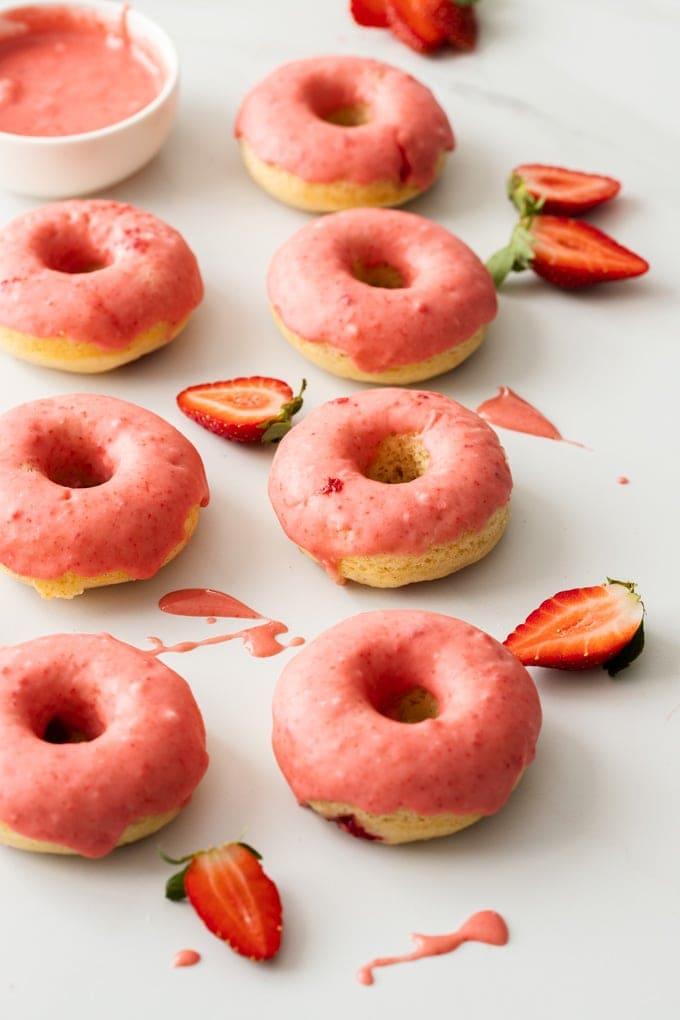 Here are some serving suggestions for easy vegan strawberry donuts:
Dust with powdered sugar: Dust the donuts with powdered sugar for a simple and classic presentation.
Drizzle with glaze: Drizzle a simple glaze made from powdered sugar and plant-based milk over the donuts for a sweet and glossy finish.
Top with fresh strawberries: Top each donut with a fresh strawberry slice or a few diced strawberries to enhance the strawberry flavor.
Add vegan whipped cream: Top the donuts with a dollop of vegan whipped cream for a light and fluffy topping.
Serve with plant-based milk or coffee: Serve the donuts with a glass of plant-based milk or a cup of coffee for a complete breakfast or snack.
Add chocolate chips or sprinkles: Stir in vegan chocolate chips or colorful sprinkles to the batter before baking for a fun and festive touch.
Make a strawberry and cream sandwich: Cut the donuts in half and sandwich a layer of vegan whipped cream and sliced strawberries between them for a decadent dessert sandwich.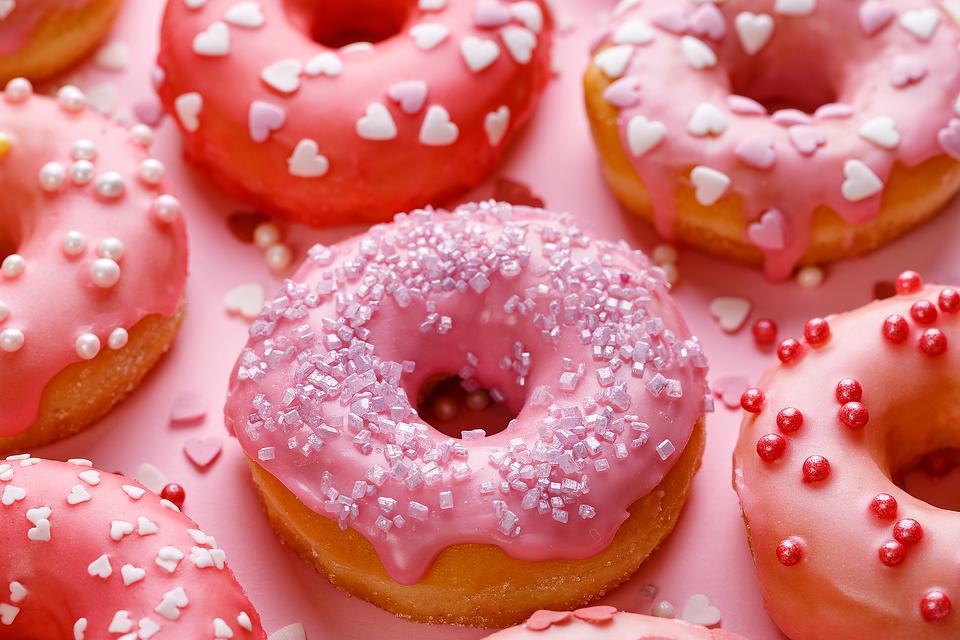 Remember to consider personal preferences and dietary restrictions when serving easy vegan strawberry donuts, and feel free to get creative with additional toppings and accompaniments!