Chocolate and cherries. Is there any better combo? Black forest cake is the favorite of most of my family and friends. But I usually never eat it because of the amount of cream and sugar. This is why I made my own recipe, which happens to be healthy, dairy- free and vegan
Black forest naked cake is made of four layers of fluffy and airy chocolate cake, filled with cream cheese frosting and homemade cherry jam. If you don't have or don't like cherries, feel free to use any other fruit you like (raspberries, strawberries, blackberries, blueberries, peaches…).
I tried many different frostings but the cream cheese one is the one I preferred for this recipe. Of course, if you're not interested in making a naked cake, you can just whip some plain coconut cream or soy cream and simply fill your layers with it.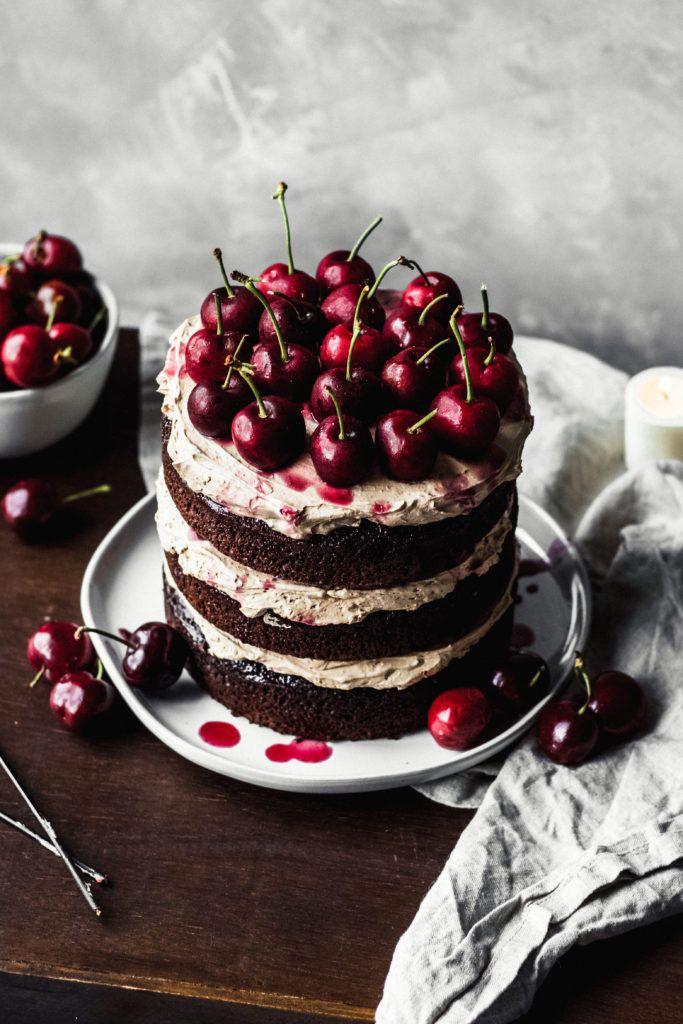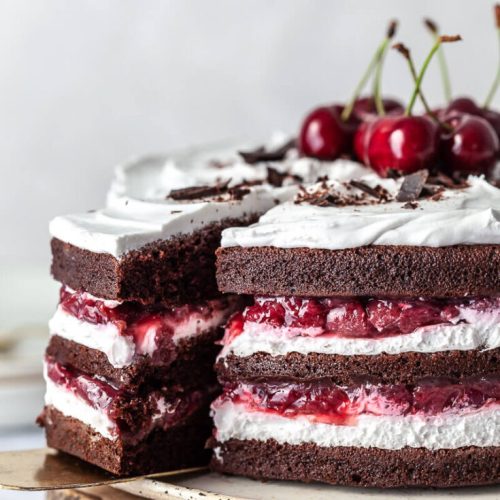 Black forest naked cake
refined sugar-free, dairy-free, vegan
Ingredients
Ingredients for the chocolate cake

330 grams / 1 and 1/2 cups almond milk1 and 1/2 tsp apple cider vinegar2 tsp vanilla bean paste135 grams /2/3 cup neutral oil (sunflower seeds, canola)320 grams / 2and 1/4 cups spelt flour40 grams /1/4 cup rice flour or corn starch2 tsp baking powder30 grams cacao powder1/2 tsp salt200 grams /1 cup light brown sugar

Ingredients for the cherry jam

300 grams /2 cups cherries fresh or frozen90 grams /1/3 cup honey or agave1/2 tbsp lemon juice

Ingredients for the cream cheese frosting

250 ml /8,5 oz soy/coconut whip cream, very cold8 grams /1 tsp whip cream stabilizer (optional)2 tbsp powder sugar /maple syrup for refined sugar-free500 grams /17 oz cream cheese of choice
Instructions
Make the jam
Add the cherries, honey/ agave to a medium size pot set over high heat. Bring the mixture to a boil. Once boiling use a potato masher or fork to break down and mash the berries. 

Continue to cook for 10-15 minutes or until the jam has reduced and thickened by 1/3. Remove from the heat and let cool. Should thicken as it cools
Make the chocolate cake
Preheat oven to 175C/ 350F degrees. Grease 2 (15cm / 6- inch) round cake pans. Grease and line the bottom with parchment paper.

In a small bowl, combine almond milk and vinegar, whisk and set aside to curdle.

In a large bowl, sift the flour, corn starch, baking powder, cacao, sugar and salt and whisk to combine.

Add the neutral oil and vanilla bean paste to the almond and vinegar mixture and whisk to combine. 

Pour the wet ingredients over the flour mixture and gently fold to combine. Don't over mix.

Divide the batter equally in the two pans. 

Bake for 30-35 minutes or until a toothpick comes out clean.

Let the cake cool down in the pans for 10 minutes, then transfer over a cooling rack to cool down completely. 

Use a serrated knife to cut the cakes horizontally into 2 layers each.
Make the cream cheese frosting
In a bowl of a stand mixer, whip the cream with stabilizer and sugar until stiff peaks. Slowly add the cream cheese and whisk until just combined. Don't over mix.
Assemble the cake
Place the first cake layer over a plate. Spread 1/4 of the cream cheese and 1/3 of the cherry jam. 

Place the second cake layer on top of the frosting and spread the cream cheese and jam again. Repeat with the 3d layer. 

After you've placed the  4th layer,  lighlty frost the top and the sides od the cake with the remaining cream cheese.

Place the cake in the refrigerator to set for 30 minutes. 
Notes
You can use 300g  good quality, low sugar store-bought jam if you don't have the time or are not interested in making your own.
Cooking tips Black forest naked cake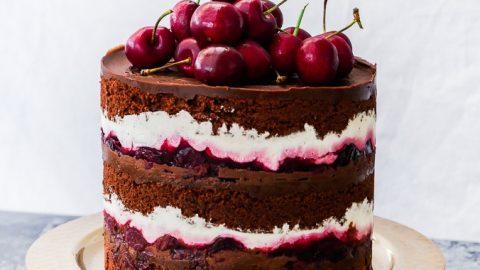 Black forest naked cake is a delicious dessert that features layers of chocolate cake, whipped cream, and cherries. Here are some tips to help you make the perfect Black forest naked cake:
Use high-quality ingredients: Use high-quality cocoa powder, flour, sugar, and eggs to ensure that your cake turns out moist and flavorful.
Bake the cake layers ahead of time: Bake the chocolate cake layers a day or two ahead of time and wrap them tightly in plastic wrap. This will allow the cake to cool and make it easier to assemble.
Use fresh cherries: Use fresh cherries, pitted and halved, to add a burst of sweet and tart flavor to the cake. If fresh cherries are not available, you can use canned cherries instead.
Make your own whipped cream: Homemade whipped cream is easy to make and tastes much better than store-bought. Use heavy whipping cream, sugar, and vanilla extract to create a thick and creamy whipped cream.
Assemble the cake carefully: To assemble the cake, place one layer of cake on a cake stand or plate and spread a layer of whipped cream on top. Add a layer of cherries on top of the whipped cream, then repeat the process with the remaining cake layers.
Decorate the cake with chocolate shavings: Use a vegetable peeler to shave thin strips of chocolate and sprinkle them on top of the cake for a beautiful and delicious finishing touch.
Chill the cake before serving: Once the cake is assembled, chill it in the refrigerator for at least an hour before serving to allow the flavors to meld together and the whipped cream to set.
Nutritional ingredients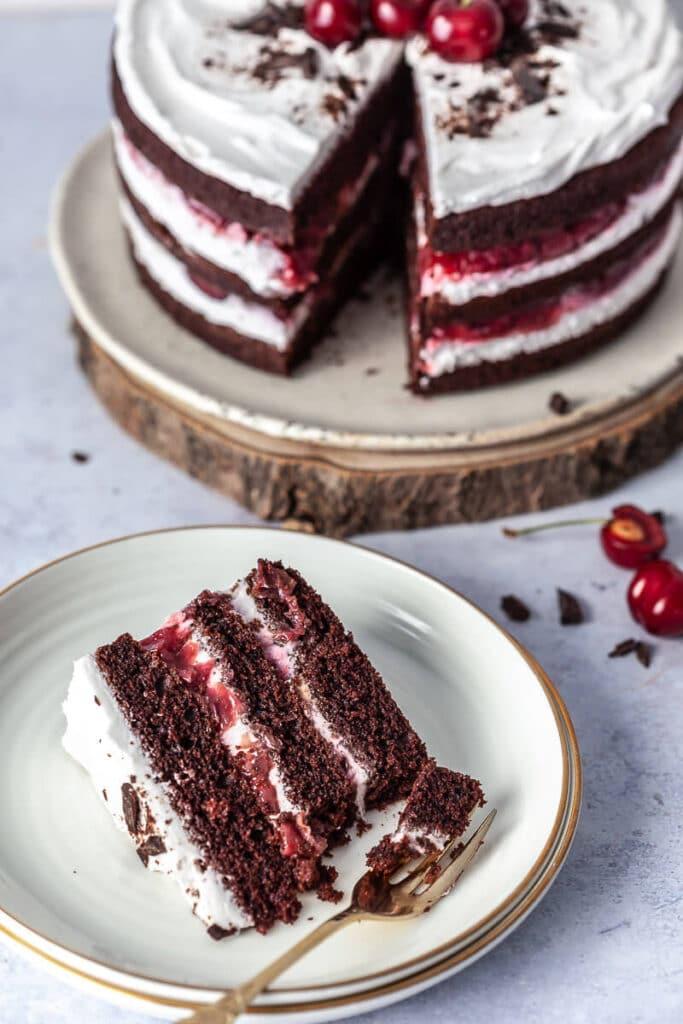 The nutritional ingredients of Black forest naked cake can vary depending on the specific recipe and ingredients used, but in general, it is a high calorie and high sugar dessert. Here is an approximate breakdown of the key nutritional components of a slice of Black forest naked cake:
Calories: 400-500 calories per slice (depending on the size of the slice and recipe)

Fat: 20-30 grams (mostly from butter, whipped cream, and chocolate)

Carbohydrates: 50-60 grams (mostly from sugar and flour)

Protein: 5-8 grams (mostly from eggs and possibly some nuts)
It's important to note that Black forest naked cake is a dessert and should be enjoyed in moderation as part of a healthy, balanced diet. If you are concerned about the nutritional content of your desserts, you can try making some healthier substitutions, such as using whole wheat flour instead of white flour or reducing the amount of sugar and fat in the recipe.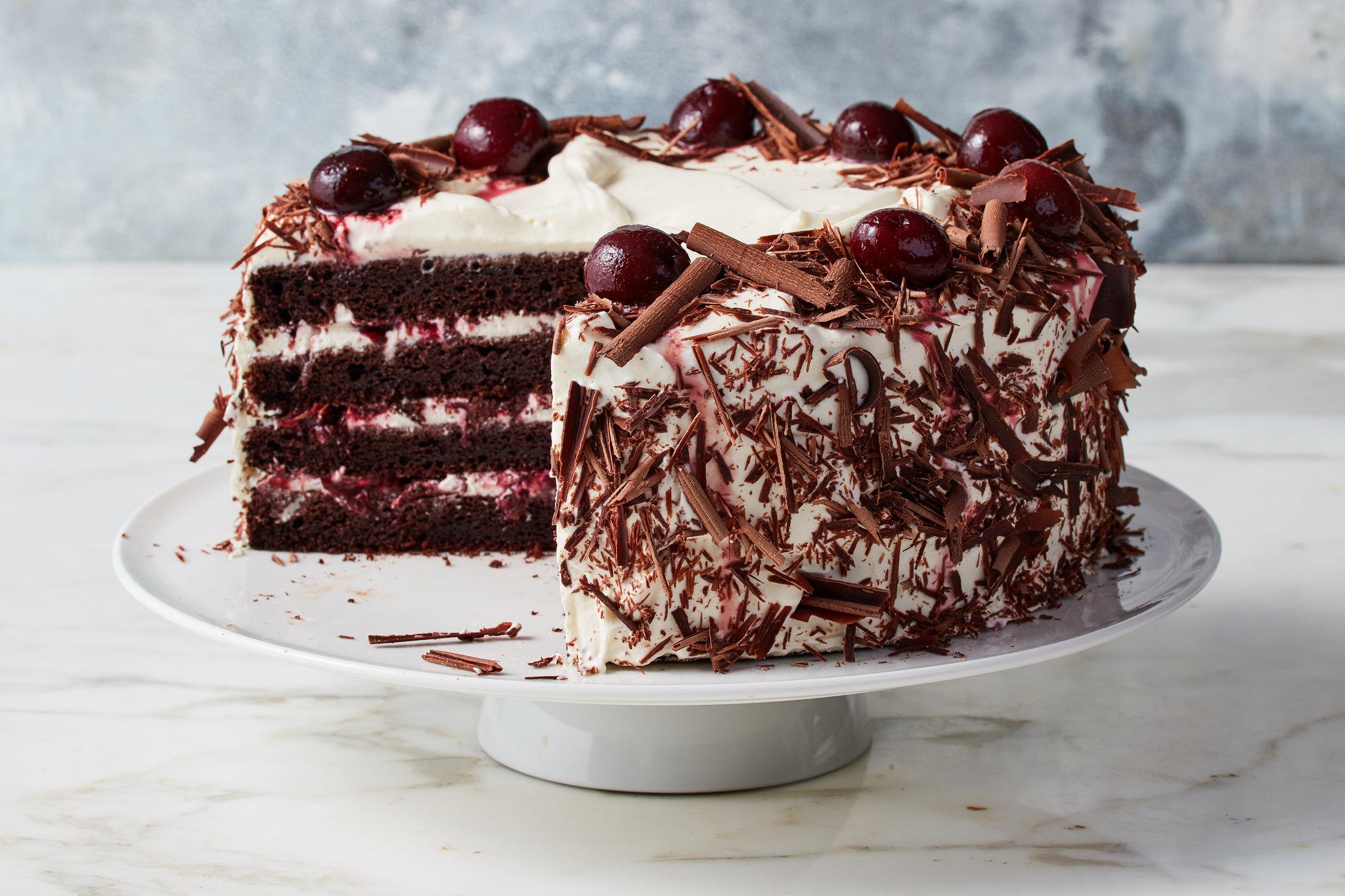 In conclusion, Black forest naked cake is a delicious and decadent dessert that is perfect for special occasions or as a sweet treat to indulge in.
With its layers of rich chocolate cake, creamy whipped cream, and juicy cherries, it's a dessert that is sure to delight your taste buds. So why not give it a try and enjoy a slice of this mouth-watering dessert today?