If you're looking for the ultimate fall treat, look no further! And when it comes to autumn delights, these Pecan Oatmeal Cream Pie have all the flavors that perfectly capture the essence of the season. They're absolutely delicious just as they are, but when I really want to treat myself, I fill them with cream cheese frosting and… woah!
But the fall indulgence doesn't stop there. If you're craving a cozy dessert that pairs wonderfully with crisp air and falling leaves, consider trying out my recipe for apple crisp with oatmeal cookie mix. It's the epitome of comfort and warmth, combining the sweetness of baked apples with the comforting crunch of an oatmeal cookie topping.
For the Pecan Oatmeal Cream Pies recipe, I used pecan butter. I have never seen pecan butter in Switzerland's stores, so I always make my own at home. This touch of homemade pecan butter adds an extra layer of nutty richness to these delightful cream pies, making them a true embodiment of autumn's abundance.
Introduction about Pecan Oatmeal Cream Pies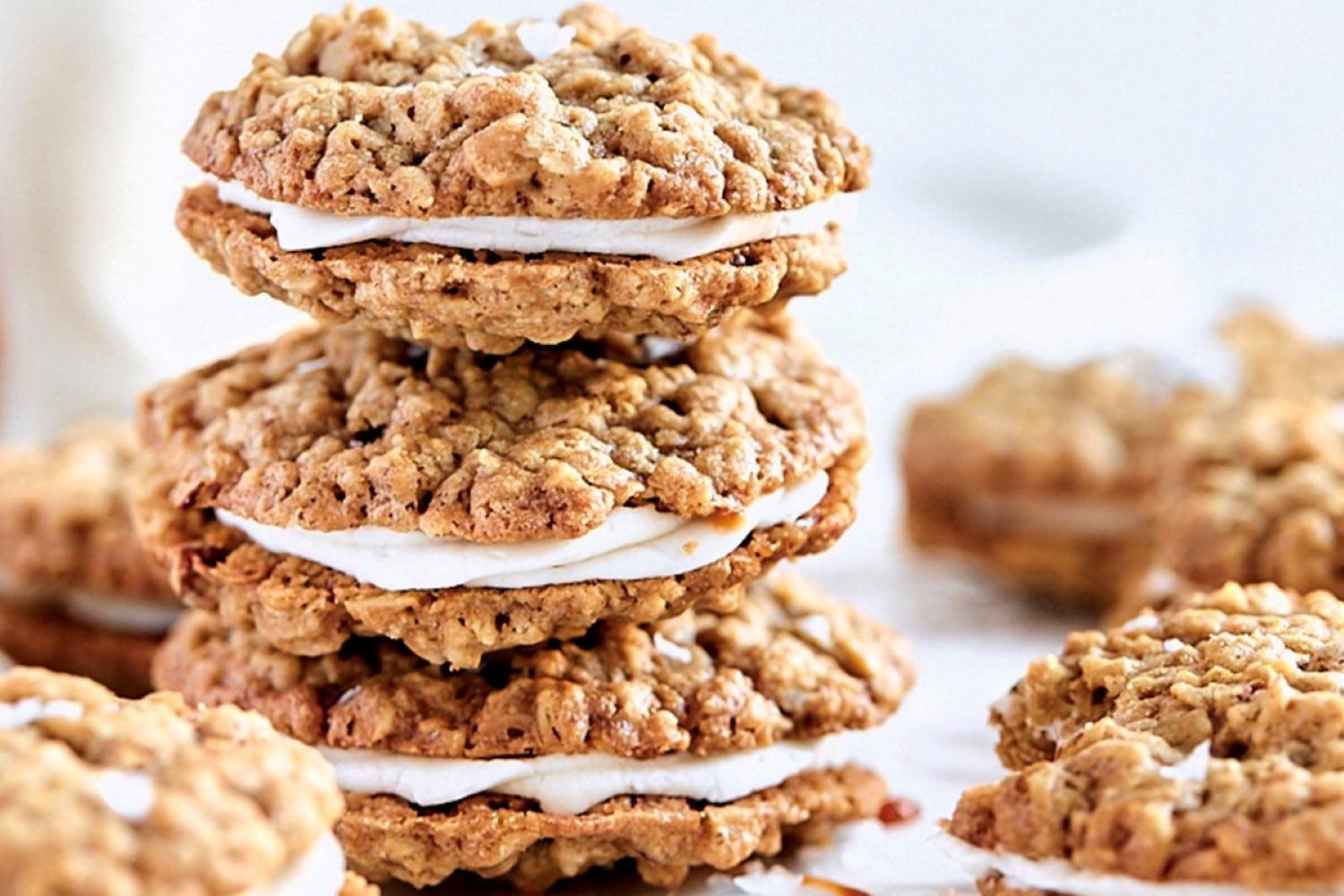 Pecan butter is very easy to make at home with a high speed blender such as Vitamix or a food processor.
For best results, make sure to toast pecans before using. Simply spread pecans over a lined baking tray and bake in the preheated oven at 175C degrees for about 6 minutes. Don't let them burn! It is very important to let them cool down completely before blending.
I usually make nut butter using 300 g (3 cups) nuts, because this is the best amount for easy blend! Less than 300g is too little and you will have to scrap down the butter from the sides of the blender all the time; more than 300-400g can be hard work for your blender.
To make cream pies, use a piping bag or a spoon to spread some cream cheese over the bottom of one cookie, then top with a second cookie and gently press to seal.
I recommend filling the cookies right before serving. You can keep the filled cream pies in the refigerator for one day, but I'd rather keep some extra frosting in the refrigerator and the cookies on the counter (wrapped) so that you can fill them when you're ready to eat and always have them nice and fresh!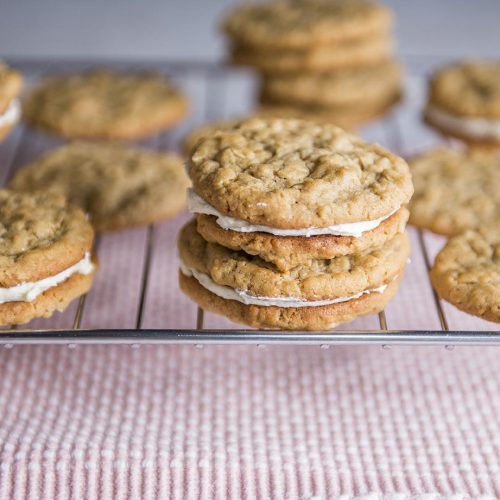 Pecan oatmeal cream pies
Equipment
Stand mixer fitted with paddle attachment, recommended
Ingredients
Dry ingredients
125 

g

(1cup) all purpose flour

125 

g

(1 1/4 cups) old fashioned oats

1/2

tsp 

baking powder

1/2

tsp 

baking soda

1/2

tsp 

ground cinnamon

1/4

tsp 

ground nutmeg

1/8

tsp 

ground cloves

1/2

tsp 

pink salt

50 

g

(1/2 cup) pecans, chopped

15 

g

(2 tbsp) cacao nibs

40 

g

(1/4 cup) chocolate chips
Wet ingredients
115 

g

(1/2 cup) vegan butter room temperature

60 

g

(1/4 cup) pecan butter

60 

g

(1/3 cup) unrefined brown sugar

100 

g

(1/2 cup) light brown sugar

1

tsp 

vanilla bean paste
Ingredients for the cream cheese frosting
330 

g

cream cheese of choice

3

tbsp 

honey or agave
Instructions
Preheat the oven to 175C / 350F and line a cookie sheet with parchment paper.

In a medium bowl, whisk together the flour, baking soda, baking powder, spices, salt, chopped pecans, cacao nibs, chocolate chips and oats until well combined. Set aside.

In the bowl of a stand mixer fitted with paddle attachment, beat vegan butter and sugars until light and fluffy.

Add pecan butter and vanilla and beat until well combined.

Turn the speed down to low and fold in the oatmeal mixture, mixing until it is just incorporated.

Refrigerate dough for 30 minutes.

Use a tablespoon to scoop out the dough and place it on the prepared cookie sheet, leaving at least 5cm of space between cookies so they can spread when they bake.

Bake for 8-10 minutes, or until the cookies just begin to turn lightly golden brown around the edges.

Remove and allow the cookies to cool on a wire rack.
Instructions for frosting
In a small bowl, stir cream cheese and sweetener until well combined.Using a piping bag, pipe some filling on the bottom side of one cookie and press a second cookie on top.Serve immediately or keep in refrigerator for 1 day!
Nutritional ingredients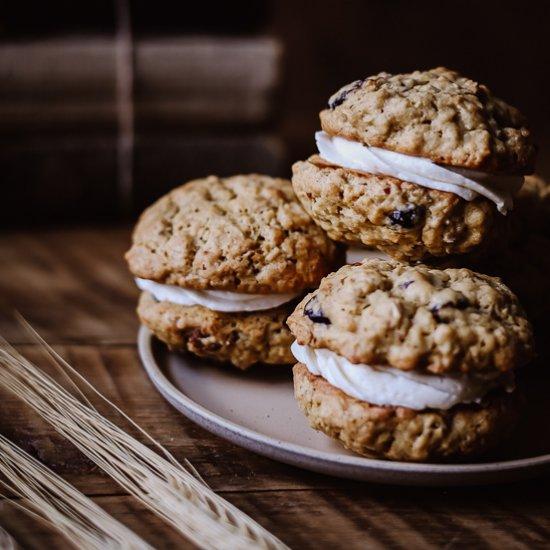 Please note that specific recipes may vary, so it's essential to refer to the actual recipe you're using for precise nutritional information. However, I can provide a general overview of the typical ingredients found in Pecan Oatmeal Cream Pies:
Oats: A good source of fiber, vitamins, and minerals.
Pecans: Provide healthy fats, protein, and essential nutrients.
Butter: Adds richness and flavor to the cookies.
Brown sugar: Provides sweetness and moisture to the dough.
Eggs: Help bind the ingredients together.
Vanilla extract: Enhances the overall flavor.
All-purpose flour: Provides structure to the cookies.
Baking soda: Helps the cookies rise.
Salt: Balances the flavors.
Cinnamon: Adds warm and aromatic taste.
Heavy cream or milk: Used in the cream filling.
Powdered sugar: Sweetens and thickens the cream filling.
Vanilla extract: Enhances the flavor of the cream filling.
The nutritional content will vary based on the quantities of these ingredients used in the recipe and the size of the cookies. If you have a specific recipe in mind, you can input the ingredients into a recipe calculator or use a nutrition app to get more accurate nutritional information.
Serving Suggestions