Step up your bread game! After making Leopard Bread and Giraffe Bread, I made this pretty and absolutely delicious zebra milk bread!
The zebra effect (or marble effect) is achieved layering a cacao dough and a white dough. To make the cacao dough, cacao powder and espresso coffee from best coffee grinders are added to one third of the main dough. The rolled out doughs are then stacked many times to create several layers.
The recipe is similar to my Asian Marble milk bread, but the process is shorter since you only stack the doughs 3 times instead of 4. The more layers, the thinner and intricate the final design.
Introduction about Zebra Milk Bread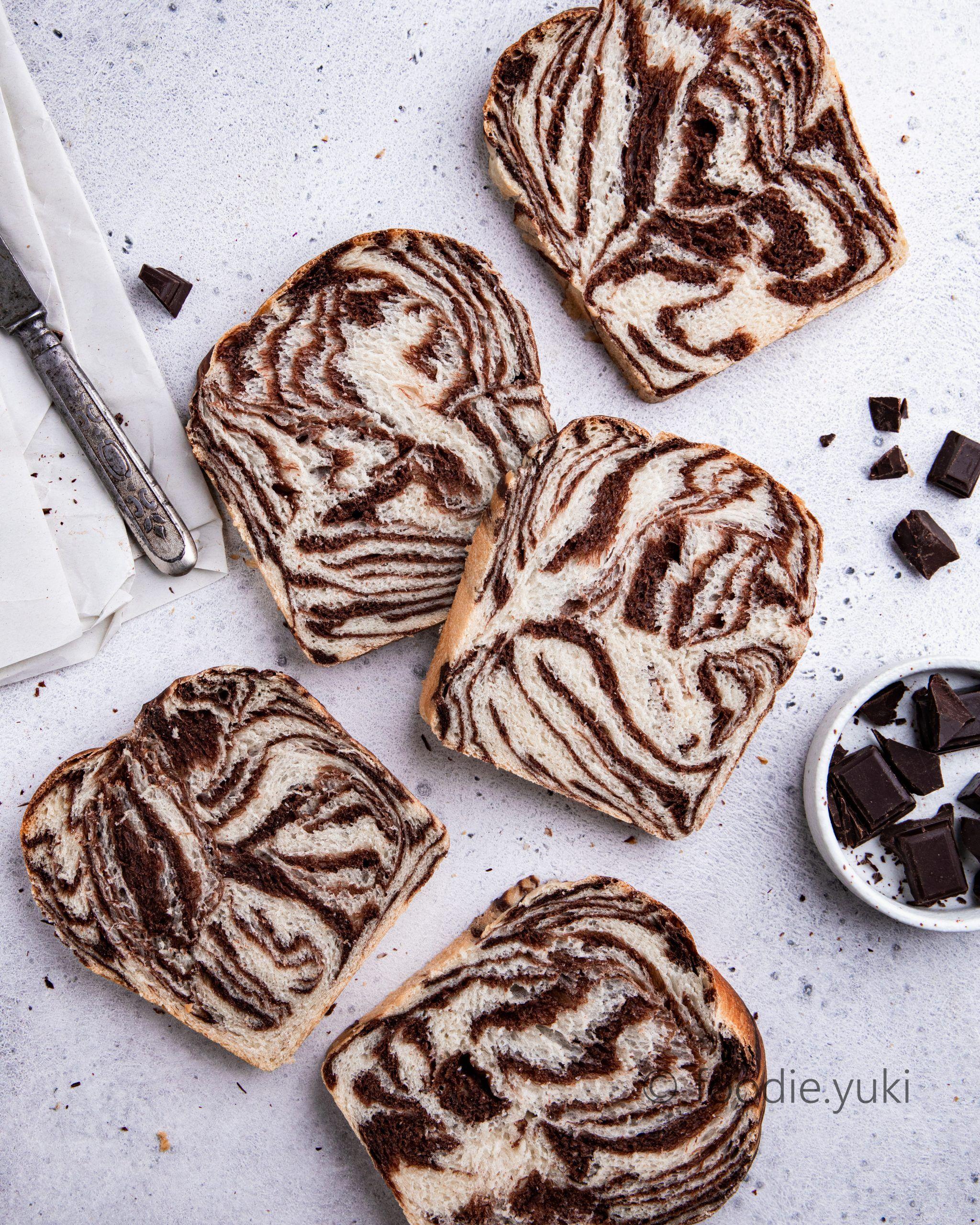 The shaping process is way easier than it could seem! I posted a video on my Instagram account for easier understand of all the steps.
As you can see, the texture of this bread is super soft and fluffy and it keeps fresh for many days thanks to the addition of bread starter (also called tangzhong).
The bread starter is very easy to make as it's just a combination of flour and water, cooked until curd-like texture.
I used a 20x12x10 cm best loaf pan. Using a deep loaf pan results in a tall bread with beautiful design. If you use a longer and less deep pan, you won't be able to tuck the ends of the braided bread under and your bread will have a regular braided bread shape, similar to Babka.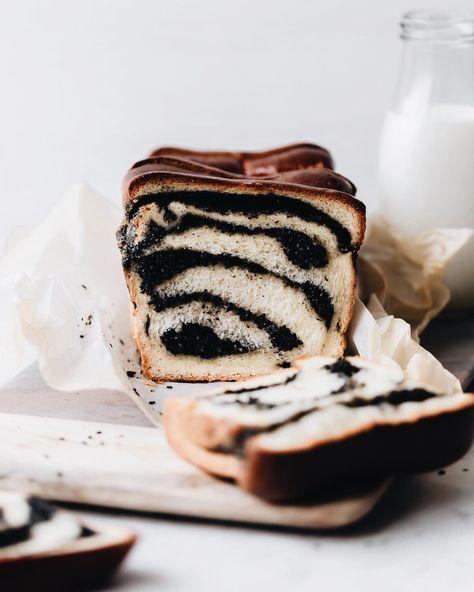 Zebra milk bread
Dairy-free, egg-free, vegan friendly
Ingredients
Ingredients for the tangzhong
45 

g

bread flour

240 

ml 

water
Ingredients for the main dough
440 

g

bread flour

1/2-1

tsp 

ground cinnamon optional

2

g

instant yeast

3,5

g

(1/2 tsp) fine salt

30

g

light brown sugar

45 

ml 

full fat soy milk room temp

100

ml 

water room temp

30 

g

vegan butter /butter
Ingredients for the cacao dough
20

g

(2tbsp) Dutch processed dark cacao powder

2

tbsp

espresso coffee, sweetened with 1 tsp sugar (optional)
Instructions
Make bread starter (tangzhong)
Whisk water and flour in a small pan. Cook on medium heat until the mixture starts to thicken. Let cool down completely before using.
Make bread dough
In the bowl of a stand mixer whisk dry ingredients except cacao. Add water, milk and tangzhong and knead until just combined. Cover with plastic wrap and let rest for 5 min.

Add butter and knead until smooth and elastic (about 10 minutes).

Divide dough into 1/3 and 2/3 portions.

Shape the 2/3 piece into a ball and place into a greased bowl. Cover and set aside.

Add cacao powder and espresso to the 1/3 dough portion and knead to combine. Cover and let rest until doubled in size (1h- 1h30).

Roll out plain dough into a 20x30cm rectangle. Roll out cacao dough into a 20x15cm rectangle.

Place cacao dough over one half of plain dough and fold the remaining plain dough over.

Roll out to into a 20×30 cm rectangle again. Cut dough cross wise and stack the two doughs.

Roll out to combine. Repeat the cut, stacking and rolling one more time.

Cut dough into 3 equal stripes, lengthwise.

Roll out each stripe into a rope and braid the 3 ropes together. Fold ends under so that the bread fits the pan.

Preheat oven to 175C degrees, brush bread with soy milk and bake for 30-35 minutes. Let cool down into the pan for 15 min then cool completely on a rack.
Cooking tips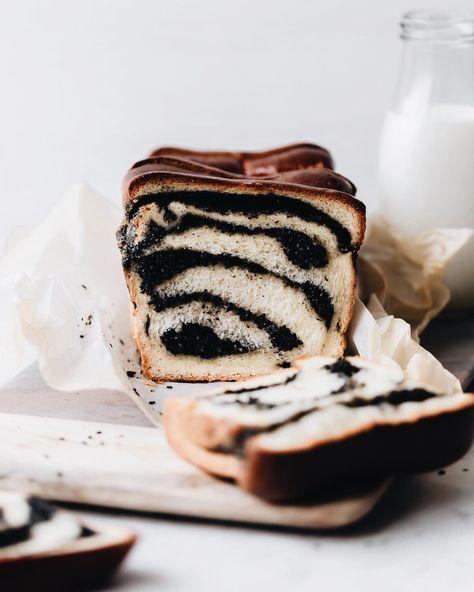 Here are some cooking tips for making zebra milk bread:
Use bread flour: Bread flour has a higher protein content than all-purpose flour, which helps to create a chewy and elastic texture in the bread.
Knead the dough well: Kneading the dough is an important step to activate the gluten in the flour and create a strong and stretchy dough. Knead the dough for at least 10 minutes, until it becomes smooth and elastic.
Let the dough rise properly: After kneading, let the dough rise in a warm, draft-free place until it has doubled in size. This can take anywhere from 1-2 hours, depending on the temperature and humidity.
Divide the dough evenly: When dividing the dough to create the zebra effect, make sure to divide it as evenly as possible to ensure a consistent texture throughout the loaf.
Use cocoa powder for the chocolate dough: Use a high-quality cocoa powder for the chocolate dough to ensure a rich chocolate flavor. Look for cocoa powder that is unsweetened and has a dark color.
Use a toothpick to create the zebra effect: To create the zebra effect, alternate layers of the plain and chocolate dough and use a toothpick or skewer to swirl the two together. Be careful not to overmix, as this can cause the colors to blend too much.
Bake at the right temperature: Bake the bread at the recommended temperature in the recipe, and check it often to ensure it doesn't overbake. The bread should be golden brown on the outside and sound hollow when tapped on the bottom.
By following these tips, you can create beautiful and delicious zebra milk bread.
FAQs about Zebra Milk Bread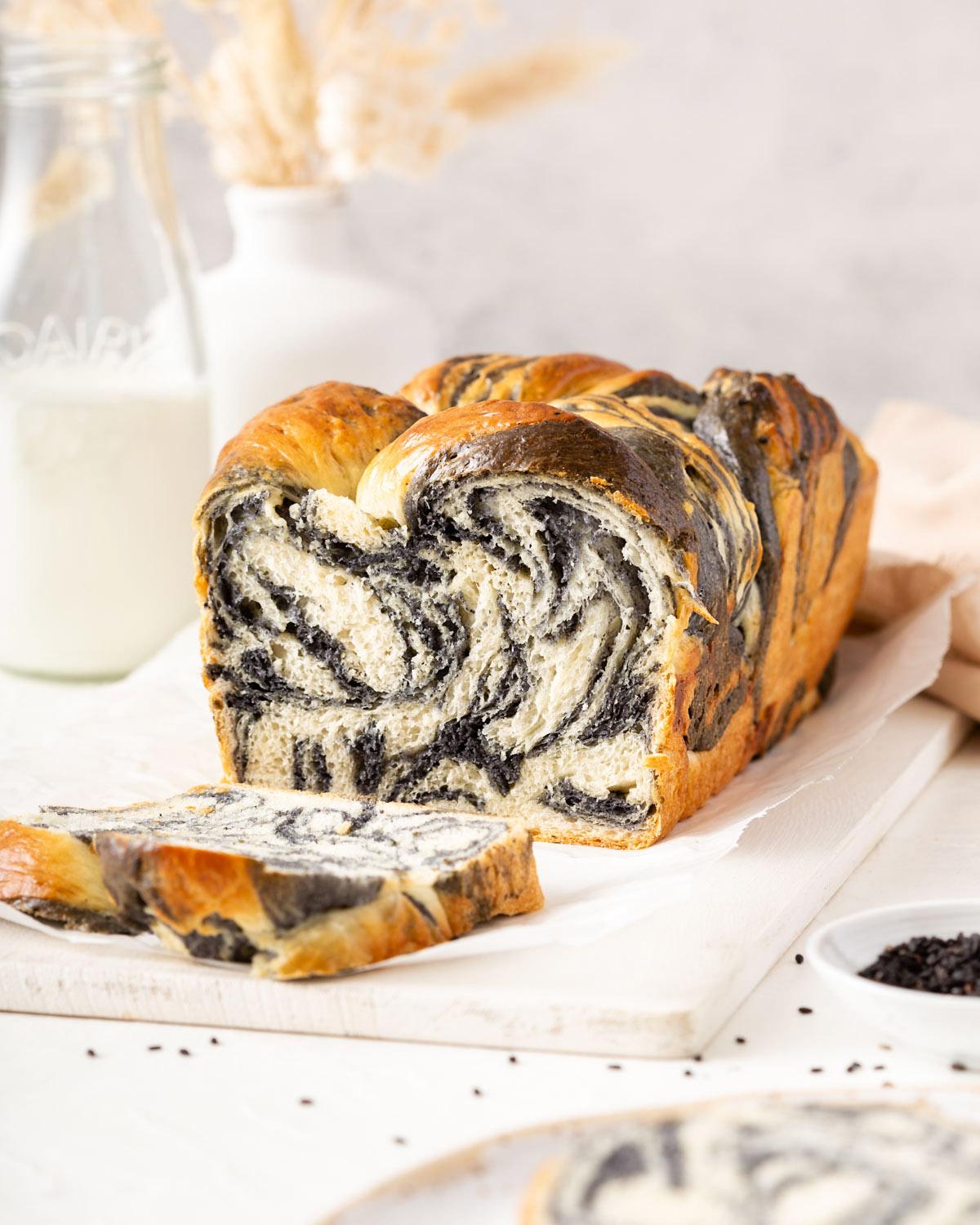 Q: What is Zebra Milk Bread?
A: Zebra Milk Bread is a type of visually striking bread characterized by its zebra-like pattern of alternating dark and light colors. The bread gets its name from the resemblance to the stripes of a zebra. It's a combination of dark and plain (white) dough that creates the distinctive pattern.
Q: What are the ingredients used in making Zebra Milk Bread?
A: The typical ingredients for Zebra Milk Bread include all-purpose flour, milk, yeast, sugar, salt, butter, cocoa powder (for the dark dough), and vanilla extract. Some recipes might also use food coloring for a more vibrant effect.
Q: How do you achieve the zebra pattern in the bread?
A: To achieve the zebra pattern, the dough is divided into two portions. One portion is left plain (white), and the other portion is mixed with cocoa powder to darken it. Then, the two doughs are rolled into strips, layered on top of each other, and rolled up like a log. Slicing the log reveals the zebra-like pattern, and the dough is then shaped and baked.
Q: Can I make Zebra Milk Bread without cocoa powder?
A: Yes, if you prefer a bread without cocoa flavor or want to avoid cocoa powder, you can omit it and stick to a plain and white dough combination. This will still give you a beautiful zebra pattern.
Is Zebra Milk Bread sweet or savory?
A: Zebra Milk Bread is typically a slightly sweet bread due to the addition of sugar and vanilla extract. However, the sweetness is mild, and it can be enjoyed both as a sweet treat and as a complement to savory dishes.
Q: Can I use different food coloring to make colorful variations of Zebra Milk Bread?
A: Yes, you can experiment with different food coloring to create a variety of colorful variations. This allows you to get creative with the patterns and make the bread more visually appealing.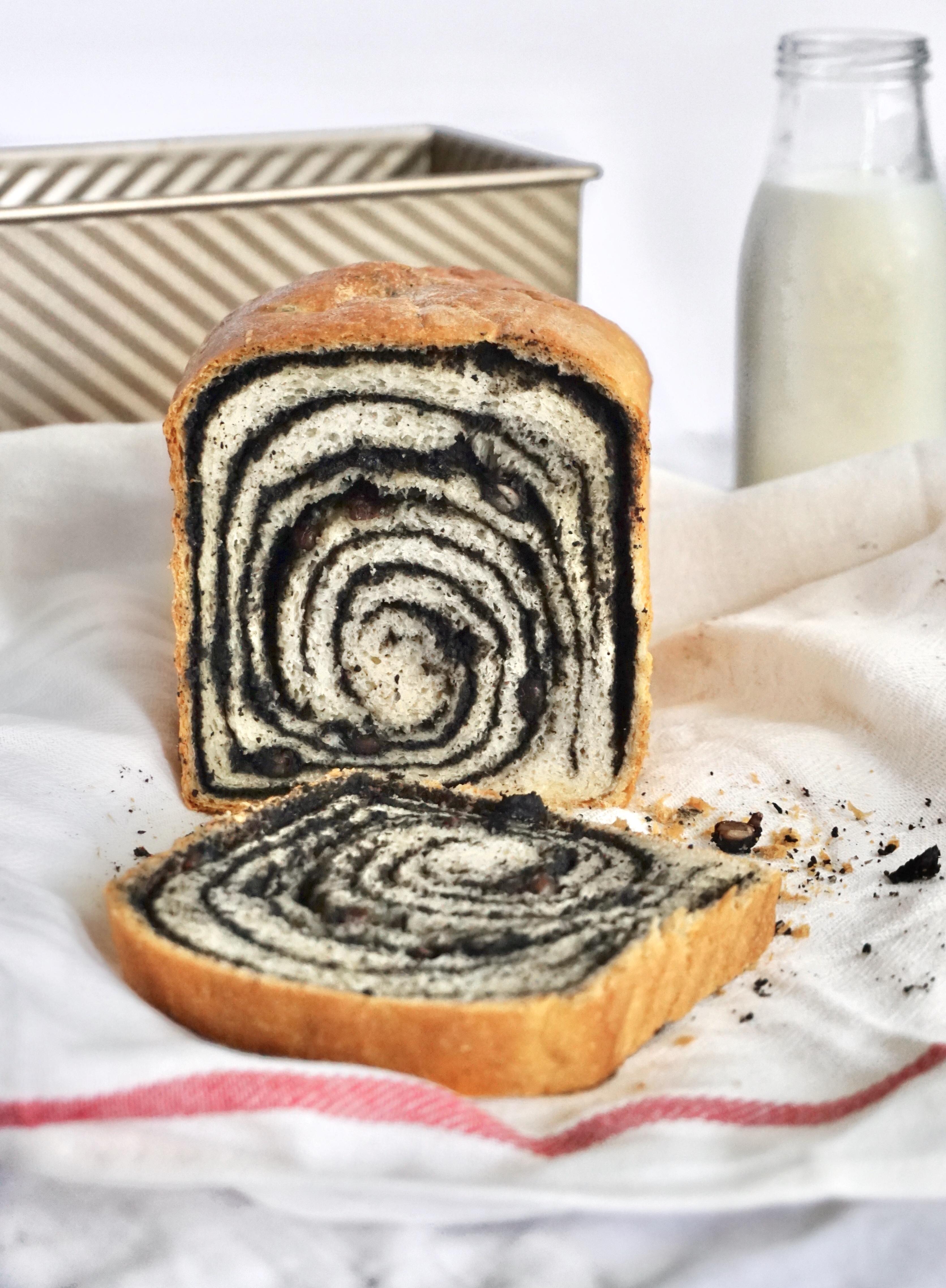 Q: How should I store Zebra Milk Bread?
A: To keep Zebra Milk Bread fresh, store it in an airtight container or resealable plastic bag at room temperature for a day or two. If you want to keep it longer, you can freeze it and thaw slices as needed.
Q: How can I enjoy Zebra Milk Bread?
A: Zebra Milk Bread is versatile and can be enjoyed in various ways. It's delicious on its own, toasted and buttered, or used to make sandwiches and French toast. Its eye-catching appearance also makes it a great addition to brunch tables and gatherings.
Q: Can I make this dish gluten-free or dairy-free?
A: Yes, you can try substituting gluten-free flour and dairy-free milk and butter alternatives to make a gluten-free and dairy-free version. However, adjustments to the recipe may be needed to achieve the desired texture and taste.
Q: Can I use a bread machine to make Zebra Milk Bread?
A: Yes, you can adapt the recipe to a bread machine. Follow your bread machine's instructions for adding the ingredients, and then shape and bake the bread in the oven for the best results.