Easter is around the corner and even though I don't celebrate, Christianly speaking, It has always been an occasion for family celebration and to eat Easter chocolate bunnies
Bunny Melon Pan is a Japanese soft bread covered in a layer of cookie. It is very similar to Conchas, a Mexican version of this sweet bread. In Japan you can buy melon pan almost everywhere and it is sometimes served with ice cream- YUM!
Bunny Melon Pan in Japan is pretty big. I made a smaller ( and healthier) version which is dairy and egg-free and vegan-friendly!
Introduction about Bunny Melon Pan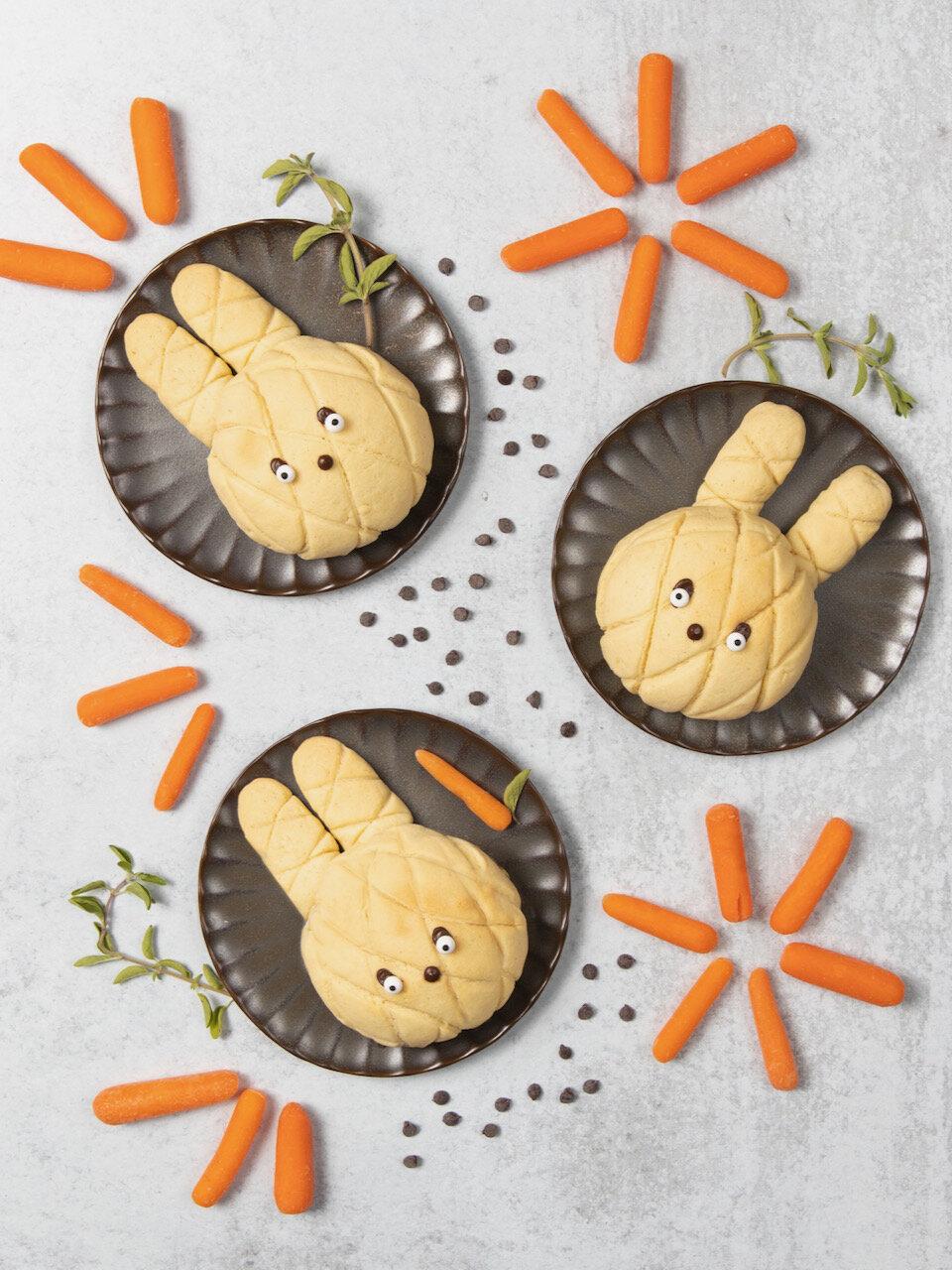 Let's be honest. It wasn't easy to create a (cute) bunny face on melon pan. The firsts attempts were pretty ugly lol !
I also had to test the recipe a couple of times because I struggled with the ears, which kept breaking off from the head. To get prettier and more resistant bunnies, I found out that flattening one side of the ear bread dough and tucking it slightly under the head bun works perfectly.
The cookie dough is naturally colored with baked yam powder. Since potato/yam powder acts like corn starch, I used all purpose flour instead of the cake flour. If you cannot find yam powder, you can use potato or corn starch instead, or you can replace all purpose flour with cake flour.
I recommend using strong bread flour to make this recipe, but if you can't find it, you can use all purpose flour instead. Please remember that any replacement affects the final result.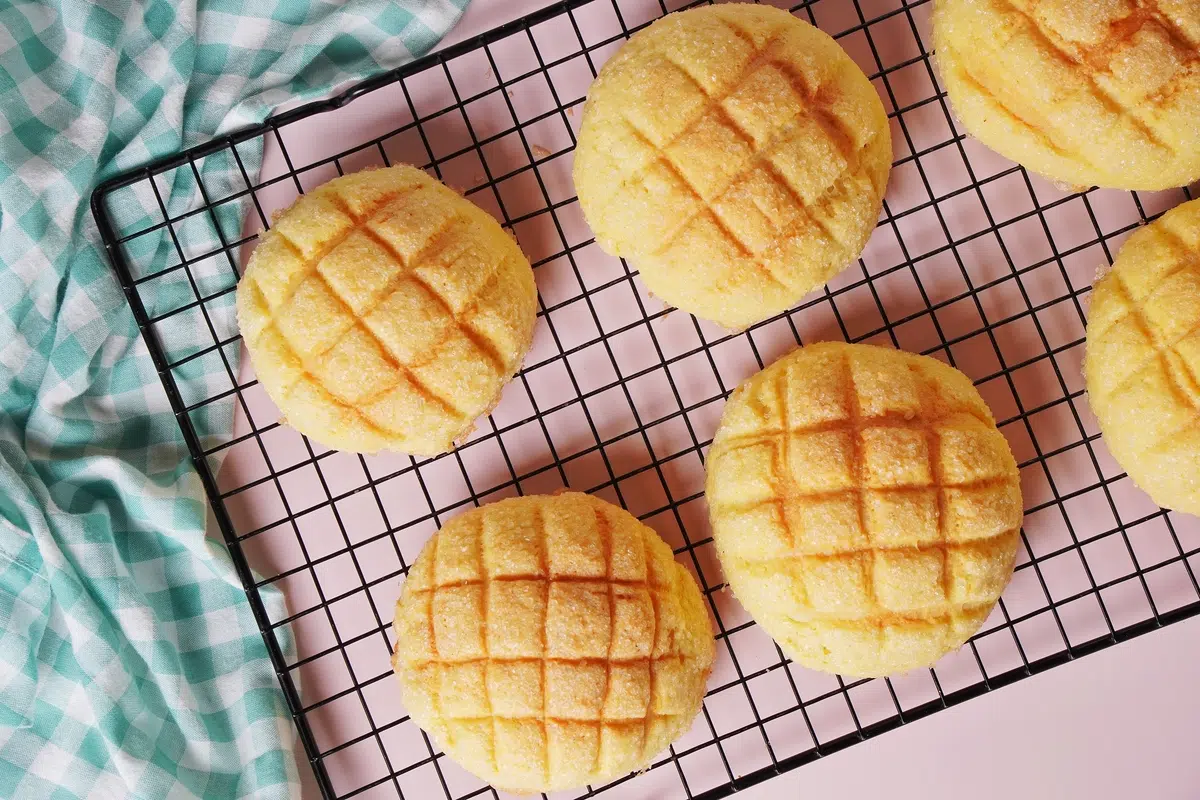 I highly recommend using a stand mixer fitted with hook attachment to knead the bread dough. You can of course knead it by hand but it will take longer!
The bread is sweet, vanilla-flavored and has hidden chocolate chips inside! So good! If you prefer plain bread, please feel free to omit vanilla and chocolate chips.
I opted for non-dairy milk and butter but you can use dairy products if you prefer. If you're using vegan butter, please opt for plant-based butter that comes in a stick instead of regular margarine (tub).
I posted a video tutorial on how to assemble the Bunny melon pan.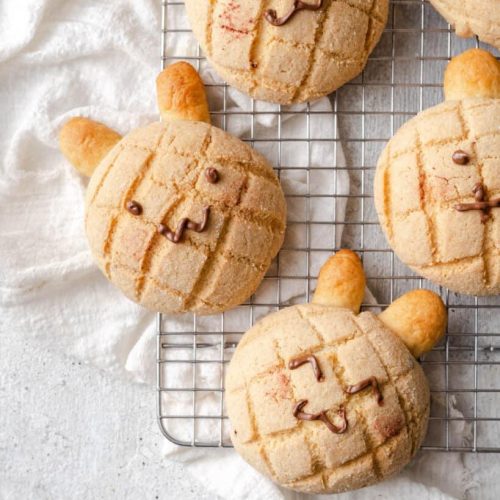 Bunny Melon Pan
Dairy and egg-free, vegan-friendly
Equipment
1 pan

stand mixer with hook attachment
Ingredients
Ingredients for bread dough
220 

g

bread flour

20 

g

light brown sugar

3

g

(1/2 tsp) fine salt

3

g

(1 tsp) instant yeast

30

g

vegan butter / dairy butter softened

140 

soy milk warm

70 

g

(1/2 cup) mini chocolate chips optional
Ingredients for cookie dough
60 

g

icing sugar

60 

g

vegan butter /butter softened

pinch of salt

30 

ml 

soy milk room temperature

140 

g

all purpose flour * see blog post for replacements

1

tbsp 

baked yam powder * see blog post for replacements

2

tbsp 

granulated sugar for rolling
Instructions
Make the bread dough
In the bowl of a stand mixer fitted with hook attachment, combine flour, sugar, salt and instant yeast.

Add soy milk, butter and vanilla and knead until soft and elastic ( 10-15 minutes).

Shape the dough into a ball and place into a lightly greased bowl. Cover and let rise in a warm place until doubled in size (1-1,5h).
Make the cookie dough
While the bread dough is resting, make the cookie dough.

Place softened butter into a large bowl and whisk until smooth.

Add powdered sugar and whisk until fluffy.

Add flour, yam powder and salt. Mix with a rubber spatula to combine. Don't knead.

Form a log, cover with plastic wrap and refrigerate for 30 minutes.
Assemble the bunny melon pan
Deflate bread dough and divide into 6 large pieces (about 50g each) and 12 small pieces (about 8g each).

Add chocolate chips to the larger pieces and roll into balls.

Roll the small pieces into logs and shape into bunny ears. Cover while working with cookie dough.

Divide cookie dough into 8 pieces. Roll 6 of them into balls and flatten into discs.

Wrap cookie dough around the buns. Coat the cookie dough with granulated sugar and score the top into crisscross pattern.

Divide the remaining 2 pieces into 12 smaller pieces. Flatten the pieces and shape into ovals to cover the ears.

Apply ears over the main bun. Make sure to tuck the ears under the head to keep them in place.

Place on baking sheet, covered for 40 min.Bake into preheat oven at 180C for 15 min.
Nutritional ingredients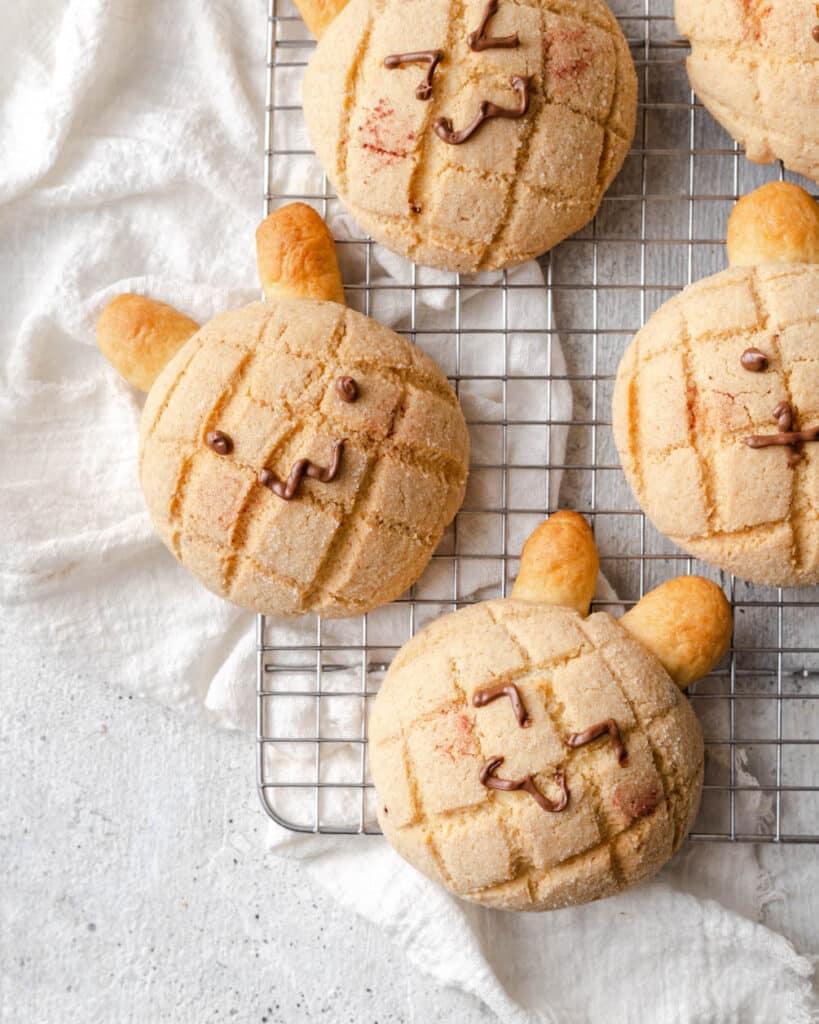 Bunny Melon Pan is a sweet Japanese bread that is typically shaped like a bunny. The nutritional ingredients in Bunny Melon Pan can vary depending on the recipe, but here are some of the common ingredients and their nutritional values per serving:
Flour: Flour is the main ingredient in Bunny Melon Pan and provides carbohydrates, fiber, and some protein. One cup (125 g) of all-purpose flour contains approximately 455 calories, 95 grams of carbohydrates, 3.4 grams of fiber, and 12.9 grams of protein.
Sugar: Sugar is used to sweeten Bunny Melon Pan and provides simple carbohydrates. One tablespoon (12.5 g) of granulated sugar contains approximately 49 calories and 12.5 grams of carbohydrates.
Butter: Butter is used to add richness and flavor to Bunny Melon Pan and provides fat and a small amount of protein. One tablespoon (14 g) of butter contains approximately 102 calories, 0.01 grams of carbohydrates, 11.52 grams of fat, and 0.12 grams of protein.
Milk: Milk is used to make the dough and adds calcium, protein, and some carbohydrates. One cup (240 ml) of whole milk contains approximately 149 calories, 12.8 grams of carbohydrates, 7.7 grams of fat, and 7.7 grams of protein.
Egg: Egg is used to bind the dough together and provides protein and some fat. One large egg (50 g) contains approximately 72 calories, 0.36 grams of carbohydrates, 4.75 grams of fat, and 6.28 grams of protein.
Melon flavoring: Melon flavoring is used to add a fruity and sweet taste to the bread. The nutritional value of melon flavoring varies depending on the brand and ingredients.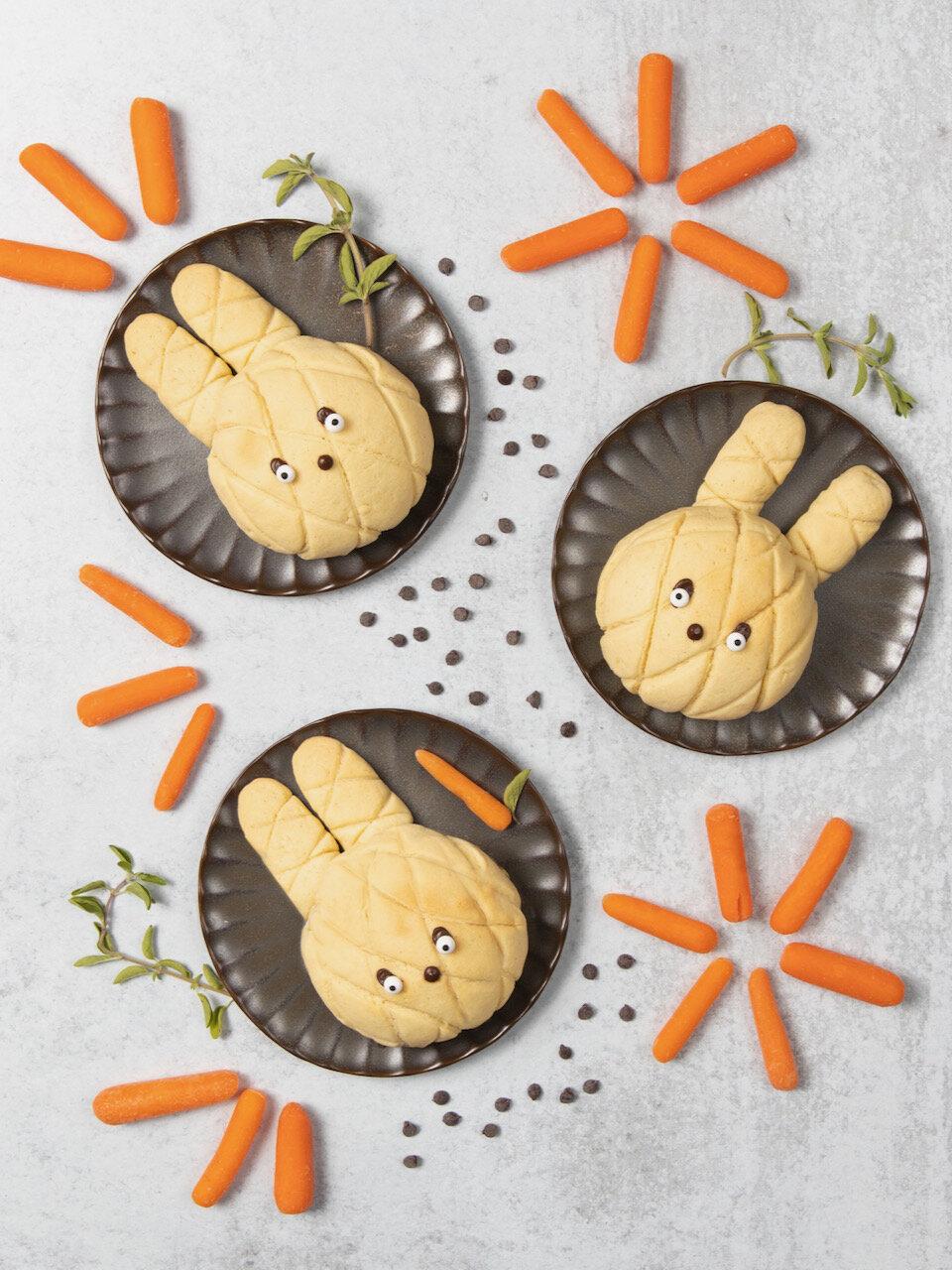 Overall, Bunny Melon Pan is a sweet and delicious treat that is high in carbohydrates and calories due to its use of flour, sugar, and butter. However, it also provides some protein, fat, and other nutrients from its other ingredients such as milk and egg.