Pull-apart buns represent well my idea of sharing and enjoying food with family and friends!
These buns are pink and fluffy and thery are loaded with chocolate chips! They are great for breakfast and to take to school or work. So what are you waiting to try the recipe and share with your loved ones?
Introduction about Fluffy black carrot buns with chocolate chips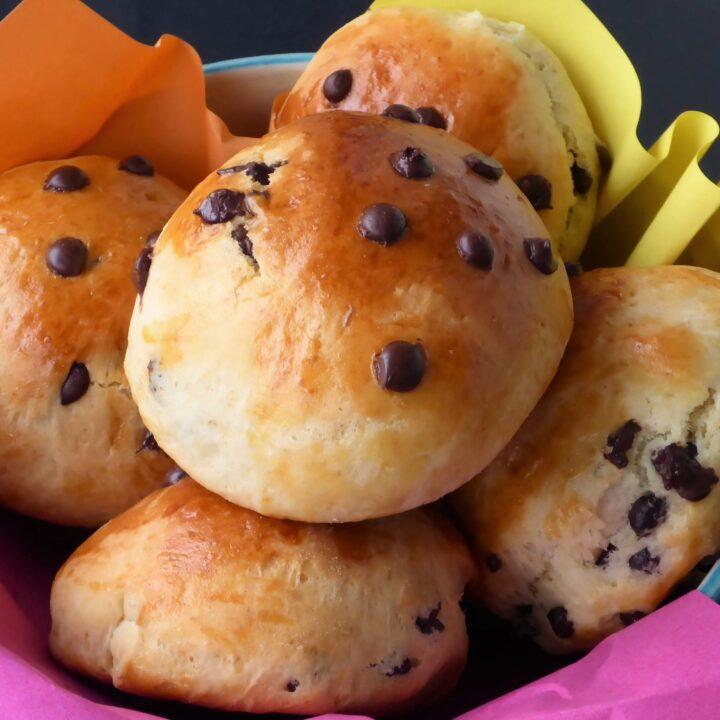 Have you ever tried black carrots? They are very healthy because of the high antioxidants and fiber content and they are often used as natural dye agent for their vibrant pink/purple color.
I used a little black carrot powder to make these fluffy chocolate chip buns. If you want a stronger, purple color, feel free to add more black carrot powder.
These pull-apart buns are super fluffy and very easy to make. I didn't use any roux or starter method, so no fuss, only one kneading and 2 risings.
The buns are sweetened with a little sugar and chocolate chips. Feel free to use chocolate chunks if you prefer. I like to refrigerate the chocolate chips for 30 minutes before adding them to the bread dough, just to make sure they don't melt while dough is rising.
Dry milk is a very useful ingredient to make fluffy bread. I used dry coconut milk from brand Thai. It is dairy-free but not vegan. If vegan is a concern for you, please make sure to use a certified brand.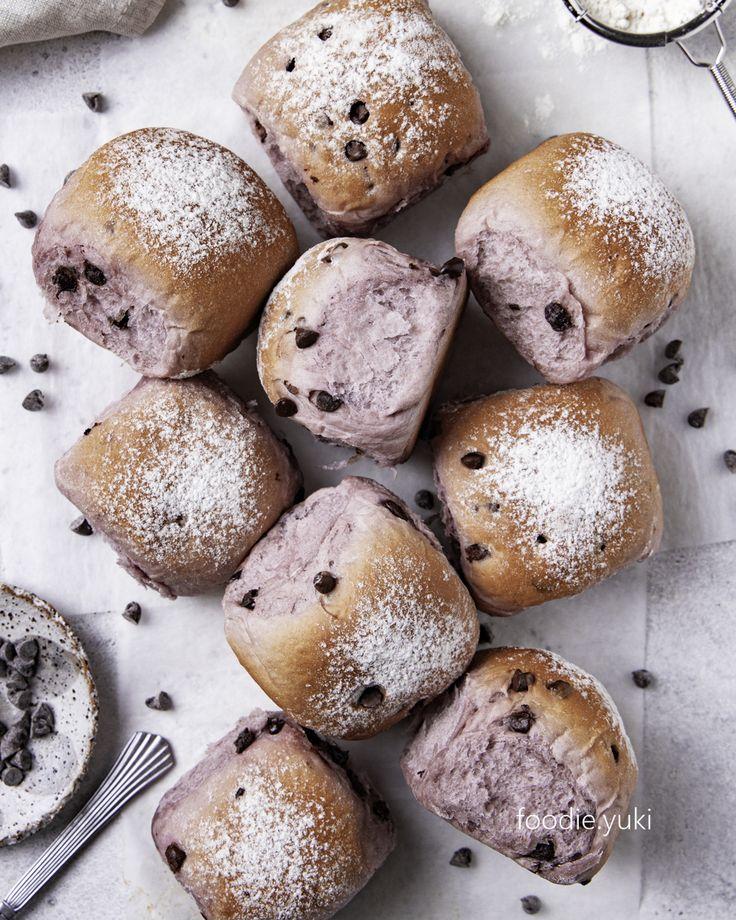 I used a 20×20 cm baking pan and I divided the dough into 9 x 70g pieces. The buns are medium size. If you want smaller buns, divide dough into 16 pieces. Smaller buns could take a little less time to bake, so please make sure to adjust baking time accordingly.
I really hope you guys will love these buns!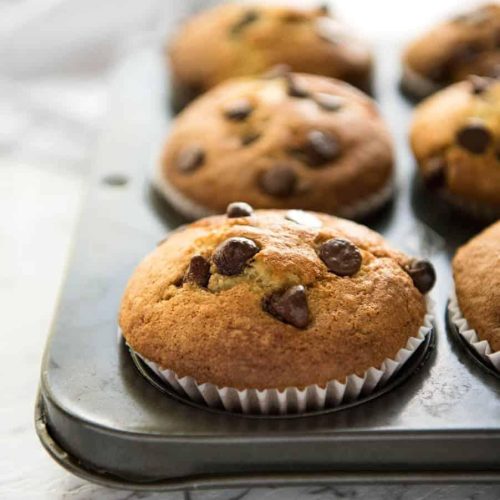 Fluffy black carrot buns with chocolate chips
Ingredients
310

g

(2 1/2 cups) bread flour or all purpose flour

1,5

tsp 

black carrot powder

16

g

(2 tbsp) dry coconut milk

140

ml 

(1/2 cup + 1 tbsp) soy milk, luke warm

7

g

(1 packet /2 tsp) active dry yeast

30 

g

(2 +1/2 tbsp) light brown sugar

5

g

(1 tsp) salt

60 

g

(4 tbsp) vegan butter, melted

80 

g

mini chocolate chips, cold
Instructions
Add flour, carrot powder, sugar, dry milk and yeast to the bowl of a stand mixer. Whisk to combine.

Add milk and butter and mix with a spatula until the dough just comes together. Cover with plastic wrap and let rest for 20 minutes.

Fit the mixer with the dough hook. Add salt. Start at low speed, then gradually increase. Knead for 10 to 12 minutes, until the dough is very smooth.

Stop the mixer in the middle and scrape the dough from the sides of the bowl.

Test the dough by pulling a piece of it using both of your hands. It should stretch into a very thin and translucent sheet. The dough should be wet and a bit sticky.

Shape into a ball. Let cool down the dough a little, then add chocolate chips and quickly knead to incorporate.

Lightly grease a big bowl with oil. Place the dough into the bowl. Cover with plastic wrap. Let rise until the dough doubles in size, about 1 hour.

Line a 20×20 cm baking pan with parchment paper. Punch the air out of the dough. Transfer it onto a clean surface.

Divide the dough into 3 even strips, then cut each strip into 3 pieces. You should end up with 9 even pieces (70g each). Shape each piece into a ball by pinching the dough from all sides into the center using your fingers. Then roll the dough in a circular motion with your palm against the table, until it forms a round ball. Place the dough balls into the pan, evenly spaced, in a 3-by-3 array. Cover the baking pan with plastic wrap. Let rise for 35 to 45 minutes, until doubled in size.

Preheat the oven to 175C 350° F.Right before baking, gently sprinkle the buns with a thin layer of corn starch.

Bake the buns on the middle rack for 20 to 25 minutes, until the top turns golden brown.

Let the buns rest in the pan for 5 minutes, then transfer onto a cooling rack. Serve warm or at room temperature.
Nutritional ingredients
Here is the approximate nutritional information for one serving of Fluffy Black Carrot Buns with Chocolate Chips (assuming the recipe makes 12 buns):
Calories: 280
Total Fat: 10g
Saturated Fat: 2g
Cholesterol: 31mg
Sodium: 282mg
Total Carbohydrates: 43g
Dietary Fiber: 2g
Sugars: 20g
Protein: 4g
Note: This is an estimate and may vary depending on the specific ingredients and serving size used.
FAQs of Fluffy black carrot buns with chocolate chips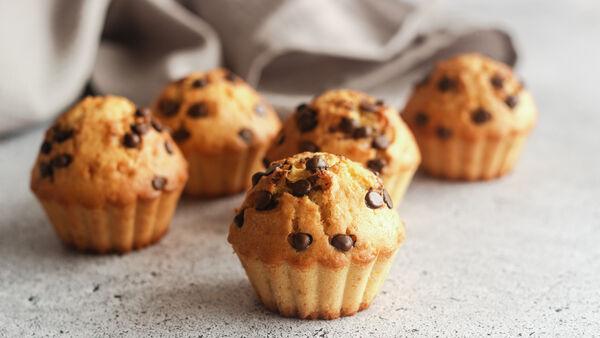 Here are some frequently asked questions about Fluffy Black Carrot Buns with Chocolate Chips:
Q: Can I use regular carrots instead of black carrots?
A: Yes, you can use regular carrots instead of black carrots. The color and flavor of the buns will be slightly different, but it will still be delicious.
Q: Can I use a different type of flour?
A: Yes, you can use a different type of flour, such as all-purpose flour or whole wheat flour, instead of bread flour. Just keep in mind that this may affect the texture of the buns.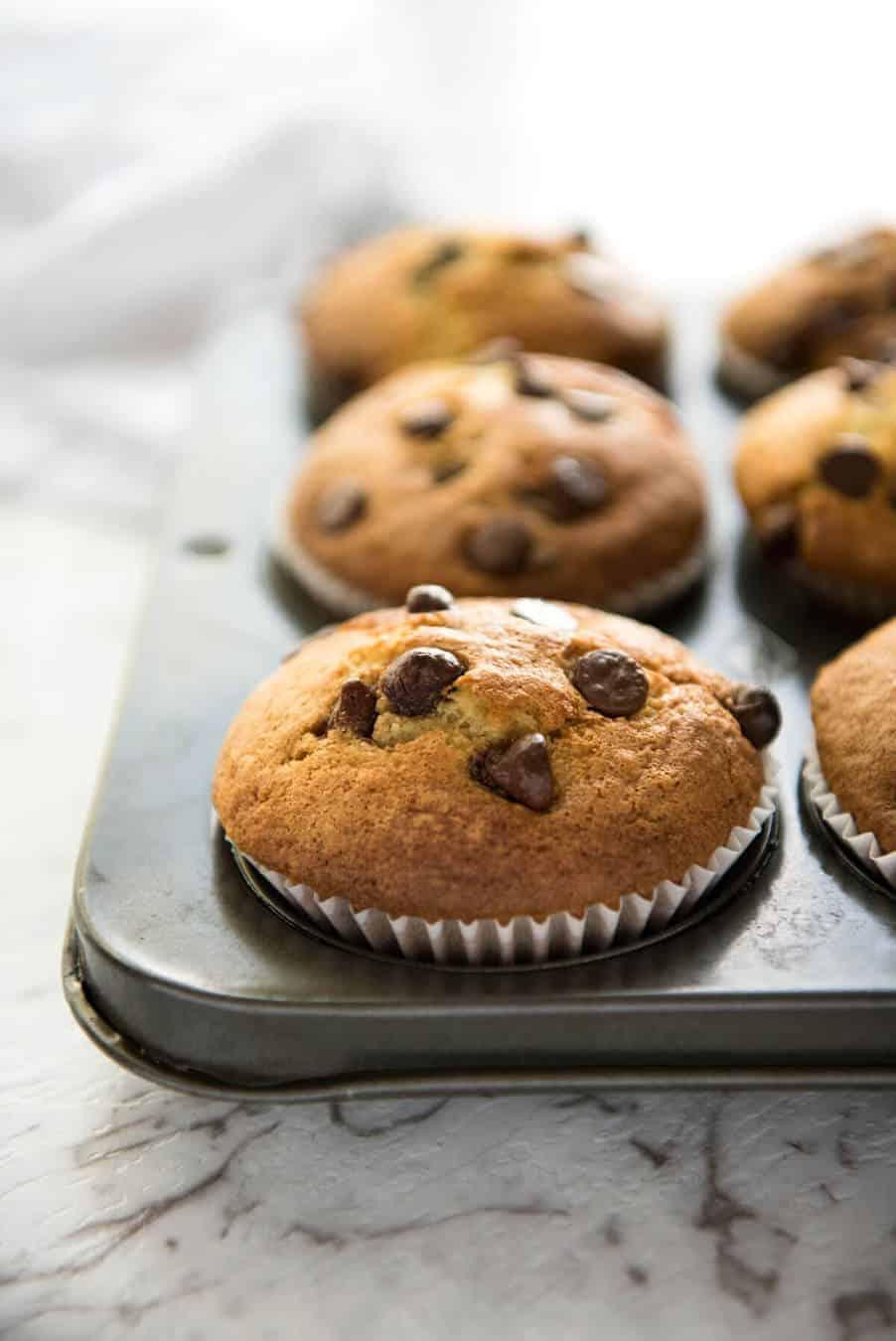 Q: Can I use a different type of chocolate chips?
A: Yes, you can use a different type of chocolate chips, such as milk chocolate or dark chocolate, instead of semisweet chocolate chips. You can also use chopped chocolate instead of chocolate chips.
Q: Can I make the dough ahead of time?
A: Yes, you can make the dough ahead of time and refrigerate it for up to 24 hours. When ready to bake, let it come to room temperature and continue with the recipe.
Q: Can I freeze the buns?
A: Yes, you can freeze the baked buns for up to 3 months. Let them cool completely, then wrap them tightly in plastic wrap and place them in a resealable plastic bag or container. Thaw them at room temperature before serving.
Q: Can I make this recipe vegan?
A: Yes, you can make this recipe vegan by using a vegan egg substitute, such as flax eggs, instead of regular eggs. Use vegan chocolate chips and check the other ingredients for any animal products. Use a non-dairy milk and a vegan butter substitute.