Have you ever made homemade Creamy pumpkin ravioli? It is way easier than it seems and it is so worth it – you won't want to eat store-bought anymore!
A secret for great ravioli, is to roll out pasta dough very thin (less than 1 mm). I highly recommend buying a pasta machine to roll out your pasta dough because it is way easier and you'll get the right size and thickness of dough for each preparation!
I got the Kitchen Aid pasta attachment from hubby couple of weeks ago and it was absolutely life changing!! (not sponsored). Also, a manual pasta machine does the job very well and it is much less expensive.
Introduction about Creamy pumpkin ravioli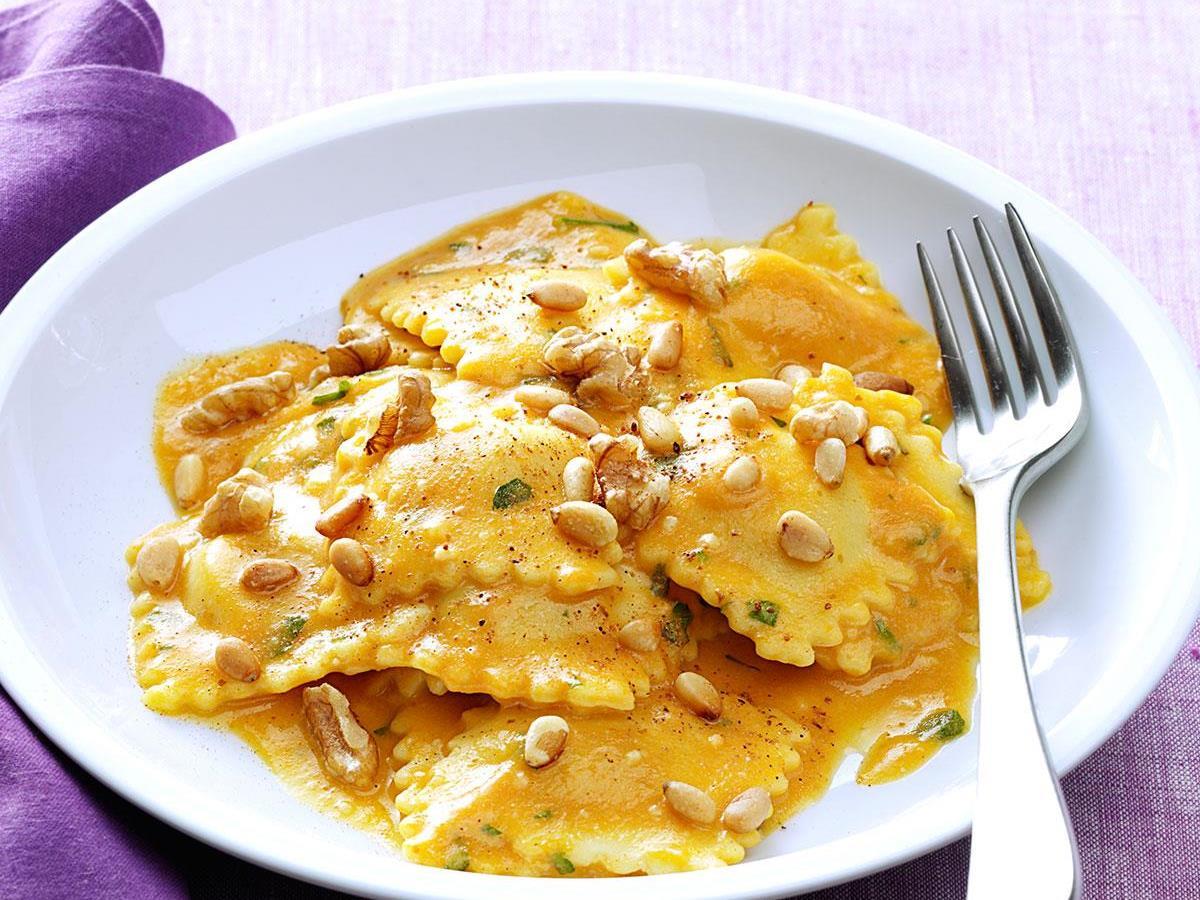 I also think that a ravioli maker is a great tool! It is perfect to make beautiful ravioli with same amount of filling, same size and same shape. Please notice that you will need a cutter to divide ravioli because the ravioli maker is not sharp enough to separate them (no matter how hard you press the dough with the roller pin- believe me. I tried).
Homemade fresh pasta is usually made with lots of eggs (1 egg for every 100g of flour). This is an egg-free and vegan version which is way lighter!
To make this egg-free version, I used half all purpose flour and half semolina FLOUR. Please note that semolina flour is NOT SEMOLINA! It is a re-milled semolina, suitable for pasta dough.
I really love the pumpkin filling, even though it will never be as good as the one my italian grandma used to make.
One of her secrets was to add finely crushed italian Amaretti cookies to the filling, which give a subtle almond flavor and extra sweetness. I didn't have Amaretti cookies this time, but if you want to try, please replace 1/3 of the bread crumbs with crushed amaretto cookies.
My grandma used to add only Parmigiano Reggiano cheese. I totally agreee that this is the best cheese to make this recipe. Make sure to us good quality italian Parmigiano Reggiano DOP cheese. Parmigiano is very salty; if you opt for a different cheese, please make sure to adjust salt amount accordingly.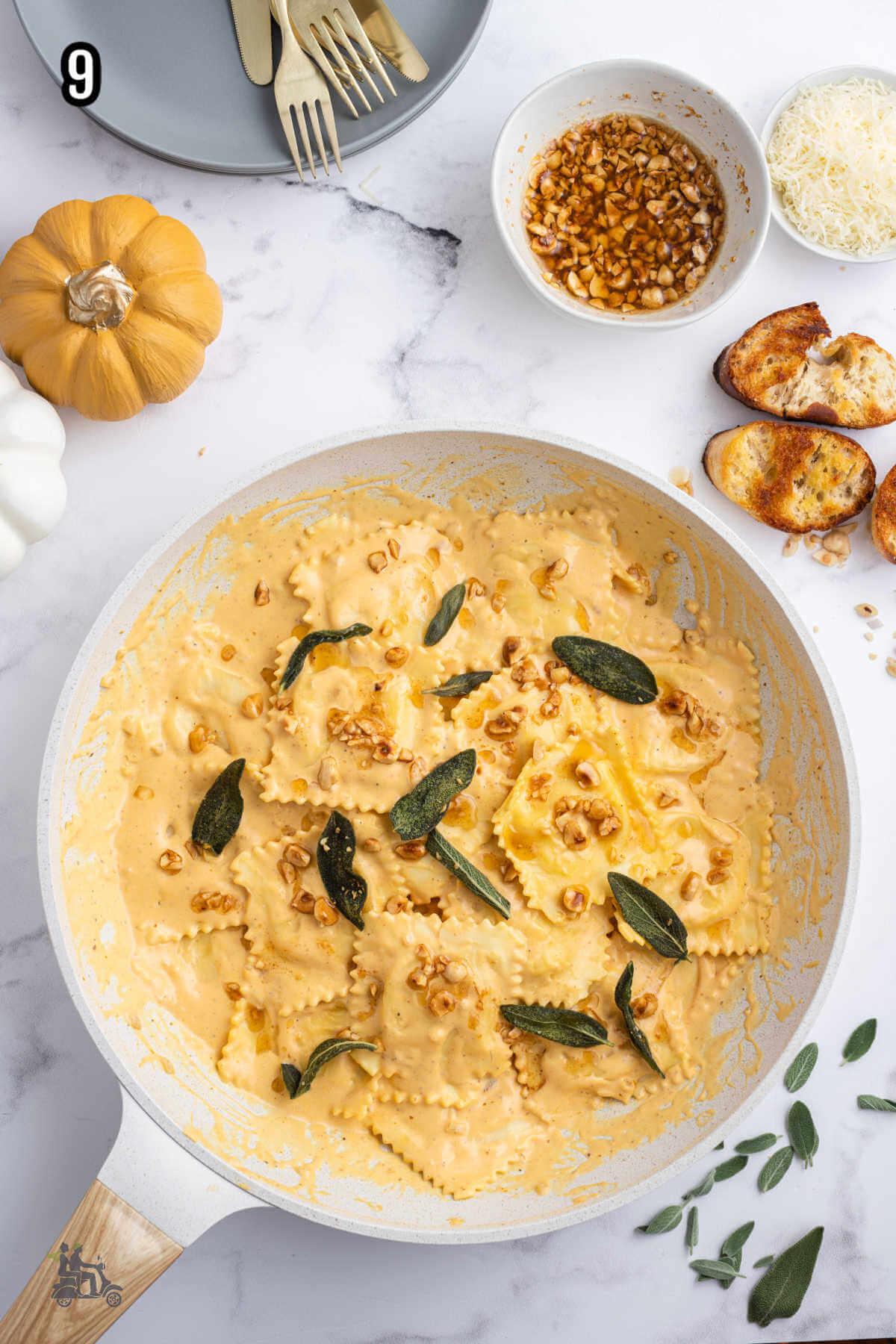 I don't recommend using canned pumpkin in this recipe. Homemade roasted pumpkin is more suitable for this recipe because it has more texture.
Roasting pumpking is very easy, but it requires some time. Please make sure to start preparing your pumpkin couple of hours earlier.
To roast pumpkin: halve pumpkin, scoop out seeds and let skin on. Place pumpkin flesh side down on a baking sheet and pierce skin a few times with a fork or knife. Preheat oven to 180C/ 360F. For a 1 kg pumpkin, bake for 45-50 minutes. Let the pumpkin cool slightly.
Once the pumpkin is cool enough to handle, scoop the flesh from the skin. Mash the pumpkin with a potato masher or a fork. Let cool down completely before using.
Since pumpkin is never too much, I made a creamy pumpkin sauce to go with the ravioli! This sauce is super easy to make and it goes so well with any kind of pasta. I also suggest adding cheese on top to make a delicious pasta bake! So good.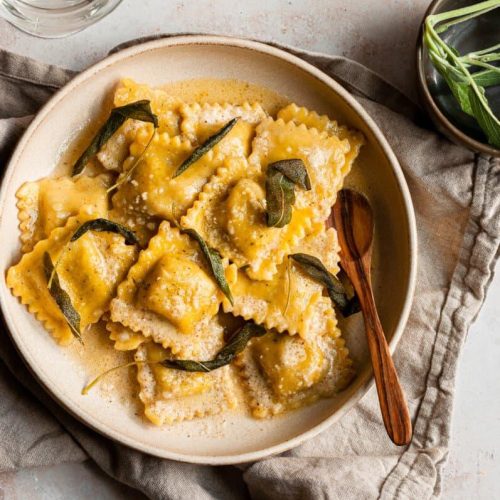 Creamy pumpkin ravioli
Dairy-free, egg-free, vegan options
Equipment
Pasta machine + ravioli maker, recommended. Can be made by hand with a rolling pin too.
Ingredients
Ingredients for the pasta dough
100 

g

all purpose flour 100

100 

g

semolina flour

1/2 

tsp 

fine salt

2

tsp 

extra virgin olive oil

120 

ml

(1/2 cup) luke warm water
Ingredients for the filling
300 

g

ooked pumpkin * see blogpost for more details

80 

g

bread crumbs

60 

g

parmigiano reggiano DOP or other cheese of choice

1/2 

tsp 

fine salt

1/8 

tsp 

ground nutmeg

freshly cracked pepper to taste
Ingredients for the pumpkin sauce
1

tbsp 

extra virgin olive oil

3

tbsp 

pumpkin purée

1/4

cup 

soy cream

3-5

tbsp 

water

1/4 

tsp 

fine salt
Instructions
Instructions for the pasta dough
Combine flours and salt on a clean surface, make a hole in the middle and add olive oil and water.Knead until smooth. Cover and let rest for 30 min.Use a pasta machine to roll dough to 0.8-1mm. Divide into 4 sheets.

Place 1 tsp of filling leaving 3 cm of space between each. Cover with a second pasta sheet and cut using a pasta cutter. Repeat with remaining dough.
Instructions for the filling
Combine all the ingredients and refrigerate for 30 minutes. 
Instructions for the sauce
Combine all the ingredients into a saucepan. Add more water to thin out if needed.Cook ravioli for 4 min into salted boiling water, then add to the saucepan. Toss to cover with sauce.  Serve with toasted chopped walnuts and fresh oregano.
Cooking tips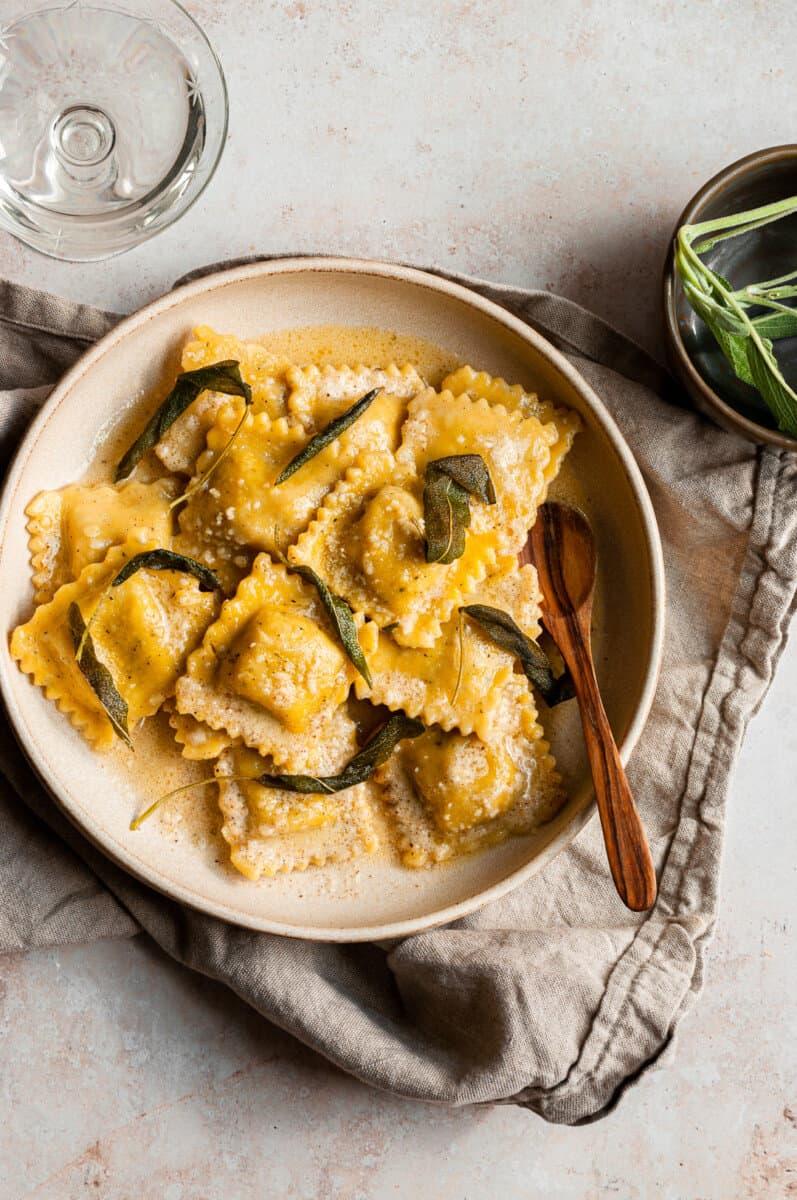 Here are some cooking tips for making creamy pumpkin ravioli:
Use fresh pasta: Fresh pasta cooks faster and has a better texture than dried pasta, making it ideal for this dish. You can make your own pasta dough or buy fresh pasta sheets from a grocery store.
Don't overfill the ravioli: When filling the ravioli, be careful not to overfill them, as this can cause them to burst during cooking. A teaspoon of filling per ravioli is usually enough.
Seal the edges well: Use a fork to press the edges of the ravioli together tightly, making sure there are no air pockets. This will prevent the filling from leaking out during cooking.
Use a large pot of boiling water: To prevent the ravioli from sticking together, use a large pot of boiling salted water. Cook the ravioli in small batches, stirring gently to prevent them from sticking to the bottom of the pot.
Make the sauce ahead of time: The creamy pumpkin sauce can be made ahead of time and reheated before serving. This will save you time when it comes to assembling the dish.
Garnish with fresh herbs: Garnish the finished dish with fresh herbs, such as sage or parsley, for added flavor and visual appeal.
By following these tips, you'll be able to make delicious and perfectly cooked creamy pumpkin ravioli that is sure to impress!
FAQs of Creamy pumpkin ravioli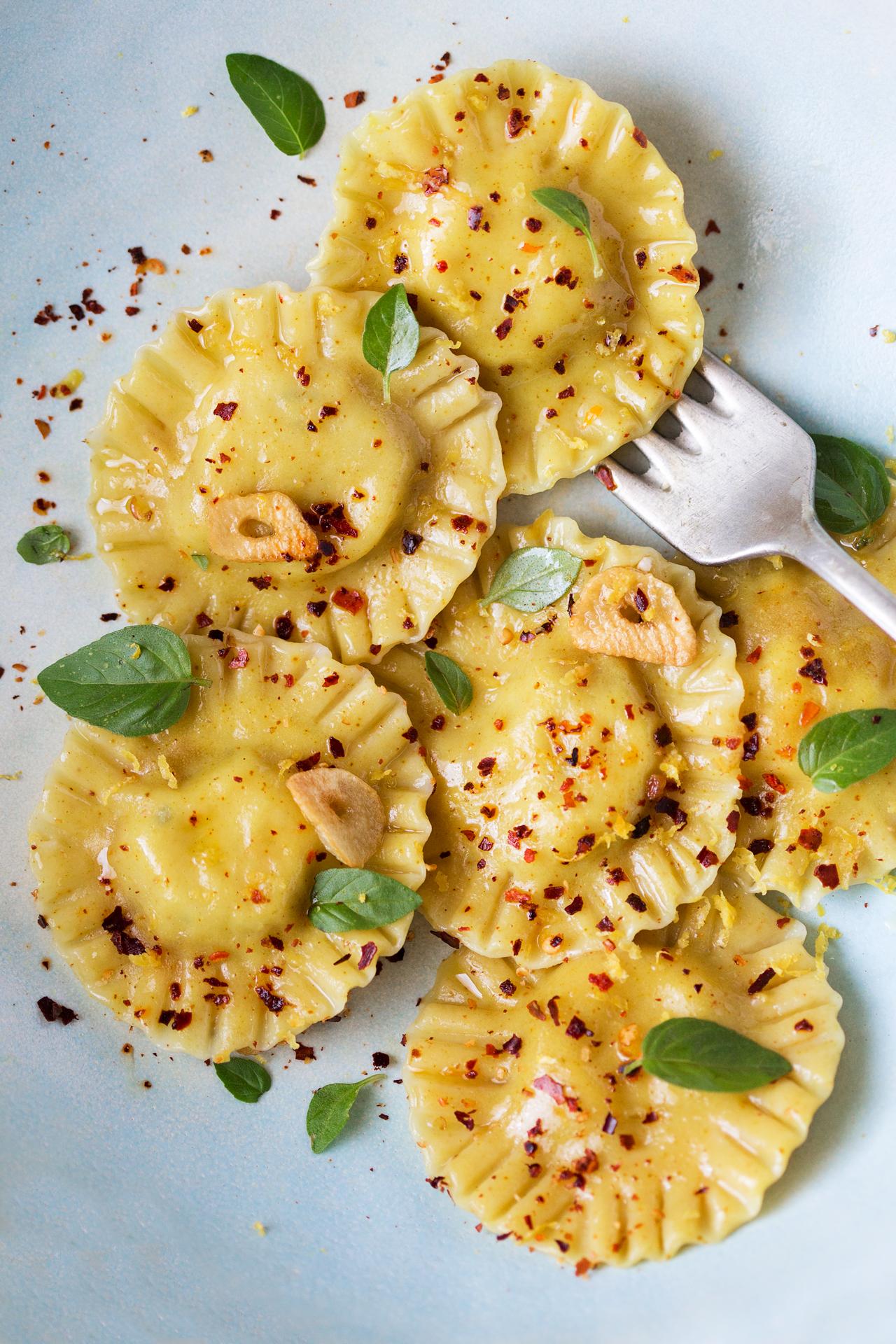 Here are some frequently asked questions about Creamy Pumpkin Ravioli:
Q: Can I make the filling ahead of time?
A: Yes, you can make the filling ahead of time and store it in the refrigerator for up to 2 days. Bring it to room temperature before using it to fill the ravioli.
Q: Can I freeze the ravioli?
A: Yes, you can freeze the ravioli before cooking them. Place them on a baking sheet lined with parchment paper and freeze until firm. Then transfer them to a resealable plastic bag or container and freeze for up to 2 months. Cook the frozen ravioli in boiling salted water for 3-4 minutes.
Q: Can I use a different type of pasta for this dish?
A: Yes, you can use a different type of pasta, such as tortellini or gnocchi, if you prefer. Adjust the cooking time according to the instructions on the package.
Q: Can I use a different type of cheese for the sauce?
A: Yes, you can use a different type of cheese, such as Parmesan or Romano, instead of goat cheese. Just keep in mind that this will change the flavor and texture of the sauce.
Q: Can I make this dish vegan?
A: Yes, you can make this dish vegan by using a vegan pasta dough recipe and a vegan filling that includes pumpkin puree, vegan cream cheese, and spices. Use vegan cheese or nutritional yeast instead of goat cheese for the sauce.
Q: Can I make this dish gluten-free?
A: Yes, you can make this dish gluten-free by using gluten-free pasta dough and a gluten-free filling that includes pumpkin puree, gluten-free breadcrumbs, and spices. Check the ingredients of the goat cheese for any added gluten.