When it's apple season I always end up having too many apples. Who can relate? No worries, I have the perfect Easy Apple butter cinnamon brioche recipe to use up your apples and make all your family happy!
Now that you have made your own apple butter, try not to eat it all straight from the jar and make this brioche instead! This is not a traditional brioche made of layers of butter.
It is a soft and light brioche bread that is very easy to make and it doesn't require all the tourage steps of the traditional butter brioche recipe.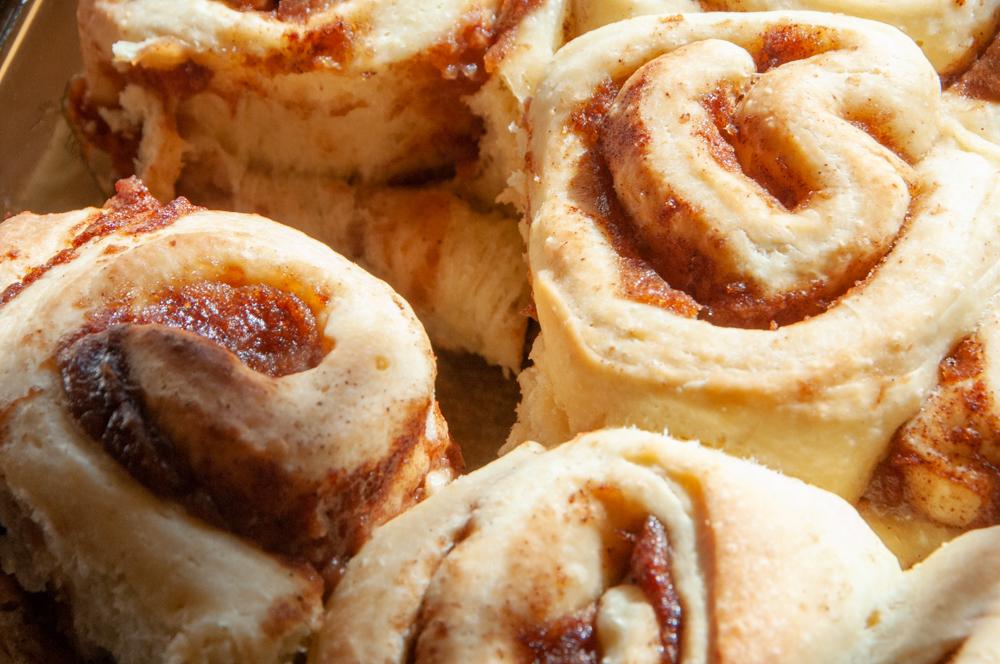 The healthier ingredients make this brioche a perfect treat for any time of the day! You can keep the brioche covered with plastic wrap or into an airtight container over the counter for 1-2 days.
You don't even need to use a knife to cut this brioche, the fluffy texture and swirls make it a perfect pull-apart bread!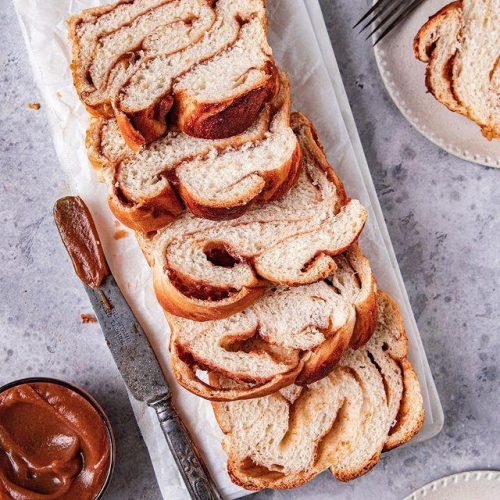 Easy Apple butter cinnamon brioche
Equipment
Stand mixer (optional)

1 22×12 cm loaf pans
Ingredients
Ingredients for the brioche dough
600 

g

(4 3/4 cups) all purpose flour divided

360 

ml

(1 ,5 cups) water warm (50 C degrees)

9

g

(1 pck) active dry yeast

45 

g

(3 tbsp) light brown sugar or unrefined sugar

50 

g

plant based or regular butter softened, at room temp

3/4

tsp 

rose salt
Ingredients for the filling
3

tbsp 

granulated sugar

3

tsp 

ground cinnamon

160

g

apple butter
Instructions
Add 500g flour, active dry yeast and sugar to the bowl of a stand mixer and whisk to combine.

Fit the mixer with the dough hook attachment.

Add warm water and knead on medium low until the dough is smooth and pulls away from the sides of the bowl (about 5 minutes).

Add softened butter and salt and knead on medium until the butter is incorporated.

Add 50g flour and knead until dough is completely smooth and elastic. (About 7 min). If the dough is still sticky, add remaining 50g flour.

Knead dough by hand a couple of times and shape into a ball.

Place into a greased bowl, cover and let rise for 45-60 minutes, until doubled in size.

Grease two 22×12 cm (9×5") loaf pans.

Stir the granulated sugar and cinnamon together in a small bowl.

Deflate dough on a clean surface and roll into a rectangle, about 44 cm (18") on the short side and 1/2 cm (1/4 ") thick.

Spread with a thin layer of apple butter, and top with the cinnamon sugar.

Starting at the short side, roll into a tight log (like a cinnamon roll). 

Cut the roll in two, cross sectional, to get two logs.

Using a sharp knife, cut the log in half lengthwise, leaving the two halves attached at one end. Twist the two long pieces together and place in the prepared pan. Repeat with the other log.

Place into the pans. Cover loosely with plastic wrap, and let rise in warm place until doubled in size (30 -45 minutes).

Preheat the oven to 175C (350°F.)

Bake for 40 to 45 minutes.Cool completely before slicing. Enjoy!
Fact about Easy Apple butter cinnamon brioche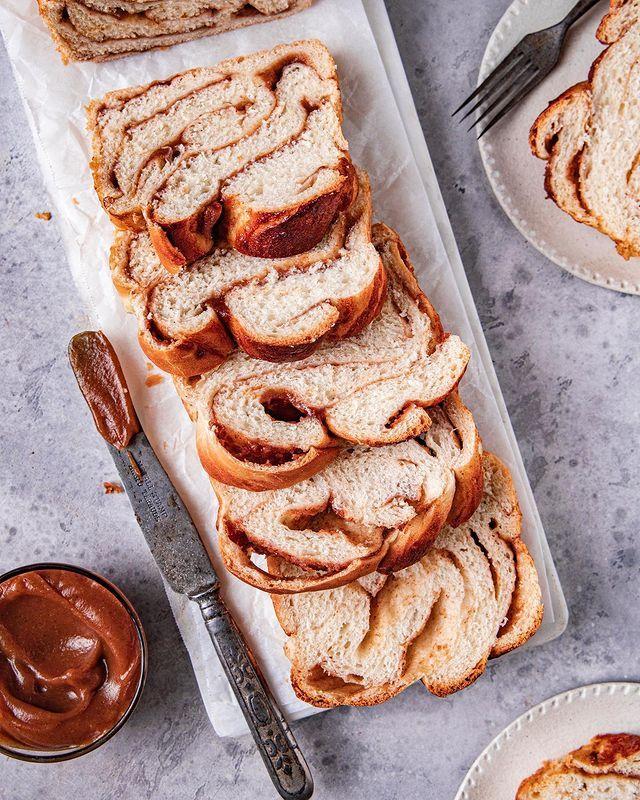 Apple Butter Cinnamon Brioche is a delicious and easy-to-make pastry that is perfect for breakfast or brunch. Here's a fun fact about this dish:
Brioche is a type of French bread that is enriched with butter and eggs, giving it a rich and tender crumb. It is often used in pastry-making and is known for its flaky texture and buttery flavor.
Apple butter is a spread made by cooking apples for a long time with sugar and spices until they become a smooth, thick paste. It is commonly used in baking and cooking and is a great way to add apple flavor to dishes without using fresh apples.
Cinnamon is a spice that comes from the inner bark of trees belonging to the Cinnamomum family. It is commonly used in baking and cooking and is known for its warm, sweet, and slightly spicy flavor.
The combination of apple butter and cinnamon in this brioche recipe creates a deliciously sweet and aromatic filling that pairs perfectly with the rich and buttery brioche dough.
This recipe is easy to customize by adding other ingredients such as chopped nuts, raisins, or even chocolate chips to the filling for a unique twist on the classic recipe.
Nutritional ingredients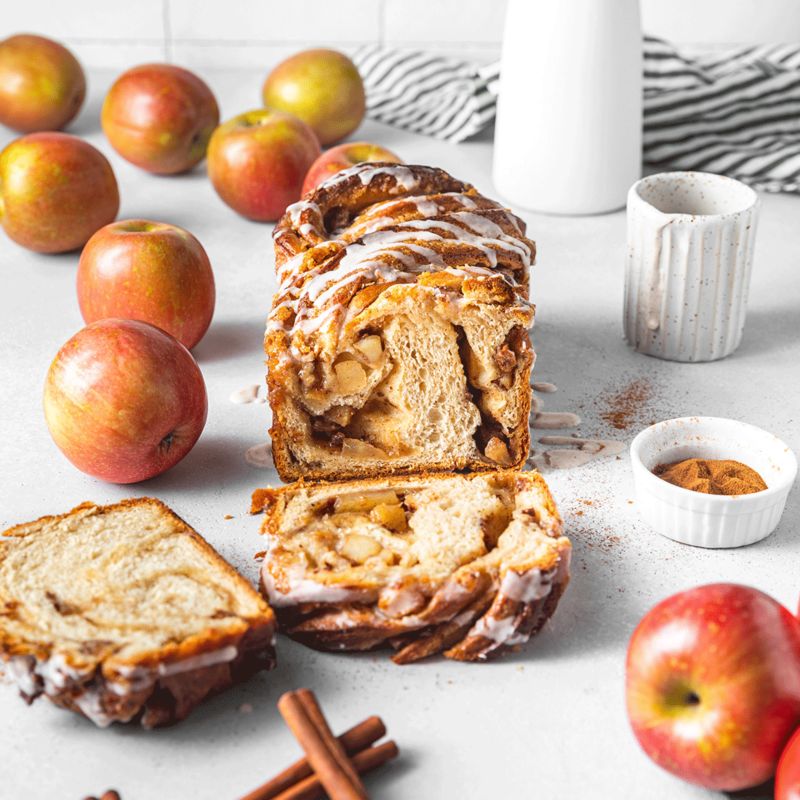 Here is the approximate nutritional information for one serving of Apple Butter Cinnamon Brioche (assuming the recipe makes 8 servings):
Calories: 283
Total Fat: 10g
Saturated Fat: 6g
Cholesterol: 77mg
Sodium: 218mg
Total Carbohydrates: 43g
Dietary Fiber: 1g
Sugars: 19g
Protein: 5g
Note: This is an estimate and may vary depending on the specific ingredients and serving size used.
FAQs of Easy Apple butter cinnamon brioche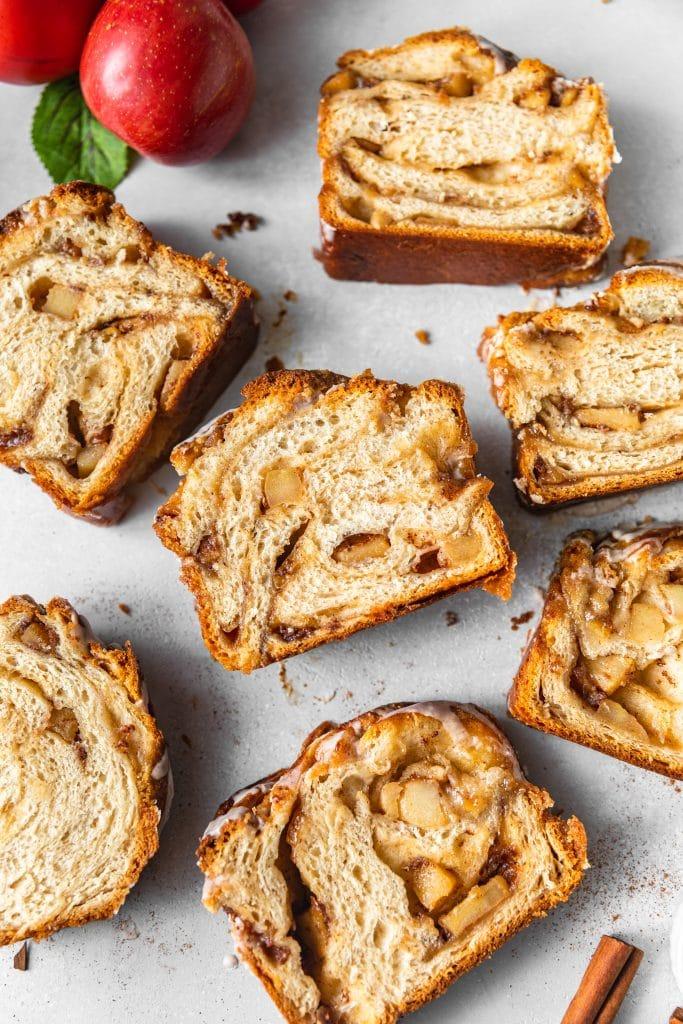 Here are some frequently asked questions about Easy Apple Butter Cinnamon Brioche:
Q: Can I make the brioche dough ahead of time?
A: Yes, you can make the brioche dough ahead of time and refrigerate it overnight. Just let it sit at room temperature for about 30 minutes before rolling it out and assembling the brioche.
Q: Can I use homemade apple butter for this recipe?
A: Yes, you can definitely use homemade apple butter instead of store-bought. Just make sure it is smooth and spreadable before spreading it on the brioche dough.
Q: Can I freeze the brioche?
A: Yes, you can freeze the brioche after it has been baked. Just wrap it tightly in plastic wrap or foil and store in the freezer for up to 3 months. To defrost, let it sit at room temperature for about an hour, or reheat it in the oven for a few minutes.
Q: Can I substitute the cinnamon with other spices?
A: Yes, you can use other spices such as nutmeg, allspice, or ginger to add flavor to the apple butter filling. Just use about 1/4 to 1/2 teaspoon of the spice, depending on how strong you want the flavor to be.
Q: Can I make this recipe vegan?
A: Yes, you can make this recipe vegan by using a vegan brioche dough recipe, such as one that uses plant-based milk and vegan butter. You can also use a vegan egg substitute, such as flax eggs, instead of eggs in the dough.