Comforting. Warming. Soul food. This is my idea of Asian food, especially when it comes to noodles and soups.
As the days get colder, I crave more warming and comforting food, much like the appeal of a steaming bowl of beef udon noodle soup on a chilly day.
And this Spicy miso udon noodle soup is THE BEST, offering a combination of flavors and textures that is both satisfying and heartwarming.
Miso paste is such a great ingredient and it is so important in Japanese cuisine. I am glad that nowadays it is also very easy to find it here in Switzerland. You can find red and white miso paste and they're both great. I used red miso paste this time.
Introduction about Spicy miso udon noodle soup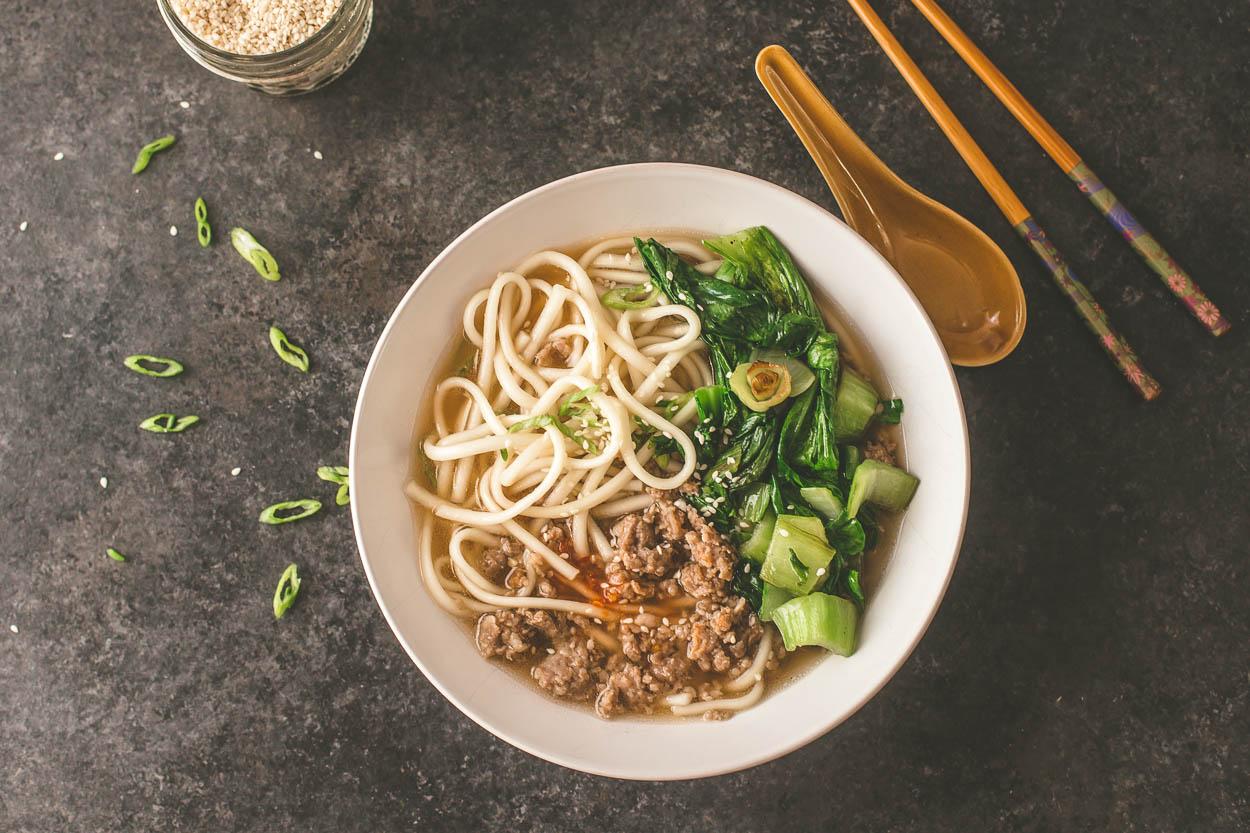 The original ramen/udon Japanese soup is made of pork and chicken bones and requires very long cooking time. The base flavorings are usually soy sauce (shoyu), miso or salt (shio).
This recipe is a simplified version and it doesn't require much time. I used a beef broth (feel free to use veggie broth for vegetarian /vegan). This is a shortcut of course and it has nothing to do with the real thing, but it is absolutely great and all my family loves it!
I also marinated some cremini mushrooms with a teriyaki sauce that you can also use to marinate beef or pork if you prefer.
I still haven't find a Ramen brand that I really like. There is a wide choice of instant ramen brands, but not many of them make traditional, high quality ramen. This is why I am using Udon noodles. I love this brand and I just discovered these super tiny udon noodles, which are perfect for this recipe!
If you can find good quality ramen, feel free to use these instead of the udon.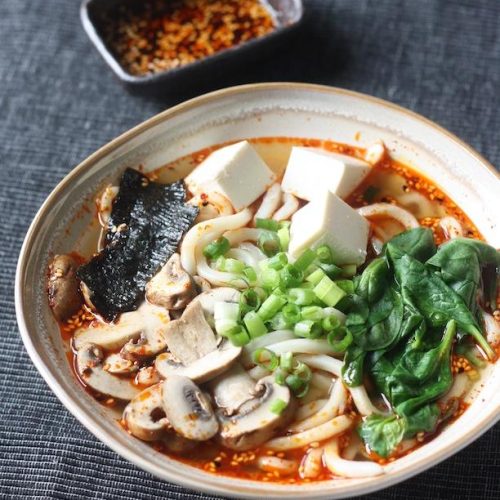 Spicy miso udon noodle soup
dairy-free, vegan and vegetarian options
Ingredients
Ingredients for the soup
2

tbsp 

red miso paste

1

clove garlic

1/2 

small onion

1

thumb size ginger, peeled (about 1 tbsp grated)

1

tbsp 

mirin (Japanese sweet rice wine)

1

tbsp 

soy sauce

1

tbsp 

toasted sesame seeds oil

1

tsp 

chili oil

1

l

(4 cups) beef or vegetable broth
Ingredients for the marinated mushrooms
1

tbsp 

soy sauce

1

tsp 

toasted sesame seeds oil

1/2

tbsp 

coconut syrup /agave/ honey

1

clove garlic, grated

120

g

cremini mushrooms
For the noodles
Ramen or Udon noodles for 2 ppl
Toppings
spring onion, chopped

cilantro

sprouts

toasted sesame seeds
Instructions
Marinate mushrooms
Combine all the sauce ingredients and the sliced mushrooms. Toss to cover. Set aside for at least 30 minutes.
Make soup
Finely grate garlic and ginger. Finely chop onion.

Heat a large pot over high heat.

Add sesame seed and chili oil and quickly fry garlic, onion and ginger for about 30 seconds to a minute.

Add miso paste, soy sauce and mirin and stir to combine.

Add broth and whisk to combine.

Cook for 30 minutes, then pass the broth through a sieve to get a clear broth.
Serve
Cook noddles according to package instructions. Rinse and drain noodles and place them on the bottom of the bowls.

Slowly add warm soup, top with mushrooms and extra toppings.
Nutritional ingredients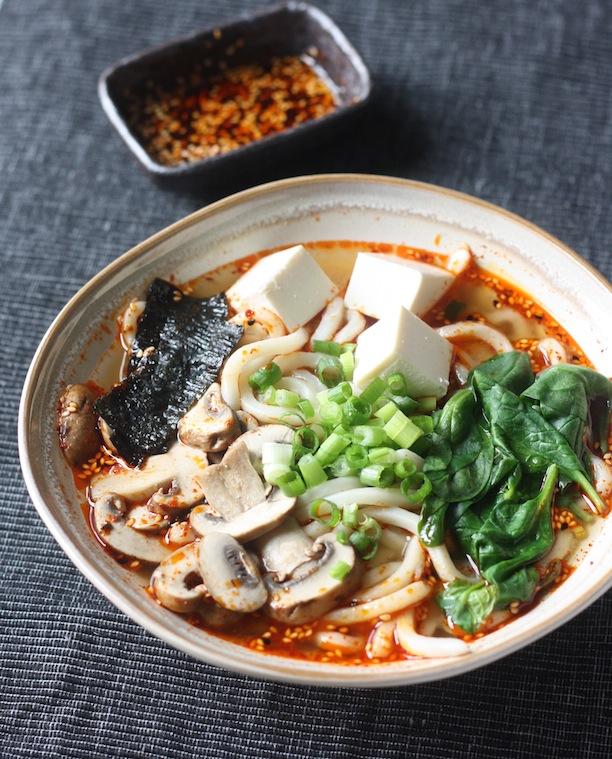 Here is the approximate nutritional information for one serving of Spicy Miso Udon Noodle Soup (assuming the recipe makes 4 servings):
Calories: 294
Total Fat: 7g
Saturated Fat: 1g
Cholesterol: 0mg
Sodium: 1,028mg
Total Carbohydrates: 49g
Dietary Fiber: 4g
Sugars: 6g
Protein: 9g
Note: This is an estimate and may vary depending on the specific ingredients and serving size used.
Serving Suggestions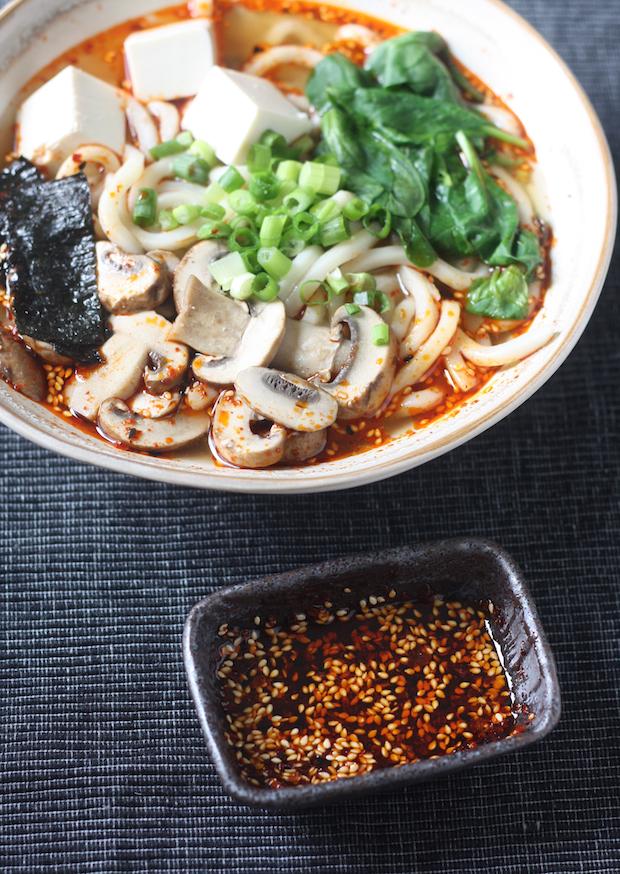 Spicy miso udon noodle soup is a delicious and filling dish that can be served as a main course for lunch or dinner. Here are some serving suggestions to enjoy this soup:
Top with sliced green onions and sesame seeds: Add some extra flavor and texture to the soup by sprinkling some sliced green onions and sesame seeds on top, much like the way a garnish enhances the presentation of udon with eggs.
Serve with steamed vegetables: Steamed broccoli, bok choy, or snow peas are great options to serve on the side of the soup. They add some extra nutrition and color to the dish.
Add protein: For a more filling and satisfying meal, you can add some protein to the soup. Grilled chicken, shrimp, or tofu are great options that go well with the spicy miso flavor.
Pair with a salad: A light and refreshing salad can be a great complement to the soup. A simple side salad with mixed greens, cucumbers, and carrots dressed with a light vinaigrette works well.
Serve with rice or noodles: If you want to make the soup more filling, you can serve it with a side of rice or noodles. Rice noodles or soba noodles are great options that pair well with the udon noodles in the soup.
Enjoy with a side of kimchi: Kimchi is a traditional Korean side dish made of fermented vegetables, usually cabbage. It has a spicy and tangy flavor that goes well with the spicy miso udon noodle soup.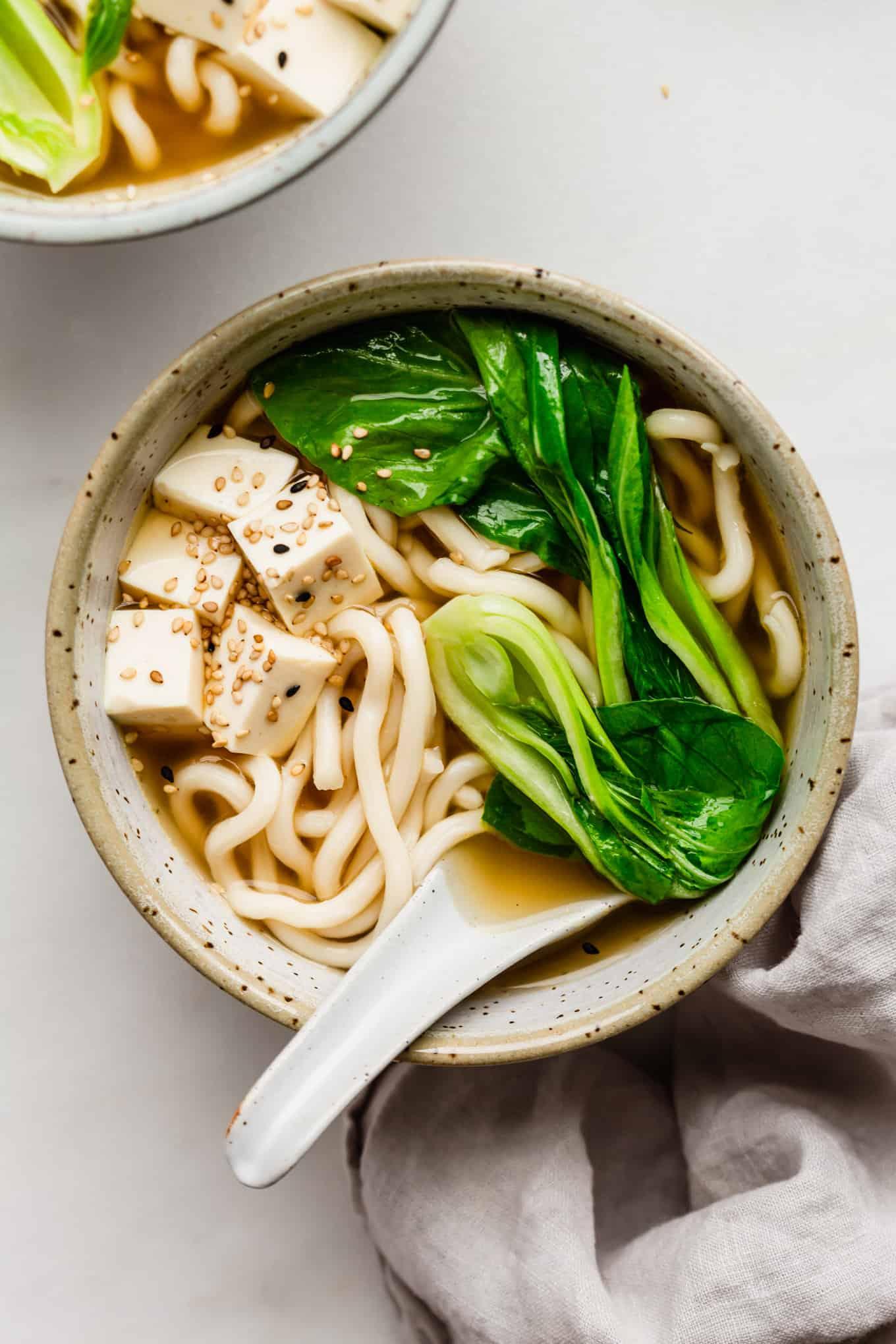 Spicy miso udon noodle soup is a delicious and satisfying meal that can warm you up on a cold day. With its bold and flavorful broth and tender udon noodles, it's a dish that will leave you feeling full and satisfied. Whether enjoyed on its own or paired with some steamed vegetables or protein, this soup is sure to be a favorite for any noodle lover. So go ahead and give it a try, and add some spice to your next meal.