I love prezels. Any kind of prezels. And I never thought they could be so easy to make!
I discovered soft prezel bites on Pinterest when making research for traditional Soft cinnamon prezel bites recipe. I have never seen prezel bites in our stores, so I tried to make them at home.
Introduction about Soft cinnamon prezel bites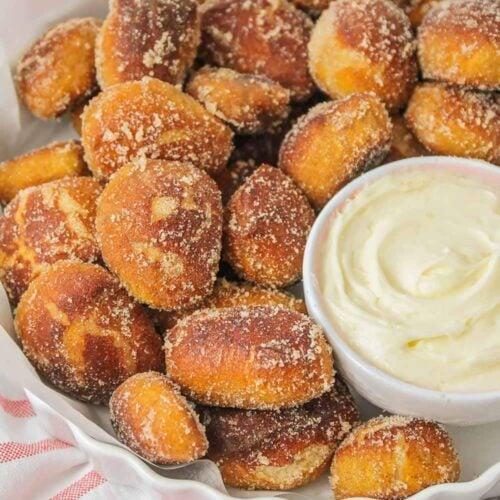 The first bites I made, were savory. And so delicious, I coudn't even take photos because they disappeared in no time!
Feel free to use this recipe to make savory bites, omitting cinnamon from dough and increasing sea salt to 1 1/2 tsp. (No need to reduce sugar amount). Sprinkle with coarse or prezel salt before baking and serve with cheese sauce!
But since it's autumn right now and I am so excited about spices and autumn flavors, here's my sweet version of the bites,made with whole spelt flour and delicious cinnamon sugar. Your house will smell amazing!
I tried using both, vegan butter and oil. The result is very similar, so feel free to use whatever you prefer.
I also tried using half water and half plant milk. No great differences.
When testing the recipe, I brushed half of the bites with baking soda bath mixture and half with egg wash. The baking soda ones were darker in color and had a stronger prezel flavor. The egg wash can be replaced with plant milk for vegan.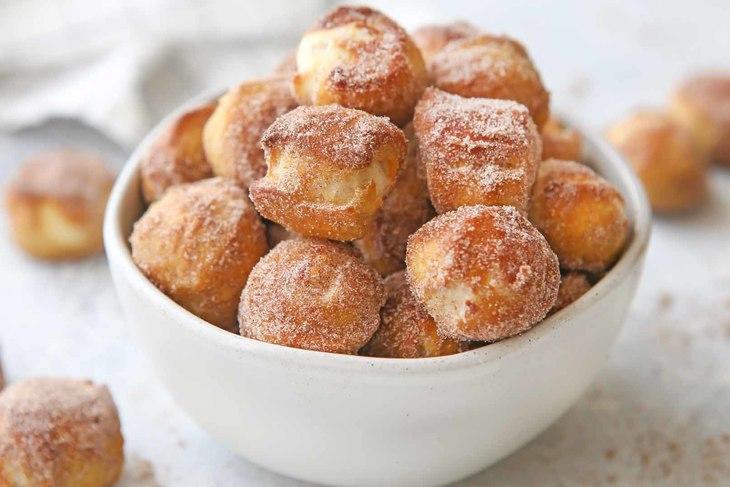 I recommend keeping the bites for one day, covered, on the counter. When left uncovered, they dry out quickly.
With this recipe you will get a large number of bites. I didn't count them, but the amount corresponds to what you see in the picture! So, unless you're veeery hungry, please feel free to halve the recipe.
Soft cinnamon prezel bites
Egg-free, dairy-free, vegan- friendly
Ingredients
Ingredients for the dough
270 

ml

luke warm water

500 

g

(4 cups) spelt or all purpose flour

1

tsp 

ground cinnamon

1

pack 

(9g) Active dry yeast

1,5

Tbsp 

unrefined brown sugar

0,5

tsp 

fine salt

50 

g

vegan butter or 40g neutral oil
Ingredients for the baking soda bath
100

g

(1/2 cup) baking soda

2

l

(9 cups) boiling water
Ingredients for the cinnamon sugar coating
1

tbsp 

melted butter

2

tbsp 

fine sugar (I used light brown)

1/2

tsp 

ground cinnamon
Instructions
In a large bowl or a bowl of a standing mixer, whisk flour with sugar, cinnamon and active dry yeast.If using a standing mixer, fit it with the hook attachment.

Add warm water and knead on low for 5 minutes.

Add salt and butter, knead on medium until the dough is soft and smooth (for about 10 minutes).

Knead dough by hand a couple of times and shape into a smooth ball. Place into a lightly greased bowl, cover with a towel and let rest for 40 minutes or until doubled in size.

Preheat oven to 200 degrees C. (400F).

Once dough is done resting, cut it into 8 equal pieces. Roll each section into a long rope about 30 cm long.

Cut the dough into 2cm (one inch) pieces to make the pretzel bites.

Combine the boiling water and baking soda, stirring until the soda is totally (or almost totally) dissolved. Set the mixture aside to cool to lukewarm (or cooler).

Put the pretzel bites in the water solution in batches. (about 10 bites at a time). Leave for about 1 min.

Place pretzel bites on a lined baking sheet. Make sure they are not touching.

Brush the tops with egg wash or plant milk.

Place into the oven and bake for 11-13 minutes until golden brown.

Let cool down completely, brush with melted butter and dip into cinnamon sugar.
Cooking tips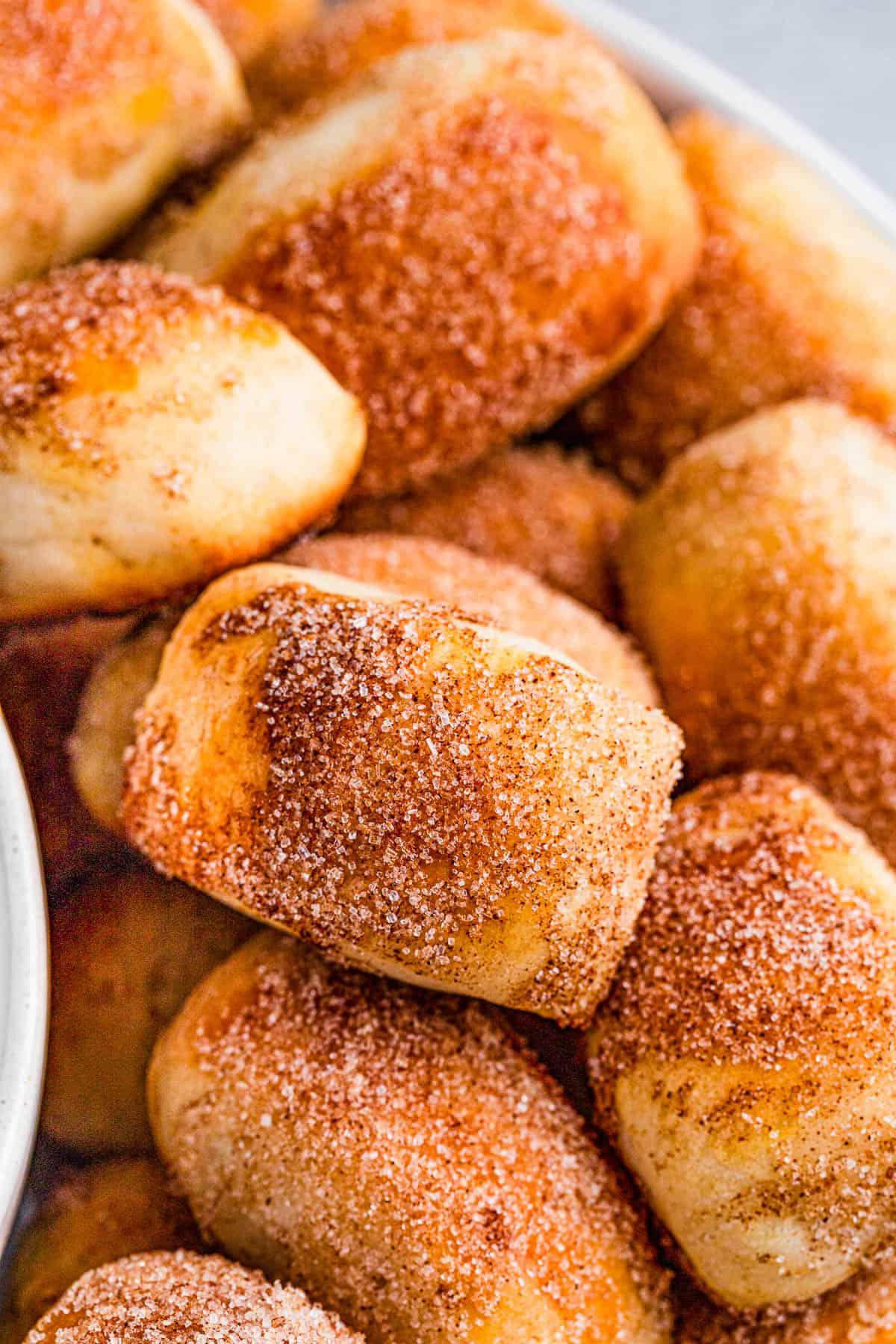 Here are some cooking tips for making delicious Soft cinnamon prezel bites:
Use bread flour: Bread flour has a higher protein content than all-purpose flour, which helps give the pretzel bites a chewy texture.
Let the dough rest: After kneading the dough, let it rest for at least 10 minutes before shaping it into pretzel bites. This allows the gluten to relax and makes the dough easier to work with.
Use a baking soda bath: Boiling the pretzel bites in a baking soda bath before baking helps give them their characteristic chewy texture and slightly browned exterior.
Brush with melted butter: After baking, brush the pretzel bites with melted vegan butter and sprinkle them with a cinnamon-sugar mixture for added flavor.
Serve with a dipping sauce: Soft cinnamon pretzel bites are delicious on their own, but they also pair well with a variety of dipping sauces, such as vegan cream cheese frosting, honey mustard, or chocolate sauce.
Store properly: If you have leftover pretzel bites, store them in an airtight container at room temperature for up to three days. To reheat, simply pop them in the oven for a few minutes until warmed through.
Overall, these cooking tips can help you achieve perfect soft cinnamon pretzel bites that are chewy, flavorful, and irresistible.
Serving Suggestions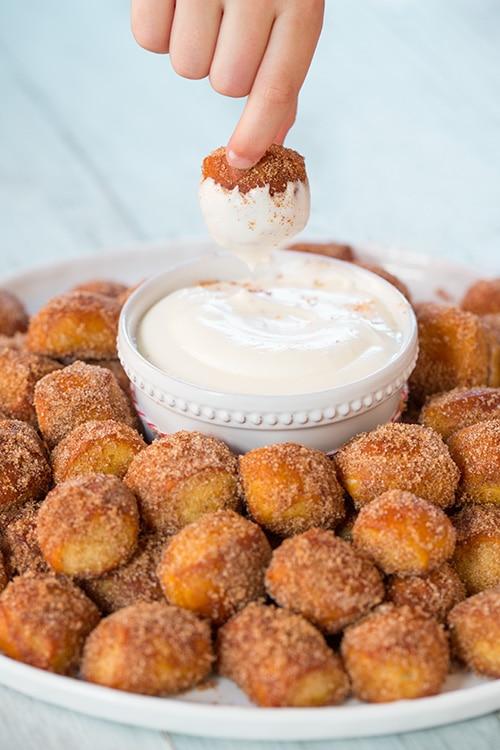 Here are some serving suggestions for Soft cinnamon prezel bites:
Serve warm: Soft cinnamon pretzel bites are best when served warm, straight out of the oven. They are delicious on their own or with a dipping sauce.
Pair with coffee or tea: Soft cinnamon prezel bites are a perfect accompaniment to a hot cup of coffee or tea, especially on a chilly day.
Make a sweet snack board: Arrange the pretzel bites on a board with fresh fruit, nuts, and other sweet treats for a fun and festive snack board.
Serve at a party: Soft cinnamon pretzel bites are a crowd-pleasing party snack that will disappear quickly. Serve them with a variety of dipping sauces to please all tastes.
Enjoy as a dessert: Soft cinnamon pretzel bites are sweet enough to be enjoyed as a dessert. Serve them with a scoop of vegan ice cream or a drizzle of chocolate sauce for an indulgent treat.
Overall, Soft cinnamon prezel bites are a versatile and delicious snack that can be enjoyed in many different ways. Whether you serve them warm out of the oven or as part of a sweet snack board, they are sure to be a hit.