Who loves figs as much as I do? Figs make me happy! Not only because they are delicious but also because they mean autumn is around the corner!
The base of this Vanilla fig loaf cake is my favorite. Since it's fig season (yaaay my favorite season is around the corner!) I decided to add figs; but I made the same cake with raspberries during summer (recipe here) and it was a hit!
I used fresh ripe figs and the taste of this cake was heavenly! Baked figs are so flavorful and delicious! Of course, feel free to replace figs with other fruits / nuts, if you prefer.
Introduction about Vegan vanilla fig loaf cake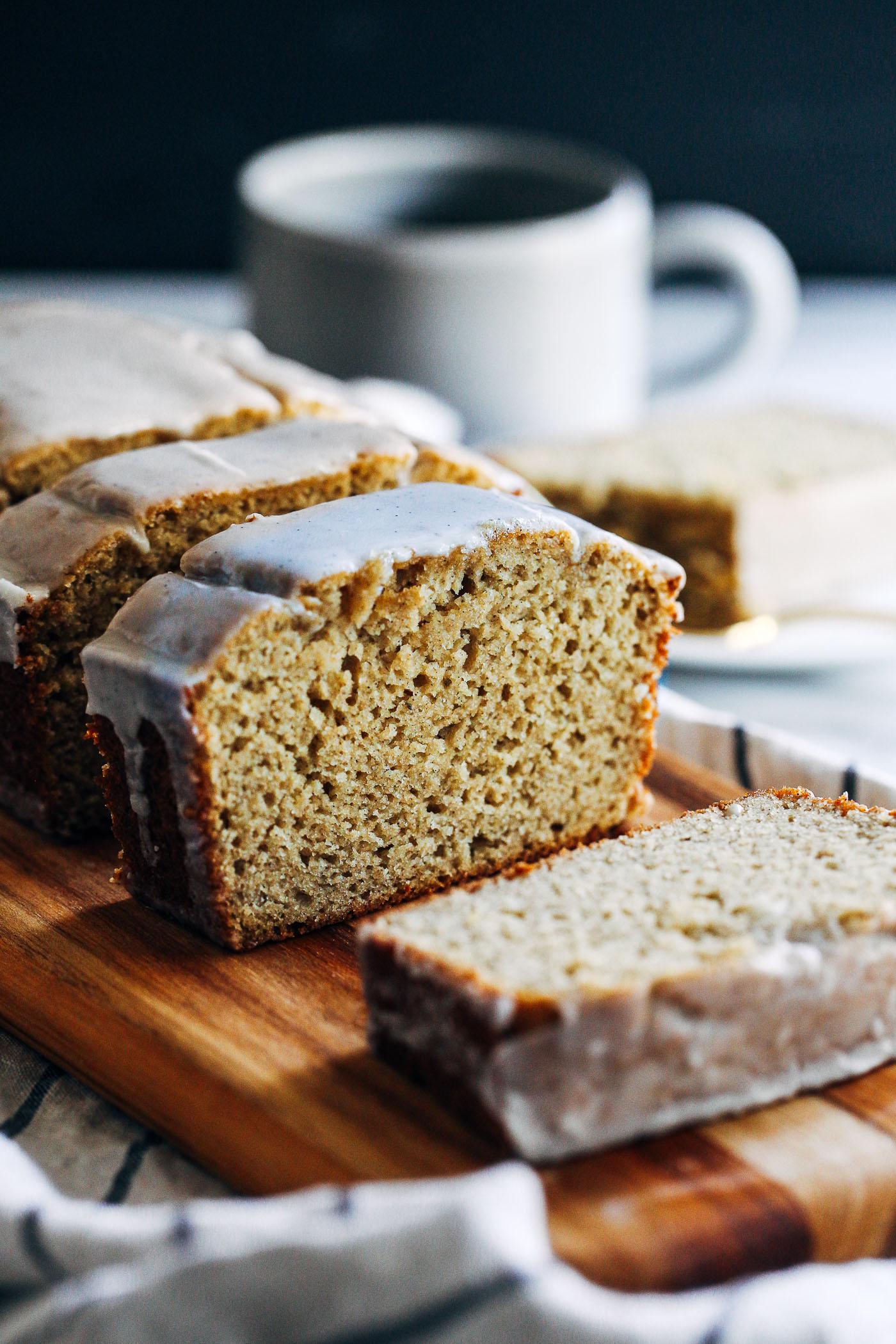 The recipe for this cake is very easy and I am sure it will become your go-to cake recipe!
I have noticed in the comments that many of you guys want to know how to replace some of the ingredients. Please remember that using the ingredients listed and following all the steps properly, will give best results.
If there are substitutions that I recommend, you will find them listed together with the regular ingredients. Please remember that any substitution will affect the final result.
I haven't tried making this cake gluten-free, but I think that all-purpose gluten-free flour should be a good substitute in this recipe.
If you guys made some of my recipes using gluten-free flour or other replacements, please share your experience in the comments, to help other people!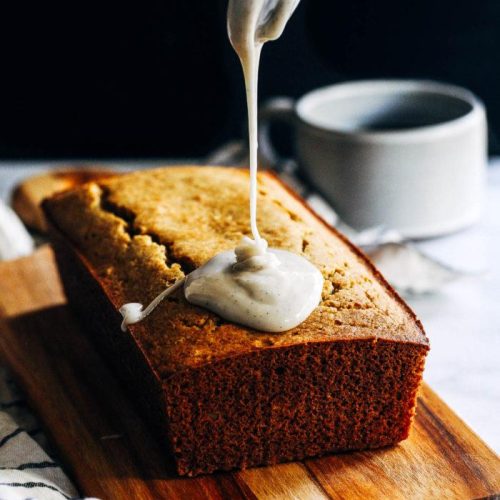 Vegan vanilla and fig loaf cake
Moist and fluffy, dairy free and vegan friendly
Ingredients
Wet ingredients
130 

g

( 1/2 cup) yogurt / plant yogurt of choice (I used soy yogurt)

180 

ml

(3/4 cup) non dairy milk or full fat milk (I used soy milk)

100g 1/2 cup

sugar of choice (I used light brown)

1 1/2

tsp

vanilla bean paste

55

g

(4 tbsp) neutral oil (I used sunflower seed oil)
Dry ingredients
250 

g

(2 cups) all purpose flour

2

tsp 

baking powder

1/4

tsp 

fine salt
Add-ins
160

g

(about 5 medium) ripe figs, chopped

2

tsp 

flour to coat figs
Glaze
160 

g

powdered sugar

2

tbsp 

plant milk (I used fullf at coconut milk for thicker glaze)

fig chips and dried sage to decorate
Instructions
Preheat oven to 350 degrees F / 175C degrees.Grease and line a 25x10cm loaf pan with parchment paper.

Wash and pat dry the figs. Toss them into 2 tsp flour until well coated.

Combine all the wet ingredients in a large bowl and stir until sugar has dissolved.

In another bowl, whisk all the dry ingredients.

Add the flour mixture to the wet mixture and whisk until just combined.

Gently fold chopped figs into cake batter, until just combined

Drop the batter into prepared pan. Bake for 50-60 minutes or until a toothpick inserted near the center comes out clean.

Let cake cool 15 minutes in the loaf pan before transferring to a cooling rack.

Let it cool completely before slicing/glazing.

Glaze: Mix the powder sugar with plant milk and lemon juice. Spoon glaze over cooled cake.
Nutritional ingredients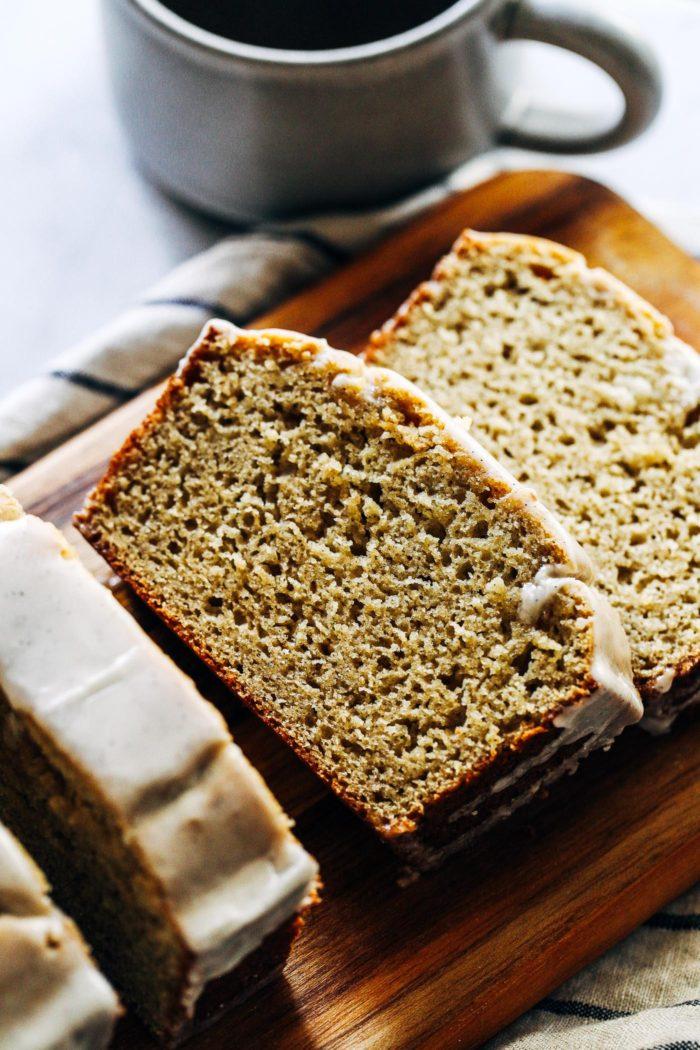 As an AI language model, I don't have access to specific recipes or nutritional databases. However, I can give you a general idea of the nutritional ingredients that might be included in a vegan vanilla fig loaf cake.
Please note that the exact nutritional content can vary depending on the specific recipe and ingredients used. Always refer to a detailed recipe or consult with a nutritionist for precise information.
Typically, a vegan vanilla fig loaf cake might include the following nutritional ingredients:
Flour (all-purpose, whole wheat, or gluten-free alternatives)
Vegan sweeteners ( maple syrup, agave nectar, or coconut sugar)
Vegan fats (plant-based oils like coconut oil or vegan butter)
Plant-based milk ( almond milk, soy milk, oat milk)
Vanilla extract or vanilla bean paste for flavor
Baking powder and/or baking soda as leavening agents
Salt for taste and balance
Figs (fresh or dried) for sweetness and texture
Optionally, vegan egg substitutes (flaxseed meal, applesauce, or mashed bananas) for binding and moisture.
Please keep in mind that the nutritional content will vary based on the quantities of each ingredient used and the specific brand of products used. If you have specific dietary concerns or preferences, it's always a good idea to modify the recipe or consult a nutritionist to ensure it meets your needs.
FAQs of Vegan vanilla fig loaf cake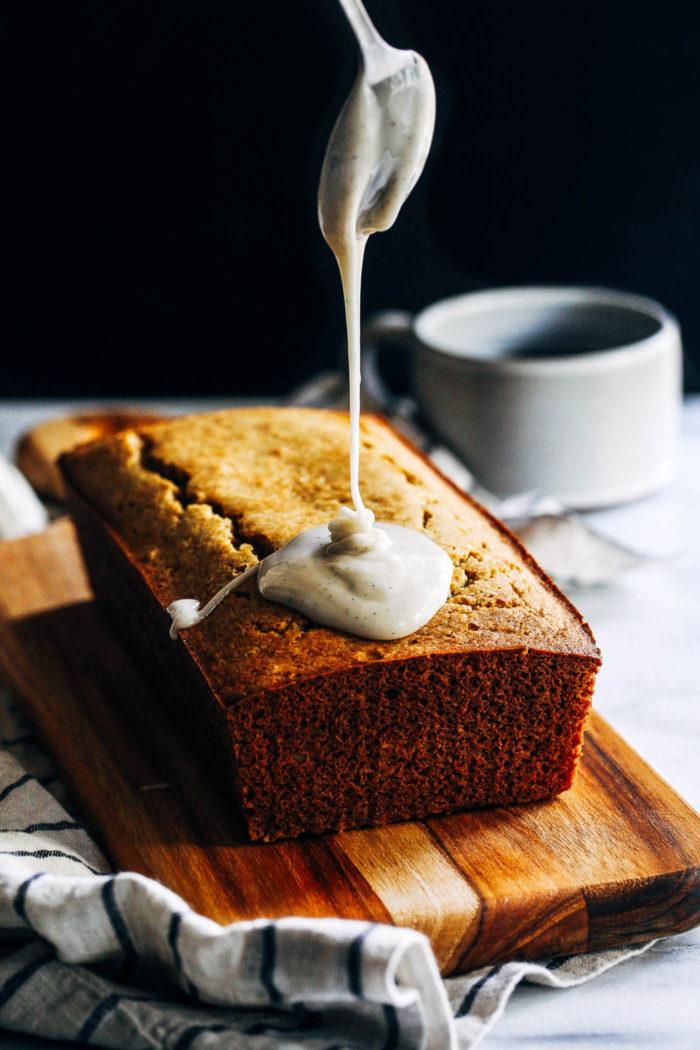 Here are some frequently asked questions about vegan vanilla fig loaf cake:
Q: What is a vegan vanilla fig loaf cake?
A: This is a type of cake made with plant-based ingredients. It typically includes all-purpose flour, figs, non-dairy milk, coconut oil, maple syrup, and baking powder.
Q: Is vegan vanilla fig loaf cake healthy?
A: Vegan vanilla fig loaf cake can be a healthy dessert or snack option when enjoyed in moderation as part of a balanced diet. Figs are a good source of fiber, vitamins, and minerals, and the use of plant-based ingredients like non-dairy milk and coconut oil can provide health benefits as well.
Q: Can I substitute the figs in the recipe?
A: Yes, you can substitute the figs in the recipe with other types of fruit, such as dates, raisins, or cranberries. However, keep in mind that the sweetness and texture of the cake may be slightly different depending on the type of fruit you use.
Q: Can I make this cake gluten-free?
A: Yes, you can make this cake gluten-free by using a gluten-free flour blend in place of the all-purpose flour. You may also need to adjust the amount of liquid in the recipe to account for the differences in gluten-free flours.
Q: How should I store vegan vanilla fig loaf cake?
A: You can store vegan vanilla fig loaf cake in an airtight container at room temperature for up to three days. If you want to keep it for longer, you can store it in the refrigerator for up to a week or in the freezer for up to three months.