This was meant to be a simple afternoon tea cake. No fancy ingredients, just a basic loaf cake with lemon juice and a hint of vanilla.
But it turned out SO flavorful that I had to share the Moist lemon poppyseeds cake recipe with you guys! It's crazy how sometimes, simple ingredients can create great flavors combined together!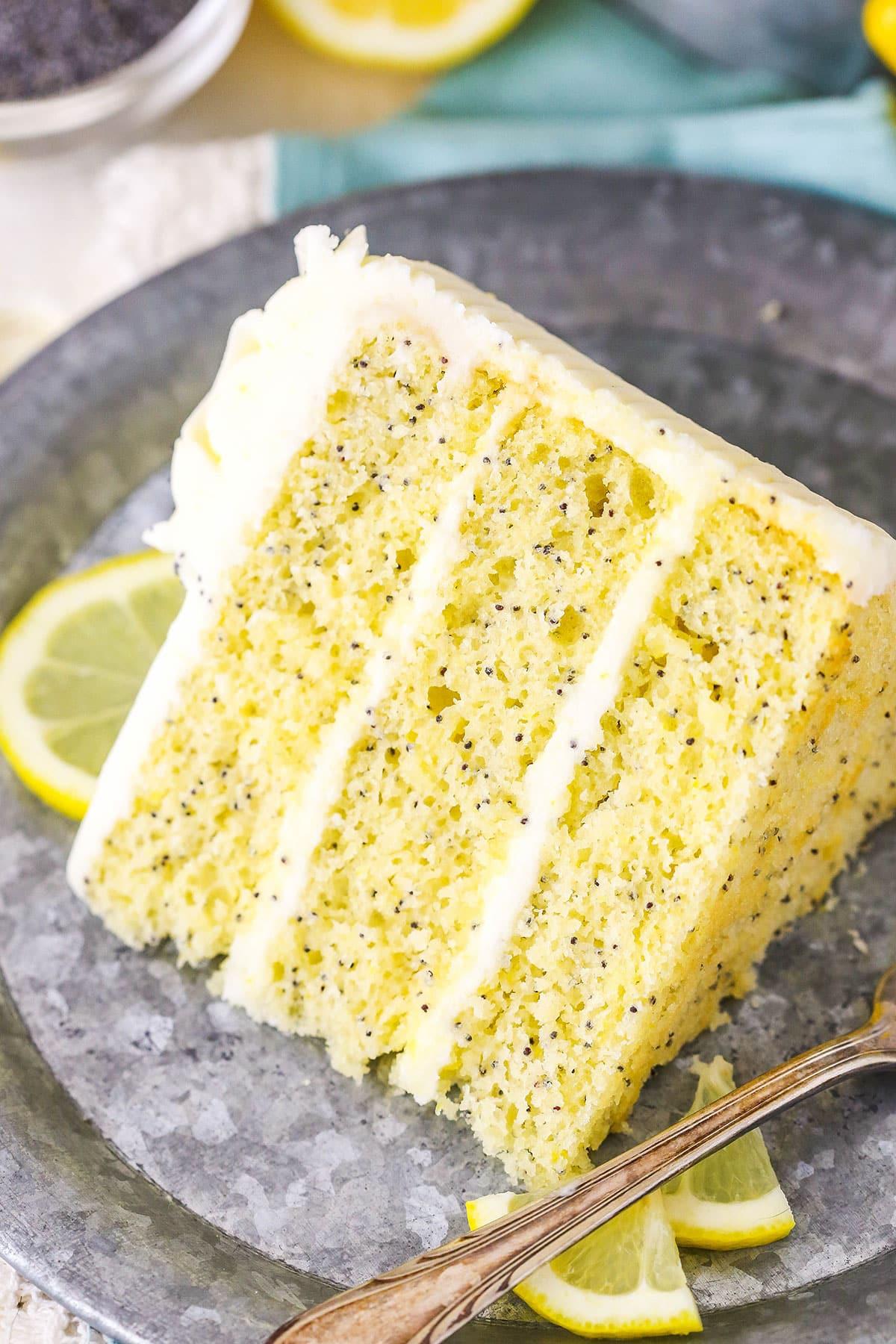 Afternoon tea cakes must be moist and fluffy, in my opinion.
To get a perfect fluffy texture with fine crumbs, remember to sift the dry ingredients and to process the sugar if it has big chunks.
Buttermilk is the key for a moist cake. Making vegan buttermilk is very easy: you just need to add some lemon juice or white vinegar to plant milk (almond and soy are the best; oat milk doesn't really work).
Feel free not to frost the cake if you like. I usually prefer cakes without the frosting, but this one is not overpowering and has a subtle vanilla flavor that I love.
If you're making the frosting, remember to soak your cashews one day before making the cake. If you forget to soak the cashews overnight, you can soak them into hot boiling water for 30 minutes.
You will also need to refrigerate the coconut cream for at least 4 hours (best overnight) in order to separate the liquid part from the cream.
I am really happy with the result and I hope you guys are going to try my recipe!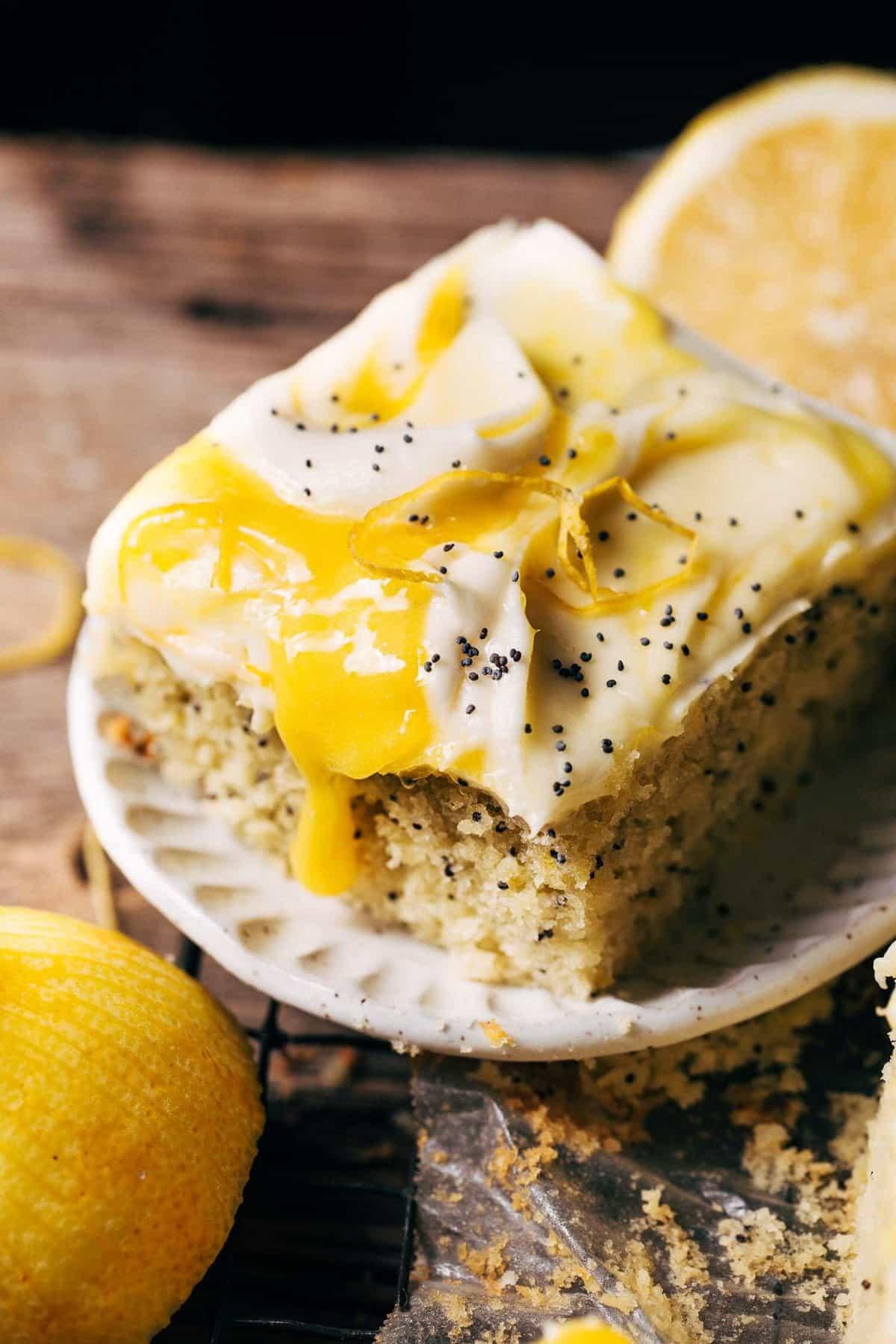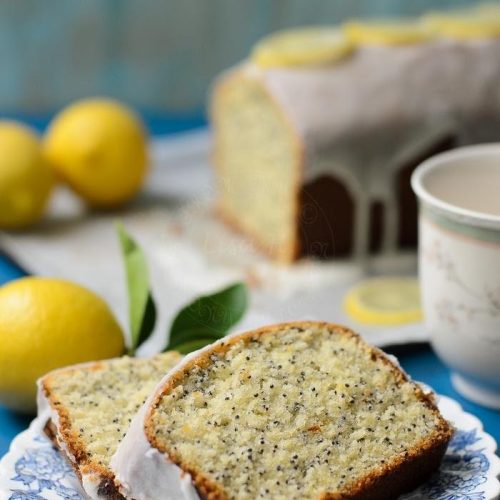 Moist lemon poppyseeds cake
Moist lemon poppyseeds cake
Ingredients
Dry ingredients
250 g/ 2 cups 

spelt or all purpose flour, sifted

50 g/ 1/3 cup

unrefined brown sugar or coconut sugar

120 g/ 1/2 cup +1 tbps

light brown sugar

5 g/ 2 tsp

baking powder

1/2

tsp 

pink salt

20 g / 2tbsp

poppy seeds

zest of one organic lemon
wet ingredients
240 ml/ 1 cup

plant milk ( soy or almond)

65 g/ 1/3 cup

neutral oil (grape seeds or coconut)

40 ml/ 2 tbsp

fresh lemon juice
Ingredients for the frosting
100 

g 

cashews, soaked overnight

1

tsp 

vanilla bean paste

70 

g 

coconut cream from a can

20 g / 1 tbsp

coconut oil, melted

zest of one organic lemon

1

tsp 

fresh lemon juice
Instructions
Instructions for the cake
Preheat the oven to 175C| 350F °.

Lightly grease and line with parchment paper a 22x10cm loaf pan.

In a large bowl, combine the dry ingredients and whisk well.

In another bowl, combine lemon juice and soy milk, stir and set aside to curdle for 5 minutes.

Add the melted coconut oil and vanilla and stir to combine. Make sure that all your ingredients are at room temperature.

Pour the wet mixture over the dry ingredients and gently mix to combine. Don't over mix. Pour into the prepared loaf pan.

Bake at 175C| 350F for 60 minutes or until a toothpick inserted near the center comes out clean.

Let cool in the pan for 10 minutes then turn out on a cooling rack to cool completely.
Instructions for the frosting
Rinse and drain the cashews and add them to a food processor together with the other ingredients, except coconut oil. Blend until smooth.

Slowly add the melted coconut oil from the top with the machine working and blend unitl completely s

Pour the frosting into a bowl and place in the refrigerator to set for one hour.

Frost the (completely cooled) cake. Enjoy!
Fact about Moist lemon poppyseeds cake
Moist lemon poppyseeds cake is believed to have originated in Central Europe and has been a popular baked treat for centuries. Poppyseeds were widely used in ancient civilizations, and their incorporation into cakes and desserts can be traced back to ancient times.
Lemon poppyseed cake gained popularity in the United States in the 1980s and has since become a beloved classic in many American bakeries and homes. Its appeal lies in the perfect balance of flavors between the bright citrusy notes of lemon and the nutty crunch of poppyseeds, combined with the moist and tender texture of the cake.
The poppyseeds not only add a subtle nutty flavor but also lend a pleasant crunch to the cake. Additionally, poppyseeds are a good source of essential nutrients, such as calcium, iron, and dietary fiber.
Due to the popularity of this delectable cake, many variations and adaptations of the original recipe can be found worldwide. Whether in the form of loaves, bundt cakes, muffins, or cupcakes, lemon poppyseed cake continues to be a timeless favorite among dessert enthusiasts.
Nutritional ingredients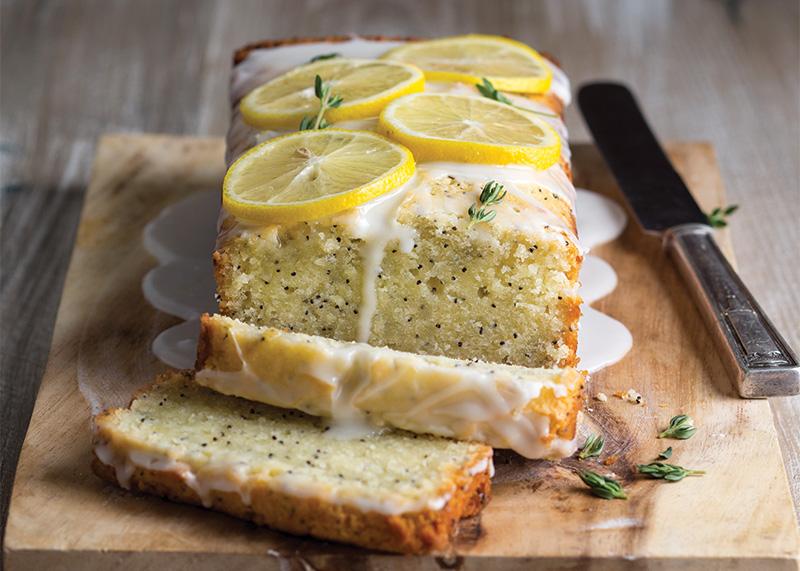 The nutritional ingredients in a Moist lemon poppyseeds cake can vary depending on the specific recipe and the ingredients used. However, here is a general breakdown of the common ingredients and their potential nutritional contributions:
1. Flour: Provides carbohydrates, protein, and a small amount of fiber.
2. Sugar: This contributes to the carbohydrate content, providing energy, but it is also a source of empty calories with minimal nutritional value.
3. Eggs: Rich in protein, healthy fats, vitamins, and minerals, particularly vitamin B12 and selenium.
4. Butter or Oil: Adds fat and calories to the cake. Butter contains saturated fats, while some recipes may use healthier options like vegetable oil.
5. Lemon Zest and Juice: Provides vitamin C and natural citrus flavor.
6. Poppyseeds: Offer a slight boost of protein, fiber, and healthy fats.
7. Baking Powder/Baking Soda: Helps the cake rise by releasing carbon dioxide when baking.
8. Salt: Enhances the flavor.
9. Milk or Buttermilk: Adds moisture and contributes to the overall texture.
10. Vanilla Extract: Enhances the flavor.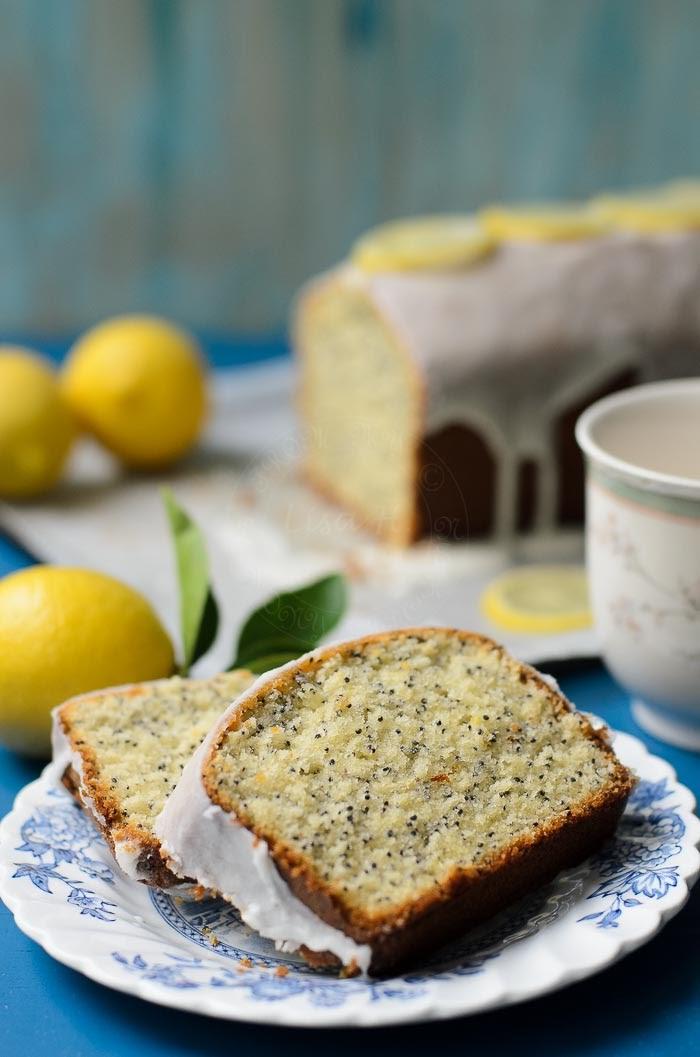 Please note that the nutritional values can vary significantly depending on the specific measurements and quantities used in the Moist lemon poppyseeds cake recipe. Additionally, the cake's nutritional profile can be further influenced by any additional ingredients or modifications made to the original recipe.
For accurate nutritional information, it's best to refer to a specific recipe or use a nutritional calculator to determine the values based on the ingredients you use.
If you have specific dietary concerns or health goals, consider using healthier substitutions, like whole wheat flour, less sugar, or alternative sweeteners, to make the cake more nutritious.