Is there something more delicious than Japanese milk bread recipe? Yes. Chocolate chip Japanese milk bread!
As kids, me and my brother never had store-bought snacks like our friends. I remember feeling disappointed and kinda jealous because their kitchen pantries were full of store-bought colorful packages of snacks and sweets that I had never even seen.
Introduction about Chocolate Chip Japanese Milk Bread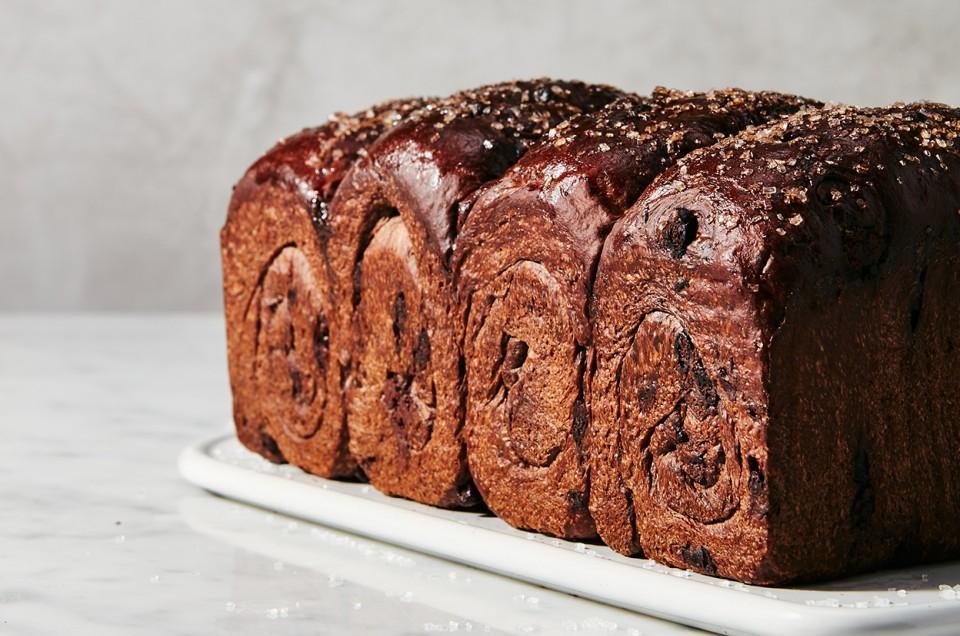 Sometimes we were allowed to eat chocolate, but only in special occasions. So, having bread (whole wheat) and chocolate as a snack was a feast to me!
Today I feel grateful for what my parents did for us. Because I know they did this for our health. But at that time, I wished I could have all the unhealthy snacks just like my friends.
I have to admit that when I became independent, I tried all the sweets I couldn't have had as a child. But despite this, I still prefer homemade snacks with healthy ingredients, just like this chocolate chip fluffy milk bread.
This milk bread is not difficult to make, but it takes some time because of the many steps and risings.
Feel free to replace the chocolate chips with other filling like chocolate spread, jam, nut butters.
The roux or tangzhong method is a Japanese technique that cooks a small percentage of the flour and liquid (water or milk) in a yeast recipe very briefly before combining the resulting thick slurry with the remaining ingredients. This results in moister bread that stay soft and fresh for longer.
I hope you guys will love this recipe as much as I do!
Chocolate chip Japanese Milk bread
Equipment
Stand mixer

approx 25×10 loaf tin
Ingredients
Ingredients for the water roux or Tangzhong
25 g/ 2,5 tbsp 

bread flour (0 type in Europe)

120 g/ 1/2 cup

water
Dry ingredients
9 g/ 2,5 tsp

instant yeast

350 g/ 2,75 cups

bread flour

16 g/ 2 tbsp

dry coconut milk

5 g/ 1 tsp

pink salt
Wet ingredients
120 ml/ 1/2 cup 

oat milk, warm (55C / 110F degrees)

all the roux

50 g/ 1/4 cup

plant- based butter
Ingredients for the filling
100 

g

non dairy chocolate chips

1

Tbsp 

non dairy chocolate chips for topping
Instructions
Make the water roux or tangzhong
Add the flour and water to a small sauceapn and cook until it starts to thicken. Remove from heat when the miuxture has a curd-like consistency.

Set aside to cool to room temperature.
Make the dough
In a medium bowl, combine the dry ingredients.

Add the warm milk and roux to the bowl of a stand mixer fitted with the hook attachment. Then add the dry ingredients.


Turn the mixer on medium-low and mix for 5-7 minutes until gluten develops and the dough feels elastic.

Add the butter one tablespoon at a time and wait until it's fully incorporate before adding more. Mix for another 5-7 minutes until the butter is completely incorporated and the dough is smooth and feels elastic. Note: The dough will be a bit tacky, but feels elastic.

Using wet hands, shape the dough into a ball and transfer to a greased bowl. Cover and let rise for 60-90minutes or until doubled in size.

Gently deflate the dough and divide into 4 equal parts (use a scale) and roll into 4 balls. Cover and let rise for 15 minutes.

Lightly grease a 25×10 cm loaf tin.

Using a rolling pin, roll out each dough into an oval and sprinkle with 1/4 cup of the chocolate chips. Fold the two short edges towards the center so that they meet but don't overlap.

You should end up with a rectangle.Starting from one short edge, roll the dough into a log and place into the tin seal side down.Repeat with the remaining dough.

Preheat the oven to 175C | 350F degrees. Brush the bread with some soy milk and sprinkle with some chocolate chips. Bake for about 15 minutes, then lower the heat to 160C and bake for another 10-12 minutes or until the top is golden brown.


Remove from oven and let cool into the pan for 10 minutes before transferring to a rack to cool down completely.
Nutritional ingredients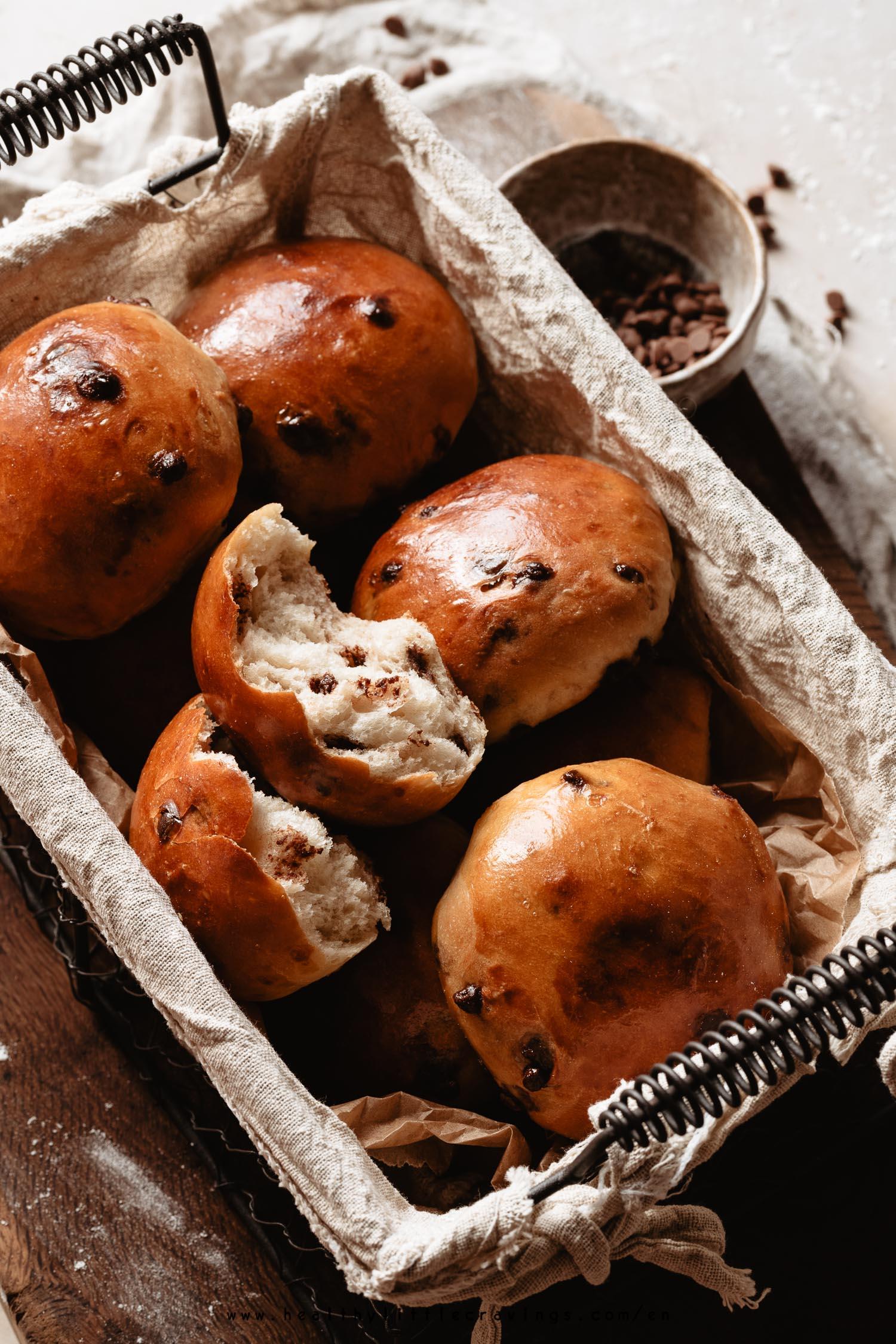 The nutritional ingredients in chocolate chip Japanese milk bread can vary based on the specific recipe and the ingredients used. However, here's a general breakdown of the common ingredients and their potential nutritional contributions:
1. Bread Flour: Provides carbohydrates and protein.
2. Milk: Adds moisture, protein, calcium, and other essential vitamins and minerals.
3. Sugar: Contributes to the carbohydrate content, providing energy, but it is also a source of empty calories with minimal nutritional value.
4. Butter: Adds fat and calories to the bread. It contains saturated fats.
5. Chocolate Chips: Adds sugar and fat to the bread, as well as a chocolatey flavor.
6. Eggs: Rich in protein, healthy fats, vitamins, and minerals, particularly vitamin B12 and selenium.
7. Yeast: Allows the bread to rise during the baking process.
8. Salt: Enhances the flavor.
9. Vanilla Extract: Enhances the flavor.
Please note that the nutritional values can vary significantly depending on the specific measurements and quantities used in the recipe. Additionally, the nutritional profile can be further influenced by any additional ingredients or modifications made to the original recipe.
If you are concerned about the nutritional content of the bread, consider using healthier substitutions, such as whole wheat flour, less sugar, or dark chocolate chips with higher cocoa content. Adding ingredients like oats, flaxseeds, or nuts can also boost the bread's nutritional value.
If you have specific dietary concerns or health goals, it's best to refer to a specific recipe and use a nutritional calculator to determine the values based on the ingredients you use.
FAQs of Chocolate chip Japanese Milk bread
Q: What is Japanese Milk Bread?
A: Japanese Milk Bread, also known as Hokkaido milk bread, is a soft and fluffy bread with a slightly sweet taste. It gets its name from the use of milk and the special tangzhong method, which involves creating a roux of flour and liquid to add moisture and create its characteristic texture.
Q: What makes Japanese Milk Bread different from regular bread?
A: Japanese Milk Bread is distinguished by its unique texture, which is exceptionally soft, light, and fluffy. The use of the milk method contributes to its moisture and tenderness. Additionally, the bread often has a slight sweetness, making it enjoyable even on its own.
Q: How do you make Chocolate Chip Japanese Milk Bread?
A: The process of making Chocolate Chip Japanese Milk Bread involves mixing and kneading the dough, letting it rise, adding chocolate chips, shaping the loaf, and allowing it to rise again before baking. The specific steps and ingredients may vary depending on the recipe.
Q: Can I use other types of chocolate in the bread?
A: Yes, you can use various types of chocolate in the bread, such as dark chocolate, semi-sweet chocolate, or milk chocolate, depending on your preference. Just keep in mind that different chocolate types have varying sweetness levels, so adjust the amount of sugar in the recipe accordingly.
Q: Can I make this bread without eggs?
A: Some recipes for Japanese Milk Bread may call for eggs, but there are eggless versions available that can be made by using suitable egg substitutes, such as applesauce, mashed banana, or commercial egg replacers.
Q: How should I store Chocolate Chip Japanese Milk Bread?
A: To maintain its freshness, store the bread in an airtight container or tightly wrapped in plastic wrap at room temperature for up to 2-3 days. For longer storage, freeze the bread and thaw it when needed.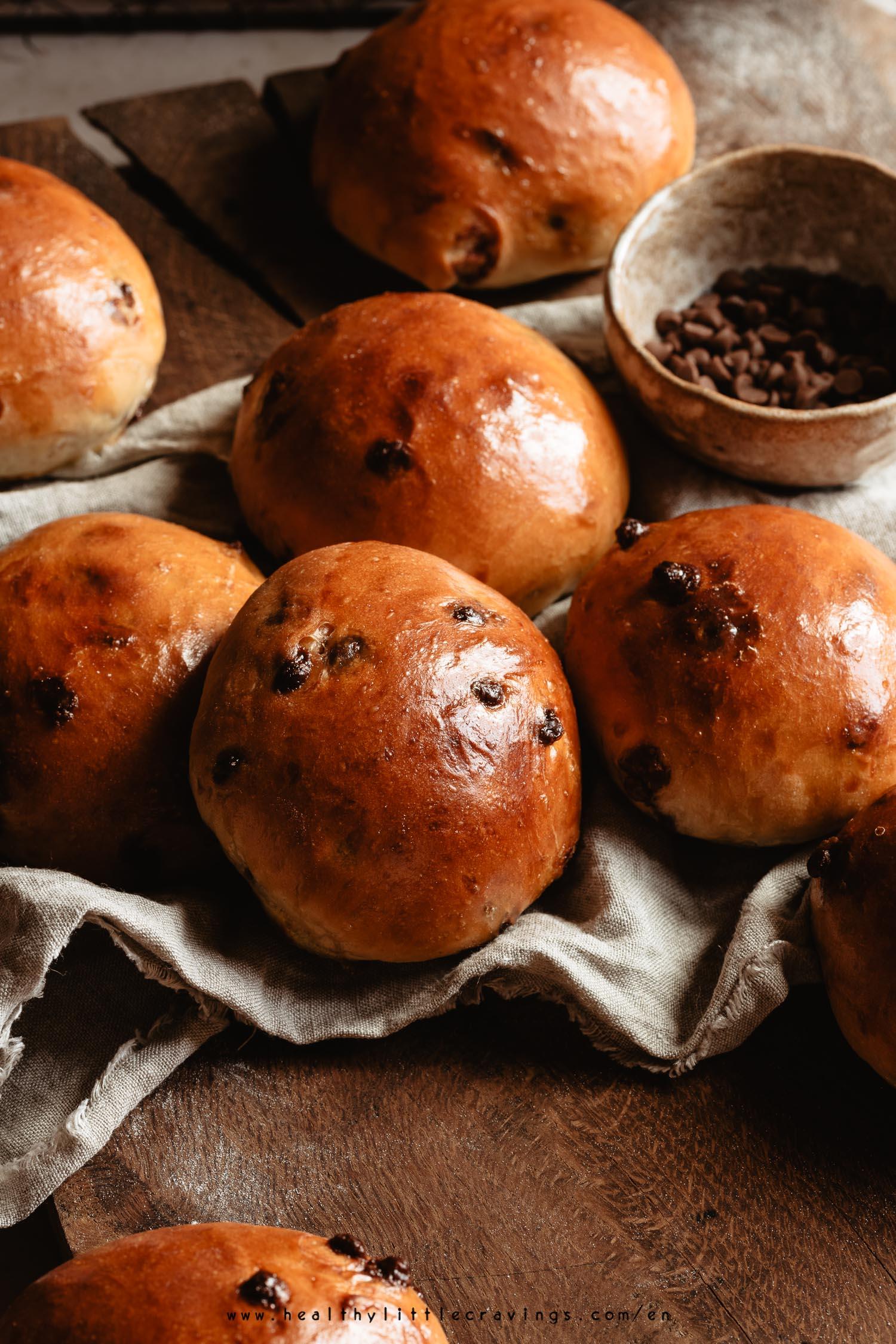 Q: Can I use whole wheat flour in this bread?
A: While traditional Japanese Milk Bread uses all-purpose or bread flour, you can experiment with using whole wheat flour for a healthier version. However, keep in mind that whole wheat flour might yield a denser bread compared to the traditional recipe.
Q: Can I make this bread using a bread machine?
A: Yes, you can adapt some Japanese Milk Bread recipes to be made using a bread machine. Follow the instructions provided by your bread machine's manufacturer for making dough and incorporate the chocolate chips during the mixing phase.
Q: Can I use plant-based milk for this bread?
A: Absolutely! You can substitute cow's milk with plant-based milk like almond milk, soy milk, or oat milk to make a dairy-free version of Chocolate Chip Japanese Milk Bread.
Q: How can I make the bread rise faster?
A: To speed up the rising process, you can place the dough in a warm and draft-free environment. Cover it with a damp cloth or plastic wrap to retain moisture, which helps in faster rising. Just as a Japanese rice cooker offers precise control over cooking, proper rising conditions ensure the best texture in your bread.
Remember that specific recipes might have slight variations, so always refer to the instructions provided in your chosen recipe for the best results.