In summer you just don't want to turn on the oven. But you still want to eat delicious desserts, right? This recipe is what you need! A refreshing key lime pie with a coconut crust to get all the tropical vibes, even if you're sweating in a hot city!
The No bake key lime pie recipe is very easy and doesn' require much time. Just remember to make it a few hours before serving (one day ahead is even better) to make sure it's set and chilled.
The filling is creamy and refreshing and the crust smells like heaven thanks to the shredded coconut. If you don't have shredded coconut, replace it with almond flour.
When using coconut milk from a can, remember to refrigerate the can for at least two hours to separate the thick creamy part from coconut water. This step makes it possible to scoop out the coconut cream. You can keep the coconut water for other uses.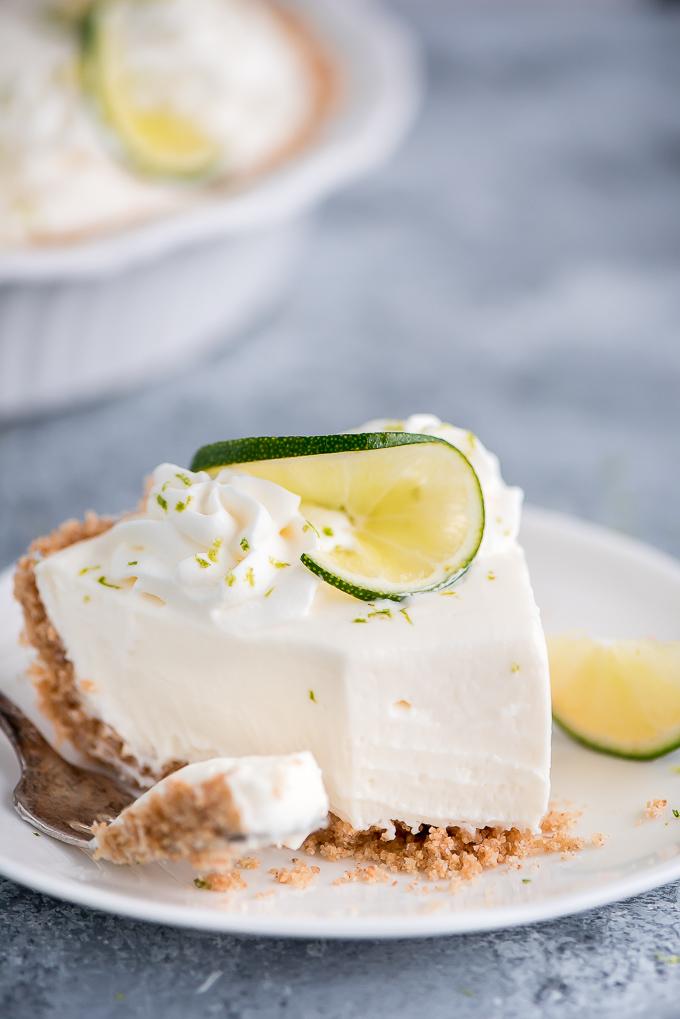 Key lime pie
vegan, gluten- free, refined sugar-free, nut-free
Equipment
1 20 cm/8 inch pie mold with removable bottom
Ingredients
Ingredients for the crust
150 grams /1 1/4 cup

oat flour 

oz shredded coconut

shredded coconut

50 grams /1/4 cup

coconu oil, melted

2 tbsp /40g

agave syrup

1/2

tsp 

vanilla bean paste

1/4

tsp 

rose salt
Ingredients for the filling
200 grams /7oz

coconut cream

1/2 cup/100 ml

lime juice, freshly squeezed and passed through a sieve

5 tbsp /100g

agave or maple syrup

1 cup/220g

dairy free milk

1 tbsp/20 g

corn starch

1

tsp 

agar powder

1

tsp 

pandan leaf powder
Instructions
Make the crust
Place oat flour, shredded coconut and salt into a food processor and pulse until fine and well combined.

Add the rest of the ingredients and pulse until a sticky dough forms.Firmly press the dough into a 25cm pie mold and place in the refrigerator whilst making the filling.
Make the filling
Place the coconut cream, lime juice and agave into a small saucepan and heat over a medium heat.

Dissolve the corn starch into the dairy-free milk and add to the saucepan.Whisk to combine.

Add the agar powder and pandan leaf powder (if using).Bring the mixture to a boil, whisking continuously.

When the mixture starts to thicken, remove from heat and let cool down a little.

Pour the mixture over the pie base and let cool down completely before placing in the refrigerator to set.

Refrigerate overnight or for at least 3 hours.
Cooking tips No bake key lime pie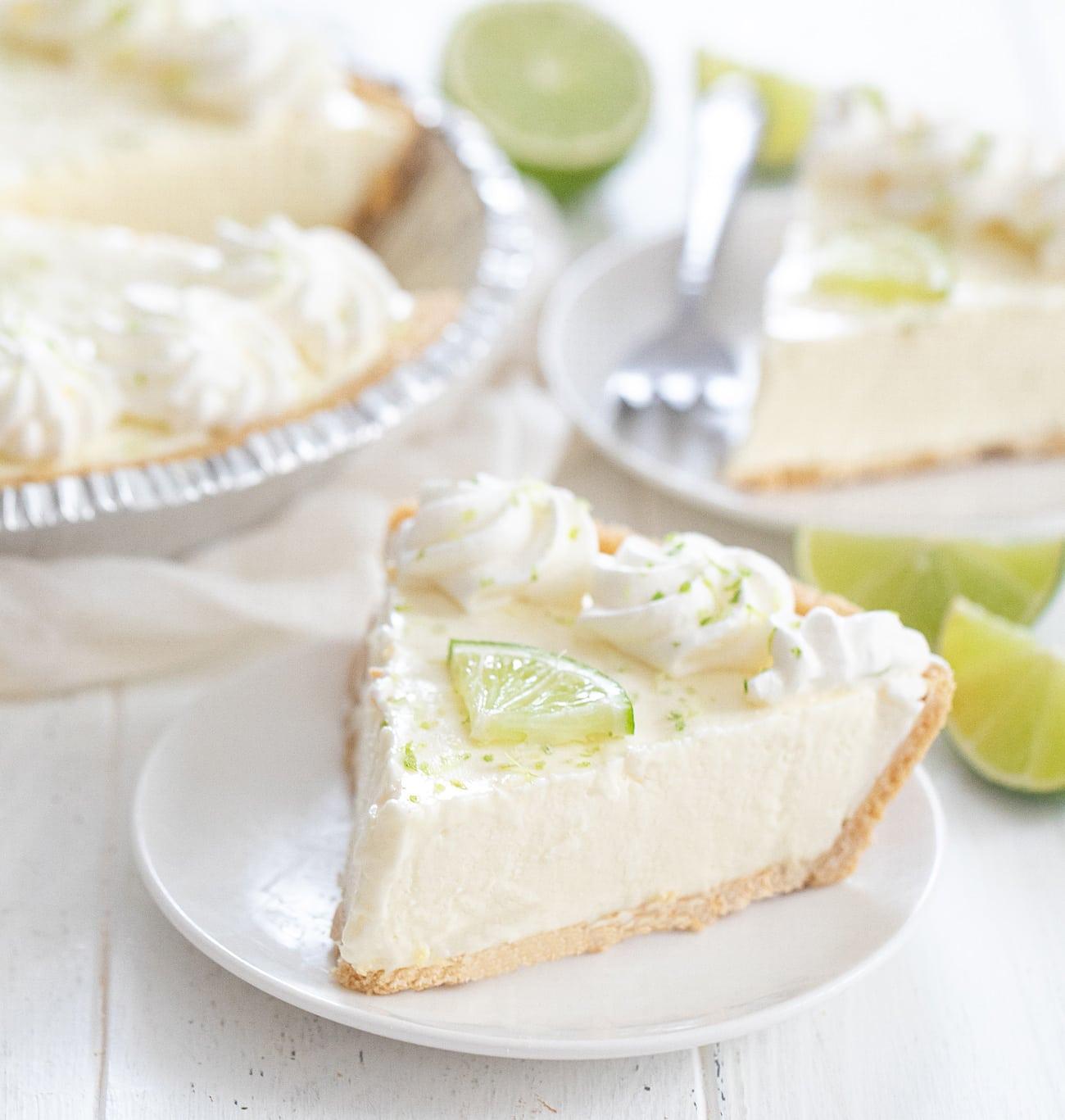 Sure, here are some cooking tips for making a No Bake Key Lime Pie:
Use fresh lime juice: Freshly squeezed lime juice will give your pie a tangy and refreshing flavor. Avoid using bottled lime juice as it may contain preservatives and lack of a fresh taste.
Use a high-quality graham cracker crust: A good graham cracker crust is the foundation of a delicious key lime pie. You can make your own crust or use a store-bought one, but make sure it's of good quality and has a nice texture.
Use condensed milk: Sweetened condensed milk is a key ingredient in this recipe as it provides the creamy texture and sweetness to the pie. You can use regular or low-fat sweetened condensed milk, depending on your preference.
Chill the crust before adding the filling: Chilling the crust in the refrigerator for at least 30 minutes before adding the filling will help it to set and prevent it from becoming soggy.
Whip the cream properly: Whipping the cream until stiff peaks form will give the pie a light and fluffy texture. Make sure to chill the bowl and beaters in the freezer for a few minutes before whipping the cream for best results.
Refrigerate the pie for at least 4 hours: Chilling the pie in the refrigerator for at least 4 hours or overnight will allow it to set properly and develop its flavors.
Garnish with lime zest or whipped cream: Add some extra flavor and presentation to your pie by garnishing it with lime zest or whipped cream.
Serve chilled: No Bake Key Lime Pie is best served chilled, straight from the refrigerator.
Serving Suggestions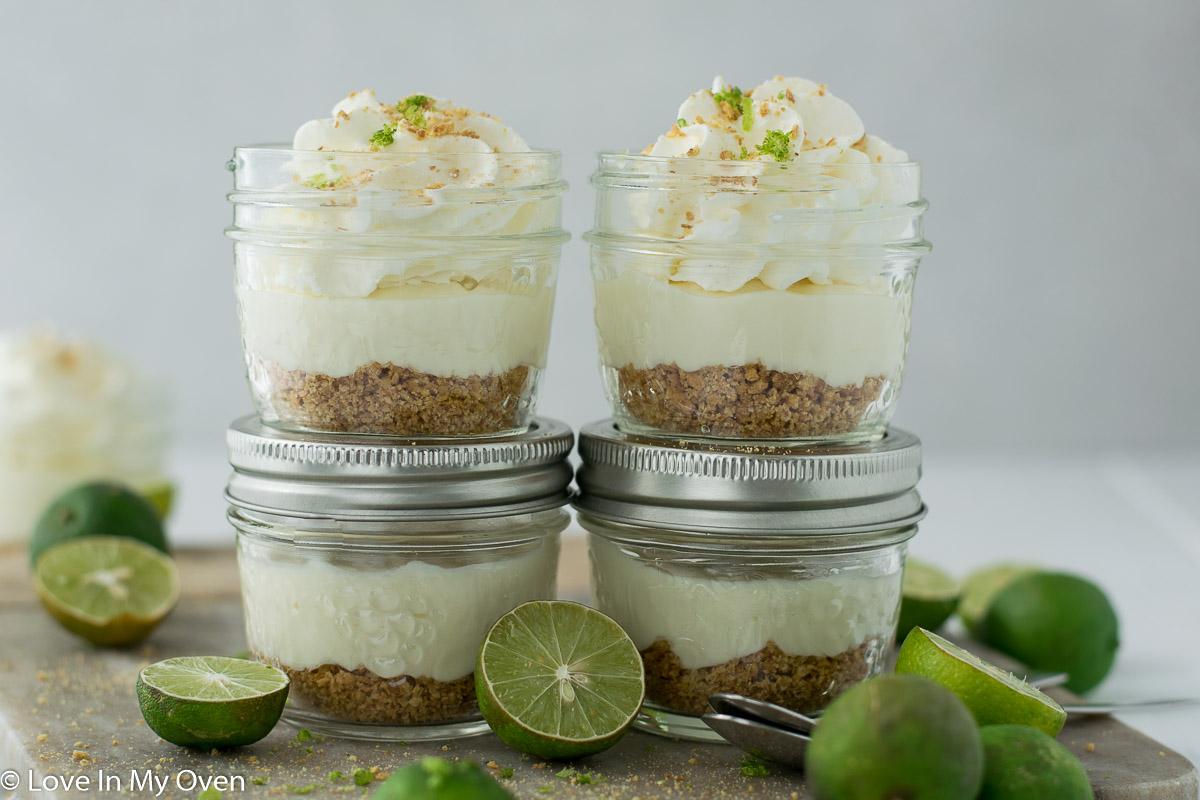 Here are some serving suggestions for No Bake Key Lime Pie:
Top with whipped cream: Add a dollop of whipped cream on top of each slice for a creamy and decadent touch.
Add lime zest: Sprinkle some lime zest on top of the pie or on each slice for an extra burst of lime flavor and color.
Serve with fresh berries: Serve the pie with a side of fresh berries such as strawberries, raspberries, or blueberries. The sweet and tart flavors of the berries complement the tangy lime flavor of the pie.
Drizzle with raspberry sauce: For an extra burst of flavor, drizzle some raspberry sauce on top of the pie or on each slice. The sweet and tangy flavors of the raspberry sauce pair well with the key lime flavor.
Garnish with mint leaves: Add a pop of green and a fresh aroma by garnishing the pie with a few mint leaves.
Serve with ice cream: No Bake Key Lime Pie pairs well with vanilla or coconut ice cream. The creamy and sweet flavors of the ice cream complement the tart lime flavor of the pie.
Serve with a side of tea or coffee: Enjoy a slice of No Bake Key Lime Pie with a cup of tea or coffee for a refreshing and satisfying dessert.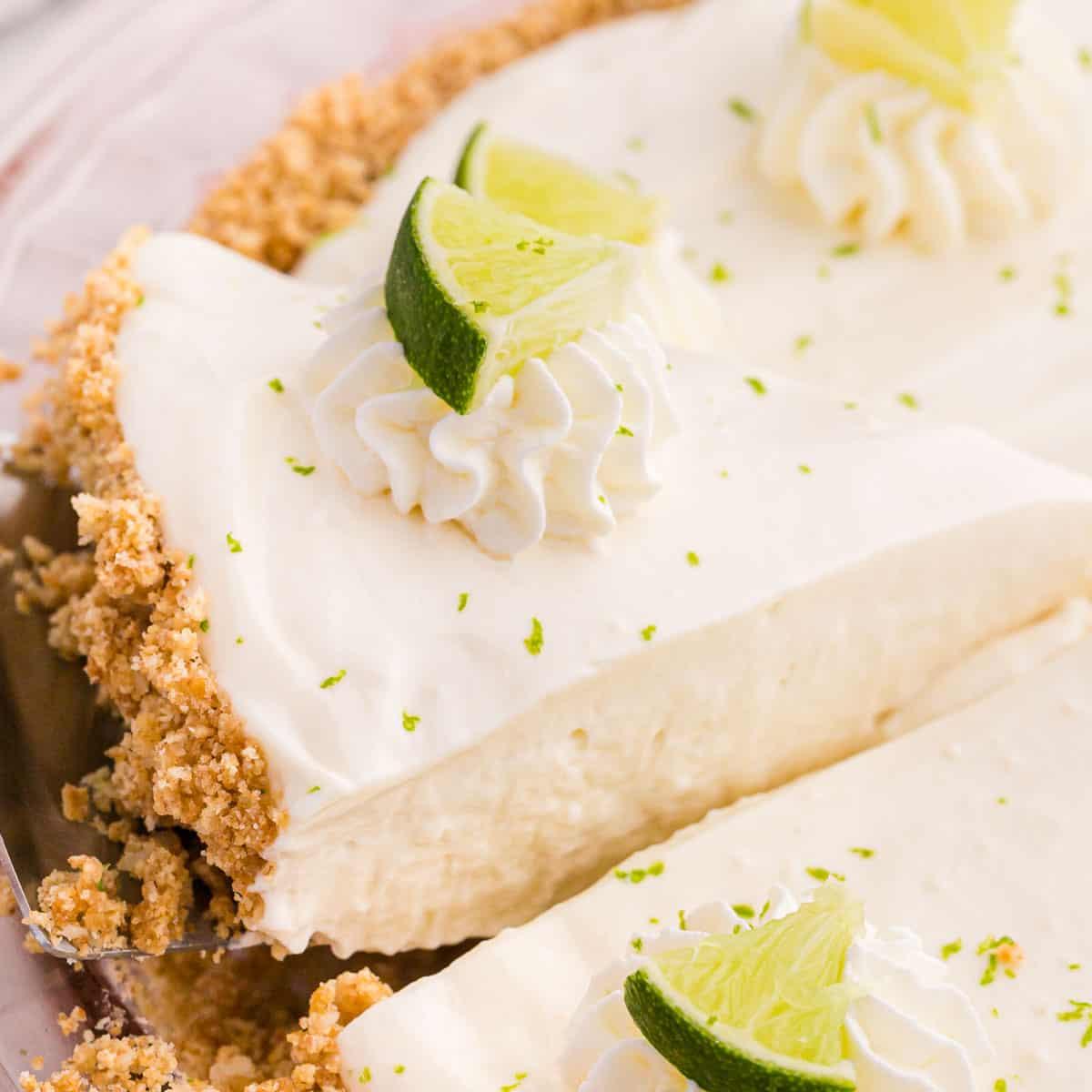 In conclusion, No Bake Key Lime Pie is a delicious and refreshing dessert that's perfect for any occasion. With its tangy lime flavor, creamy texture, and easy no bake preparation, it's a dessert that's sure to please both you and your guests.
Whether served on its own or with a side of whipped cream, fresh berries, or ice cream, this pie is a crowd-pleaser that's sure to leave everyone wanting more.