But since everybody in my family loves them, I always wanted to create my own, healthier recipe for madeleines. This Vegan Madeleines recipe is a little bit tricky, so I couldn't imagine a healthier version coming out just as good as the original. But I was so wrong! After some attempts, I finally created a recipe that works every single time and it's even much easier than the classic one!
The recipe is very basic which allows you to play up with the flavors. Here's the original version (vanilla with a hint of orange), a matcha version and a chocolate version. You can even add berries or chocolate chips, if you like.
I used sunflower seeds oil instead of butter (you can use any neutral oil of choice), skipped the eggs and replaced the milk with freshly squeezed orange juice (for the vanilla version) and almond milk for the matcha and the chocolate version.
You can find many different madeleine molds online. I think that this one is very cute:) You can also use this recipe to make mini muffins. For the matcha version, I added 1tbsp of pure matcha powder  and for the chocolate version, 1 tbsp of good quality cacao powder.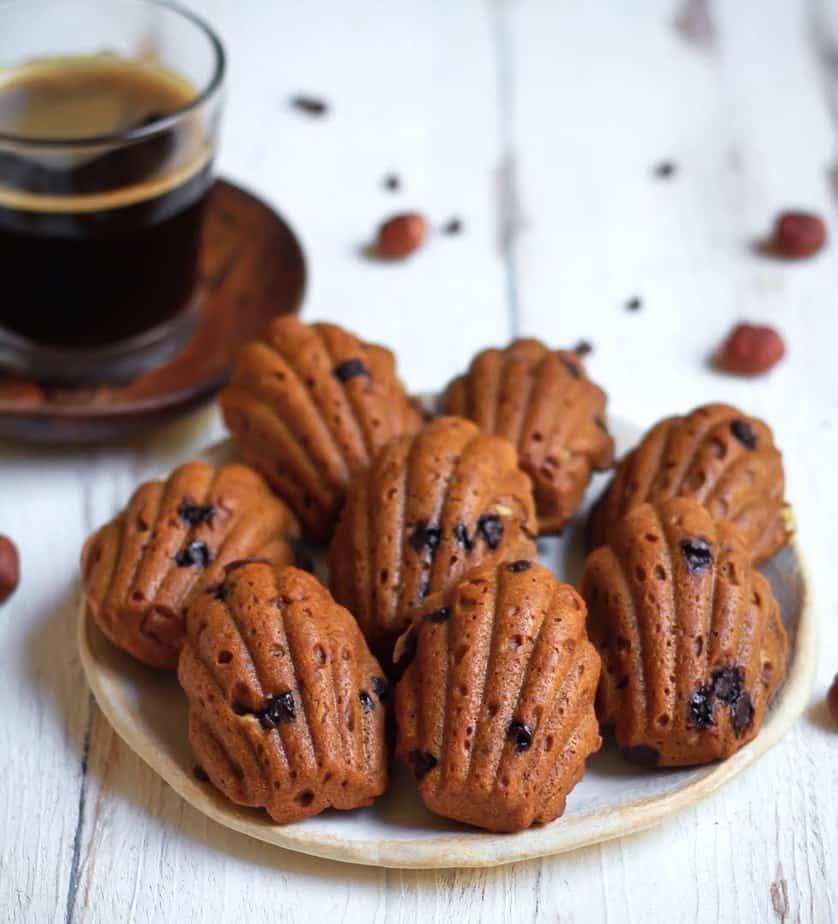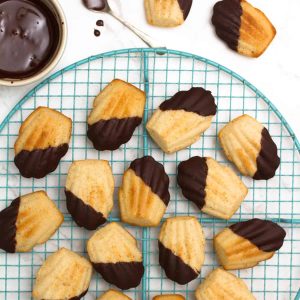 Vegan Madeleines
Equipment
madeleines mold /mini muffin mold ; food processor optional
Ingredients
350 

grams 

cake flour sifted

180 

grams 

light brown sugar

200 

ml 

water

1

tsp 

vanilla bean paste

100 

ml 

neutral oil 

200 

ml 

fresh organic orange juice

zest of 2 organic oranges

8

grams 

baking powder
Instructions
Preheat oven to 180C degrees.

Grease a madeleines pan with oil/ butter.

Place the water and orange juice in a bowl of a food processor (or place the ingredients in a bowl and combine with a whisk). Add the sugar and whisk until completely dissolved.

With the machine working, slowly add the oil and whisk until fully combined.

Add the vanilla and whisk to combine.

Add the flour, baking powder and orange zest and keep whisking until smooth.

Pour the batter into the prepared pan and bake for 15 minutes or until a toothpick comes out clean.
Notes
To make it gluten-free, replace cake flour with 175g potato flour and 175g corn starch.
For the matcha version, add1 tbsp matcha powder and replace orange juice with non-dairy milk (I used almond). Orange zest is also not required.
For the chocolate version, add 1 tbsp raw cacao powder and replace orange juice with non-dairy milk (I used almond). Orange zest can be used if you like.
The food processor simplifies the method but it's totally fine to whisk the ingredients by hand.
Introduction about Vegan Madeleines
Vegan madeleines are a delightful twist on the classic French dessert, made without any animal products. These small, shell-shaped cakes have a light and fluffy texture that makes them perfect for dipping in tea or enjoying as a sweet treat.
Vegan madeleines are made with simple ingredients like flour, sugar, and plant-based milk, and are flavored with vanilla and lemon zest.
They are easy to make, and with the right technique, they can be just as delicious as the traditional buttery version. Whether you're vegan or just looking for a healthier dessert option, vegan madeleines are a delightful and guilt-free treat that everyone can enjoy.
Cooking tips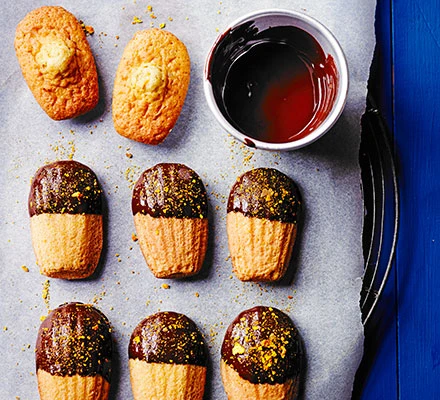 Vegan madeleines are a simple and tasty treat that can be made with a few basic ingredients. Here are some cooking tips to help you make perfect vegan madeleines:
Use a madeleine pan: Madeleine pans are essential for making these delicate shell-shaped cakes. Non-stick pans work best, as they make it easier to remove the madeleines.
Chill the batter: Chill the batter in the refrigerator for at least 1 hour before baking. This helps to give the madeleines their characteristic hump and light, fluffy texture.
Use room temperature ingredients: Make sure all the ingredients, including the plant-based milk, are at room temperature. This will help the batter come together more easily and create a smoother texture.
Don't overmix the batter: Overmixing the batter can result in tough and dense madeleines. Mix the ingredients just until they are combined.
Grease the pan well: Grease the madeleine pan well with cooking spray or coconut oil to prevent the madeleines from sticking to the pan.
Fill the molds properly: Fill each mold about 3/4 full with batter. Don't overfill the molds, as the madeleines will expand during baking.
Bake at the right temperature: Bake the madeleines at 375°F (190°C) for 10-12 minutes, or until they are golden brown around the edges and spring back when lightly touched.
Cool before removing from the pan: Allow the madeleines to cool in the pan for a few minutes before removing them. Use a butter knife or small spatula to gently loosen them from the pan.
Dust with powdered sugar: Dust the tops of the madeleines with powdered sugar before serving. This adds a touch of sweetness and a beautiful finish.
With these cooking tips, you'll be able to make perfect vegan madeleines that are light, fluffy, and delicious.
Serving Suggestions
Vegan madeleines are a delicious and delicate treat that can be enjoyed on their own or served with a variety of acccompaniments. Here are some serving suggestions to help you enjoy your vegan madeleines:
Dipped in chocolate: Melt some vegan chocolate and dip the bottom of each madeleine in it for a decadent and indulgent treat.
Served with fruit: Serve the madeleines with fresh fruit, such as strawberries, raspberries, or blueberries, for a light and refreshing dessert.
Paired with tea or coffee: Serve the madeleines with a hot cup of tea or coffee for a classic French-inspired treat.
Topped with jam: Spread some vegan jam, such as raspberry or apricot, on top of the madeleines for a sweet and fruity addition.
Drizzle some warm maple syrup over the madeleines for a sweet and comforting dessert. No matter how you choose to serve them, vegan madeleines are a light and delicious dessert that are perfect for any occasion.