A big bowl of noodles is always a great idea. And when a heat wave is hitting your country, I swear that having cold soba is just the most refreshing and delicious meal you can have. Not summer where you live? no worries, the Summer Soba Salad recipe can also be served warm!
I love to pair the noodles with proteins like this crispy tofu and fill the bowl with lots of fresh veggies and homemade pickled red cabbage.
I hope you enjoy this recipe! Leave me a comment below or take a pic and tag me on Instagram! I will publish your creations in my stories.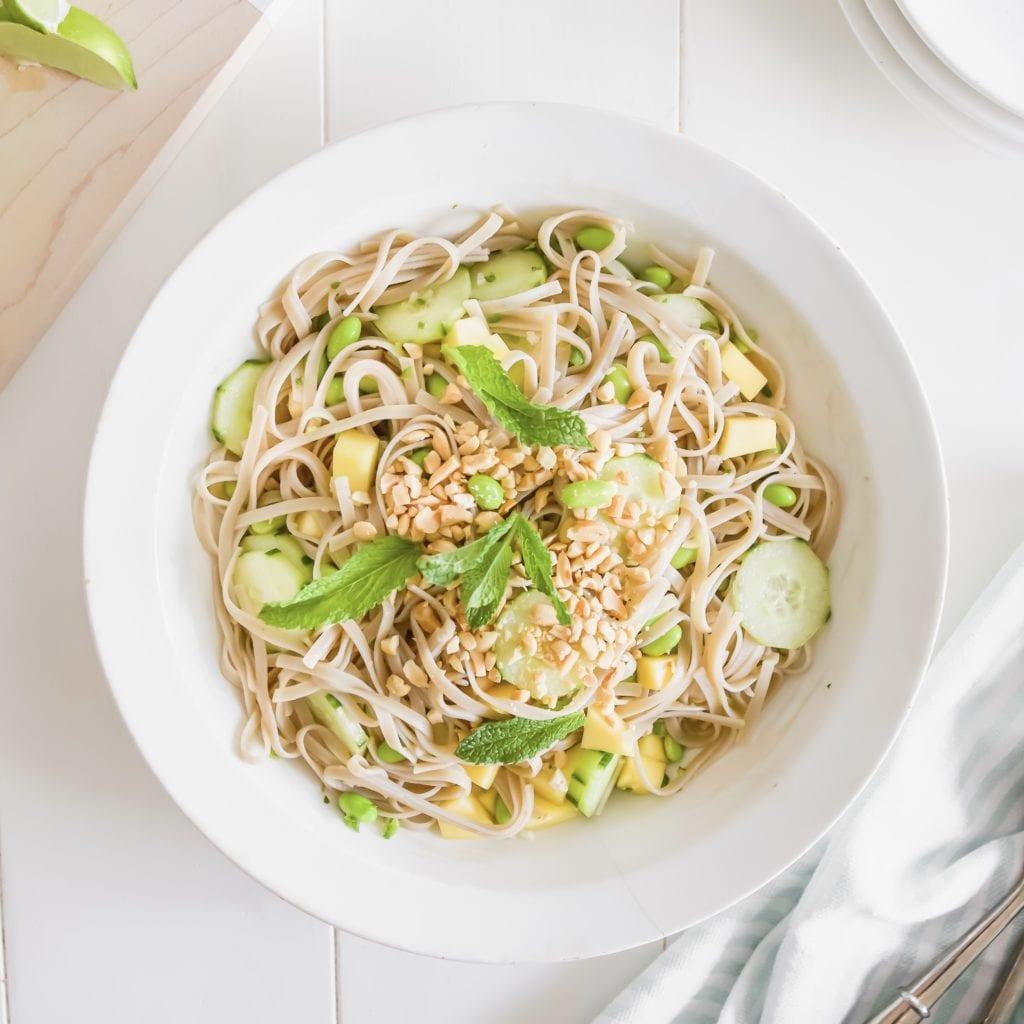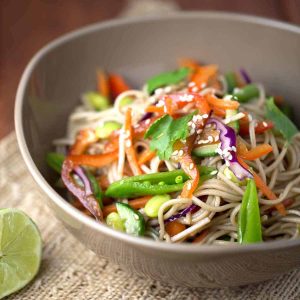 Summer Soba Noodle Salad
Ingredients
Ingredients for the crispy tofu

200 grams natural firm tofu 1/2 tsp salt 3 tbsp sesame seed oil

Ingredients for the peanut sauce

2 tbsp peanut butter2 tbsp water2 tbsp spy sauce /tamari for GF1 tbsp sesame seed oil1 tbsp honey /agave for vegan1/2 lime, juice

Ingredients for the soba salad

200 grams soba noodles1 tbsp crushed peanuts1/2 cup sprouts1 tbsp fresh cilantro, chopped2 tbsp spring oinons, finely sliced1/3 cup homemade pickled red cabbage
Instructions
Make the crispy tofu
Start by draining the tofu, Wrap it in paper towels and place on a plate.

Weigh it down with a heavy object for 15-30 minutes to drain the water.

Cut into bite-sized cubes and sprinkle with salt.

Heat the oil in a medium pan over medium-high heat, add tofu and cook until crispy on each side.
Make the peanut sauce
Place all the ingredients in a small bowl and stir to combine. Add some crushed peanuts for the crunchy factor.
Make the soba salad
Bring a large pot of water to a boil over medium heat.

Add the soba and cook according to package directions. (About 10 minutes).

Drain and rinse with cold water.

Serve with toppings and crispy tofu.
Cooking tips Summer Soba Salad
Sure, here are some cooking tips for making a delicious Summer Soba Salad:
Cook the soba noodles according to the package instructions. Drain and rinse with cold water to stop the cooking process.

Prepare the vegetables. Cut them into small pieces or julienne them for a more delicate texture. Some great options for a Summer Soba Salad include cucumbers, bell peppers, carrots, radishes, and scallions.

Make the dressing. A simple dressing of soy sauce, rice vinegar, honey, and sesame oil is a good place to start. Adjust the amounts of each ingredient to suit your taste.

Toss the noodles with the dressing. Use tongs or your hands to mix the noodles and dressing together until the noodles are coated evenly.

Add the vegetables. Toss the vegetables with the noodles and dressing. You can also add some protein, such as sliced chicken or tofu, if desired.

Chill the salad. Cover the salad and place it in the refrigerator for at least 30 minutes to allow the flavors to meld together.

Serve and enjoy! Garnish with sesame seeds, chopped peanuts, or fresh herbs like cilantro or basil, if desired.
Some additional tips:
To prevent the soba noodles from sticking together, rinse them with cold water after cooking and toss them with a little bit of oil.

If you want to make the salad ahead of time, keep the dressing separate until you're ready to serve. This will prevent the vegetables from getting soggy.

You can also experiment with different ingredients to add more flavor and texture to the salad, such as shredded cabbage, edamame, or sliced avocado. 
Nutritional ingredients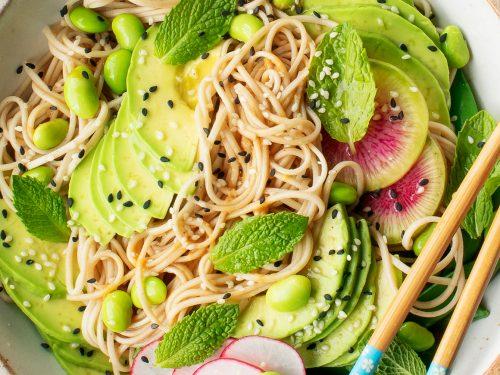 The nutritional content of a Summer Soba Salad can vary depending on the ingredients used and the portion size. However, here are some potential nutritional benefits of a soba noodle salad with vegetables:
Soba noodles: Soba noodles are made from buckwheat flour, which is high in fiber, protein, and minerals such as manganese, copper, and magnesium. Soba noodles are also lower in calories and carbohydrates than wheat noodles, making them a good option for people watching their calorie and carb intake.

Vegetables: A Summer Soba Salad typically includes a variety of colorful vegetables, which provide a range of vitamins, minerals, and antioxidants. For example, cucumbers are high in vitamin K and potassium, bell peppers are rich in vitamin C, and carrots are a good source of vitamin A.

Dressing: The dressing used for a Summer Soba Salad can also provide some nutritional benefits. For example, a dressing made with soy sauce can be a good source of protein and minerals, while rice vinegar can provide some B vitamins and acetic acid, which may have health benefits.
Overall, a Summer Soba Salad can be a healthy and nutritious meal option, especially if it includes a variety of colorful vegetables and a balanced dressing. However, it's important to pay attention to portion sizes and avoid adding too much sodium or unhealthy fats.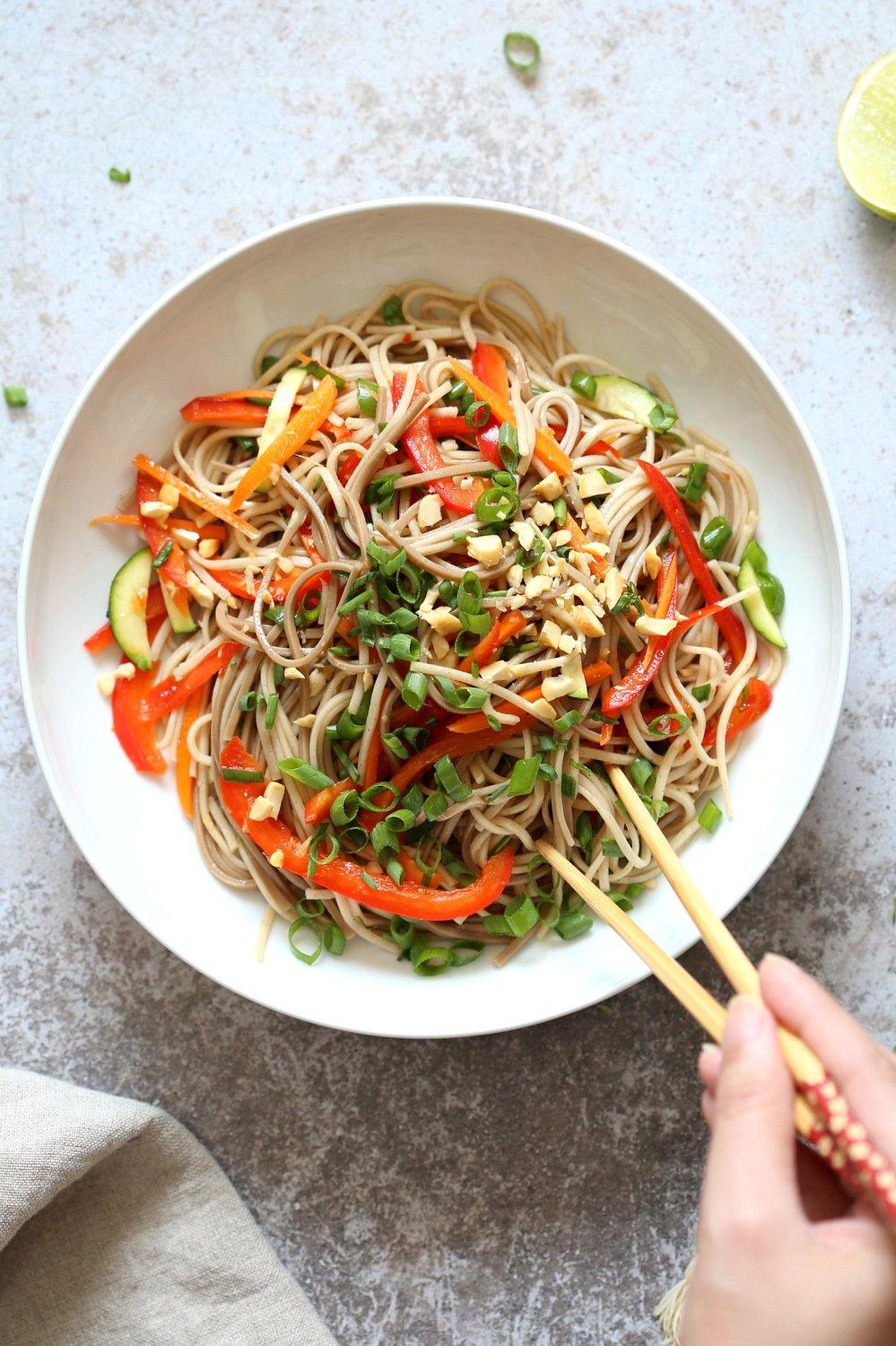 To sum up, the summer soba salad is a refreshing and nutritious meal that's perfect for hot days. With a combination of soba noodles, fresh vegetables, and flavorful sauces, this salad provides a variety of vitamins, minerals, and antioxidants.
Whether you're looking for a light lunch or a delicious side dish for your next barbecue, the Summer Soba Salad is definitely worth a try!