There's something magical about Christmas cookie box, don't you think?
All these little treasures are hidden inside a box. You automatically look for your favorite. And you keep an eye on it because you don't want anyone stealing it.
So, which one is your fave?
Introduction about Christmas Cookie Box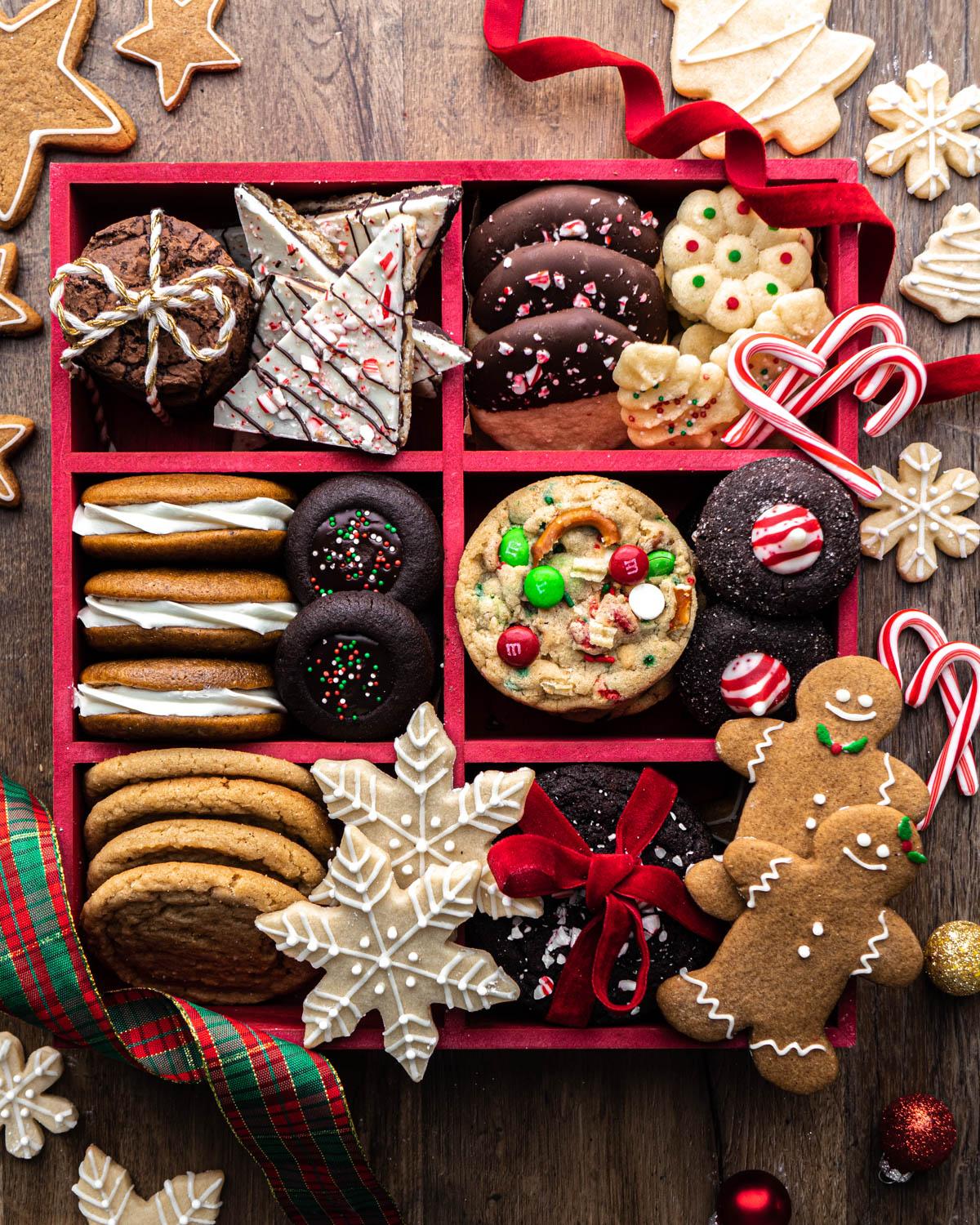 I love making Christmas cookie box to give to my favorite people or to serve after Christmas dinner. But making so many different types of cookie can be overwhelming.
For many years I made the mistake of taking random recipes that I liked, one different from the other, in order to create a box with many different varieties of cookies. I always ended up being exhausted, with cookies that were too different one from the other and with no time to make all the recipes I wanted.
This year I decided to get smarter and more organized. YAY! I found out that the best method is actually to make a very simple dough and use it as a base to create other flavors.
Starting from a simple vanilla or almond dough, for example, you can create a chocolate dough or a gingerbread dough just by adding ingredients like cacao, spices, chocolate chips, nuts, etc.
Another tip is to get creative with the decorations. Decorating each cookie with a different technique will make your cookies look (and taste) all different!
I'll be sharing with you guys two of my favorite cookie dough recipes, which are very versatile and which allow you to create many varieties of cookies just by adding a few ingredients.
In this cookie box you can see many variations of my vegan almond cookies and my easy vegan shortbread cookies (find the recipes below) and also my Chocolate and Tahini cookies.
The almond cookie dough is vegan, plant-based, refined sugar-free and gluten-free; the shortbread dough is vegan.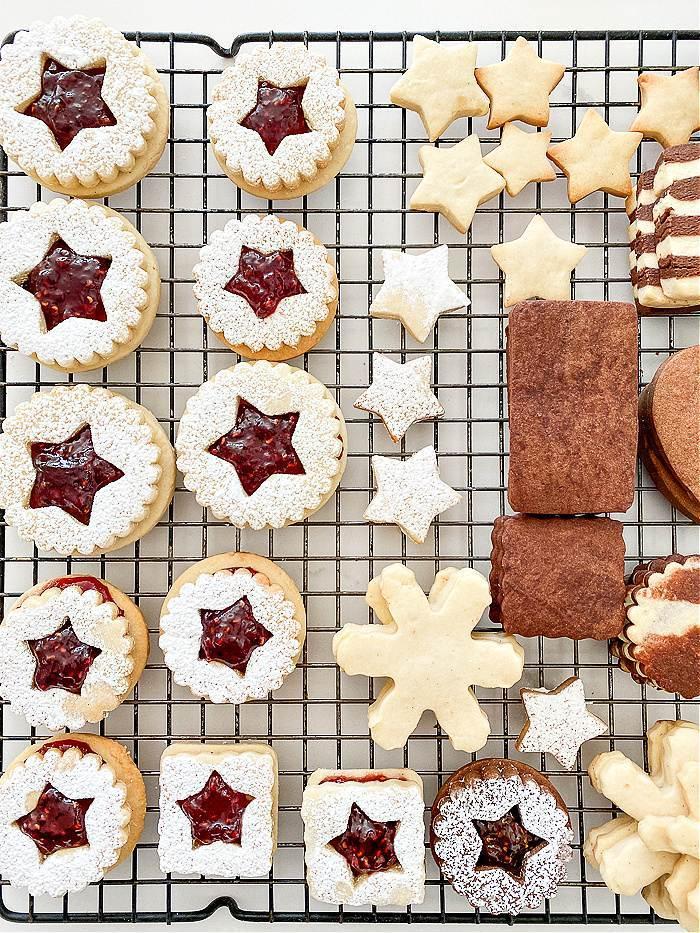 Christmas Cookie Box Recipe
Easy almond cookies
vegan, gluten-free, refined sugar – free, plant-based
Ingredients
Dry ingredients
80 

g 

almond flour

40 

g 

oat flour GF certified if needed

1/4

tsp 

baking soda

1/4

tsp 

pink salt
Wet ingredients
100 g/ 1/2 cup

homemade almond butter

100 g /4 tbsp

pure maple syrup or honey (for non-vegan)

1/2

tsp 

vanilla bean paste
Add-ins
chocolate chips

chopped cranberries and pistachios

almond slices
Instructions
In a small bowl, combine the dry ingredients.

In another bowl, whisk together all the wet ingredients until well combined. 
Combine with the dry ingredients

Using your hands, shape about one tablespoon of the cookie dough into a ball. If you're using small seeds or sprinkles, just roll the balls into the seeds. If you're using larger chocolate chips, press them into the dough.

Place the balls onto a baking sheet lined with baking paper

Using the flat bottom of a glass, gently press the cookie balls until it's about 8mm (1/3 inch) thick.

Repeat with the rest of the cookie dough and refrigerate for about 15 minutes.


While the cookies are chilling, pre-heat the oven to 180 ºC (355 ºF).

Bake the cookies for about 7 minutes or until slightly spread out and light golden brown on top.

Immediately out of the oven, the cookies will be very soft.Allow them to cool on the baking sheet for about 10 minutes, then transfer to a cooling rack.

The almond cookies keep well in a cool dry place in a closed container for about 1 week.

Once the cookies are cold, decorate with melted chocolate or icing.
Vegan shortbread cookies
Ingredients
125 g / 1 cup

powder sugar

330 g/ 1,5 cups

plain flour

200 g / 1 cup

vegan butter, cold

pinch of salt

1

tsp 

vanilla bean paste
Instructions
Sift flour and icing sugar into a large mixing bowl. Add salt, spices if using, and mix gently to combine.

Cut vegan butter into rough chunks and add to mixing bowl.Mix dough with hands to combine the flour and butter, until dough starts to come together.

Once smooth, transfer to a lightly floured board, shape the dough into a disc shape and wrap in cling film.

Place in the fridge to chill for 30 minutes- 1 hour.

When you're ready to roll out the dough, preheat the oven to 180 degrees Celsius. Line and grease two baking trays.

Roll out the dough on a lightly floured surface to 6 mm thick (1/4 inch).

Cut out shapes using cookie cutters and place the cookies slightly spaced apart on the baking trays. Re-roll the scraps to cut out more cookies.

Bake for about 9 minutes or until the edges are set.

Decorate with icing, chocolate, sprinkles, whatever you feel like!
How to Make the PerfectChristmas Cookie Box
To make different versions of shortbread cookies, you can add cacao powder, spices, chocolate chips or nuts to the dough.
I divided the dough (amount of the Christmas cookie box recipe) into 3 equal parts to make different flavors, as follows:
Orange cardamom cookies: add 1 tsp organic orange zest+1/2 tsp ground cardamom to the dough
Lemon pistachio rose cookies: add 1 tsp lemon zest, 1 tbsp chopped pistachios, 1 tbsp rose petals to the dough
Lemon cornflowers: add 1 tsp lemon zest+1 tbsp cornflowers
Chocolate: add 1/2 tsp cinnamon+2tbsp cacao powder dissolved into 3 tbsp water +2 tbsp powder sugar
Vanilla cookies sandwiches: top one round cookie with 1/2 tsp jam of choice and cover with a second cookie
Chocolate cookie sandwiches: fill two cookies with homemade Nutella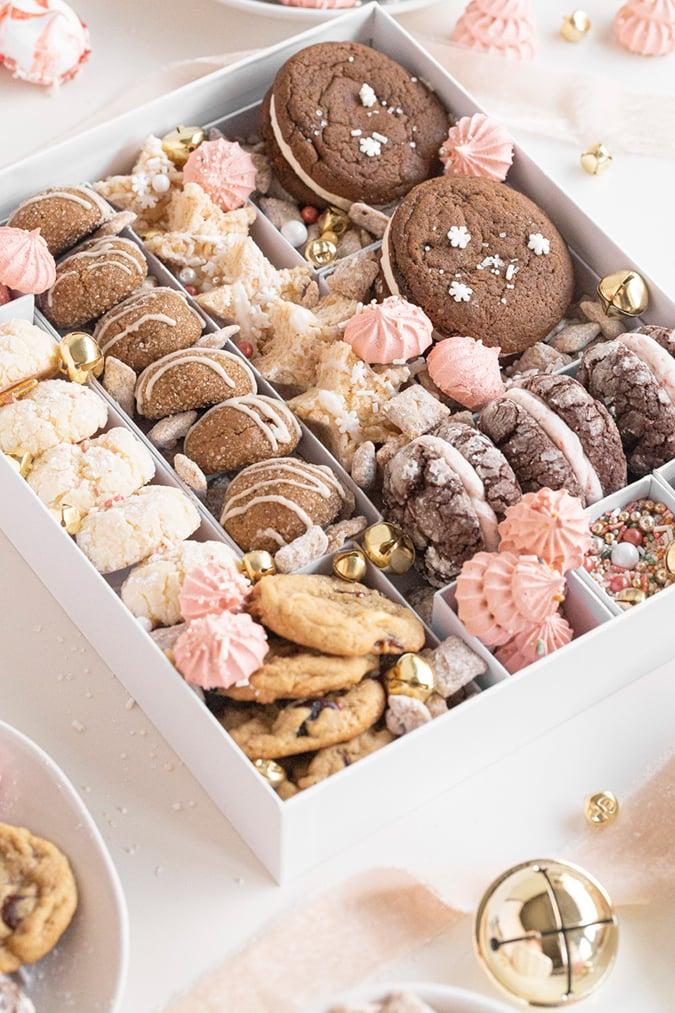 You can make cookie sandwiches, just by pairing two shortbread cookies (I used a Linzer cookie cutter, but a simple round cookie cutter works just as well) and filling them with melted chocolate, your favorite jam, seed butter, nut butters, etc.
NOTE: yes. That is a Stegosaurus cookie! LOL. Very festive. (thanks, hubby).
The almond cookie dough is more on the soft side, so you can only roll it into balls and make round cookies. The shortbread cookie dough can be rolled out and it's perfect to cut out cookies of any shape.
To make different versions of the almond cookies, roll the balls into different seeds, nuts, sprinkles or chocolate chips.
You can also make cookie sandwiches pairing two cookies with a filling of choice in the middle.
NOTE: Since the cookies don't stay in the refrigerator, I recommend not using fresh ingredients that need to be kept in the refrigerator to make the filling (such as fruit, milk, butter, etc.)
The cookies keep well in an airtight cookie tin at room temperature, for about 7 days.
I really hope you guys will find the time to bake some Christmas cookies to enjoy during the Holiday! Happy baking!
Ps: As always, if you make any of my Christmas cookie box recipes, make sure to tag me on Instagram so that I can see your pics!