To make this super fluffy Babka, I used my milk bread recipe and added some homemade hazelnut spread.
To make the Milk bread Babka with chocolate and hazelnut spread, you can use a kneading machine like the Magimix Cook Expert or a stand mixer. In both cases, I chose the bread starter method (water roux), which is the secret to a super fluffy bread.
The roux, also called Tangzhong water roux, is a flour and water mixture that is added to yeast bread recipes. This is done in order to make a loaf of bread that is lighter, has a more tender crumb and a longer shelf life.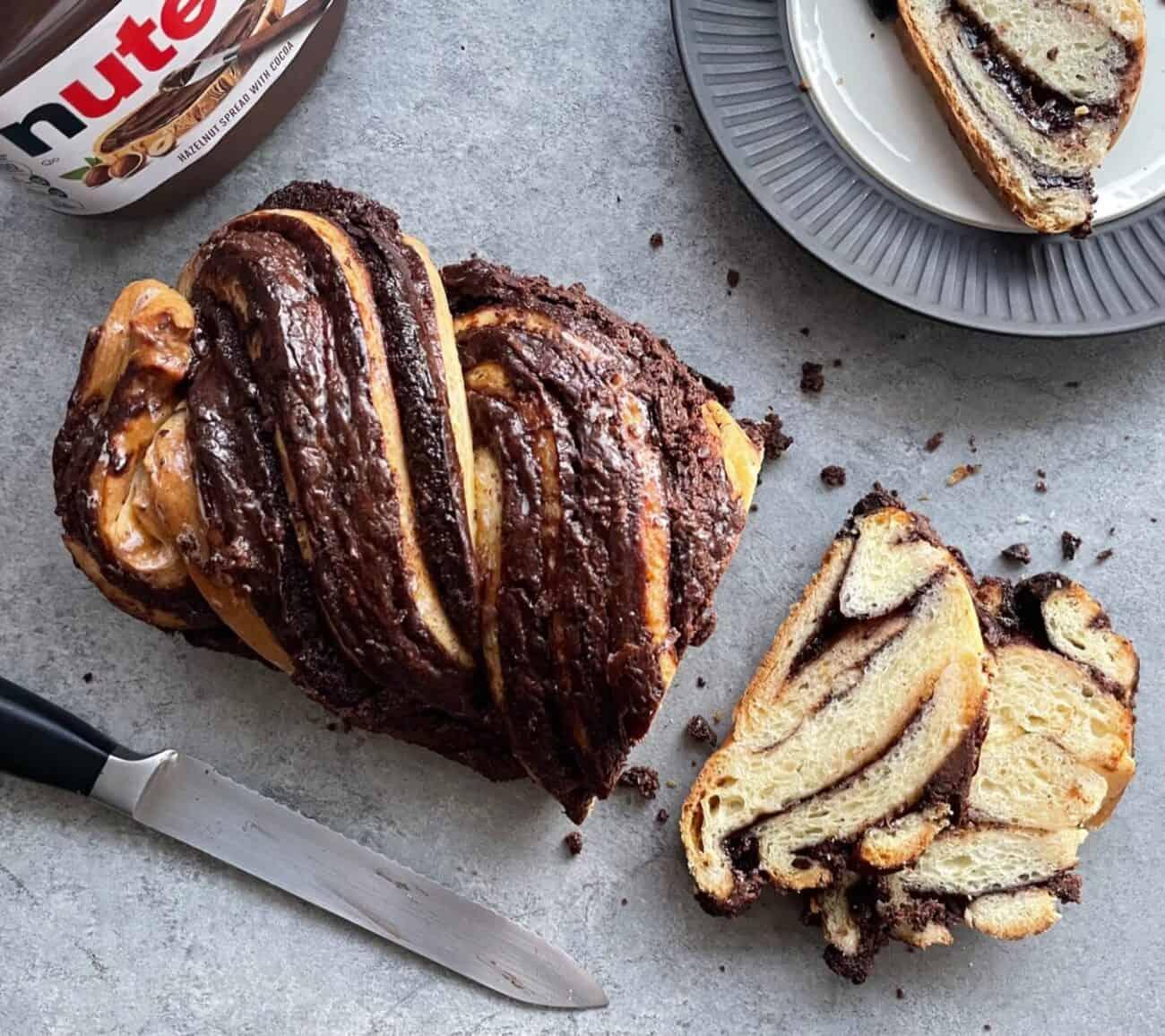 The roux is very easy to make. All you need is to combine a little flour and some water or milk to a saucepan and cook the mixture until thick and creamy. The roux should have the consistency of a curd.
Can you see the fluffiness of this bread? So good!
You can use any spread of choice, but chocolate and hazelnut is definitely an autumn favorite! I made my own homemade chocolate and hazelnut spread (find the recipe below), as it's super easy to make.
This milk bread is a delicious breakfast option but also a perfect afternoon treat. I'm sure you're going to love it!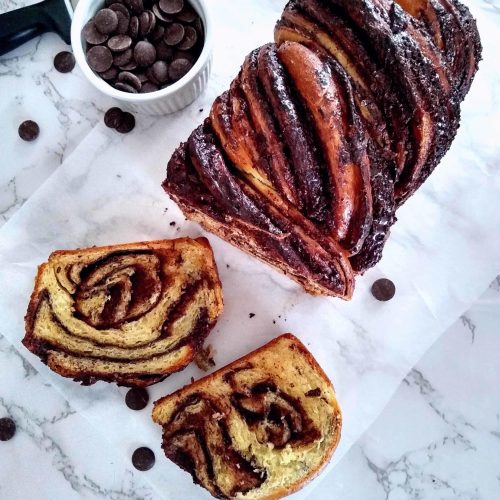 Milk bread Babka with chocolate and hazelnut spread
Equipment
Stand mixer or kneading machine
Ingredients
For the water roux (Tangzhong)
25 g/ 2,5 tbsp

bread flour

120 g / 1/2 cup

water
For the bread
120 ml / 1/2 cup

oat milk, room temperature

50 g/ 1/4 cup

vegan butter

9 g/2,5 tsp

instant yeast

350 g / 2,75 cups

bread flour

65 g/ 1/3 cup

light brown sugar

5 g /1 tsp

pink salt

4

tbsp 

homemade dark chocolate spread
For the chocolate and hazelnut spread
200 g/ 1,5 cups

peeled, toasted unsalted hazelnuts

1/4

tsp 

Himalayan salt

50 g/ 1/3 cup

dairy-free dark chocolate
Instructions
Make the spread
Add hazelnuts to a food processor or high-speed blender. Blend on low until a butter is formed (about 8-10 minutes) scraping down sides as needed.

In the meantime, heat the chocolate over a bain-Marie.Once the hazelnut butter is creamy and smooth, add the vanilla and salt and blend well.

Then add melted chocolate a little at a time and blend again until well incorporated.

Transfer to a clean jar and store at room temperature for up to 3 weeks.
Make the roux
In a small saucepan, combine the bread flour and water and whisk to remove any lumps. Cook over medium-low heat for 3-5 minutes whisking continuously, until the roux starts to thicken. The roux should have the consistency of a curd. Remove from heat and let cool to room temperature.In a medium bowl, combine the dry ingredients.
Make the bread
Add the warm milk and roux to the bowl of a stand mixer fitted with the hook attachment. (or into your kneading machine). Then add the dry ingredients. Turn the mixer on medium-low and mix for 5-7 minutes until gluten develops and the dough feels elastic. 

Add the butter one tablespoon at a time and wait until it's fully incorporate before adding more.

Mix for another 5-7 minutes until the butter is completely incorporated and the dough is smooth and feels elastic. Note: The dough will be a bit tacky, but feels elastic.

Using wet hands, shape the dough into a ball and transfer to a greased bowl. Cover and let rise until doubled in size for 50-60 minutes.

Gently deflate the dough and roll into a rectangle on a well floured surface.Spread a thin layer of hazelnut cream.

Roll the dough starting from the edge of the shorter side into a log like a cinnamon roll placing it seam side down.

Cut the dough in half lengthwise to expose the center. Braid the two pieces overlapping each piece over itself and leaving the inside exposed. 

Place the loaf into a greased loaf pan and let rise for another 60 minutes.Preheat oven to 175C | 350F degrees and bake for about 25 minutes or until the top is golden brown.

Remove from oven and let cool into the pan for 10 minutes before transferring into a rack to cool down completely.
Cooking tips Milk bread Babka with chocolate and hazelnut spread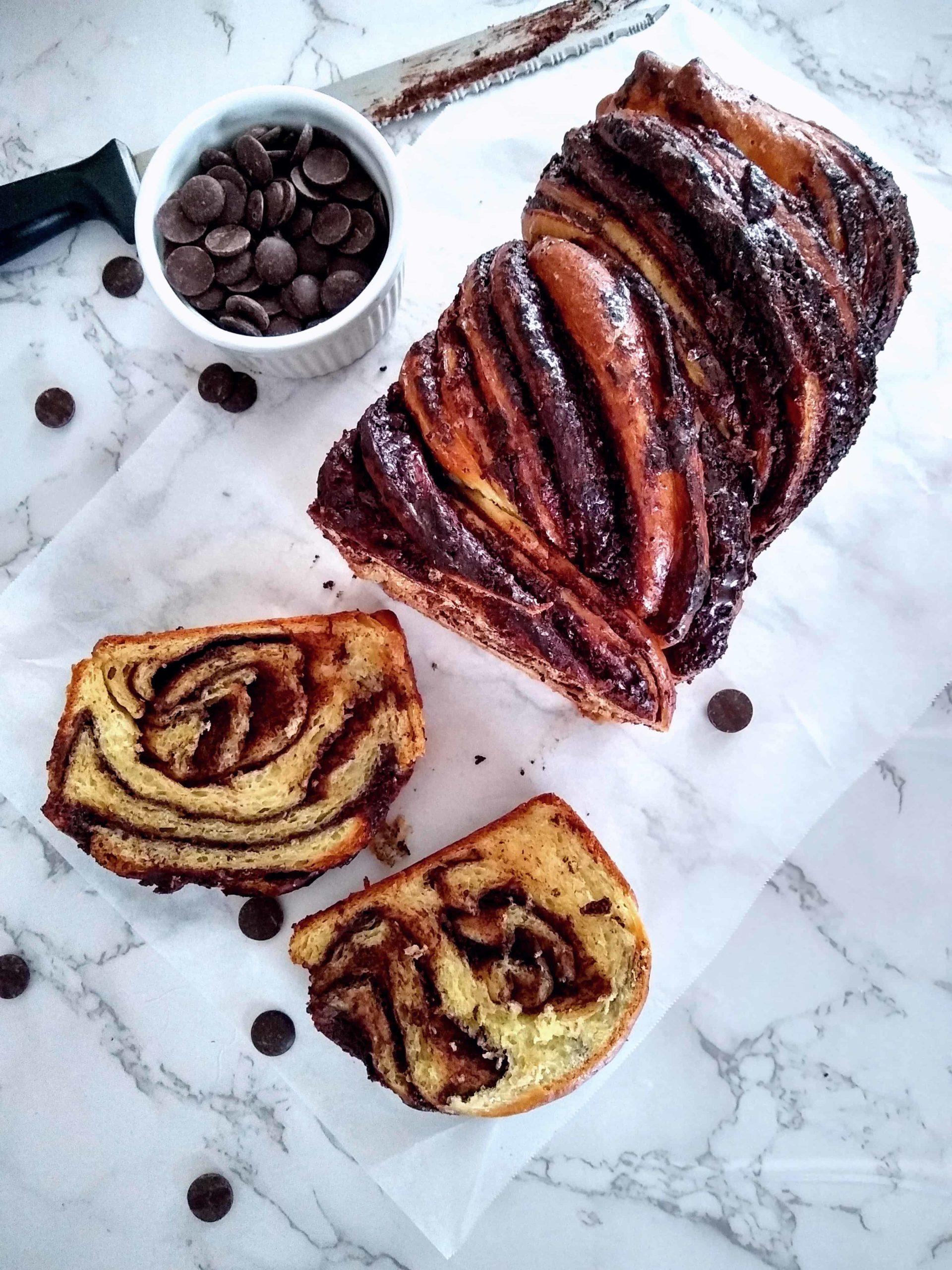 Milk bread babka with chocolate and hazelnut spread is a delicious and indulgent treat that can be a bit tricky to make. Here are some cooking tips for making a perfect milk bread babka with chocolate and hazelnut spread:
Use high-quality ingredients: The quality of the ingredients you use will greatly affect the taste and texture of your babka. Use high-quality flour, chocolate, and hazelnut spread to ensure the best results.
Make the dough ahead of time: Milk bread dough needs to rest and ferment for several hours to develop its signature flavor and texture. Plan ahead and make the dough the day before you plan to bake the babka.
Use a stand mixer: The dough for milk bread babka is sticky and can be difficult to knead by hand. Use a stand mixer with a dough hook attachment to make the process easier.
Roll the dough thinly: For the best results, roll the dough out thinly and evenly. This will ensure that the babka cooks evenly and has a light, fluffy texture.
Use a good-quality chocolate and hazelnut spread: Use a high-quality chocolate and hazelnut spread to ensure that your babka has a rich, decadent flavor.
Chill the babka before baking: Chilling the babka for at least an hour before baking will help it keep its shape and prevent it from spreading too much in the oven.
Bake at the right temperature: Bake the babka at 350°F (180°C) for about 35-40 minutes, or until it is golden brown and fully cooked through.
Let it cool before slicing: Let the babka cool for at least 30 minutes before slicing into it. This will allow the chocolate and hazelnut spread to set and prevent it from oozing out too much when you cut into it. Enjoy!
Nutritional ingredients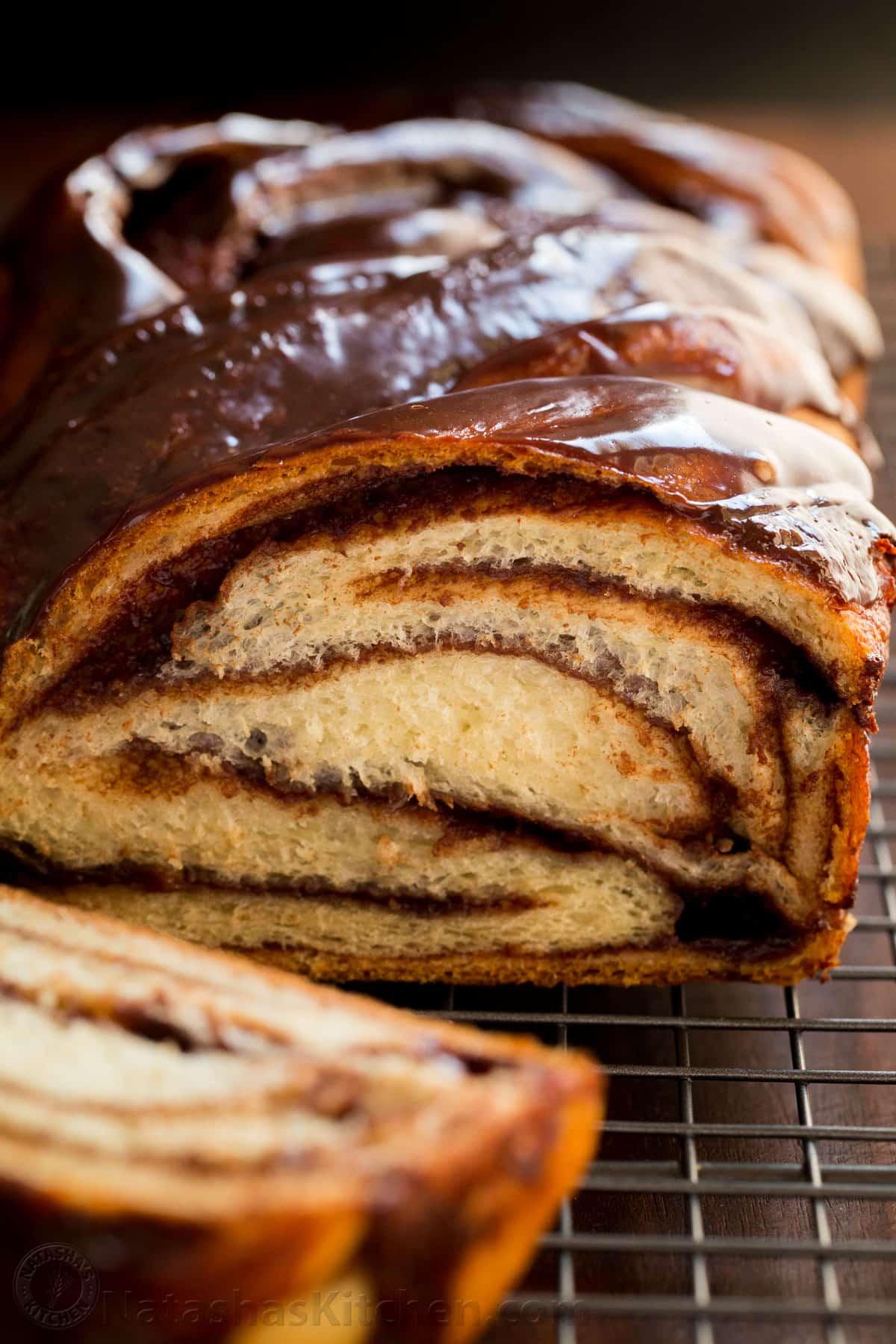 Here are the approximate nutritional values for a typical milk bread babka with chocolate and hazelnut spread recipe:
Serving size: 1 slice (1/12 of a 9-inch loaf)
Calories: 352
Total fat: 15g
Saturated fat: 6g
Trans fat: 0g
Cholesterol: 47mg
Sodium: 251mg
Total carbohydrates: 48g
Dietary fiber: 2g
Sugars: 21g
Protein: 7g
Please note that these values are only estimates and may vary depending on the specific recipe and ingredients used. Additionally, consuming large amounts of babka may not be the healthiest choice due to its high calorie and sugar content. It is best enjoyed in moderation as a special treat.
In conclusion, Milk bread Babka with chocolate and hazelnut spread is a rich and indulgent treat that is perfect for a special occasion or as a weekend indulgence.
With the right ingredients and techniques, it's possible to make a delicious and impressive babka that will impress your friends and family. Just be sure to enjoy it in moderation as it is a high-calorie and high-sugar treat.