Homemade patties are the best, right? And these are Spinach and quinoa patties with nutrients and veggies! YAY! This recipe is super easy, vegan and gluten-free.
I love to pair the patties with a bowl of veggies for a quick lunch, but you can also make bite-sized patties and serve them on a snack platter with a dip to amaze your guests.
Quinoa is naturally gluten-free and it's considered a superfood for its many benefits. It's high in protein and one of the few plant foods that contain sufficient amounts of all nine essential amino acids. It is also high in fiber and vitamins.
This recipe is also vegan, since I did not use eggs or dairies to make these patties. I replaced them with sweet potatoes to get a nice texture. In case you want to use eggs, replace the sweet potatoes with 3 pasture raised eggs.
I'd be super happy to hear from you if you make these patties.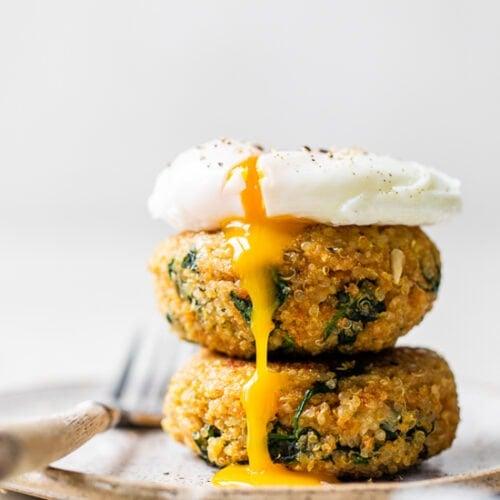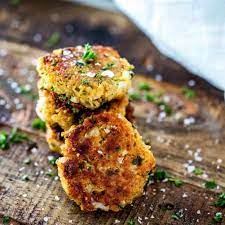 Spinach and quinoa patties
Ingredients
175 grams/ 1 cup

uncooked quinoa seeds, rinsed and drained

500 ml/2 cups

water

80 grams/ 3/4 cup/3 oz

rolled oats

300

grams 

sweet potatoes, cooked and mashed

100 grams/4 cups

fresh spinach, chopped

handful fresh basil, chopped

1

tsp 

salt

1/2

tsp 

ground black pepper

coconut oil or ghee for frying
Instructions
cook the quinoa
Add quinoa and water to a pot or rice cooker and cook for about 20 minutes.
Make the patties
In a large mixing bowl, place cooked quinoa, oats, mashed sweet potatoes, chopped spinach and basil, salt and pepper and combine until all is mixed.

Place in the fridge to set for 30 minutes

Take out the mixture and form small or large patties with you

Heat the oil in a frying pan on medium heat. Add the patties and fry for about 2-3 minutes on each side or until golden brown.

The patties keep for 3-5 days in the fridge and freezes well.

If you want to make the Buddha bowl: add edamame, cilantro, red cabbage, sprouts, golden cherry tomatoes, basil and roasted almonds to a bowl and place the patties on top.
Cooking tips Spinach and quinoa patties
Sure, here are some cooking tips to help you make delicious spinach and quinoa patties:
Cook the quinoa properly: Rinse the quinoa thoroughly before cooking it to remove any bitterness. Use a 2:1 ratio of water to quinoa and simmer it for 15-20 minutes until the water is absorbed and the quinoa is fluffy.
Squeeze out the moisture from the spinach: Use your hands or a clean kitchen towel to squeeze out as much moisture as possible from the cooked spinach. This prevents the patties from becoming too wet and falling apart.
Use a binder: Use an egg or a flax egg as a binder to hold the patties together. Mix the egg or flax egg with the quinoa, spinach, breadcrumbs, and seasonings.
Chill the mixture: Chill the mixture in the refrigerator for at least 30 minutes before shaping the patties. This helps the mixture to firm up and makes it easier to shape.
Shape into patties: Use a spoon or your hands to shape the mixture into patties. Make sure they are not too thick, as they may take longer to cook.
Pan-fry or bake the patties: You can pan-fry the patties in a non-stick skillet with a little oil until they are golden brown on both sides. Alternatively, you can bake them in the oven for 20-25 minutes at 375°F until they are crispy and golden brown.
Serve with a sauce: Serve the patties with your favorite sauce, such as a yogurt sauce or a tahini dressing. They also pair well with avocado, tomato slices, or a side salad.
Store and reheat: Store any leftover patties in an airtight container in the refrigerator for up to 3 days. To reheat, you can pan-fry them again or bake them in the oven until heated through.
Nutritional ingredients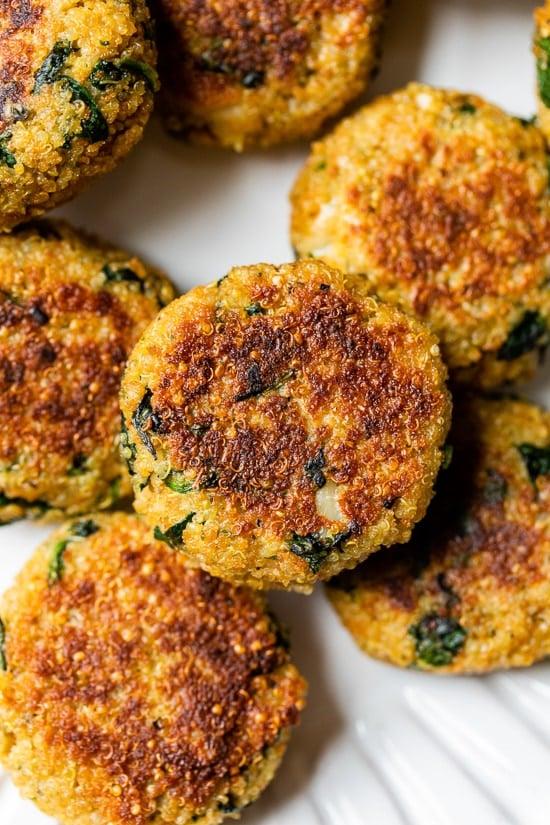 Sure, here are some of the nutritional ingredients of spinach and quinoa patties:
Quinoa: Quinoa is a gluten-free grain that is a good source of protein, fiber, vitamins, and minerals. It is also a complete protein, meaning it contains all nine essential amino acids that the body needs.
Spinach: Spinach is a leafy green vegetable that is high in vitamins A, C, and K, as well as iron, calcium, and antioxidants.
Eggs or flax eggs: Eggs or flax eggs are used as a binder in the patties. Eggs are a good source of protein, vitamins, and minerals, while flax eggs are a vegan alternative that are high in omega-3 fatty acids and fiber.
Breadcrumbs: Breadcrumbs are used to help hold the patties together and add texture. They are usually made from bread, which is a good source of carbohydrates and fiber.
Onion and garlic: Onion and garlic are used to add flavor to the patties. They also contain antioxidants and have anti-inflammatory properties.
Spices: Spices such as cumin, paprika, and chili powder are often used to add flavor to the patties. They also have various health benefits, such as aiding in digestion and reducing inflammation.
Oil: A small amount of oil is usually used to pan-fry the patties. Oil is a source of healthy fats, which are important for brain function and heart health.
Overall, spinach and quinoa patties are a nutritious and balanced meal or snack that are high in protein, fiber, vitamins, and minerals.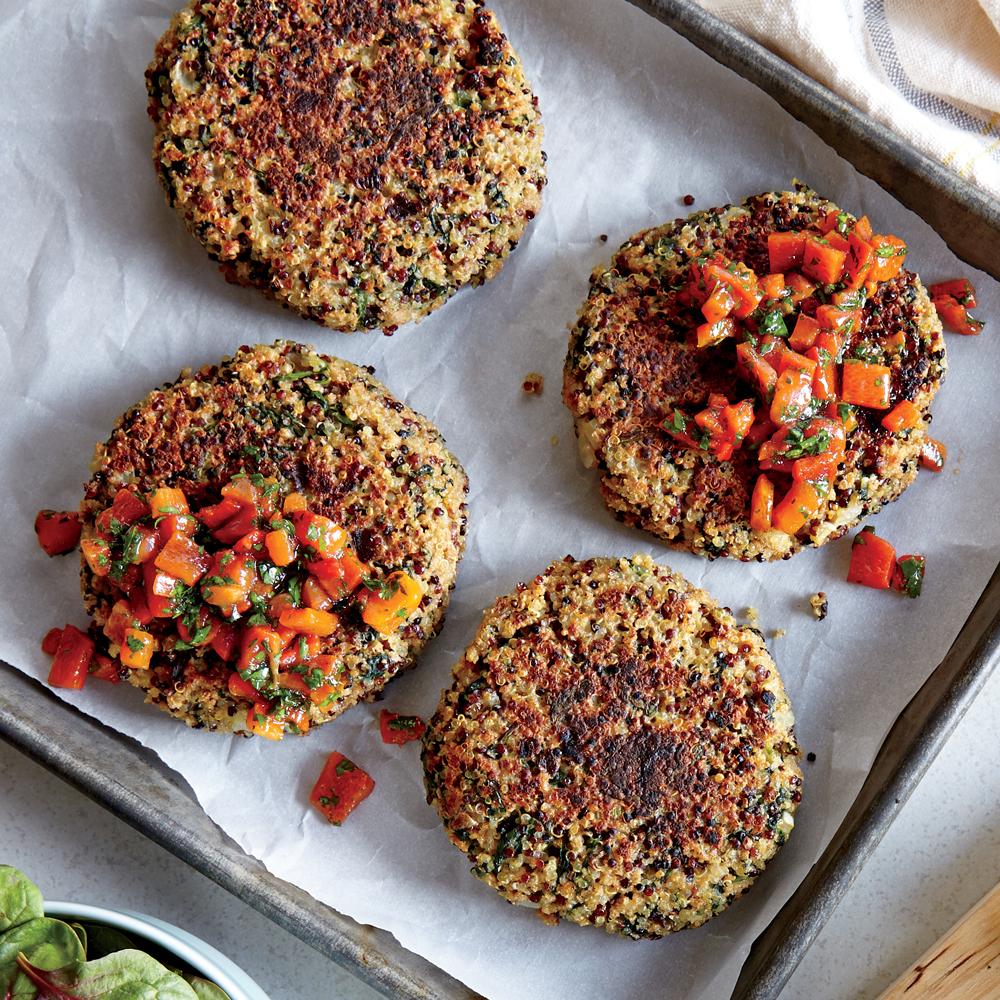 In conclusion, spinach and quinoa patties are a healthy and delicious meal or snack that are easy to make and packed with nutrients.
Whether you're looking for a meatless option or just want to add more greens and protein to your diet, these patties are a great choice. So, give them a try and enjoy their wholesome and hearty flavor!