Super fluffy pancakes made with spelt flour and vegan buttermilk. Buttermilk is the secret ingredient to light and fluffy pancakes.
Vegan buttermilk is very easy to make: simply combine dairy free milk (soy, oat, almond) with vinegar or lemon and set aside for 10 minutes to curdle.
These vanilla pancakes are sweetened with brown sugar and pure maple syrup. I love to eat them plain, with just some fruits on top!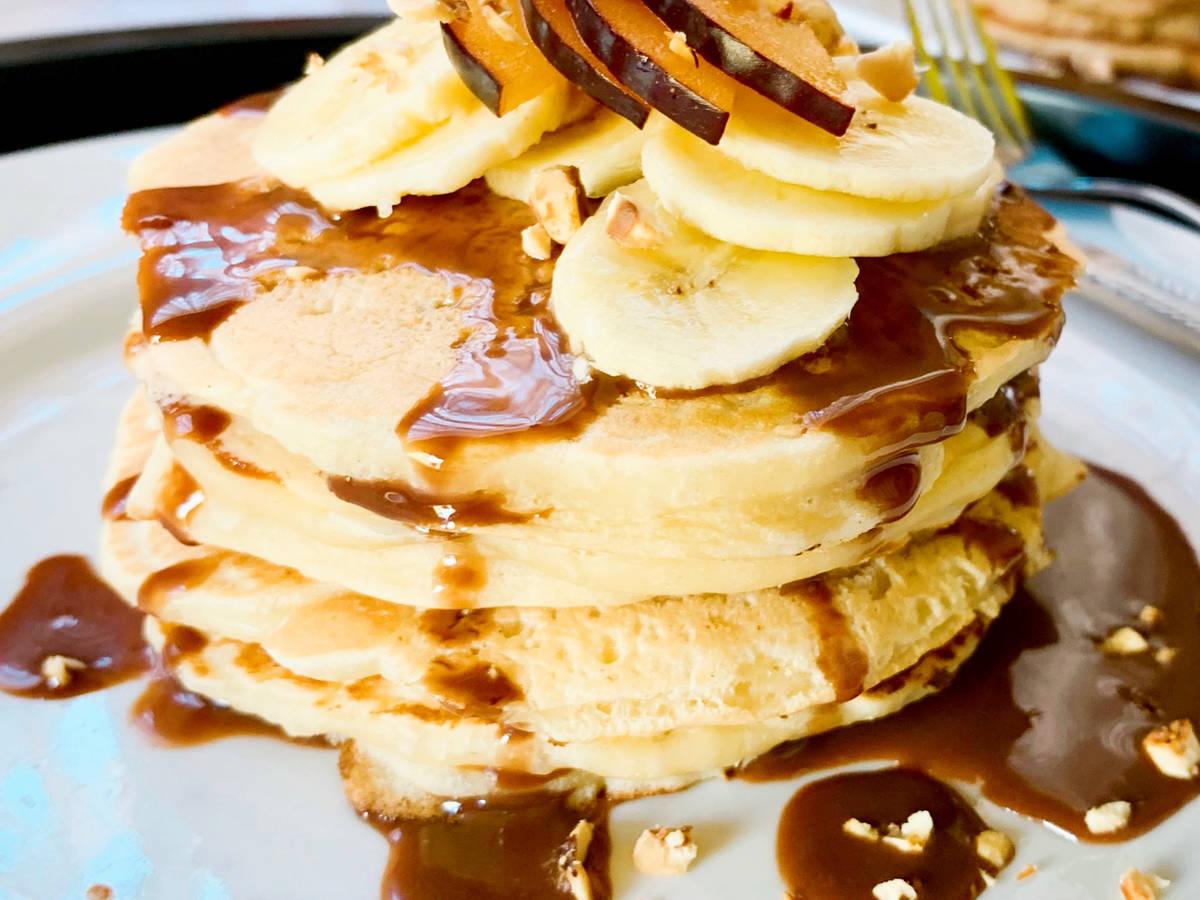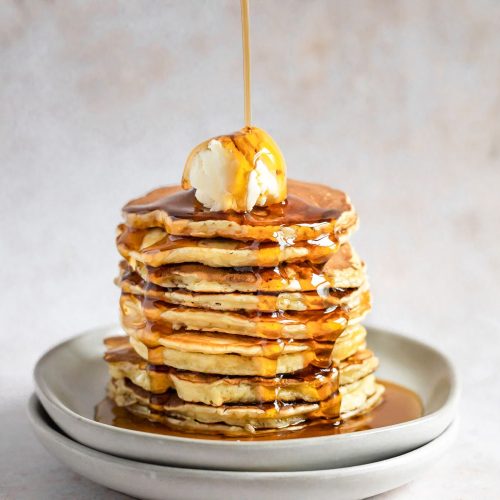 Vanilla pancakes
vegan, refined sugar free, easy
Ingredients
200 

grams 

spelt flour

30 

grams 

potato starch

2

tsp 

baking powder

50 

grams 

light brown sugar

pinch salt

200 

ml 

almond milk

4

tsp 

apple cider vinegar

100 

ml 

water

50 

grams 

pure maple syrup

20 

grams 

coconut oil, melted and cooled

2

tsp 

vanilla bean paste
Instructions
Prepare the vegan buttermilk: combine almond milk with vinegar in a small bowl and set aside.

In a large bowl, combine flour, potato starch, salt and baking powder and mix well.

Add maple syrup, vanilla and melted coconut oil to the milk and stir to combine.

Pour the wet ingredients mixture into the dry ingredients and stir till mostly incorporated. Add the water and mix just until combined.

Set the batter aside for 5-10 minutes.

Heat a small non-stick pan over a low-medium heat.

Pour 1/4 cup of batter into the pan and cook until golden brown or until the top surface forms bubbles (about 3 minutes).

Flip and repeat on the other side. 
Introduction about Vanilla pancakes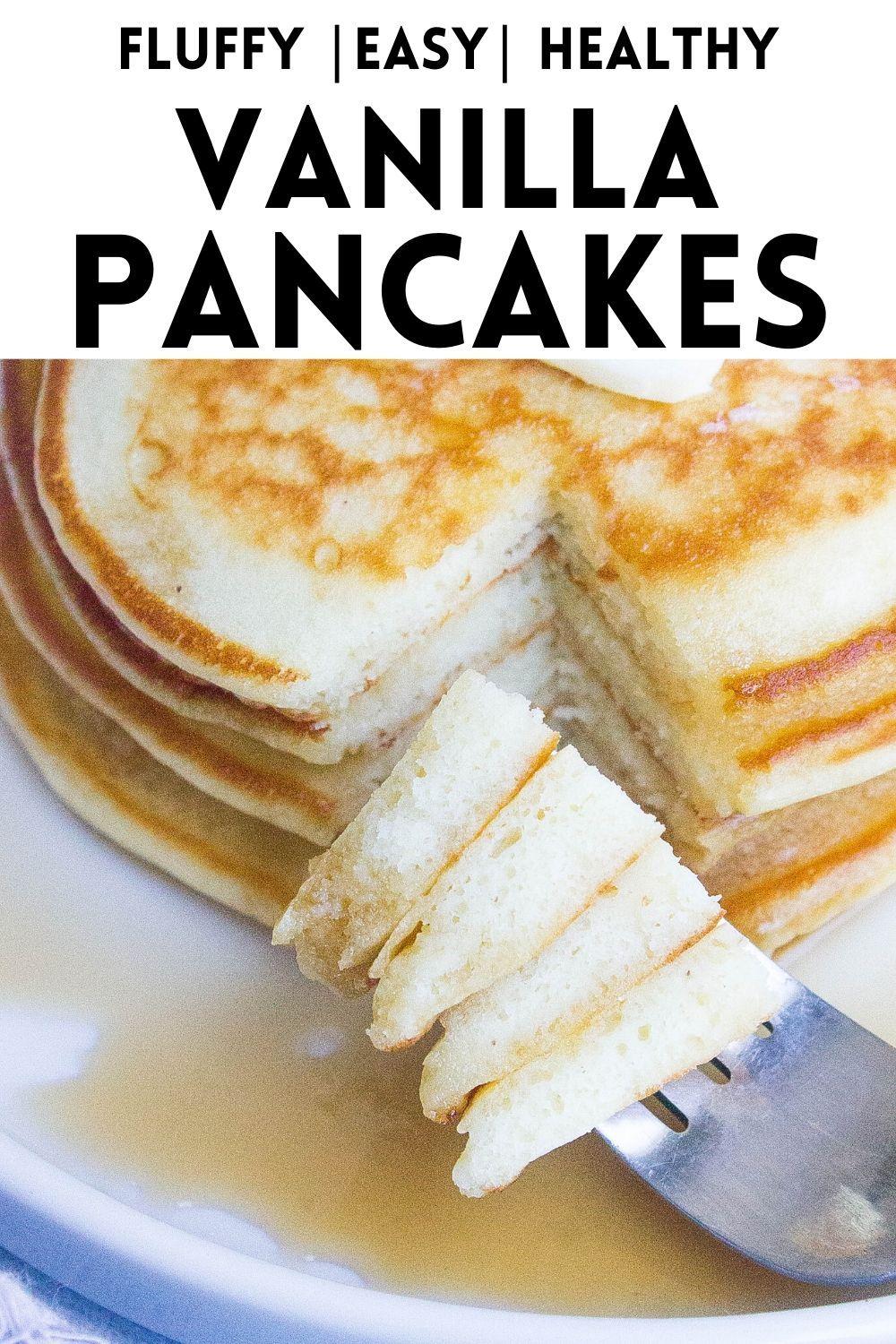 Vanilla pancakes are a delicious and classic breakfast dish that is loved by many people around the world. They are used by their fluffy and light texture, and a sweet, aromatic taste that is derived from the addition of vanilla extract or vanilla bean to the pancake batter.
Vanilla pancakes are easy to make and can be customized to suit individual tastes and preferences. They can be served with a variety of toppings such as fresh berries, whipped cream, maple syrup, honey, or chocolate chips.
While vanilla pancakes are often associated with traditional American breakfasts, they are a versatile dish that can be enjoyed any time of the day. They make for a delightful brunch, a sweet dessert, or even a midday snack.
Whether you are looking for a comforting breakfast to start your day or a special treat to indulge in, vanilla pancakes are sure to satisfy your cravings and leave you feeling satisfied and happy.
Serving Suggestions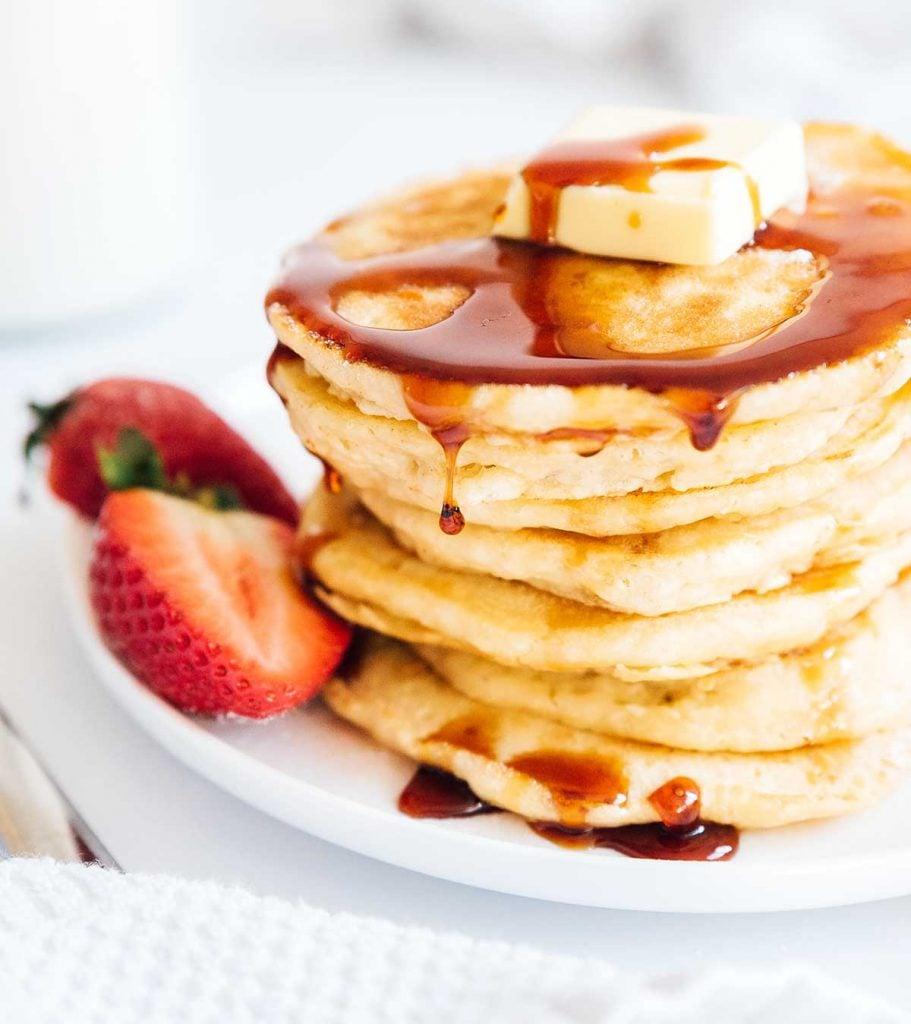 Vanilla pancakes are a versatile breakfast dish that can be served in a variety of ways. Here are some serving suggestions to try:
Classic: Spread butter on top of the pancakes and drizzle with maple syrup or honey.

Fruity: Top the pancakes with fresh berries such as strawberries, blueberries, or raspberries. You can also add sliced bananas or peaches for a tropical twist.

Nutty: Sprinkle chopped nuts, such as pecans, almonds, or walnuts, on top of the pancakes.

Chocolatey: Add chocolate chips to the pancake batter and serve with chocolate sauce or Nutella.

Creamy: Top the pancakes with whipped cream, Greek yogurt, or mascarpone cheese.

Spicy: Add a pinch of cinnamon or nutmeg to the pancake batter for a warm, spicy flavor.

Savory: Serve the pancakes with bacon or sausage and scrambled eggs for a hearty breakfast.

Creative: Get creative with your toppings and experiment with unique combinations such as peanut butter and jelly, caramelized apples, or even ice cream!
FAQs of Vanilla pancakes
Q: What is the best type of flour to use for vanilla pancakes?
A: All-purpose flour is the most commonly used type of flour for making pancakes, but you can also use whole wheat flour or a gluten-free flour blend if you prefer.
Q: Can I substitute vanilla extract with vanilla essence?
A: Yes, you can substitute vanilla extract with vanilla essence, but keep in mind that the two are not exactly the same. Vanilla extract is made by steeping vanilla beans in alcohol, while vanilla essence is a synthetic flavoring that may not have the same depth of flavor.
Q: How do I make my fluffy pancakes?
A: To make fluffy pancakes, separate the egg whites from the yolks and beat the egg whites until they form stiff peaks. Then, fold the egg whites into the pancake batter gently before cooking.
Q: Can I make vanilla pancakes without eggs?
A: Yes, you can make vegan vanilla pancakes by substituting the eggs with a flax or chia egg (1 tablespoon of ground flax or chia seeds mixed with 3 tablespoons of water).
Q: How long should I cook my pancakes for?
A: Cook time can vary on the size of your pancakes and the heat of your pan, but generally, it takes 1-2 minutes per side to cook pancakes until they are golden brown and cooked through.
Q: Can I freeze leftover pancakes?
A: Yes, leftover pancakes can be frozen for later. Place them in an airtight container or ziplock bag and store in the freezer for up to 2-3 months. Reheat in the microwave or toaster oven before serving.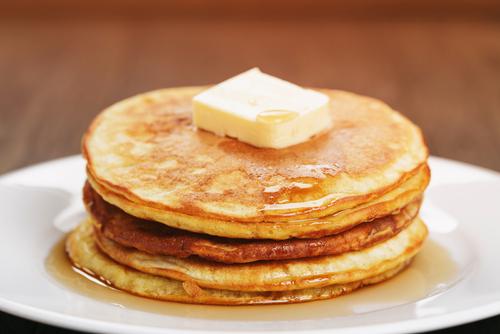 In conclusion, vanilla pancakes are a delicious and versatile breakfast dish that can be enjoyed in many ways. Whether you prefer them classic, fruity, nutty, chocolatey, creamy, spicy, or savory, there is a vanilla pancake recipe for everyone.
With their fluffy texture and sweet aroma, they are sure to satisfy your cravings and leave you feeling happy and satisfied. So why not whip up a batch of vanilla pancakes for your next breakfast or brunch and start your day off on a sweet note?