We call Linzer Cookies is Spitzbuben here in Switzerland and they are so popular during Christmas time! I always bake several batches of these before and during the Holidays because everyone loves them and because handmade gifts are always the best (especially if they are that yummy!!) don't you think?
These cookies can be filled with any kind of jam or spread. My favorite version is this raspberry jam and almond dough but the nutella version is super yummy too! If you are a hazelnut lover, check my hazelnut cookie stars too!
Fact about Linzer Cookies
To make this version, I used round cookie cutters with wavy edges and decorative mini-cookie cutters to cut a shape out of the center of the top cookies. Feel free to use any shape of your choice for both, the bottom and decorative cookie!
If you don't have mini decorative cookie cutters, you can use an apple corer or just leave the cookies entire and make cookie sandwiches- they're just as good!
If you want to replace eggs in this recipe, use 1 flax egg =1 tbsp freshly ground flax seed+3 tbsp water OR reduce flour to 150g and add 1tbsp plant milk.
This dough is made with almond flour which has a delicate taste and goes so well with the raspberry jam!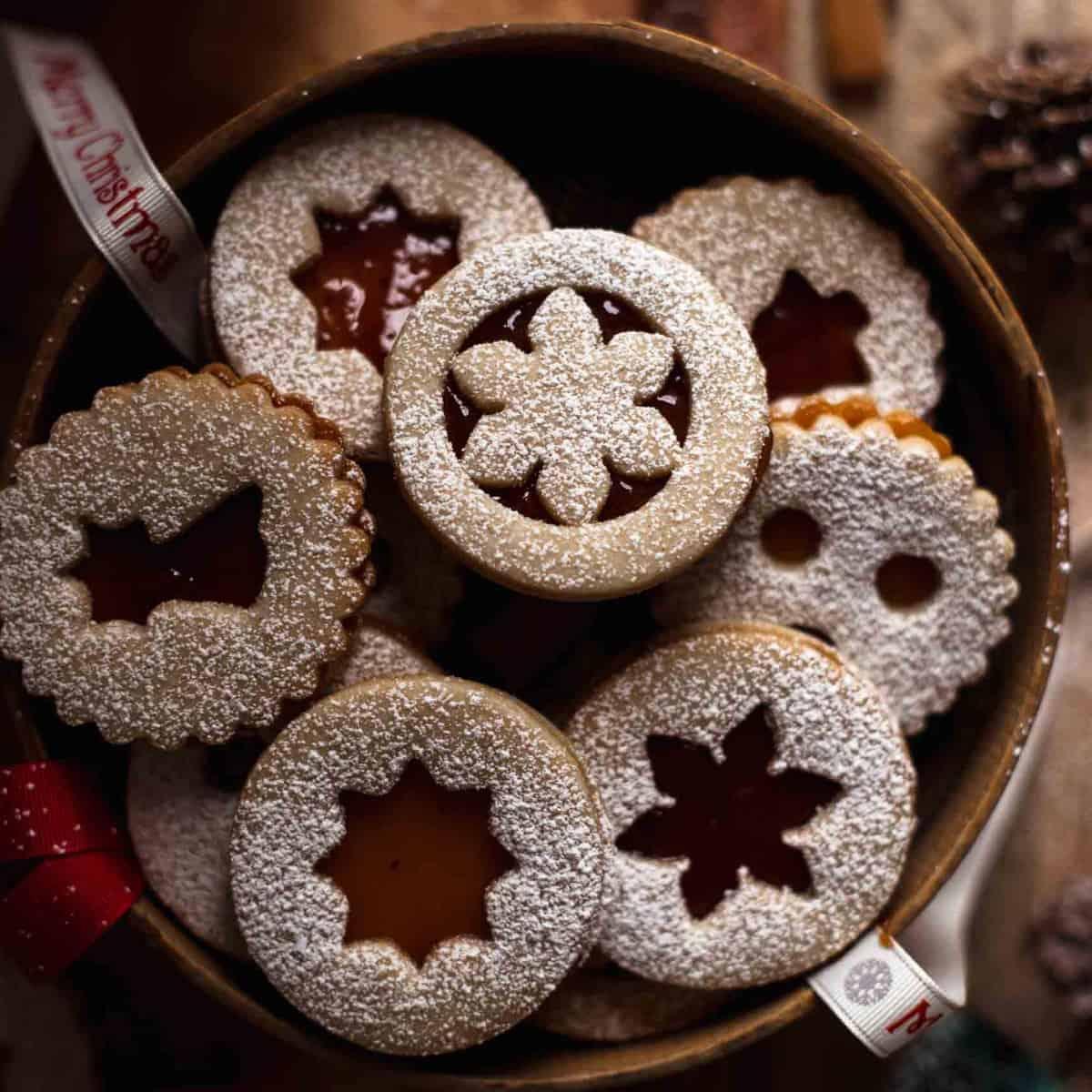 I recommend removing seeds from the jam for a smooth bite. To remove seeds, place raspberry jam into a small saucepan over medium heat and heat until very runny. Pass the jam through a fine mesh sieve to remove seeds. Let the jam cool down completely before using it.
Make sure the cookies are completely cool before assembly and let them dry once assembled to seal them.
The powdered sugar on top optional but so traditional and it gives a beautiful and festive look!
For a flawless look, I recommend dusting all the top cookies before placing them over the jam.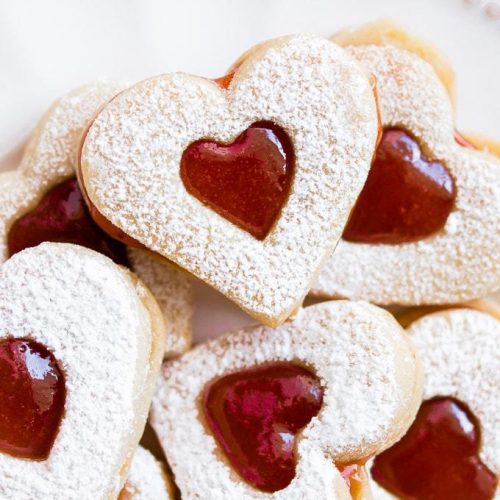 Linzer cookies
Heartwarming Linzer Cookies for Special Occasions
Ingredients
110 

g

(1/2 cup) unsalted butter/ plant butter at room temp, softened

60

g

(1/4 cup) powdered sugar

50

g

(1/4 cup) caster sugar

1

egg or egg substitute see blogpost

1

tsp 

vanilla bean paste

1/8 

tsp 

fine salt

70

g

(1/2cup) almond flour

(1 1/2 cup) all purpose flour

1/4 

cup 

baking powder

Powdered sugar for dusting

1/2 

cup 

raspberry jam, seedless see blogpost
Instructions
Make the cookie dough
In the bowl of a stand mixer, beat butter until smooth (1 min).

Add sugars and beat until fluffy and light in color (5 min).

Scrape down the sides of the bowl and beat in the egg and vanilla until well combined.

Mix in the almond meal just until combined.

Turn the dough out onto plastic wrap, and shape into a disk. Refrigerate for at least 1 hour.

Preheat oven to 180C degrees.

Roll out dough into 4mm height on a lightly floured surface.Cut out an even number of cookies with a cookie cutter. Use a smaller, decorative cutter to cut a shape out of the center of half of the cookies.

For perfectly shaped cookies, refrigerate cut out cookies for 15 minutes.

Bake for 8 minutes, until they are lightly browned on the bottom.

Bake for 8 minutes, until they are lightly browned on the bottom.

Let cool down a few minutes on baking tray then transfer to a cooling rack to cool completely.
Assembly
Spread 1 tsp of jam onto the bottom cookies and sandwich the cut-out cookie on top. Then, dust with powdered sugar.
FAQs of Linzer cookies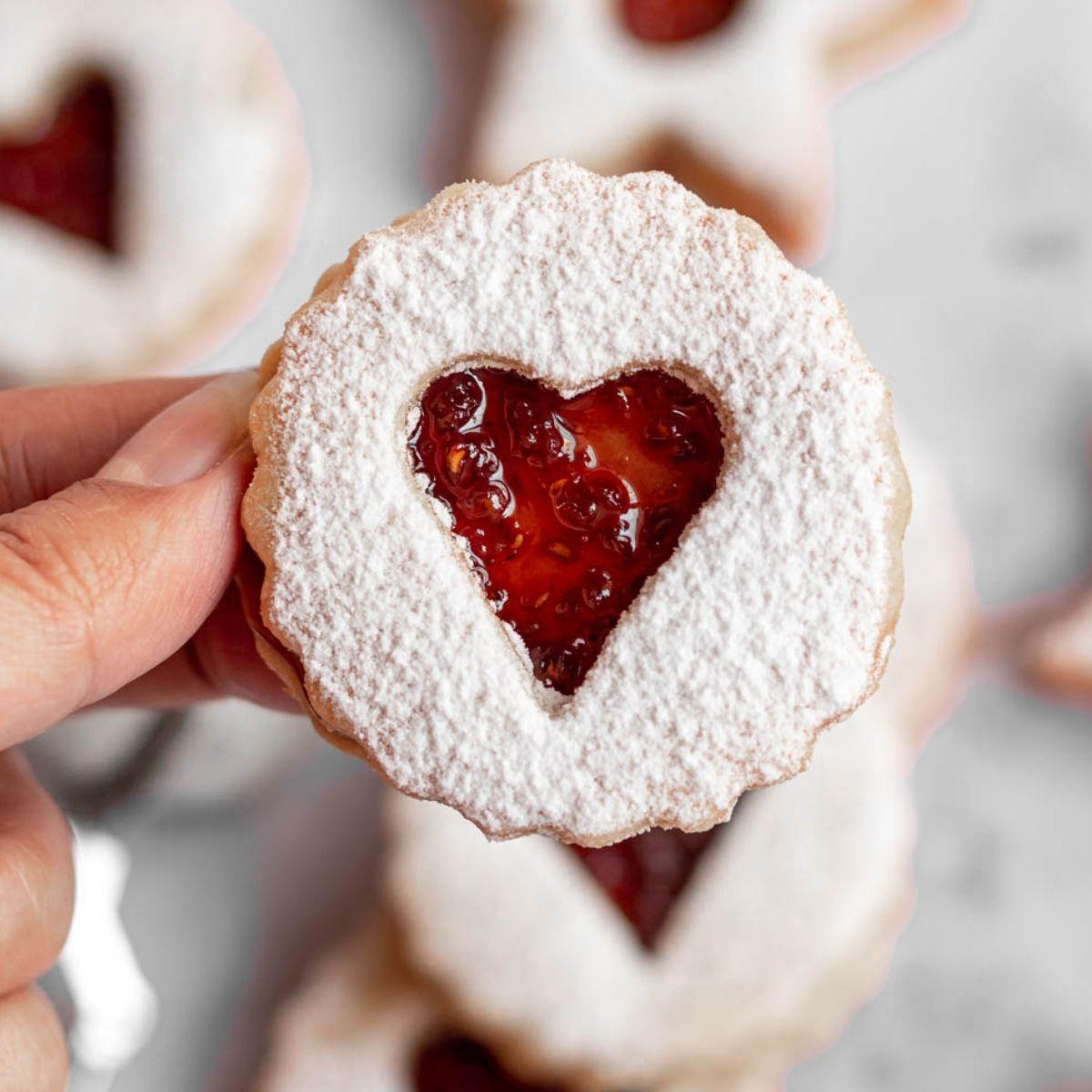 Here are some frequently asked questions about Linzer Cookies:
Q: What is the origin of Linzer Cookies?
A: Linzer Cookies are a traditional Austrian cookie that originated in the city of Linz. They are popular during the holiday season and are often made with raspberry jam filling.
Q: Can I use a different type of jam for the filling?
A: Yes, you can use a different type of jam, such as strawberry, apricot, or cherry, for the filling. Just keep in mind that this may affect the flavor of the cookies.
Q: Can I make the dough ahead of time?
A: Yes, you can make the dough ahead of time and refrigerate it for up to 2 days or freeze it for up to 1 month. When ready to bake, let it come to room temperature and continue with the recipe.
Q: Can I use a different type of nut instead of almonds?
A: Yes, you can use a different type of nut, such as hazelnuts or pecans, instead of almonds. This may affect the flavor of the cookies.
Q: Can I make this recipe gluten-free?
A: Yes, you can make this recipe gluten-free by using a gluten-free flour blend instead of all-purpose flour. Be sure to use a blend that is suitable for baking and follow the manufacturer's instructions for substitution ratios.
Q: Can I make this recipe vegan?
A: Yes, you can make this recipe vegan by using a vegan butter substitute instead of butter. Use a vegan egg substitute, such as flax eggs, instead of regular eggs. Check the ingredients of the jam for any added animal products.
In conclusion, Linzer cookies are a delicious and festive treat that are perfect for the holiday season. With their buttery almond flavor and sweet jam filling, they are sure to be a hit with everyone who tries them. Whether you make them for a party or as a special treat for yourself, these cookies are a must-try for any cookie lover.