This recipe has a very special place in my heart because I was asked by Natalie Portman to create it for her daughter.
We decided to make a cooking class together and it was such a fun experience! I will be forever grateful for this amazing opportunity!
Introduction about Vegan Matcha Donuts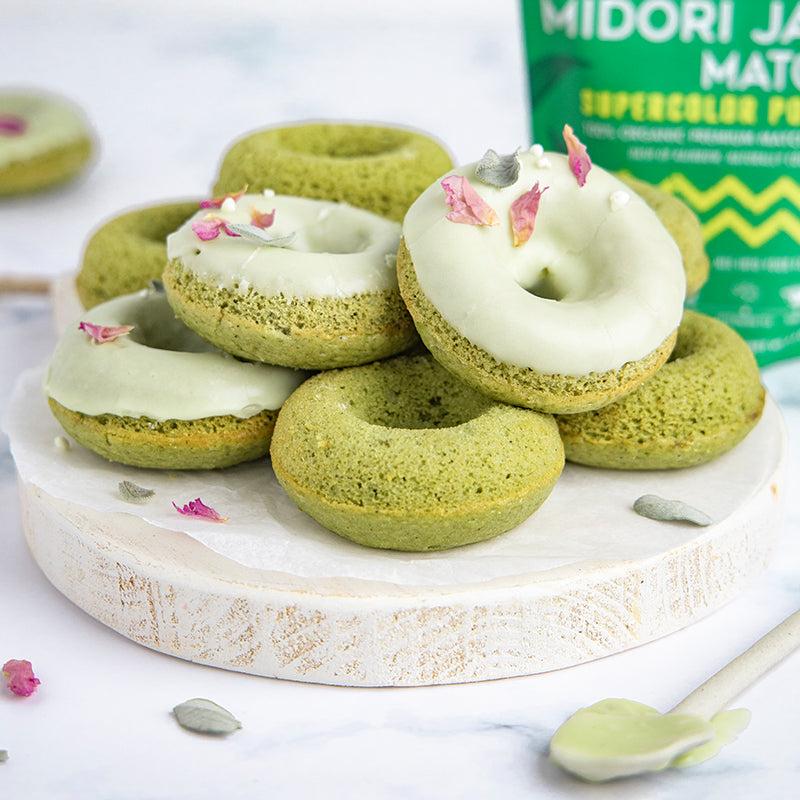 Natalie asked for a vegan version of her daughter's favorite bakery's matcha donuts. I love matcha and I was very happy to create this recipe. After couple of tests, I finally achieved the perfect donut: fluffy inside and slightly crispy on the edges. And they're baked in the oven, not fried. Much healthier!
The recipe is very easy to follow and requires only a few ingredients!
To achieve a beautiful vibrant green color, make sure you're using high quality matcha powder.
I only added a little amount of matcha powder to the batter, and a tiny quarter of teaspoon to the glaze, just for the color. Please feel free to add more matcha powder if you like stronger flavor or color.
I used white sugar to make sure it doesn't affect the final color, but you can replace it with other unrefined sugars like coconut or brown sugar if you don't care about the color.
To make the glaze, I used coconut milk because it's whiter and thicker than other plant milk. If you don't have or don't like coconut milk, feel free to use other plant milk and adjust amount of icing sugar if necessary. If you want less sugar overall, you can skip the glaze; the donuts taste heavenly without glaze too!
I recommend using a piping bag to fill the donut mold. If you don't feel confident or don't have a piping bag, you can use a spoon, but it can get messy.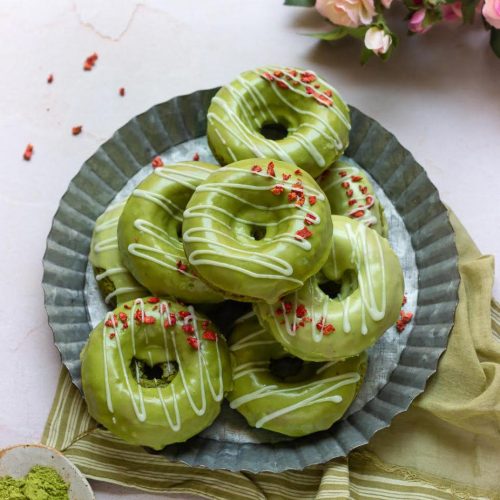 Vegan Matcha Donuts
Equipment
donut mold

fine mesh sieve, piping bag (optional)
Ingredients
Dry ingredients
190

g

(1 1/2 cups) all purpose flour or cake flour

2

tsp 

baking powder

1/4

tsp 

sea salt

2

tsp 

high quality matcha powder

150

g

(3/4 cup) white or light brown sugar
Wet ingredients
180 

ml 

(3/4 cup) soy or almond milk

40 

g

(2 tbsp) unsweetened plant yogurt (like soy or coconut yogurt)

50

g

(4 tbsp) melted vegan butter or coconut oil at room temp
Ingredients for the glaze
140 

g

(1 cup) icing sugar

1/4-2

tsp 

high quality matcha powder

30

ml 

(2 tbsp) plant milk (coconut , soy or almond)

15

g

vegan butter, melted

sprinkles, edible rose petals, chopped nuts for topping
Instructions
Preheat the oven to 350°F (180°C).

Prepare donut tray by spraying with non-stick spray or grease with little oil. Set aside.

Sift the flour, baking powder, matcha and salt into a mixing bowl and add the sugar.

Whisk to combine.Add the soy milk, soy yogurt and melted coconut oil and whisk to combine.

Transfer the donut batter into a piping bag and pipe it into the donut mold evenly or use a spoon (but it can get messy).

Bake for 15 minutes until lightly browned on top.

Remove from the oven and let cool for a few minutes before transferring the donuts to a wire cooling rack.

Allow to cool completely before glazing.

For the glaze, combine all the ingredients in a medium bowl.

Dip the donuts into the sugar glaze and then place onto a parchment lined baking tray and decorate with toppings. 
Nutritional ingredients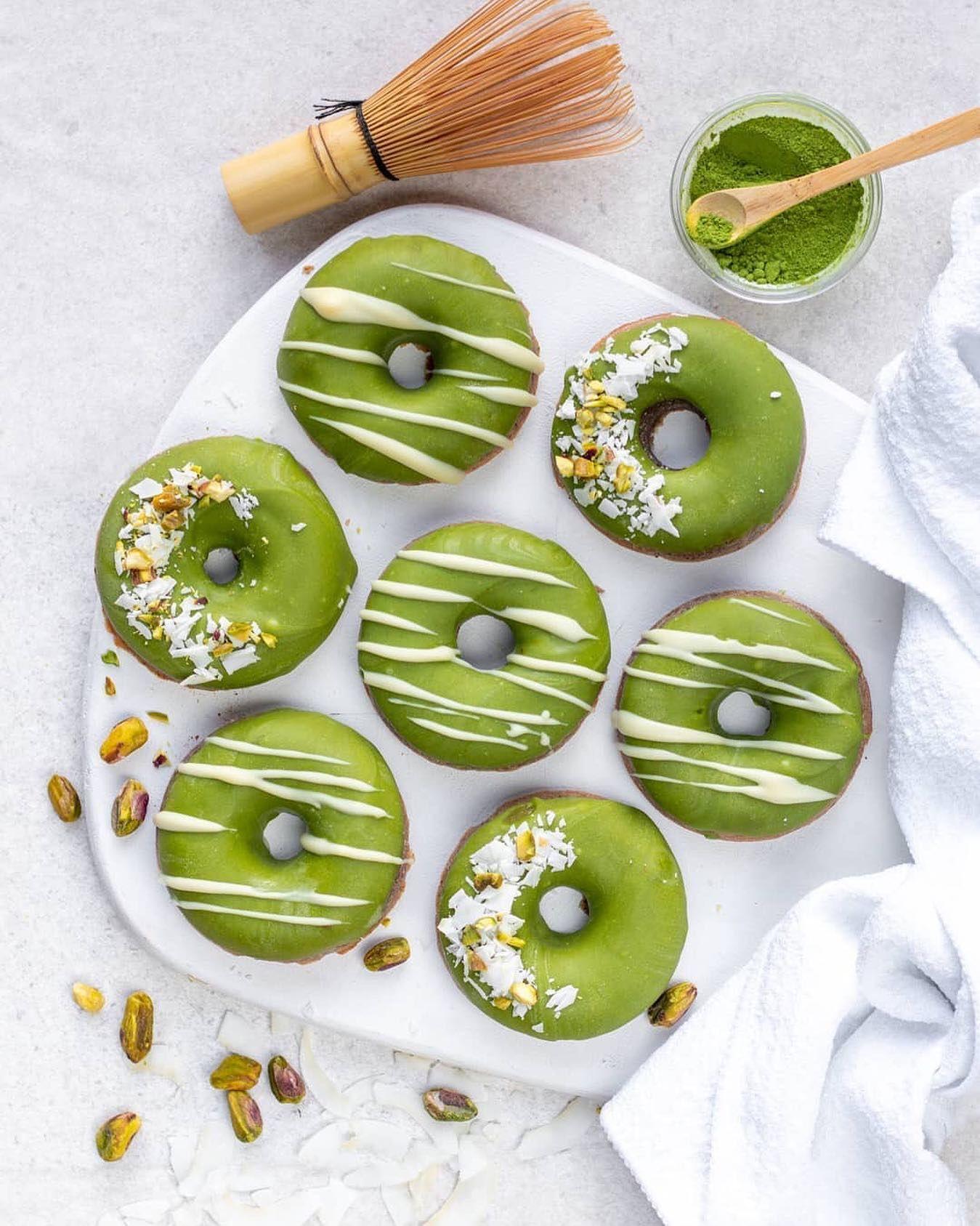 Vegan matcha donuts are a type of donut that is made with matcha powder, a fine green tea powder that is rich in antioxidants. Here are some of the nutritional ingredients of vegan matcha donuts:
Matcha powder: Matcha powder is a good source of antioxidants called catechins, which can help protect against cellular damage. It also contains caffeine, which can provide a boost of energy.
Flour: The flour used in vegan matcha donuts is typically all-purpose flour or a combination of all-purpose flour and whole wheat flour. Flour is a good source of carbohydrates, which provide energy.
Non-dairy milk: Non-dairy milk, such as almond milk or soy milk, is used to make the dough for vegan matcha donuts. Non-dairy milk is typically lower in calories and fat than cow's milk.
Coconut oil: Coconut oil is a plant-based fat that is used in vegan matcha donuts. It is high in saturated fat, but some studies suggest that it may be beneficial for heart health.
Maple syrup: Maple syrup is a natural sweetener that is used to sweeten the dough for vegan matcha donuts. It contains antioxidants and minerals like zinc and manganese.
Baking powder: Baking powder is used to help the dough rise and create a light, fluffy texture. It is generally considered safe to consume in small amounts.
Overall, vegan matcha donuts can be a tasty and nutritious treat when enjoyed in moderation as part of a balanced diet.
Serving Suggestions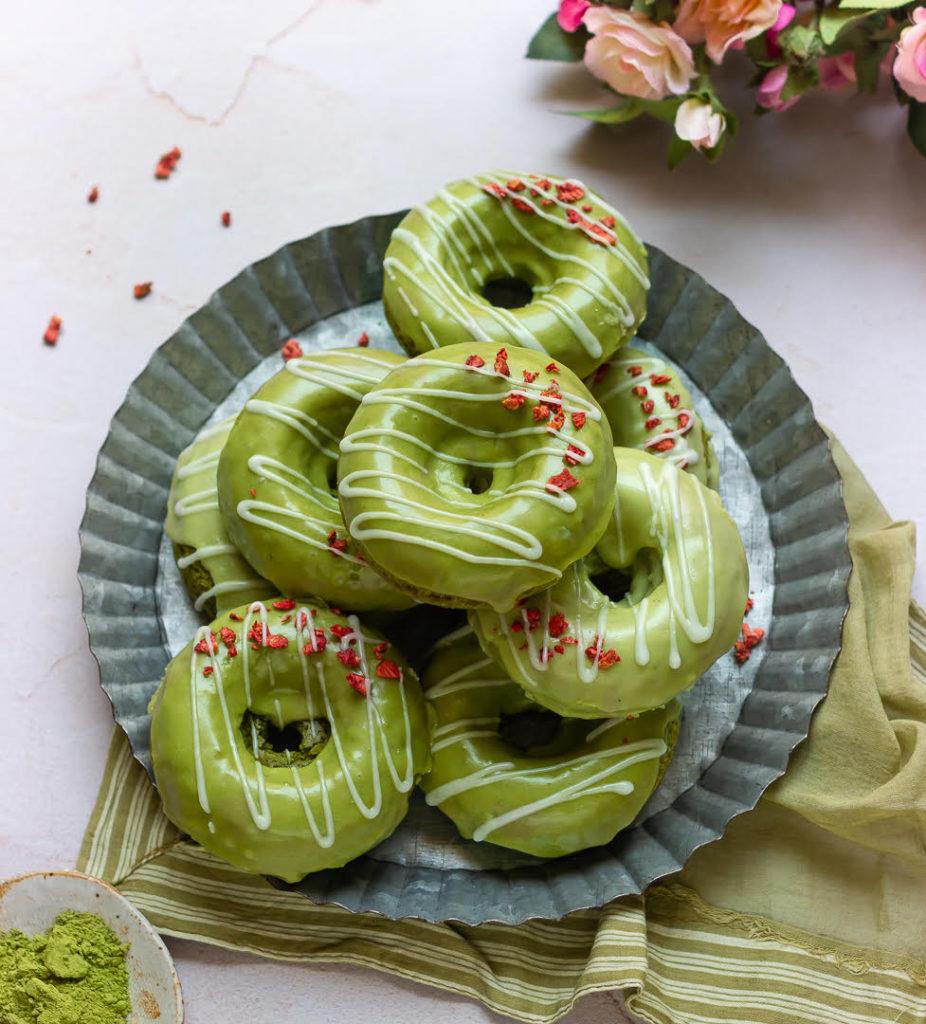 Here are some serving suggestions for vegan matcha donuts:
Serve with a cup of green tea: Matcha powder is made from green tea leaves, so pairing vegan matcha donuts with a cup of green tea can be a natural and complementary combination.
Top with a matcha glaze: Mix powdered sugar with matcha powder and a little non-dairy milk to make a simple matcha glaze to drizzle over the top of the donuts.
Add a sprinkle of chopped nuts: Chopped pistachios or almonds can add a nice crunch and nutty flavor to vegan matcha donuts.
Serve with fresh fruit: Sliced strawberries, raspberries, or kiwi can be a refreshing accompaniment to vegan matcha donuts.
Enjoy as a breakfast or dessert: Vegan matcha donuts can be a delicious breakfast pastry or a sweet dessert. They are also a great option for a mid-day snack or a special treat for a tea party or brunch.
Overall, vegan matcha donuts can be a versatile and tasty treat that can be enjoyed in many different ways.