There is something nostalgic in Vegan chocolate chip brioche buns. They remind me of my childhood.
I remember those fluffy sweet buns topped with coarse sugar that were sold at the small shop in the town where I grew up. I used to walk from school to home and sometimes I was allowed to stop by the shop and get a snack. I often chose one of those buns.
They were packaged and full of preservatives and sugars. Not really healthy, but delicious for sure!
Introduction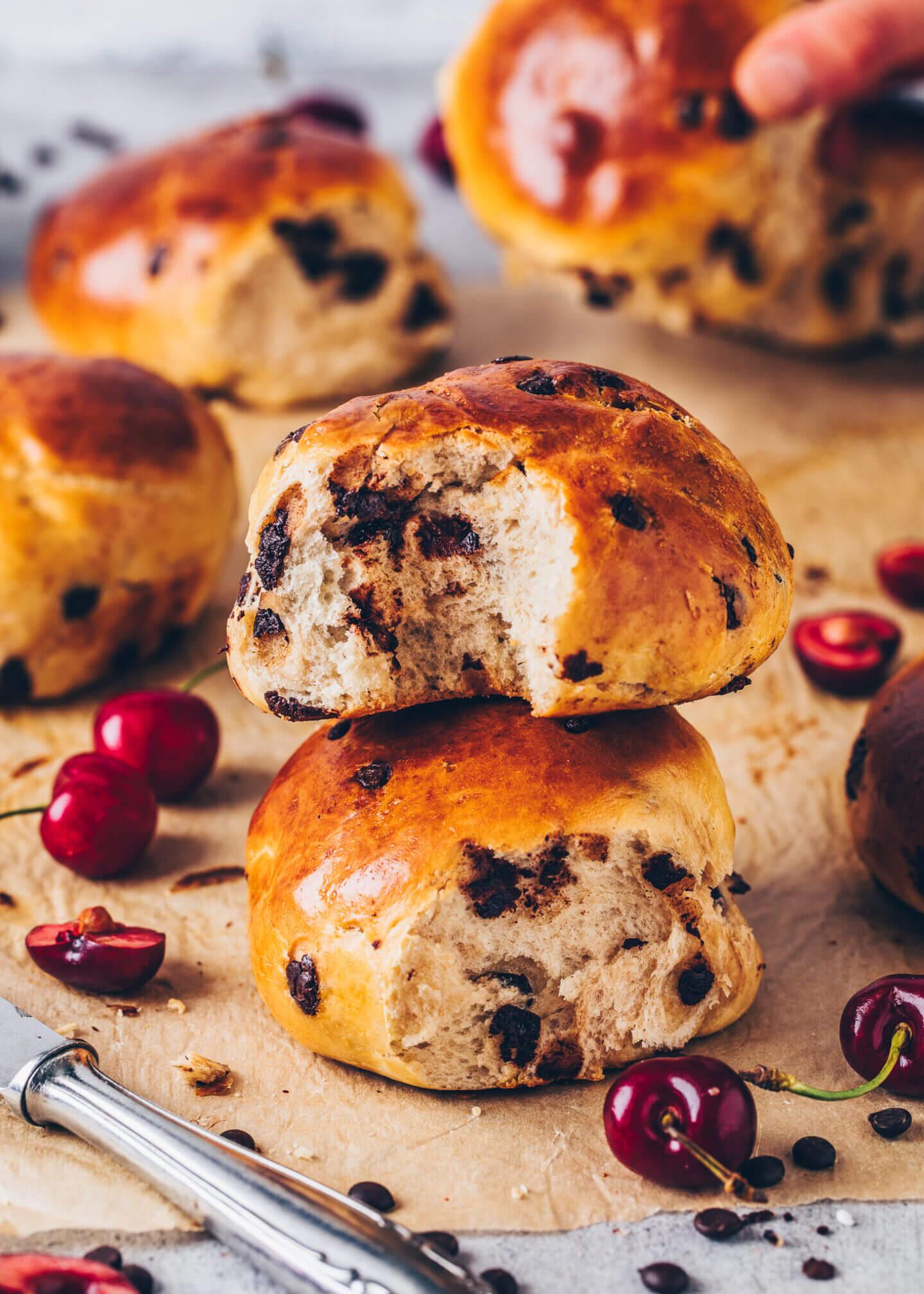 I made my own homemade vegan version of those buns and they are even more delicious! They are perfect for breakfast or afternoon snack and can be taken to school or to a picnic!
Your kids will love them, but I am pretty sure you'll love them too!
Every time I make these brioche buns, they disappear in no time! This is why the recipe below is for 16 buns
Please feel free to halve the recipe if you think you won't be able to eat them all (but I'm sure your family or your neighborhood will).
I haven't tried freezing the (baked) buns yet (sorry, no buns left to test it!) but It shoul be fine. Just pop them into preheated oven or microwave before eating.
I love the addition of chocolate chips, but plain brioche buns are delicious as well. They're slighly sweet and perfect to pair with homemade jam or nut butter for a very special breakfast!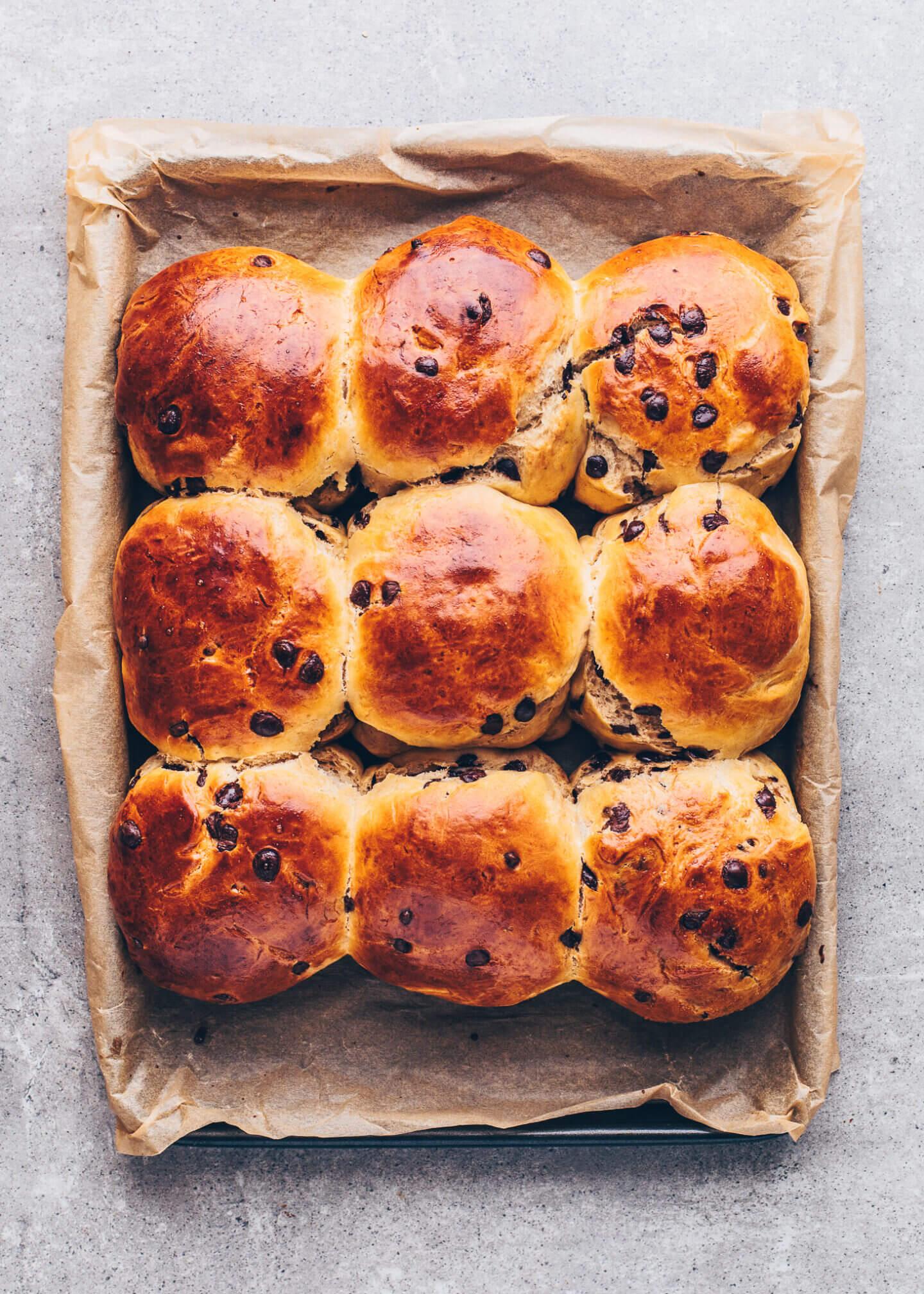 You can also replace chocolate chips with chocolate squares, one in the center of each bun for a surprise effect
I always use a stand mixer fitted with hook attachment to knead the dough (KitchenAid). It only takes about 10 minutes to get the brioche bun dough ready. If you're kneading it by hand, make sure to knead for 20 mins or until the dough is really smooth and elastic. Try not to add additional flour.
I hope you guys will love this recipe as much as my family and neighborhood do!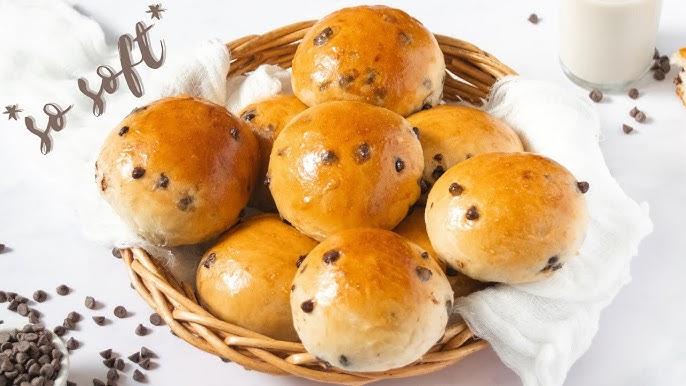 Vegan chocolate chip brioche buns
Chocoholic's Dream: Vegan Chocolate Chip Brioche Buns
Equipment
Stand mixer (optional, can be knead by hand, see blog post)
Ingredients
7,5

g

instant yeast or 10 g active dry yeast

500 

g

(4 cups) all purpose flour

100

g

(1/2 cup) light brown sugar

1

tsp 

salt

280 

ml 

(1 cup + 2 tbsp) plant milk (soy, almond) lukewarm

60 

g

(1/4 cup) vegan butter softened, at room temp

150 

g

( 1,5 cups) mini dairy free chocolate chips
Instructions
In the bowl of a stand mixer, whisk together flour, sugar, yeast and salt.(If using active dry yeast, please combine with 2 tbsp lukewarm water +1 tsp sugar and set aside to activate for 10 min).

Add plant milk, and knead on slow to combine.

Add the softened butter, diced, then continue kneading until well incorporated (about 10 mins). The dough must be smooth and slightly sticky.

If the dough is a little bit warm, let cool for a few minutes at room temperature, then add the chocolate chips and spread evenly in the dough.

Cover the dough with a cloth and let rise at room temperature for 1 hour or until doubled in size.

After the first rise, punch it a little bit to remove any air bubbles.

Place the dough back in the bowl, cover with cling film, and place in the refrigerator for about 3 hours or ideally overnight.

Divide the dough into 16 equal pieces (65g each) and shape into small balls. Do not overwork or the chocolate will melt.

Brush with some plant milk, cover, and let rise for 1 hour.

Preheat the oven to 175°C (350°F).

Brush the buns with plant milk again. Bake for about 15-17 minutes, or until the buns are golden-brown. Transfer to a rack and let cool completely. Enjoy!
Fact about Vegan chocolate chip brioche buns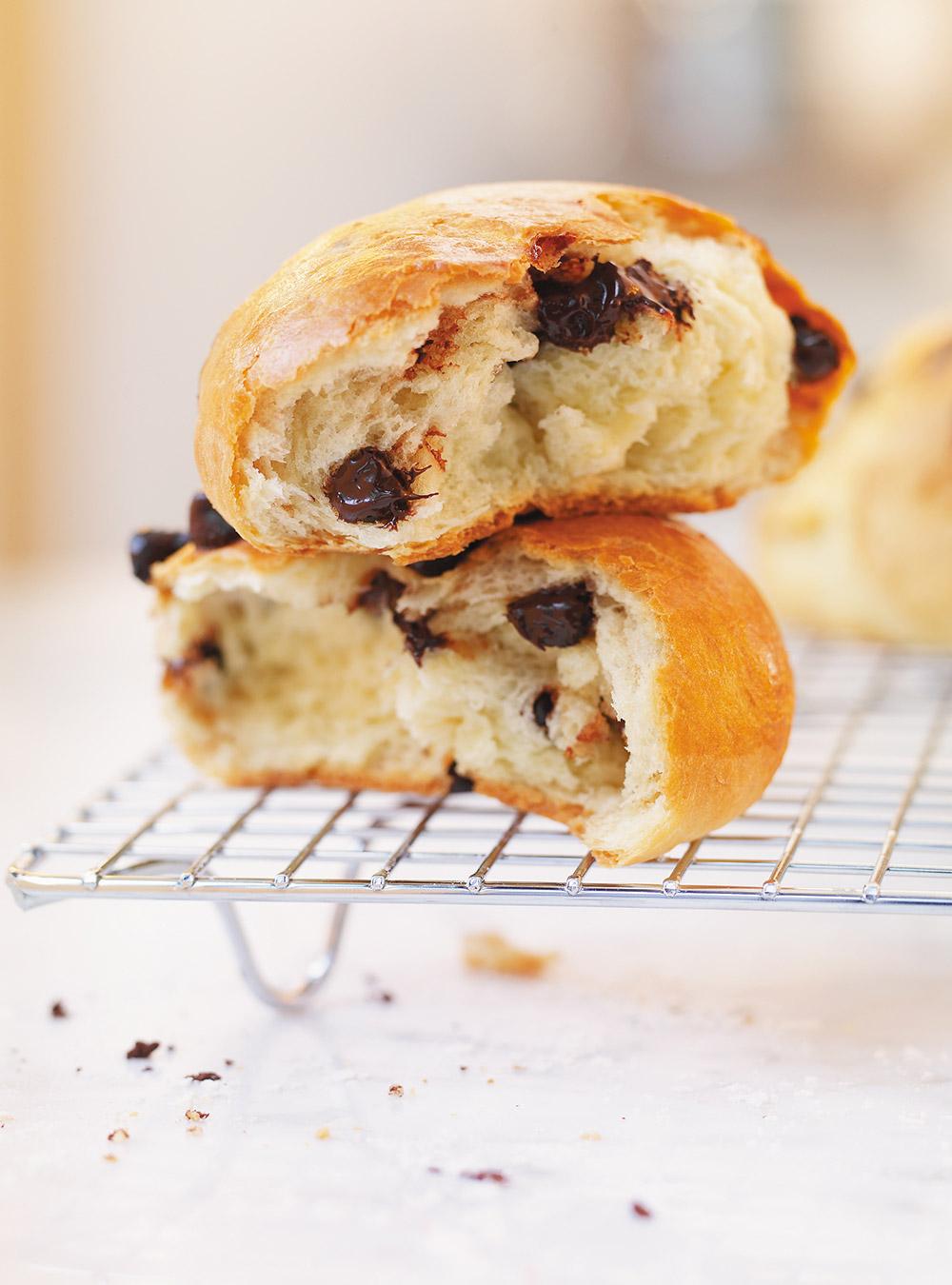 Vegan chocolate chip brioche buns are a type of sweet bread roll that is made without the use of any animal products, including eggs and butter, which are traditionally used in brioche recipes. Instead, vegan brioche buns are made using plant-based ingredients like non-dairy milk, vegan butter, and sometimes vegan egg substitutes like aquafaba or flax eggs.
Adding chocolate chips to the brioche dough is a popular variation that gives these buns a sweet and indulgent flavor. Vegan chocolate chips are typically made using cocoa solids, sugar, and a plant-based fat like coconut oil or cocoa butter.
Vegan chocolate chip brioche buns can be enjoyed as a breakfast pastry or as a dessert, and they are a great option for those who follow a vegan diet or have egg or dairy allergies.
Cooking tips
Here are some cooking tips for making delicious vegan chocolate chip brioche buns:
Use a stand mixer: Making brioche dough can be time-consuming and require a lot of kneading. A stand mixer makes the process much easier and faster.
Use room temperature ingredients: Make sure your vegan butter and non-dairy milk are at room temperature before beginning. This will help the dough come together smoothly.
Add chocolate chips at the right time: Add the chocolate chips to the dough during the last few minutes of kneading to ensure that they are well-distributed throughout the dough.
Let the dough rise properly: Brioche dough needs to rise twice, so make sure to give it enough time to double in size both times.
Brush with non-dairy milk: Before baking, brush the tops of the buns with non-dairy milk to give them a nice golden brown color.
Don't overbake: Keep an eye on the buns while they are baking and remove them from the oven as soon as they are golden brown. Overbaking can make them dry and tough.
Let them cool: Allow the buns to cool for a few minutes before serving. This will give the chocolate chips a chance to firm up and prevent them from melting too much when you bite into the buns.