Japanese Hokkaido Milk Bread has become very popular on socials lately and that's because it is the softest and fluffiest bread ever!
I made several versions of this Japanese milk bread, like this sweet potato milk bread, this chocolate chip milk bread and this matcha milk bread, but this time I want to share the original recipe with you.
The one that any bakery in Japan sells. It is originally made with butter, whole milk and eggs, but I tested out the dairy-free (DF) and Vegan (V) substitutions so that everyone can enjoy it!
Introduction about Japanese Hokkaido Milk Bread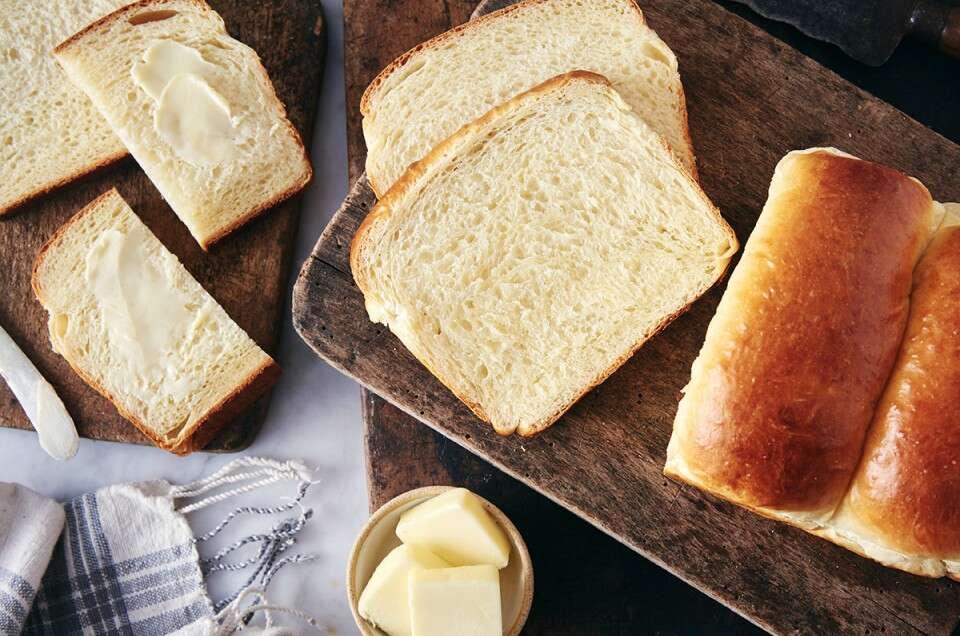 This bread has a slightly sweet flavor and I usually enjoy it plain, but it's great paired with jam or butter for breakfast!
The most amazing thing about this bread is that it is super soft and even four days after baking the bread, the loaf will remain soft and springy like the first day!
The secret behind this incredibly soft texture is the roux, also called tangzhong method, which is a mixture with curd-like texture made of flour cooked into water. The roux is added to the bread dough and it helps keep the moisture inside the bread for long.
You can prepare the roux one day before baking the bread and keep it in the refrigerator overnight. Make sure to let it come back to room temperature before adding to the dough.
Another secret ingredient for the super fluffy texture is dry milk powder. I use dry coconut milk powder for dairy-free (Thai brand) and I can guarantee that you won't taste any coconut flavor. You can also use regular milk powder. Dry milk powder is optional; simply omit if you have any, but I highly recommend getting some when possible.
This dough can be knead by hand or using a stand mixer fitted with hook attachment. Please refer to my Instagram highlights for the shaping method tutorial.
The recipe calls for bread flour, which is a U.S./ Japan classification. Flour classification is very confusing. Even in Europe each country has its own classification. In my opinion, the easiest way to refer to a flour, is by its protein content. In this case, bread flour is a flour with about 12-13% of protein content. In this recipe, you can replace bread flour with all purpose flour, which has a protein content around 10%. The bread will result a little less chewy.
To make it Dairy free/Vegan, I prefer using soy milk, because it is the most similar to whole milk. Vegan butter like margarine works perfectly in this recipe and gives a very light and springy result.
In this recipe I used 5g active dry yeast, but you can replace it with 4g instant yeast or 10g fresh yeast.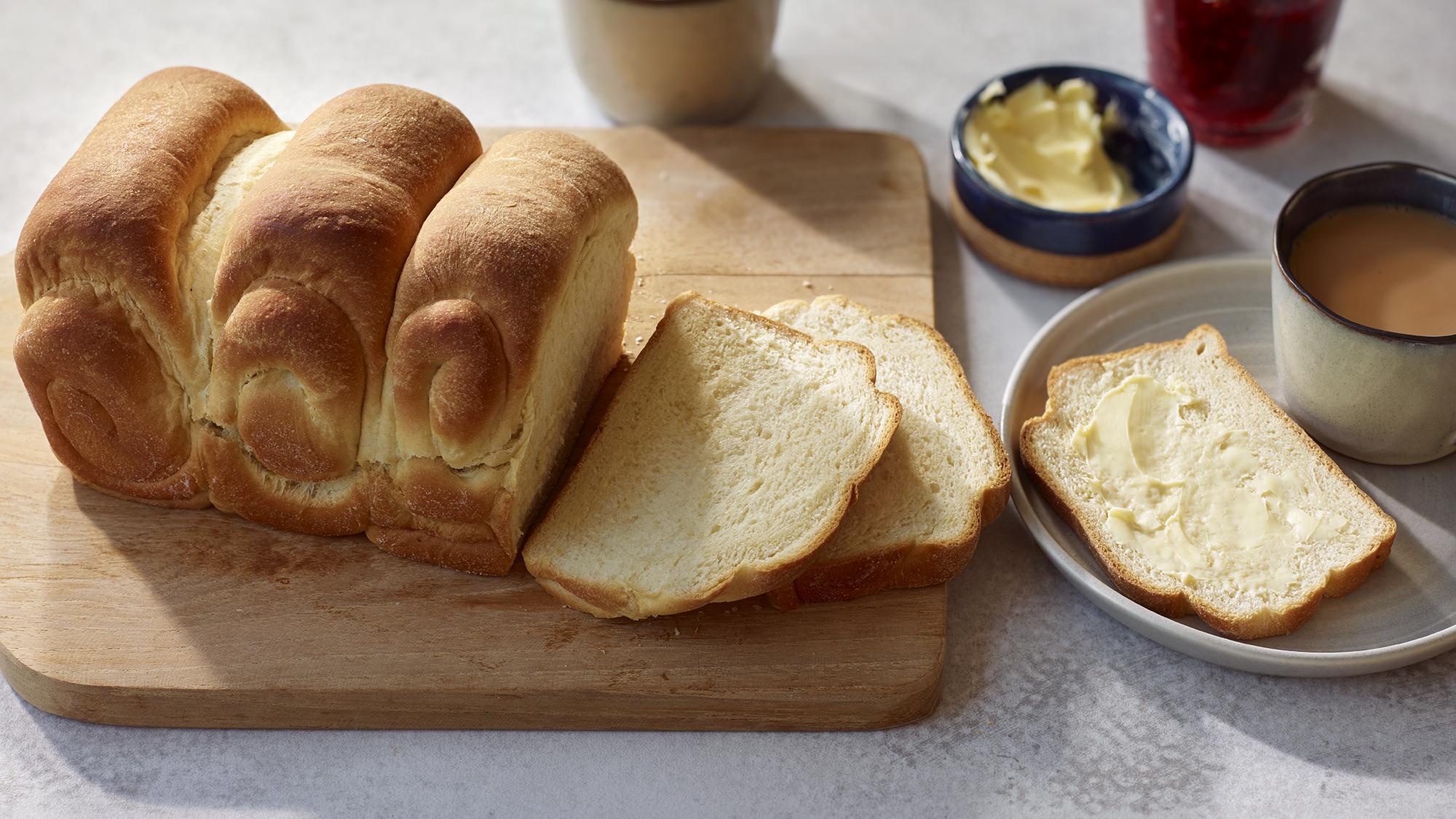 With the amount of dough you get from this recipe, you can chose to make 3 or 4 rolls depending on the size of the pan you're using.
I have finally found a short and tall pan (20x12x10 cm) which is ideal for 3 rolls and results into a nice and tall bread loaf, with typical Japanese shape. You can get beautiful, tall slices from it to make perfect toasts!
If you don't have a 20 cm pan (which is not a very common size) , you can use a bigger one and adapt the number of rolls. I recommend making 4 rolls when using a 22-25 cm pan. The bread won't be as tall as with the shorter pan, but still beautiful and fluffy!
Japanese Hokkaido Milk Bread recipe
Japanese Hokkaido Milk Bread
"The Artistry of Hokkaido Milk Bread Unleashed"
Equipment
Stand mixer with hook attachment (can be also be knead by hand )

loaf pan 20-25cm
Ingredients
Ingredients for the roux or tangzhong
20 

g

bread flour/ all purpose flour

100 

ml 

water
Ingredients for the bread dough: Dry 
290 

g

bread or all purpose flour

5

g

active dry yeast

30

g

sugar

6

g

salt

7

g

dry milk powder
Wet ingredients
roux / tangzhong room temperature

130 

ml 

whole milk 

25 

g

butter, softened 

25 

g

egg (about half medium egg)
Egg wash
1

tbsp 

whole milk or cream 
Instructions
Make the roux/tangzhong
Place the water and flour into a small saucepan and whisk until there are no lumps left.

Heat over medium heat while whisking constantly until the mixture thickens and has a curd-like consistency.

Remove from heat and let cool down into a small bowl, covered with cling film.Set aside to cool down completely.
Make the bread dough
In the bowl of stand mixer fitted with the hook attachment, whisk together flour, sugar, yeast, salt and milk powder.

Add milk, tangzhong and egg and knead on low until the ingredients are combined.

Add the softened butter and knead until the butter is completely combined (5 minutes).

Increase speed to medium high and knead for another 5-7 minutes or until the dough pulls off from the sides of the bowl.

The dough should be elastic and tacky but not sticky.

Shape the dough into a ball and place into a lightly greased bowl.

Let rise in a warm place for 40-60 minutes, until doubled in size.
Shape the bread
When the dough has doubled in size, remove from the bowl and gently punch to deflate.

Use a weighing scale to weigh the dough and divide into 3 (or 4 for a bigger pan) equal portions.

Shape into balls,cover and let rise for 15 minutes.

Gently deflate and roll out each ball into an oval.

Fold the short sides toward the center and roll out to seal.

Fold the short sides toward the center and roll out to seal.

Place the logs seam side down into the pan ( I used a 20x12x10 cm pan)

Cover and let it rise for 30 minutes.

Preheat the oven to 180C | 355F degrees.

Brush the loaf with egg wash or milk.

Brush the loaf with egg wash or milk.

Remove from oven and let cool into the pan for 10 minutes before transferring to a rack to cool down completely.
Cooking tips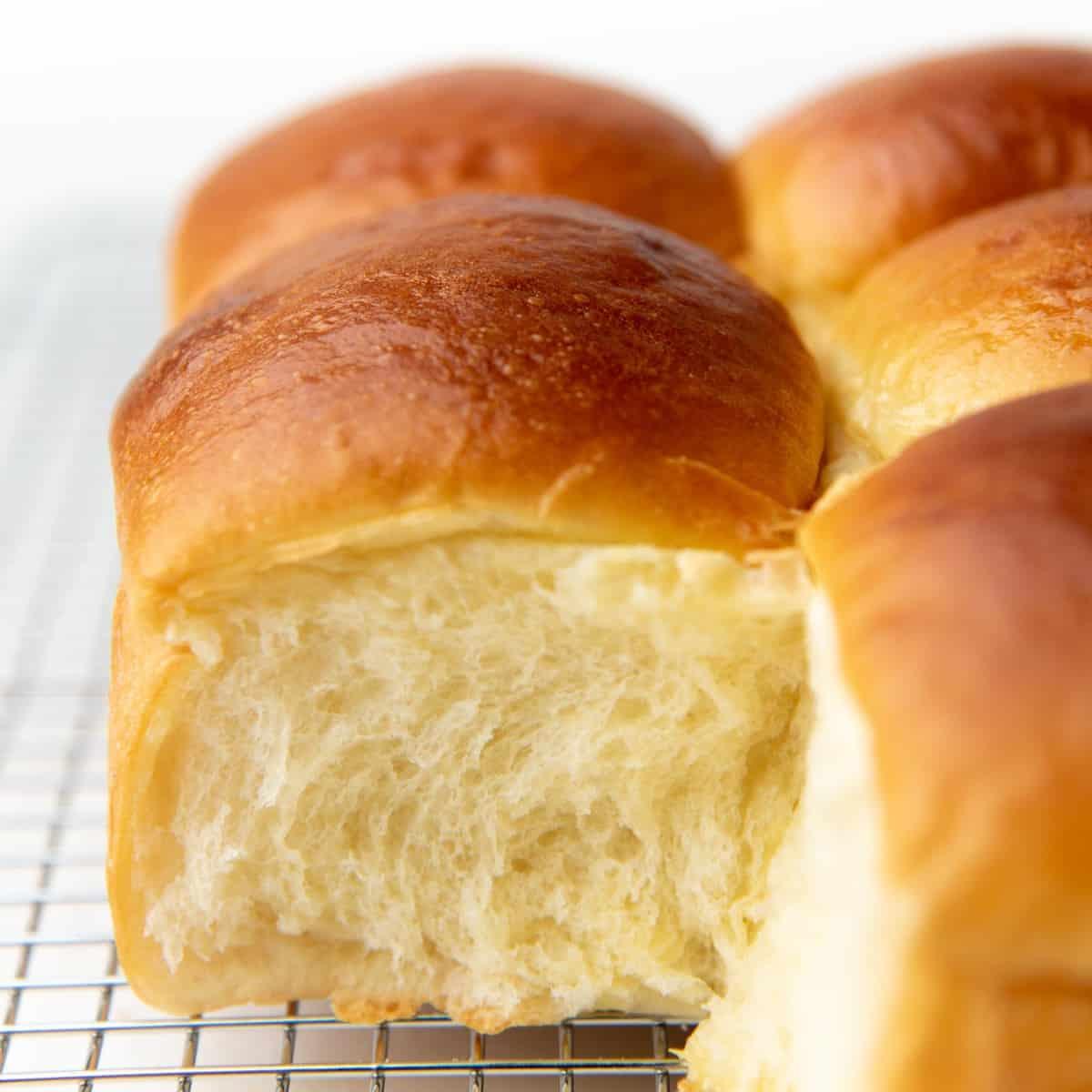 Here are some cooking tips to help you make Japanese Hokkaido milk bread:
Use bread flour: Hokkaido milk bread requires a high-protein flour to create its soft and fluffy texture. Bread flour has a higher protein content than all-purpose flour and is ideal for making bread.
Use a tangzhong: The tangzhong method involves cooking a portion of the flour and liquid from the recipe into a thick paste. This paste is then incorporated into the dough and helps to create a soft and fluffy texture.
Use high-quality milk and butter: Hokkaido milk bread gets its name from the use of rich and creamy Hokkaido milk and butter. Using high-quality milk and butter will give your bread a richer flavor and a softer texture.
Knead the dough thoroughly: Kneading the dough thoroughly will help to develop the gluten and create a soft and stretchy texture.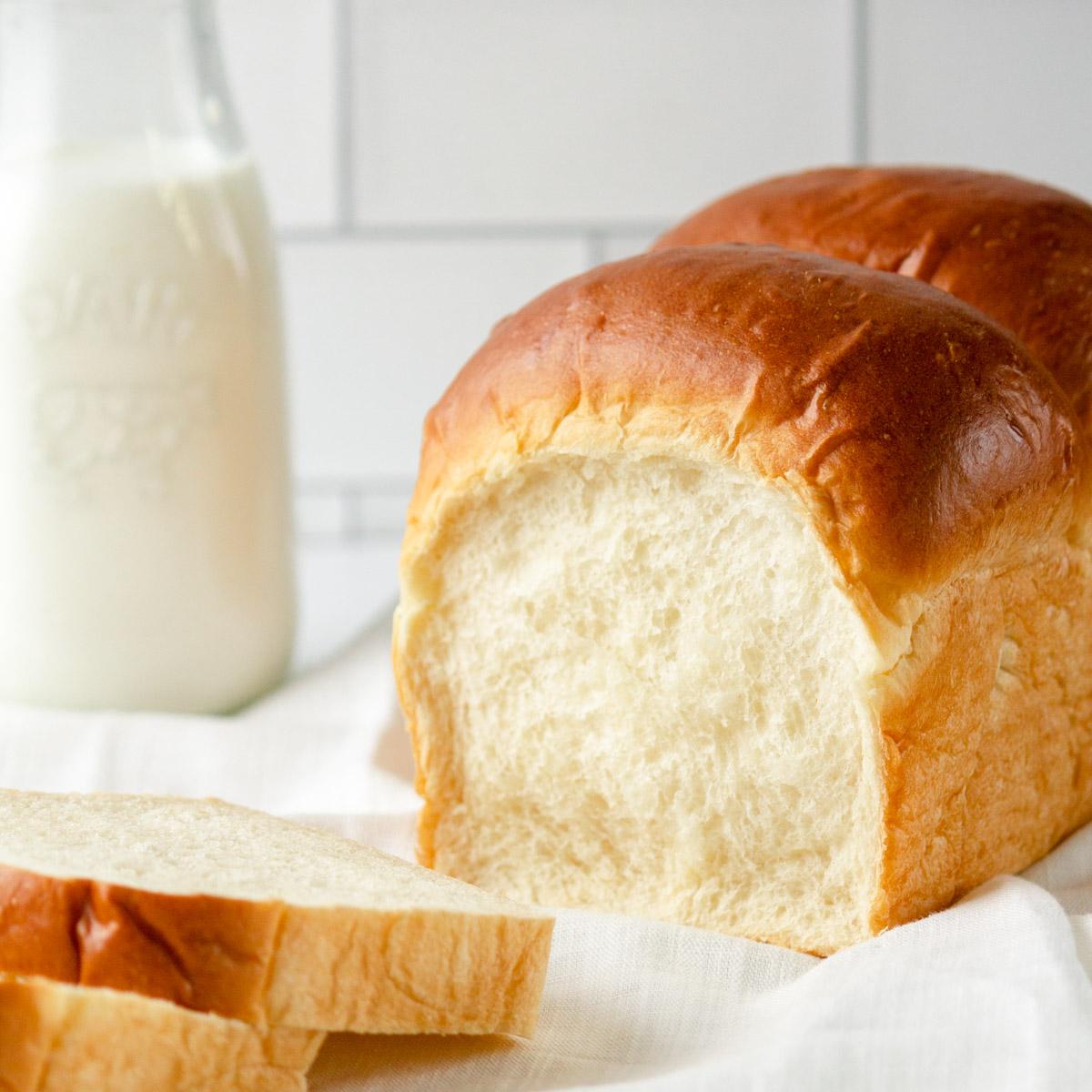 Proof the dough twice: Hokkaido milk bread requires two rounds of proofing to create its light and fluffy texture. Make sure to give the dough enough time to rise during each proofing period.
Use a loaf pan: Hokkaido milk bread is typically shaped into a loaf and baked in a loaf pan. Using a loaf pan will help the bread to maintain its shape and rise evenly.
Brush the top with egg wash: Brushing the top of the bread with an egg wash will give it a shiny and golden brown crust.
By following these tips, you can create a deliciously soft and fluffy Japanese Hokkaido milk bread that's perfect for sandwiches, toast, or just enjoying on its own.