Babka has been a recent discovery for me. This sweet bread is a typical Polish dessert that never fails on the Easter menu and other holidays. It is a very captivating dessert that will amaze your guests and despite its intricated shape, it is much easier to make than you could think!
Introduction about The best vegan chocolate babka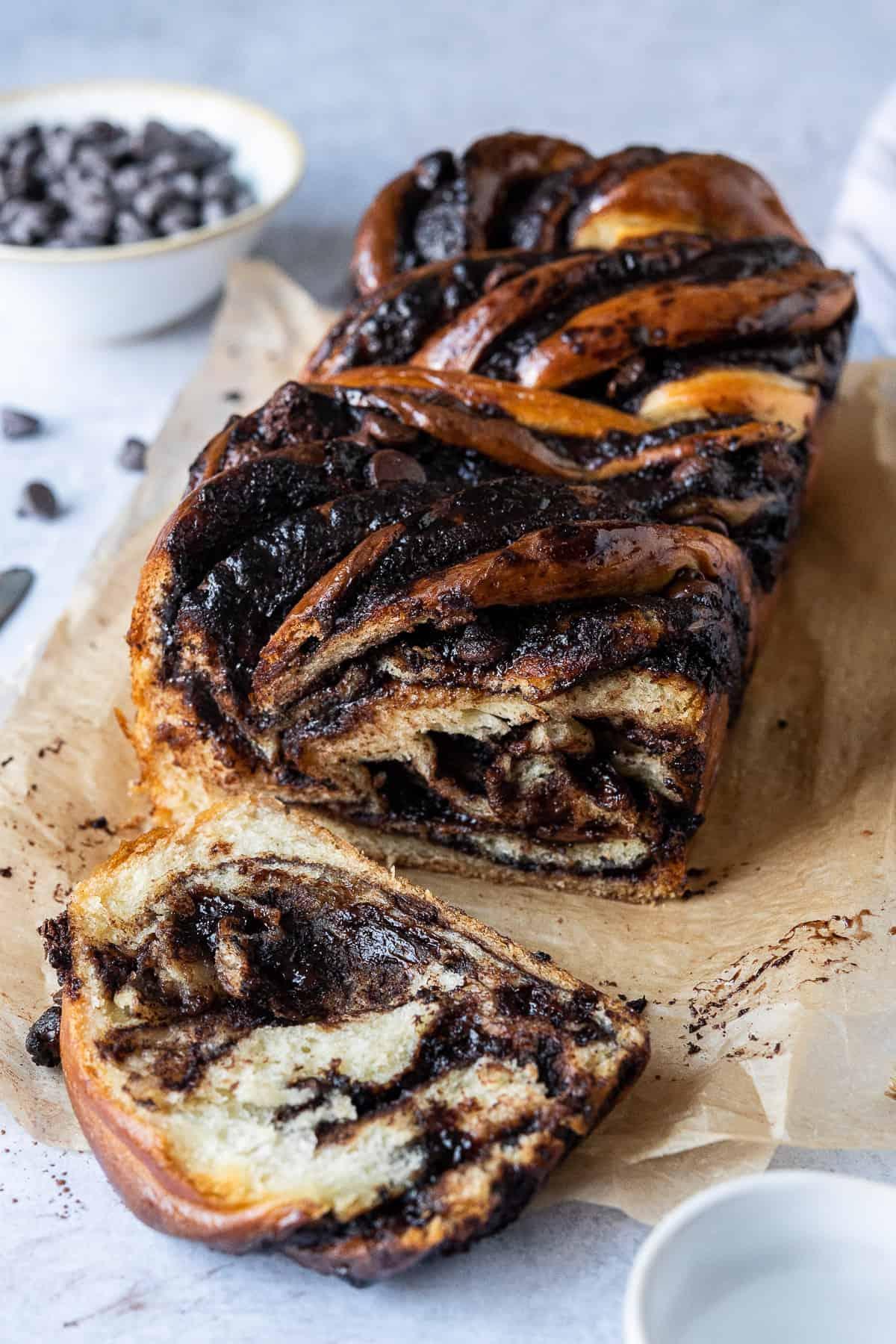 The Babka dough is rolled out and covered with chocolate cream, then rolled into a log (like you would with a cinnamon roll). At this point, there are several ways to braid the dough and the final shape will depend on it.
To make this shape, I used the Povitika shape method.
This is my favorite way to shape Babka, and the easier one too! Originally, this is how Povitika is shaped, (an Eastern European sweet bread) and it's very easy to make.
The picture above shows the Povitika shape. It simply consists in coiling the roll into three equal parts (S – shape) and gently press in order to fit the pan.
The result is a beautiful shape with three regular swirls.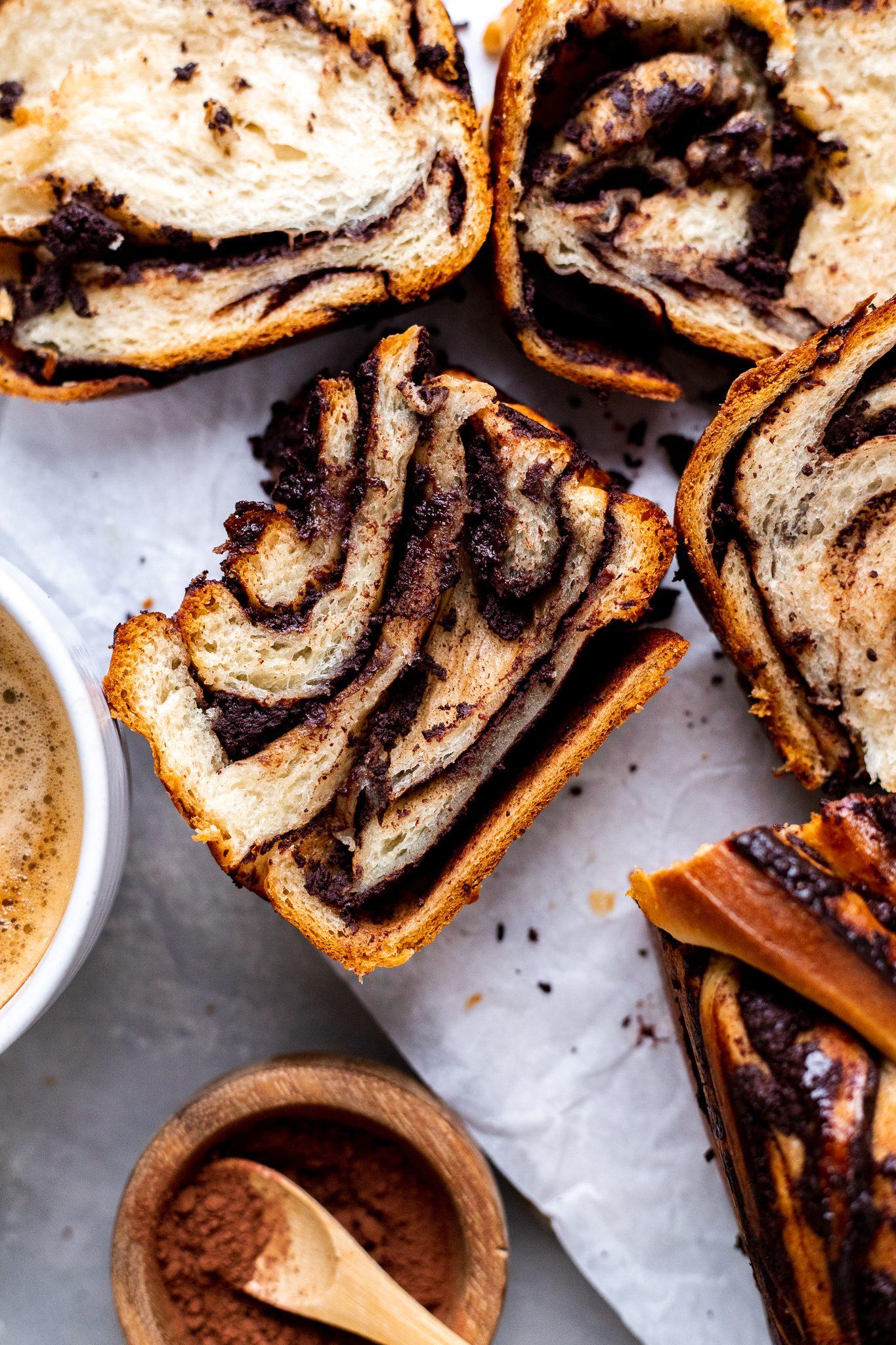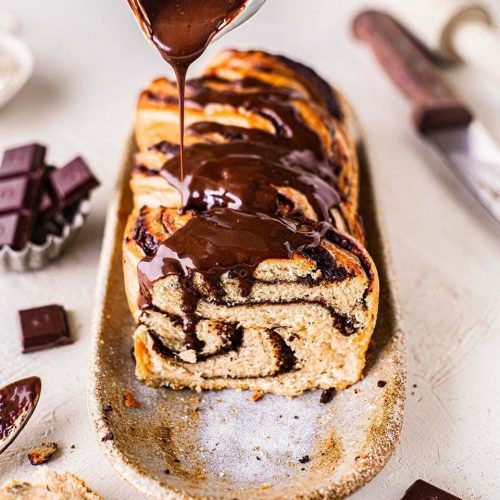 The best vegan chocolate babka
dairy-free, vegan-friendly
Ingredients
Ingredients for the dough
285 

g

(10 oz) all purpose flour

120 

g

(4,2 oz) plant milk (soy, oat, almond) lukewarm

7

g

(0,25 oz) dry yeast

1/4

tsp 

ground cinnamon, optional

1/2

tsp 

vanilla bean paste or 1 tsp vanilla extract

60 

g

(2,1oz) pant butter, melted room temperature

50 

g

(1,8 oz) sugar

3

g

(o,1 oz) salt
Ingredients for the chocolate spread
200 

g

( 7 oz) dark chocolate, finely chopped

50

g

(1,8 oz) plant butter

1,5

tbsp 

agave

1,5

tsp 

salt

1/2

tsp 

ground cinnamon
Instructions
Make the dough
Place flour, cinnamon, dry yeast and sugar in the bowl of a stand mixer and whisk to combine.

Add warm milk, melted butter and vanilla and knead with the hook attachment until just combined. Add salt and keep kneading on medium until the dough is smooth and elastic.(About 10 minutes).

Shape into a ball, place into a lightly greased bowl, cover it with plastic wrap or a damp towel and let it sit in a warm place until the dough is doubled in size, about 2 hours.

While the dough is rising, make the chocolate filling. Gently melt chocolate and butter over a Bain marie (double boil). Add agave, cinnamon and salt and stir to combine. Set aside to cool down to room temperature.

Once the dough has risen, gently deflate and roll out onto a lightly floured surface. Roll the dough into a 40×60 cm (16"x23") rectangle. If the dough fights you, let it rise for a few minutes until it is relaxed enough to roll into shape.

Gently spread a thin layer of the chocolate filling evenly on the surface of the dough, leaving 1 cm on the upper side.

Starting from one long edge, gently roll dough into a log and seal the ends. Coil the log into three equal pieces (into an S-shape) and place into a lightly greased 20cm-loaf pan. (gently press to fit the pan).

Let rise the prepared babka for 1,5-2,5 h, until the dough has almost reached the border.

Preheat oven to 175C degrees. Bake for 15 minutes, then lower heat to 150C degrees and bake for another 45 minutes or until evenly golden brown.
Cooking tips
Absolutely! Here are some cooking tips to ensure you make the best vegan chocolate babka:
Quality Ingredients: Use high-quality vegan ingredients, such as non-dairy milk, vegan butter, and premium dairy-free chocolate, to enhance the flavor and texture of your babka.
Vegan Egg Substitutes: Instead of eggs, use suitable vegan egg substitutes like flaxseed meal, chia seeds, applesauce, or commercial egg replacers. These will help bind the dough and create a tender crumb.
Kneading the Dough: Knead the dough until it becomes smooth and elastic. This will develop the gluten, resulting in a better rise and texture of your babka.
Rising Time: Allow the dough to rise in a warm, draft-free area until it doubles in size. This might take longer than traditional recipes because vegan doughs often rise a bit slower.
Chocolate Distribution: When spreading the chocolate filling, ensure an even distribution, leaving a small border around the edges to prevent the filling from leaking during baking.
Proper Rolling Technique: When rolling the babka, make sure to roll it tightly and evenly to create those beautiful chocolate swirls.
Chill the Rolled Babka: After rolling the dough with the chocolate filling, refrigerate it for about 20-30 minutes. Chilling will make the dough easier to handle and cut neatly.
Use Dental Floss for Cutting: For a clean and neat cut, use dental floss to slice the babka log instead of a knife. Slide the floss under the log, cross it over the top, and pull to create a clean cut.
Support While Baking: If the babka starts to brown too quickly, cover it loosely with aluminum foil to prevent over-browning. Also, consider baking it on a lower rack in the oven to avoid excessive browning on the top.
Glaze or Syrup Finish: Brush the freshly baked and still-warm babka with a simple sugar syrup or glaze made with non-dairy milk and powdered sugar. This adds a lovely shine and extra sweetness to the finished product.
Cooling Properly: Allow the babka to cool in the pan for a few minutes before transferring it to a wire rack. This prevents it from sticking to the pan and helps it maintain its shape.
With these tips in mind, you'll be well on your way to creating the best vegan chocolate babka that is sure to impress everyone! Enjoy!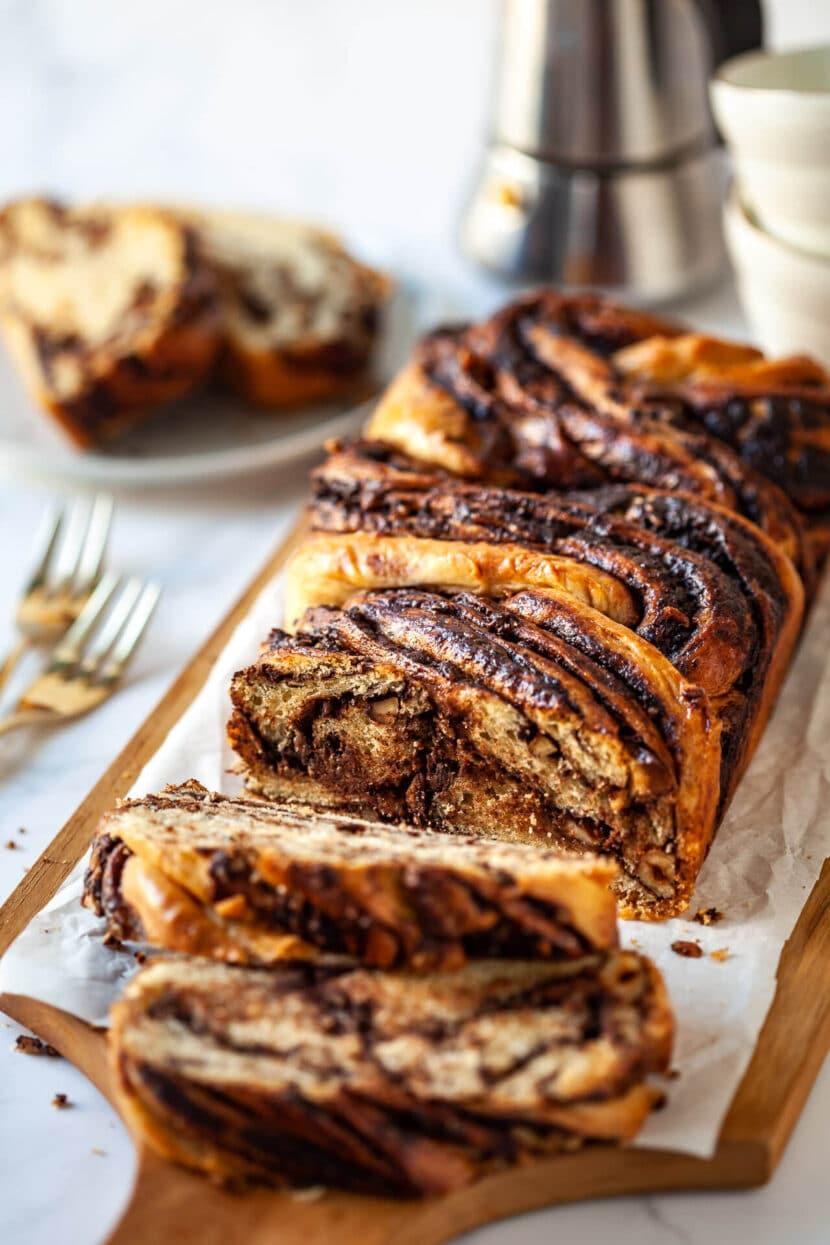 As the enticing aroma of The Best Vegan Chocolate Babka filled the kitchen, Sarah carefully pulled the perfectly baked babka from the oven. Its rich chocolate swirls and golden crust looked simply irresistible.
And so, the legend of The Best Vegan Chocolate Babka lived on, inspiring others to explore the joys of vegan baking and sharing the love one slice at a time.
Source : https://foodandmeal.com