If you think that vegan cakes are just an imitation of regular cakes, you haven't tried The best vegan chocolate cake!
In my opinion, this cake is just as delicious as a regular chocolate cake would. Actually, it's even better, because it's dairy-free and refined-sugar free. And the texture is just as moist, rich and fluffy as any regular butter and sugar-loaded cake.
Introduction about The best vegan chocolate cake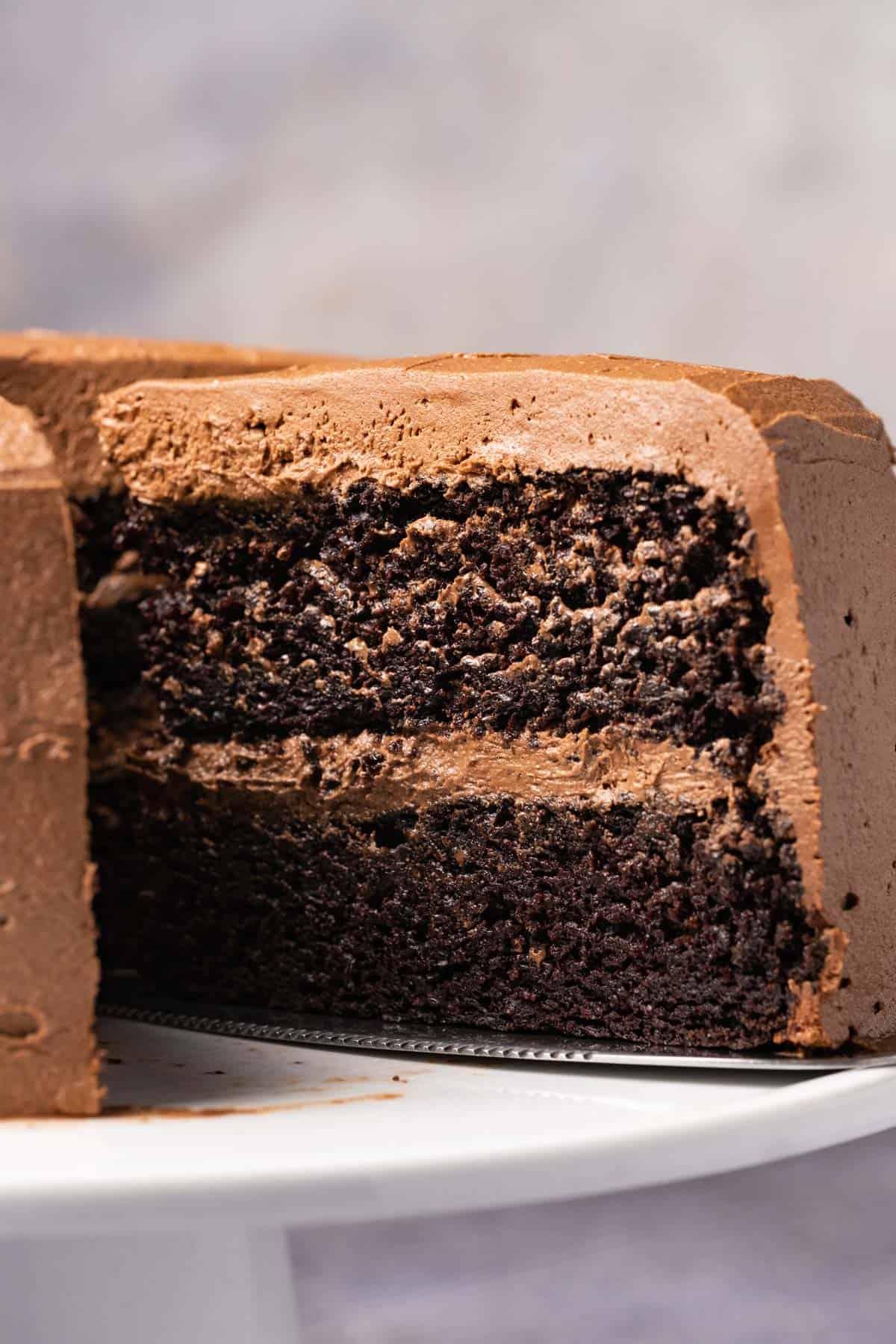 It annoys me that some people still think that baked goods need to have lots of butter, eggs and sugar to taste good.
Of course, vegan / plant-based recipes are more tricky to and need more testing than regular recipes. But once you have the good recipe (this one;)) you won't believe how easy it is to leave out eggs and butter.
The coffee in the batter intensifies the flavor of the chocolate. It gives your baked goods a rich, depth of flavor. By no means can you taste the coffee, but you definitely will have a chocolate party in your mouth.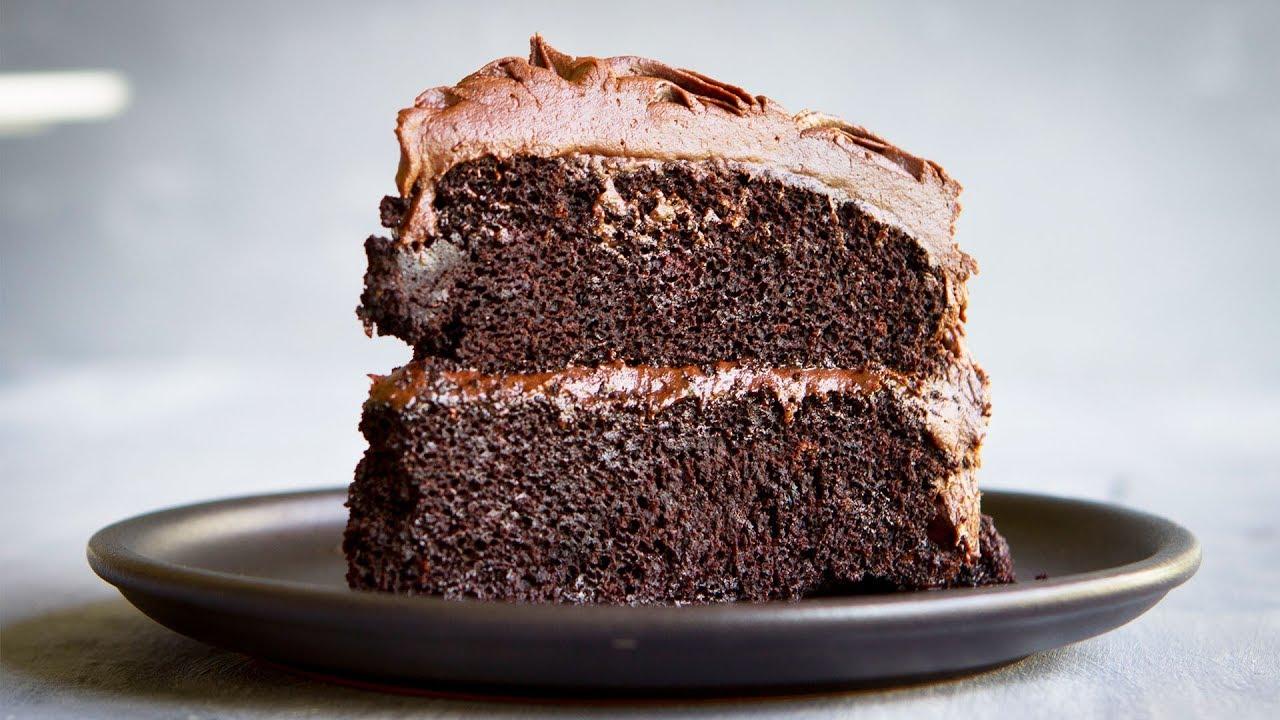 None of your non-vegan friends will guess this is a vegan cake. And they will love it!
I used a 25x10cm (10×4″) loaf pan because I wanted this to be an easy breakfast cake, so not very tall. But you can also use a 22cm/9″ pan and get a taller cake (make sure to adapt the baking time: the shorter the pan, the taller the cake and the longer the baking time!Check with a toothpick inserted near the center!)
This is one of my most popular recipe on Instagram and I really hope you guys are going to give it a try! If you are looking for a more fancy version, here is the chocolate frosting version.
I'd love to see you making my recipes!
The best vegan chocolate cake
plant-based, refined sugar-free, dairy-free, vegan-friendly
Equipment
1 25cmx10 / 10×4" loaf pan
Ingredients
190 g / 1 1/2 cups 

white spelt or all purpose flour

20 g / 1/4 cup

raw cacao powder

80 g/ 1/2 cup

Muscovado or coconut sugar

80 g/1/2 cup

light brown sugar

1

tsp 

baking soda

1/2

tsp 

sea salt

65 g/ 1/3 cup

coconut oil, melted at room temperature

80 ml / 1/3 cups

espresso coffee, warm

1

tsp 

vanilla bean paste

1

tsp 

white vinegar

240 ml /1 cup

water at room temperature
Instructions
Preheat the oven to 175C| 350 F degrees.

Line a 22x 12 cm | 10 x 4 inch loaf pan with parchment paper. 

Line a 22x 12 cm | 10 x 4 inch loaf pan with parchment paper. 

In a separate bowl, mix together the coconut oil, espresso, vanilla, vinegar, and water until well combined. 

Stir in the wet ingredients into the dry ingredients and stir until just combined. 

Pour the batter into the baking pan and bake for about 45 minutes, or until a toothpick inserted in the middle comes out clean. 

Let cool down for 5 minutes into the pan, then transfer to a wire cooling rack.

Cool down completely before slicing.
Nutritional ingredients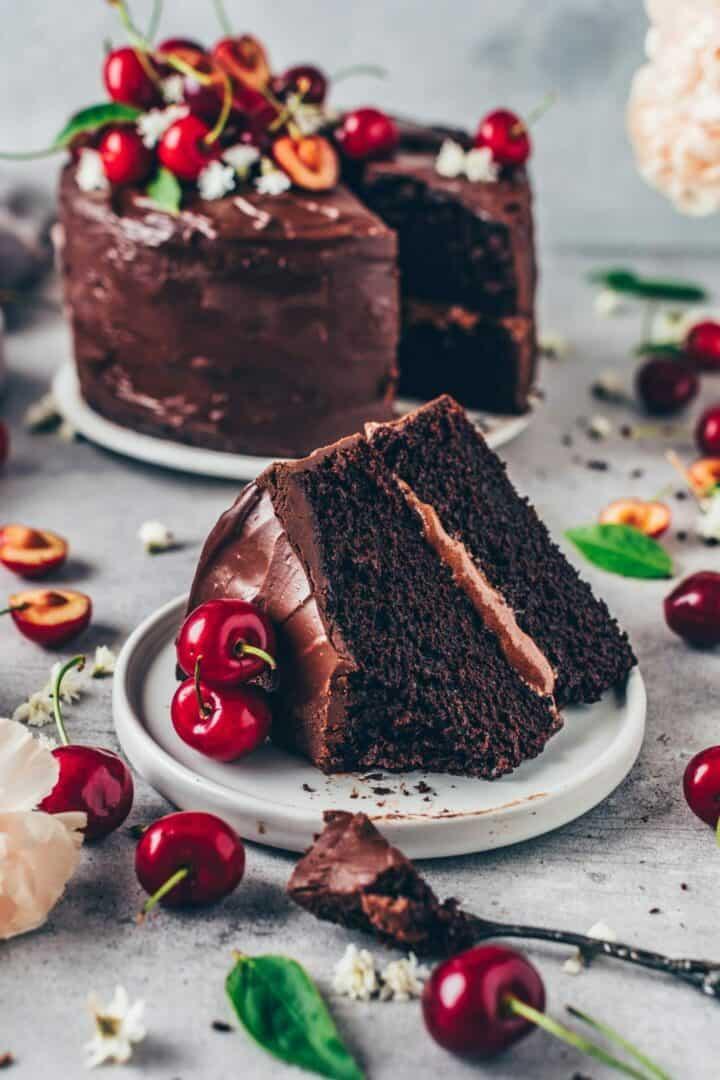 The nutritional ingredients of the best vegan chocolate cake can vary based on the specific recipe used. However, here are some common ingredients and their approximate nutritional information per serving:
Flour: Provides carbohydrates and some protein. One cup of all-purpose flour contains about 455 calories, 95 grams of carbohydrates, and 13 grams of protein.
Sugar: Provides carbohydrates and sweetness. One tablespoon of granulated sugar contains about 49 calories and 12 grams of carbohydrates.
Cocoa Powder: Provides antioxidants and a rich chocolate flavor. One tablespoon of unsweetened cocoa powder contains about 12 calories, 1 gram of protein, and 1 gram of fiber.
Baking Powder and Baking Soda: Leavening agents that help the cake rise. They don't have significant nutritional value.
Plant-Based Milk: Provides calcium and vitamin D. One cup of unsweetened almond milk contains about 30-40 calories, 1-2 grams of protein, and is often fortified with calcium and vitamin D.
Vegetable Oil: Provides fat and moisture. One tablespoon of vegetable oil contains about 120 calories and 14 grams of fat.
Apple Cider Vinegar: Helps activate the baking soda and gives the cake a tangy flavor. It doesn't have significant nutritional value.
Overall, vegan chocolate cake can be a delicious treat but should be consumed in moderation due to its high sugar and calorie content.
FAQs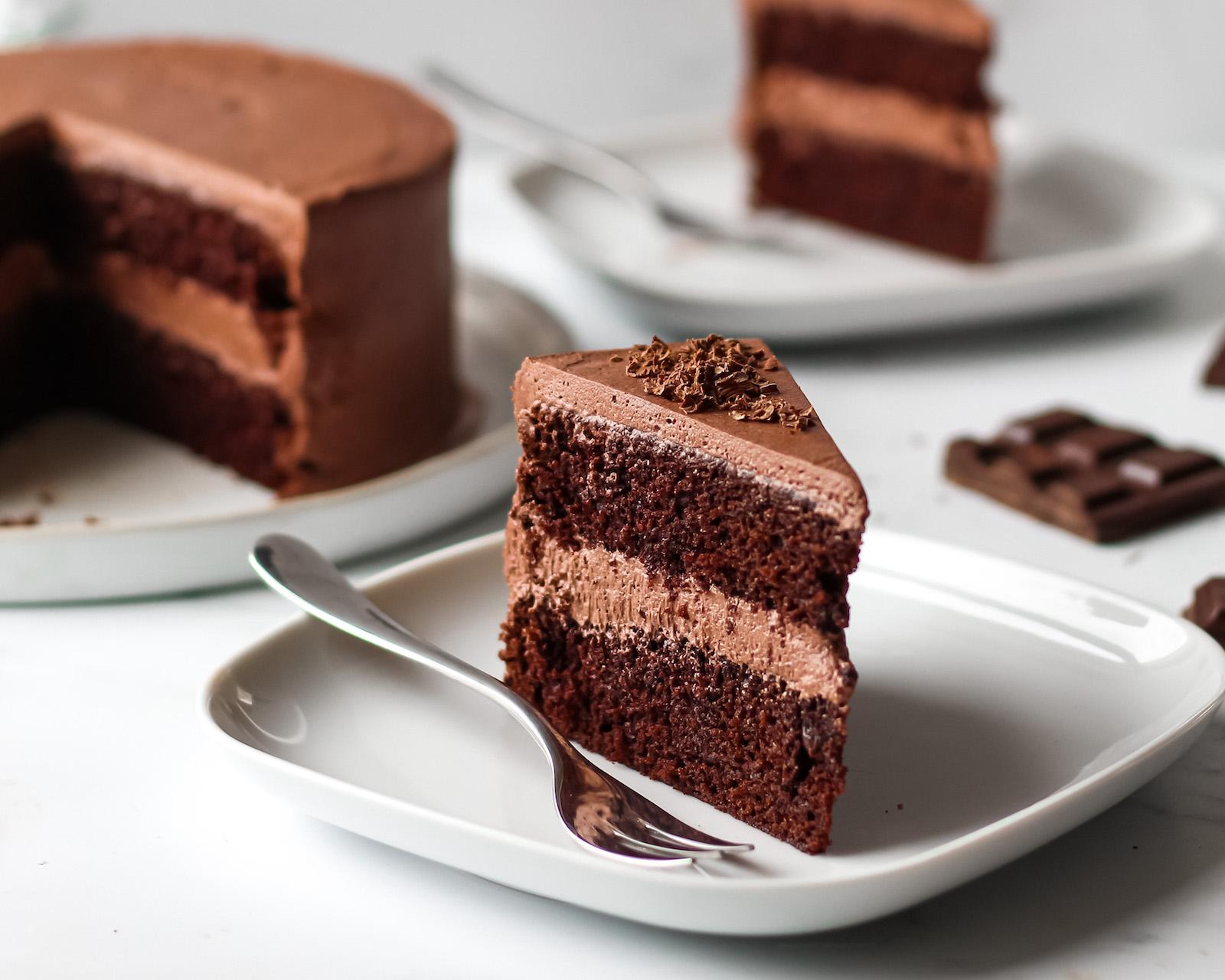 Here are some frequently asked questions (FAQs) about the best vegan chocolate cake:
Q: Is vegan chocolate cake healthier than regular chocolate cake?
A: Vegan chocolate cake can be healthier than regular chocolate cake if it's made with whole food ingredients and less sugar. However, many vegan chocolate cake recipes still contain refined sugar and processed ingredients, so it's important to read the ingredient list and nutritional information carefully.
Q: Can I substitute ingredients in a vegan chocolate cake recipe?
A: Yes, you can substitute ingredients in a vegan chocolate cake recipe to suit your preferences or dietary needs. For example, you can use gluten-free flour instead of regular flour, or substitute coconut sugar for granulated sugar. However, it's important to note that substitutions may affect the texture and flavor of the cake.
Q: Can I make a vegan chocolate cake without eggs?
A: Yes, you can make a vegan chocolate cake without eggs by using a combination of ingredients such as flaxseed meal, applesauce, silken tofu, or aquafaba as an egg substitute. These ingredients can help bind the cake together and create a moist and fluffy texture.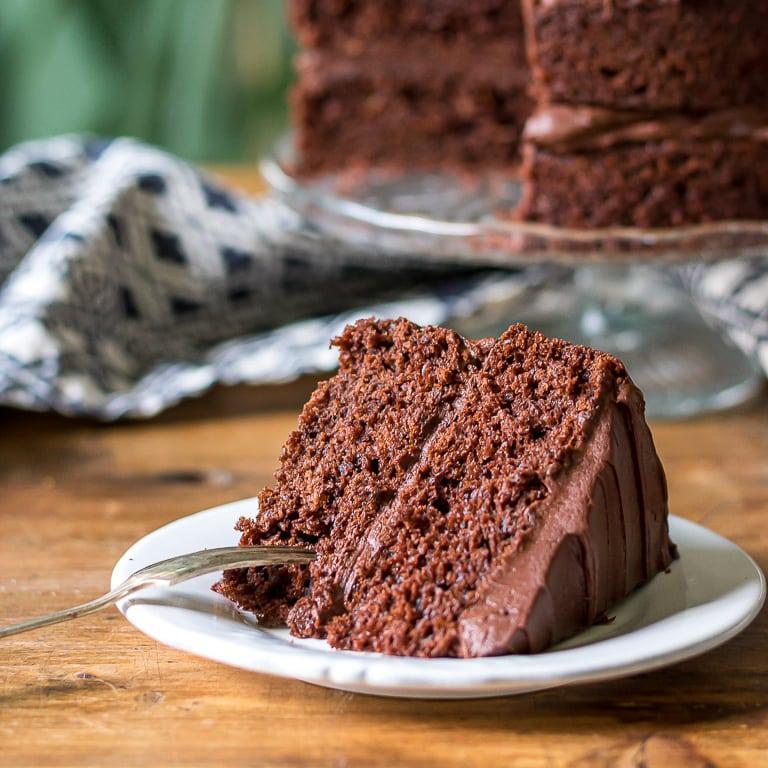 Q: How do I store vegan chocolate cake?
A: You can store vegan chocolate cake at room temperature for up to 2-3 days in an airtight container. If you want to store it for longer, you can keep it in the refrigerator for up to a week or freeze it for up to three months.
Q: Can I make vegan chocolate cake ahead of time?
A: Yes, you can make The best vegan chocolate cake ahead of time and store it in the refrigerator or freezer until you're ready to serve it. If you're making it ahead of time, it's best to wait until the cake has cooled completely before storing it, and to frost it just before serving.