Oatmeal cookie sandwiches are so easy to make. All you need is a good recipe. I lost count of how many attempts it took me to get to THE perfect oatmeal cookie recipe. You know, those recipes that work 10/10 and that never disappoint? That's one of these! So save it and enjoy!
As always, this recipe is refined sugar-free, vegan, plant-based, and dairy-free and you can make it gluten-free by using certified gluten-free oats.
Introduction about  Oatmeal cookie sandwiches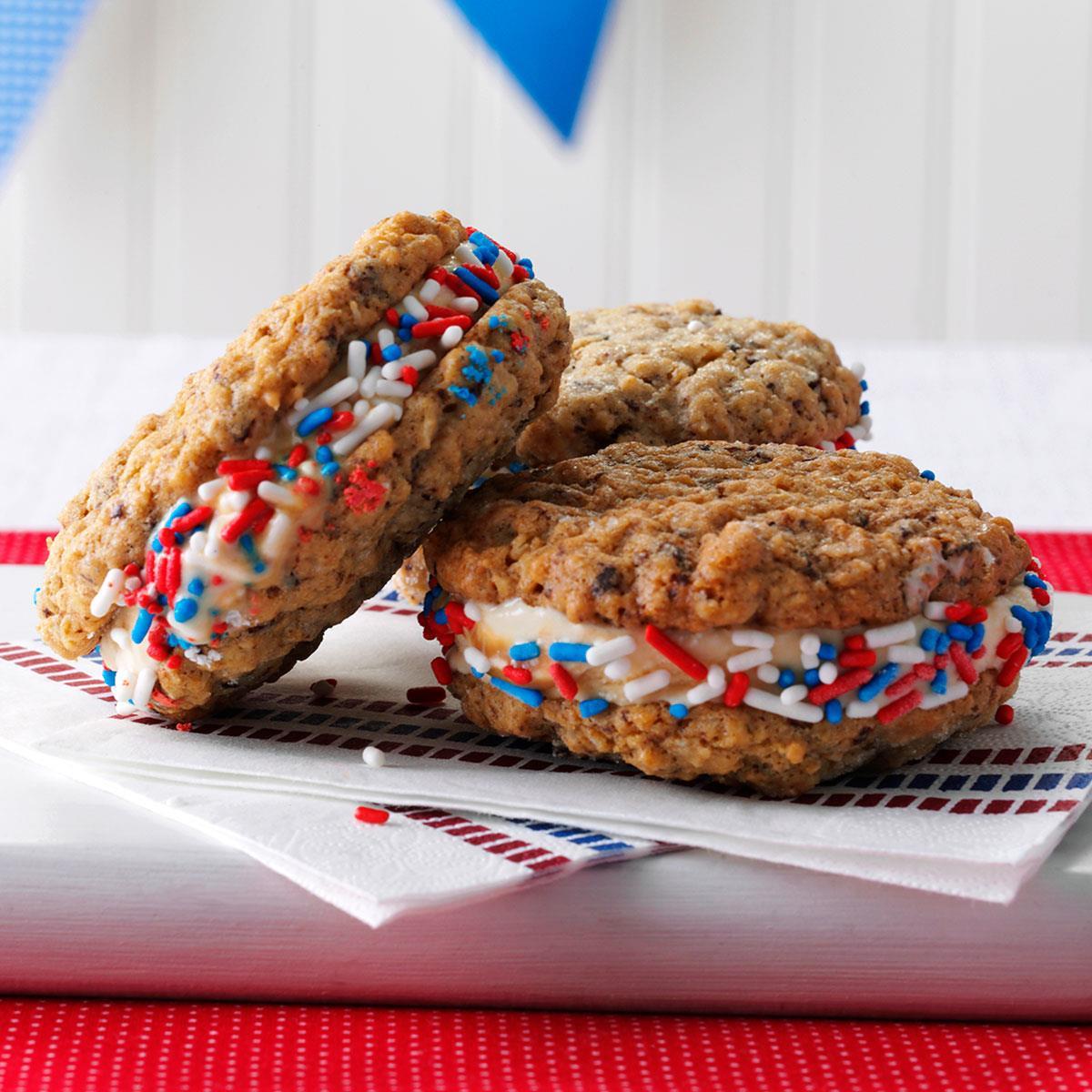 This time, I wanted to make an even yummier variation of these cookies and made cookie sandwiches with them by simply adding a cashew frosting between two cookies.
Of course, you can eat them as they are, without adding the frosting (but it's totally worth the extra effort!
If you're a cookie lover like I am, you will adore this recipe! It's also super versatile since you can replace the chocolate chips with seeds, dried fruits or nuts to create a new version each time!
The filling is a regular cashew vanilla cream, which I simply colored with beet powder (you won't be able to taste it). You can also use other frosting recipes like this chocolate one to fill the cookie sandwiches.
Now that you have found THE only vegan oatmeal cookie recipe you need, what are you waiting for to turn on the oven?
I really hope you guys will give this recipe a try!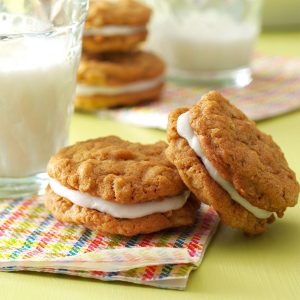 Oatmeal cookie sandwiches
Vegan, plant-based, refined sugar-free, GF option
Ingredients
Ingredients for the oatmeal cookies
90 g/ 3/4 cup

whole wheat flour

2 g/ 1/2 tsp

baking powder

2 g/ 1/2 tsp

baking soda

3 g/ 1 tsp

ground cinnamon

4 g/ 1/2 tsp

salt

110 g /1/2 cup

non hydrogenated vegan butter

50 g/ 1/3 cup

coconut sugar

90 g/ 1/2 cup

light brown sugar

130 g/ 1/2 cup

unsweetened almond butter

69 ml/ 1/4 cup

almond milk

1

tsp 

vanilla bean paste

100 g/ 1cup

old fashion rolled oats

100 g/ 3,5 oz

chopped dark chocolate
Ingredients for the filling
110 g/ 3/4 cup

cashews, soaked overnight

140 g/ 1/2 cup

coconut cream from a can

30 g/ 1/4 cup

raw cacao butter, gently melted at room temp

3

tbsp 

rice syrup

1

tsp 

beet poeder optional, for the color

pinch pink salt
Instructions
Make the frosting
Place the cashews, coconut cream, rice syrup, lemon juice and beet powder in a high speed blender and blend until smooth.

Add the cacao butter gradually through the top of the blender while the motor is running.

These should blend in completely and you should end up with a smooth cream.

Place in the refrigerator for at least 4 hours, stirring from time to time

You can keep it in the fridge overnight and give it a good stir before using.
Make the oatmeal cookies
In a small mixing bowl whisk together the whole wheat flour, baking powder, baking soda, cinnamon and salt.

Place the vegan butter, coconut sugar and light brown sugar in the bowl of a stand mixer and beat until well combined.

Add the almond butter and mix to combine. Slowly add the almond milk and vanilla paste and beat until light and fluffy.

Add the flour mixture to the batter and beat until the everything is combined in a smooth and soft dough. Scrape down the sides of the bowl if necessary.

Fold in the rolled oats and chocolate chunks and gently mix to combine.

Place the dough in the refrigerator for 30 minutes to firm up.

Preheat the oven to 175C |350F degrees. Using an ice cream scooper, form the cookie balls (about 1 tbsp) and place them on a lined baking sheet, 5cm | 2" apart.

Bake for 12-14 minutes (14-16 for large) or until the edges of the cookies have turned a bit golden.

Remove from the oven and let cool on the baking tray for 5 minutes before transferring to a cooling rack to cool completely.
Assemble the cookie sandwiches
Frost half of the cookies and top with the remaining cookies.
Cooking tips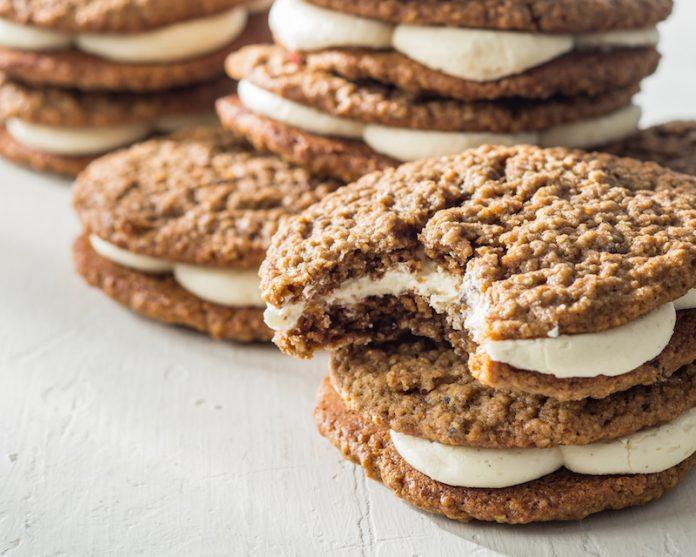 Here are some cooking tips for oatmeal cookie sandwiches:
Use quality ingredients: Make sure to use high-quality ingredients, including oats, flour, sugar, butter, and spices. This will ensure that your cookies have the best flavor and texture.
Chill the dough: Chilling the cookie dough for at least 30 minutes before baking will help the cookies retain their shape and prevent them from spreading too much while baking.
Use a cookie scoop: Use a cookie scoop or spoon to portion the cookie dough evenly. This will ensure that all of your cookies are the same size and will bake evenly.
Flatten the cookies: Use the bottom of a glass or a fork to flatten the cookie dough balls slightly before baking. This will help the cookies spread out evenly and create a flat surface for sandwiching the filling.
Don't overbake: Bake the cookies until they are lightly golden brown around the edges, but still slightly soft in the center. Overbaking will result in dry and crunchy cookies that won't be as good for sandwiching.
Cool the cookies completely before filling: Allow the cookies to cool completely on a wire rack before filling them with your desired filling. This will prevent the filling from melting and making a mess.
Experiment with fillings: Consider using a variety of fillings such as cream cheese frosting, chocolate ganache, caramel, or jam. You can even add chopped nuts or dried fruit to the filling for added texture and flavor.
Serving Suggestions Oatmeal cookie sandwiches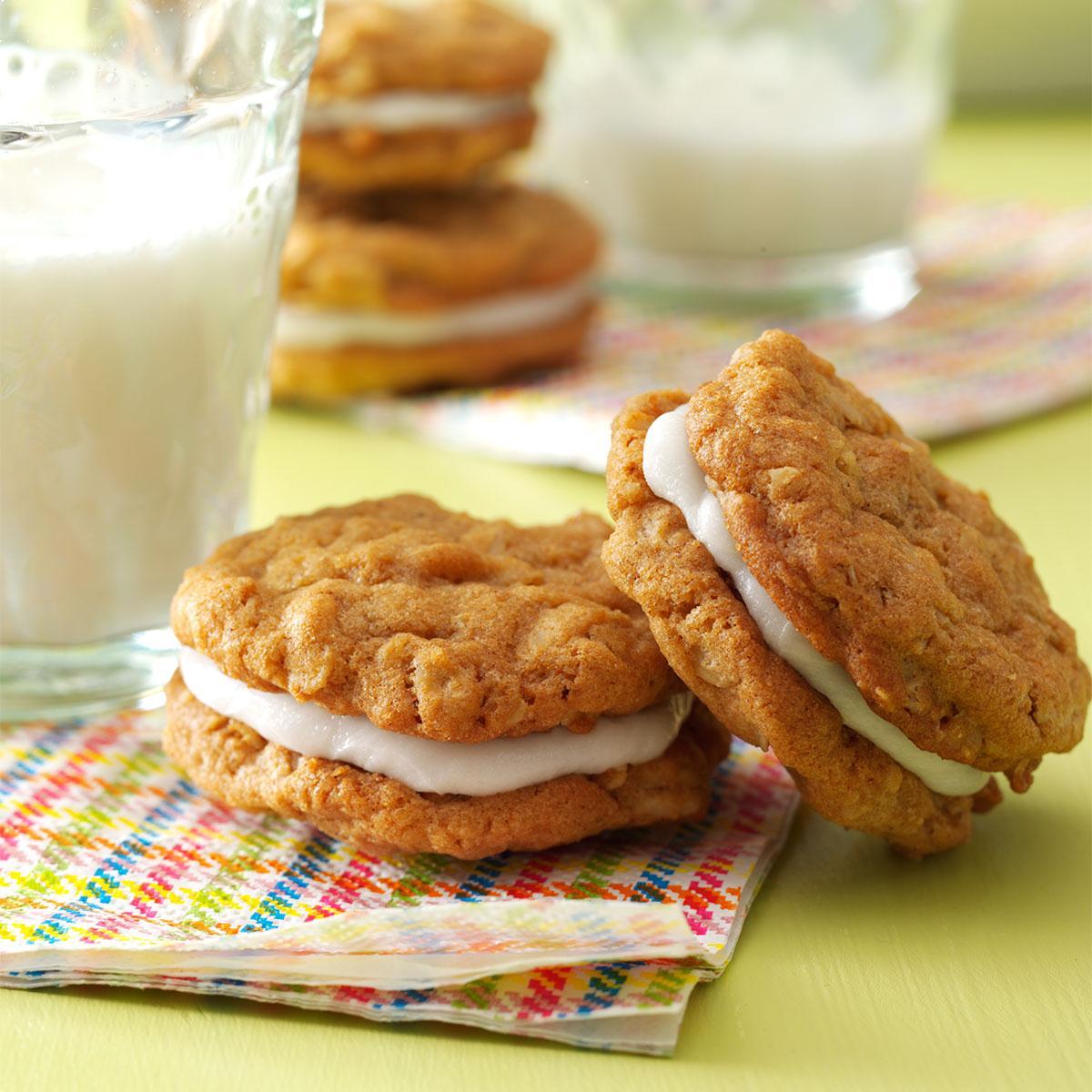 Oatmeal cookie sandwiches are a delicious and versatile treat that can be served in many different ways. Here are some serving suggestions:
Serve as a dessert: Oatmeal cookie sandwiches make a great dessert option, especially when served with a scoop of ice cream or a drizzle of caramel or chocolate sauce.
Pack for a snack: Oatmeal cookie sandwiches are perfect for packing in a lunchbox or taking on the go as a snack. They are also great for picnics or outdoor gatherings.
Pair with coffee or tea: Oatmeal cookie sandwiches pair well with a hot cup of tea or coffee. They make a great afternoon snack or a sweet treat to enjoy with friends during a coffee break.
Make a cookie platter: Arrange oatmeal cookie sandwiches on a platter with other cookie varieties for a beautiful and delicious dessert display. Add some fresh fruit or berries for a pop of color and freshness.
Serve as a breakfast treat: Oatmeal cookie sandwiches can also be enjoyed as a breakfast treat. They pair well with a cup of milk or a hot beverage and offer a tasty way to start the day.
Customize with different fillings: Get creative with different fillings and flavors to customize your oatmeal cookie sandwiches. Try filling them with peanut butter and jelly, Nutella, or cream cheese and fruit for a fun twist.