Have you ever tried Japanese style whole wheat chocolate pancakes? They're thick and fluffy and they're usually topped with fresh butter and maple syrup. They're also perfectly round and way larger than American pancakes. This shape is achieved by using a small pan and cooking the pancakes once at a time.
Introduction about Japanese style whole wheat chocolate pancakes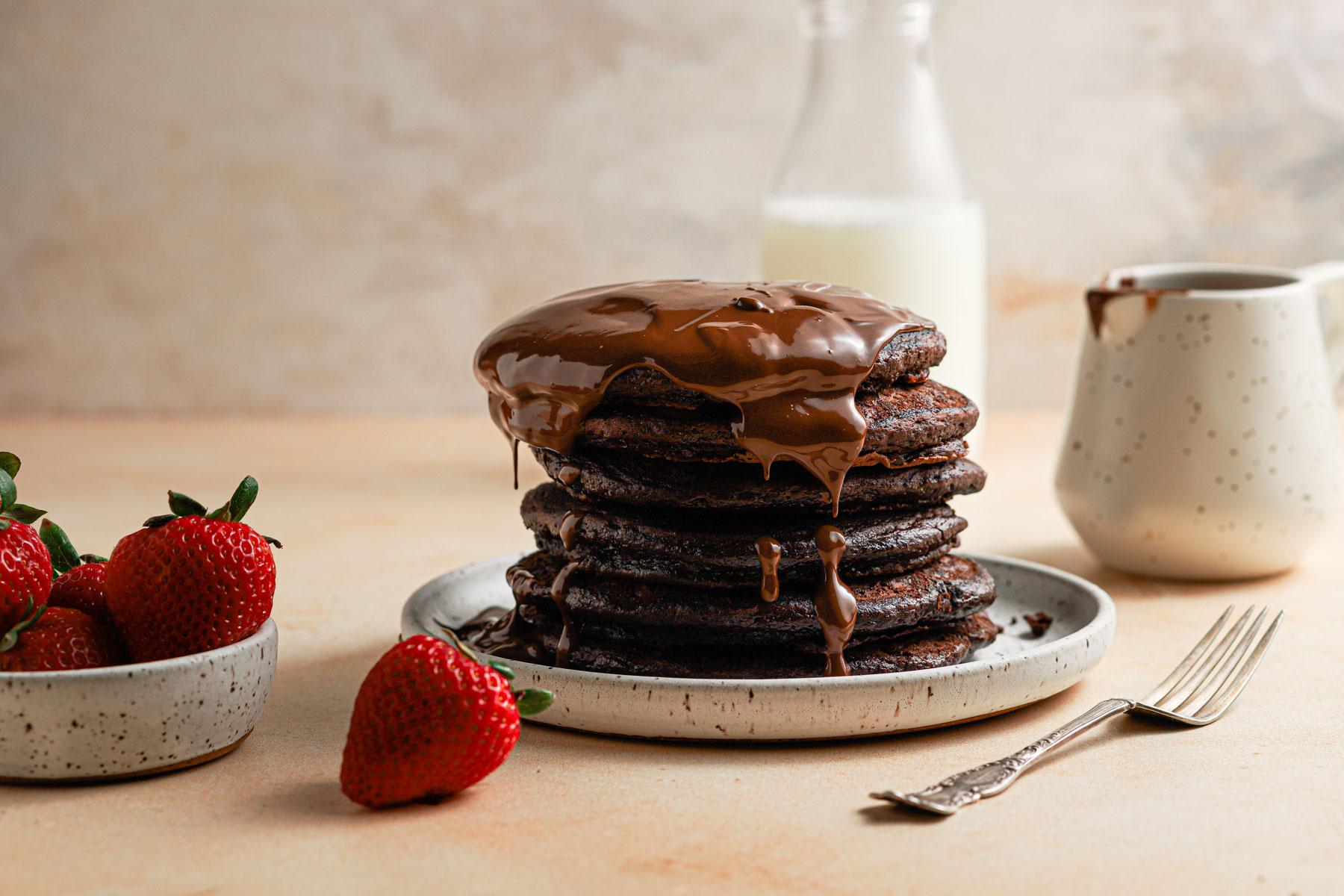 When you order pancakes at a Japanese café, do not expect a tall stack! You'll probabily only get 1-3 depending on the size.
Since I wanted to stack my pancakes, instead of baking one single large pancake, I used a very small pan (10 cm) and made 6 pancakes. (Yeah, one is missing in the photo- oh the thought life of a food blogger when it comes to taste food
I highly recommend buying a small pan to make this recipe. You won't get the same result if you bake that batter in a large frying pan or griddle.
Since I like to top the pancakes with fresh fruits and maple syrup, I prefer not to add much sugar to the batter. Feel free to increase the amount of sweetener if you want them more on the sweet side.
I hope you guys will give this recipe a try!
Japanese-style chocolate pancakes
Plant-based, dairy-free, vegan-friendly
Equipment
small (10cm) non stick pan
Ingredients
Dry ingredients
200 g/ 1,5 cups +2 tbsp

whole wheat flour

25 g/ 1/4 cup

raw cacao powder

7 g/ 2 tsp

baking powder
Wet ingredients
250 ml/ 1 cup +1tbps 

oat milk, room temperature

120 ml / 1/2 cup

water

40 to 80 g/ 1/8 to 1/4 cup

maple syrup

1/2

tsp 

vanilla bean paste

2

tbsp 

melted coconut butter / or coconut oil room temperature
Instructions
In a large bowl, sift dry ingredients.In a small bowl, whisk together wet ingredients.

Pour the wet into the dry and mix until just combined. Lumps are fine.Set aside for 5-10 minutes.

Heat a 10cm non stick pan, pour about 1/4 cup of batter and cook with lid on for a couple of minutes, until the edges are done.

Flip and bake on the other side for 1 minutes.Enjoy with maple syrup, coconut yogurt and berries!
Nutritional ingredients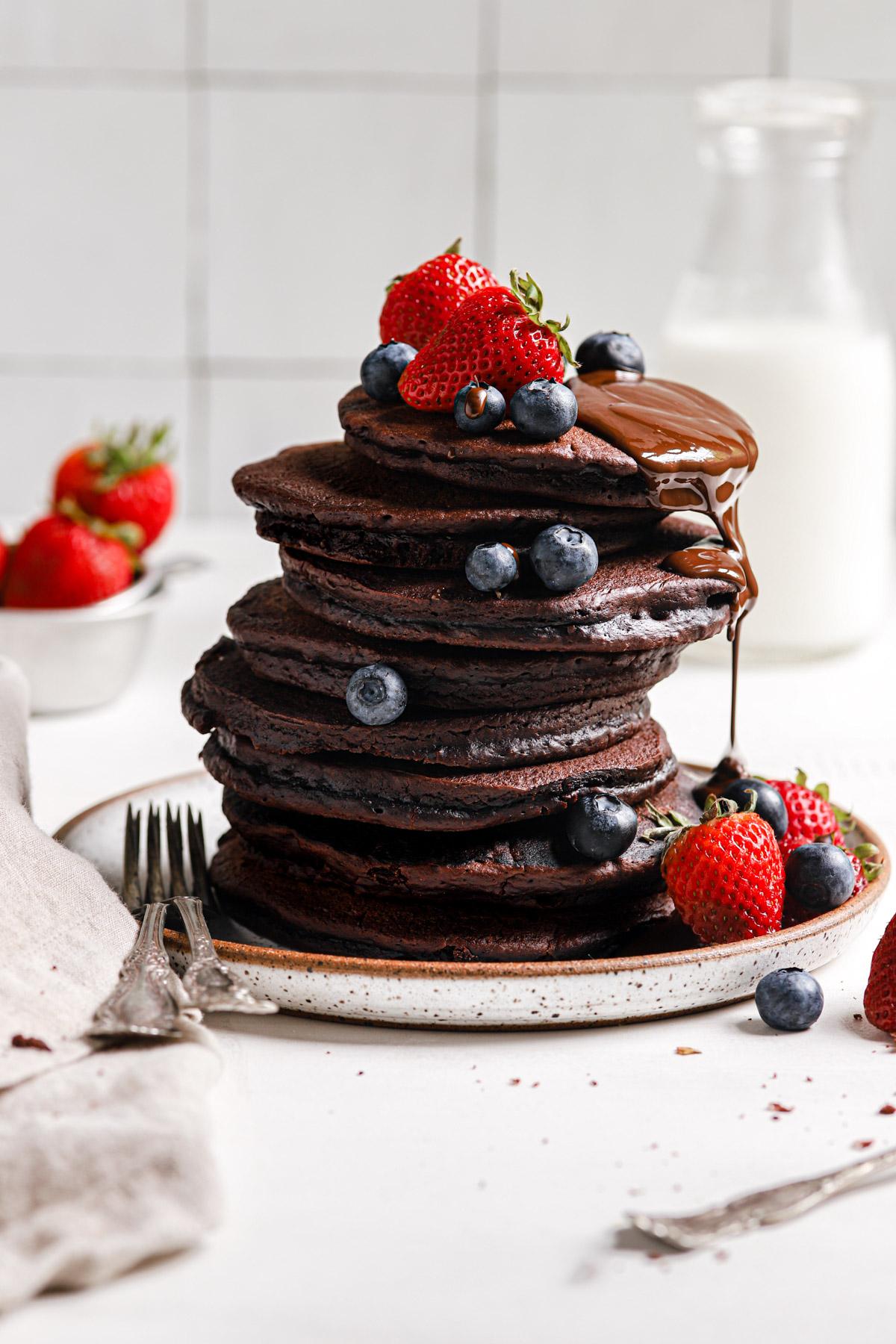 Here are the nutritional ingredients of Japanese style whole wheat chocolate pancakes:
Whole wheat flour: Whole wheat flour is a good source of fiber, containing around 3 grams of fiber per ¼ cup (30 grams). It is also a good source of vitamins and minerals, including iron, magnesium, and zinc.
Cocoa powder: Cocoa powder is low in calories and contains antioxidants called flavanols, which have been shown to have health benefits. It is also a good source of fiber and iron.
Baking powder: Baking powder is a leavening agent that helps the pancakes rise. It is a combination of an acid (usually cream of tartar) and a base (usually baking soda).
Salt: Salt is added to enhance the flavor of the pancakes.
Eggs: Eggs provide protein, vitamins, and minerals, including choline and vitamin D.
Milk: Milk is a good source of calcium, vitamin D, and protein.
Honey: Honey is a natural sweetener that contains antioxidants and has antibacterial properties.
Vegetable oil: Vegetable oil is added to the batter to keep the pancakes moist and prevent sticking to the pan.
Water: Water is added to thin out the pancake batter.
Overall, these pancakes are a good source of fiber, protein, and several vitamins and minerals. They are also lower in calories and fat than traditional pancakes made with all-purpose flour and butter. However, the nutritional content may vary depending on the specific amounts of each ingredient used and the portion size of the pancakes.
Serving Suggestions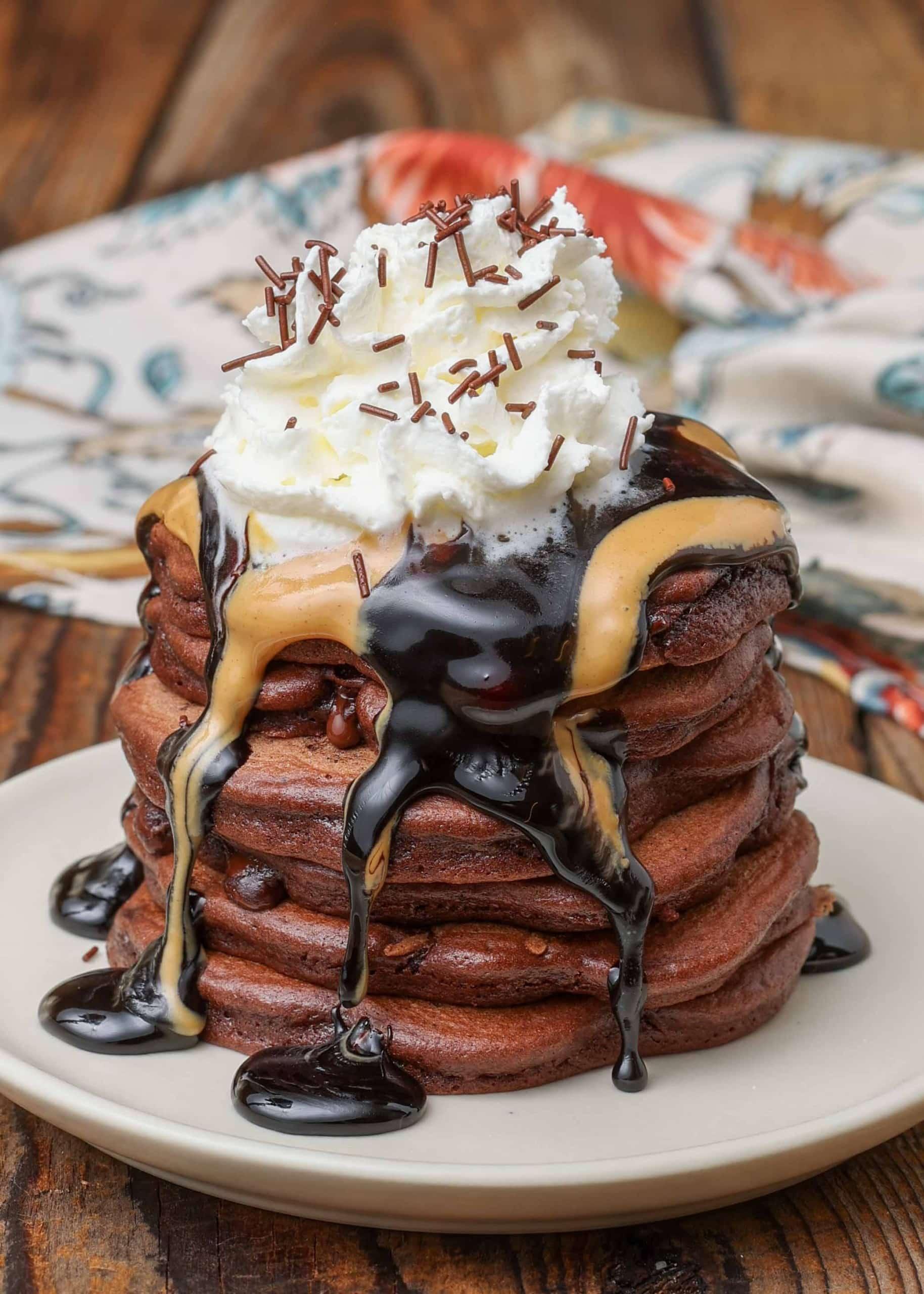 Here are some serving suggestions for Japanese style whole wheat chocolate pancakes:
Fresh fruit: Serve the pancakes with a side of fresh fruit such as sliced bananas, strawberries, or blueberries. The sweetness of the fruit pairs well with the chocolate flavor of the pancakes.
Whipped cream: Top the pancakes with a dollop of whipped cream for a light and fluffy addition.
Chocolate chips: Add some extra chocolate flavor to the pancakes by sprinkling chocolate chips on top while they are still warm.
Nut butter: Spread some almond butter or peanut butter on top of the pancakes for a protein-packed breakfast.
Maple syrup: Drizzle maple syrup over the pancakes for a classic pancake topping.
Yogurt: Serve the pancakes with a dollop of yogurt on top for a tangy contrast to the chocolate flavor.
Nuts: Sprinkle chopped nuts such as walnuts, almonds, or pecans on top of the pancakes for some added crunch.
Coconut flakes: Sprinkle some coconut flakes on top of the pancakes for a tropical twist.
Ice cream: Turn the pancakes into a decadent dessert by serving them with a scoop of vanilla ice cream on top.
Matcha latte: Serve the pancakes with a side of matcha latte for a Japanese-inspired breakfast.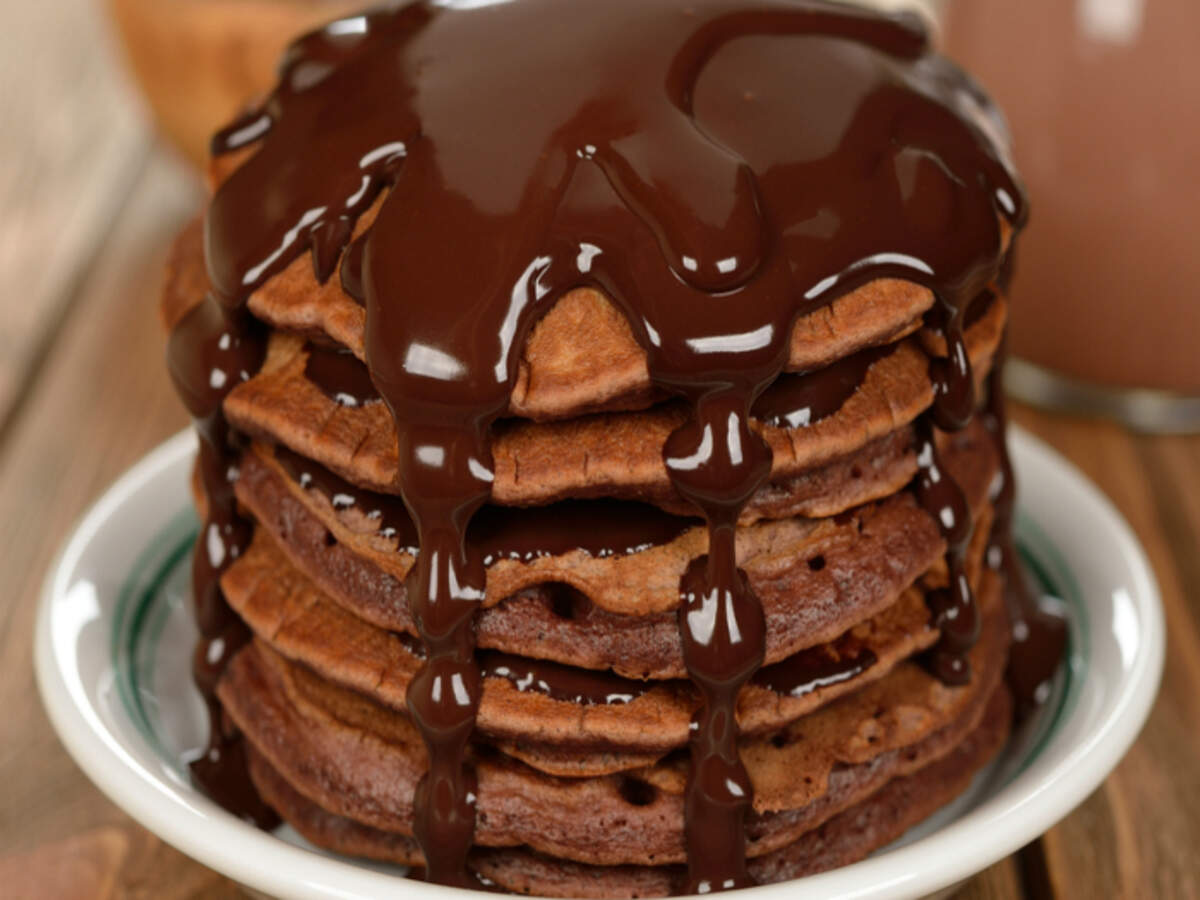 In conclusion, Japanese-style whole wheat chocolate pancakes are a delicious and healthy twist on traditional pancakes. With their rich chocolate flavor and whole wheat goodness, they make for a satisfying breakfast or dessert.
Whether served with fresh fruit, whipped cream, or other toppings, these pancakes are sure to delight your taste buds. Give them a try and enjoy a delicious and nutritious meal!