Making fluffy pancakes without using eggs is very challenging. Perfect Fluffiest blueberry vegan pancakes should be airy, soft, and light. All these qualities are usually achieved thanks to egg whites. I tested so many vegan pancake recipes and most of them were a complete fail.
Introduction about Fluffiest blueberry vegan pancakes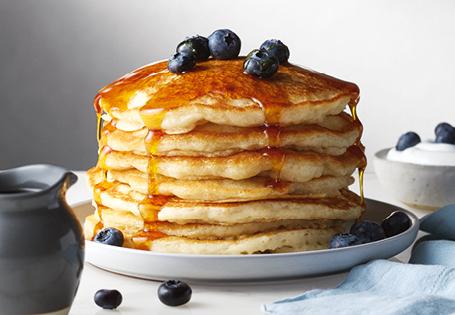 I tried many egg substitutes, like bananas, applesauce, more liquids,… What I found out is that I don't like my pancakes tasting like bananas. None of these ingredients worked as I hoped. The applesauce gave too much moisture to the batter and I ended up with a soggy texture and apple-flavored pancakes. Not good. Not to mention the banana.
Then, I tried flax eggs. Flax eggs are made of ground flax seeds and hot water. This mixture has a slimy texture and acts as a binder. It doesn't help with raising but gives the right texture to the batter.
If your batter is too liquid, it will spread a lot once poured on the pan and you will end up with wide and thin pancakes. This is why a firm texture is very important to allow the dough to rise upwards.
To get a fluffy and light texture, I also use vegan buttermilk. This is very easy to make. Just combine non-dairy milk with lemon juice or white vinegar and set aside to curdle.
Not all non-dairy milk will curdle when lemon juice is added. Certain nut milk like coconut milk will not. So using soy milk for this is the safest bet, though almond milk also works fine.
These pancakes are not very sweet so serve them dusted with powdered sugar, drizzled with maple or corn syrup, or honey.
What I like the most about this pancake recipe is that the batter can be prepared in just 5 minutes or less.You can prepare the batter the night before you want to make the pancakes, just cover the bowl with plastic wrap and keep it in the refrigerator until the next morning. Let set the batter at room temperature for 30 minutes before cooking.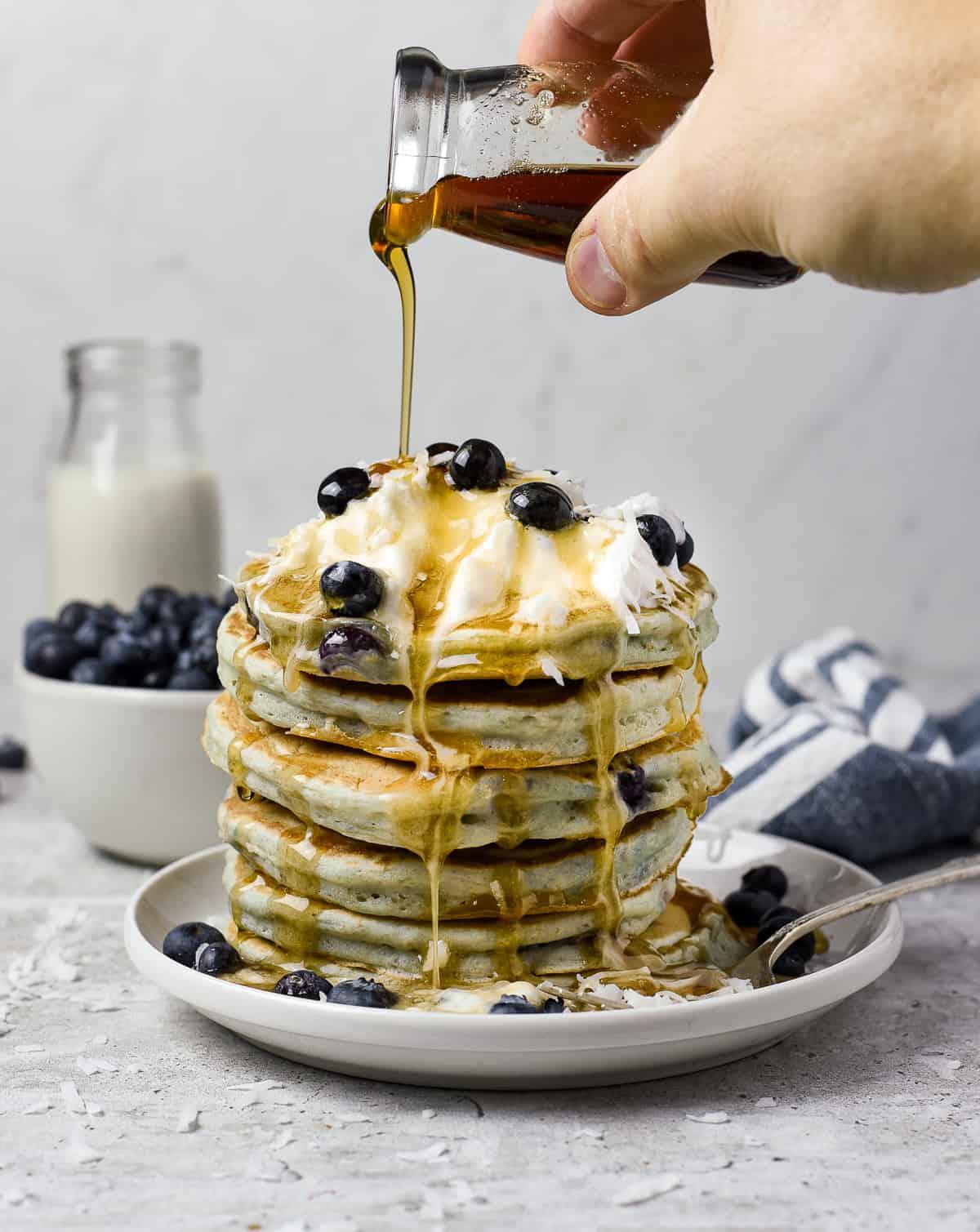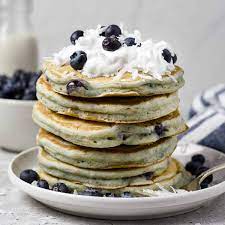 Blueberry vegan pancakes
Vegan- friendly, plant-based
Ingredients
190 grams / 1 1/2 cups

flour, sifted

30 grams / 1 1/2 tbsp

sugar of choice

1

tsp 

baking powder

1/2

tps 

baking soda

pinch of salt

1

flax egg (1 tbsp freshly ground flax seeds + 3 tbsp hot water)

1

cup 

vegan buttermilk (soy milk + white vinegar)

1

tsp 

vanilla bean paste

1

tbsp 

vegan butter, melted

120 

gams

 fresh blueberries

vegetable oil for cooking
Instructions
Make the flax egg: In a small bowl, combine ground flax seeds and water. Set aside for 5 minutes.

Make the vegan buttermilk: add 1 tbsp lemon juice or vinegar to a measuring jug. Add soy milk or almond milk up to the 1 cup line. Allow to sit for a minute. It will thicken and curdle

In a large bowl, sift together flour, sugar, salt, baking powder and baking soda and whisk to combine.In a separate bowl add buttermilk, vanilla and melted butter.

Add the flax egg to the buttermilk and whisk to combine.

Pour the wet ingredient mixture into the dry ingredients and stir till mostly incorporated. The batter should be thick and a little lumpy, but without any visible streaks of flour.

Gently fold in the blueberries. Set the batter aside for 10-15 minutes.

Heat a heavy-bottomed, non-stick pan over a medium heat and lightly grease it with oil.
Cooking tips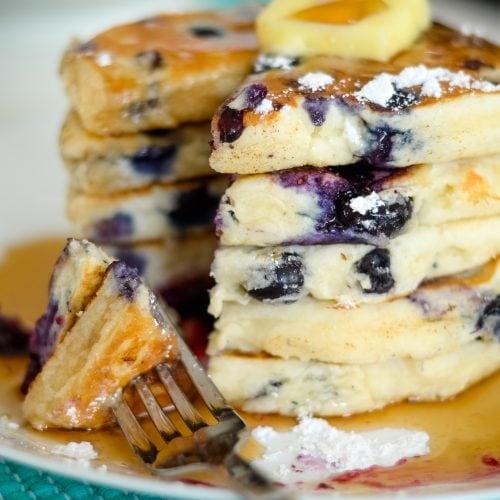 Sure, here are some cooking tips to help you make the fluffiest blueberry vegan pancakes possible:
Use fresh baking powder: Baking powder is responsible for making the pancakes fluffy. Make sure your baking powder is fresh and not expired.
Don't overmix the batter: Overmixing the batter can cause the gluten in the flour to develop, resulting in tough pancakes. Mix the batter only until the dry ingredients are just combined with the wet ingredients.
Let the batter rest: Allow the batter to rest for at least 5 minutes before cooking. This will give the baking powder time to activate and create air pockets in the batter, resulting in fluffier pancakes.
Use a non-stick pan or griddle: A non-stick pan or griddle will prevent the pancakes from sticking and make it easier to flip them.
Cook on medium heat: Cooking the pancakes on medium heat will ensure that they cook evenly and don't burn.
Don't flatten the pancakes: Flattening the pancakes while cooking can cause them to lose their fluffiness. Let them cook undisturbed until bubbles form on the surface, then flip them gently.
Add blueberries at the end: Fold in the blueberries gently at the end of the mixing process to avoid overmixing them into the batter.
Serve immediately: Pancakes are best served immediately after cooking. If you need to keep them warm while cooking the rest of the batch, place them in a warm oven (around 200°F) on a baking sheet until ready to serve.
FAQs of Fluffiest blueberry vegan pancakes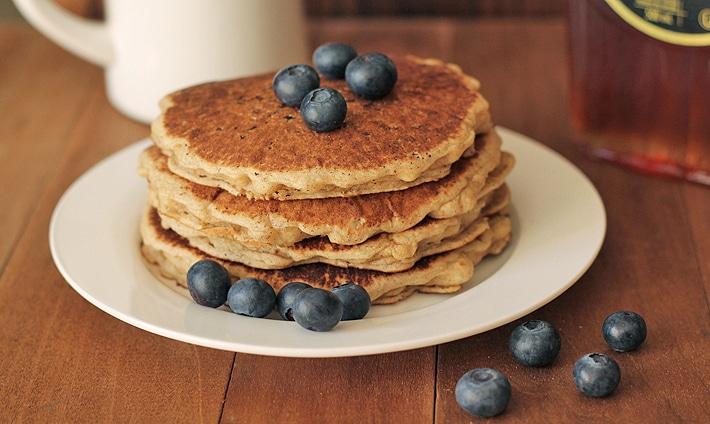 Here are some frequently asked questions about making the fluffiest blueberry vegan pancakes:
Q: Can I use a different type of flour?
A: Yes, you can use different types of flour such as spelt flour, whole wheat flour, or gluten-free flour, but the texture of the pancakes may vary.
Q: Can I use frozen blueberries?
A: Yes, you can use frozen blueberries, but be sure to thaw them and drain any excess liquid before adding them to the batter.
Q: Can I make the batter ahead of time?
A: Yes, you can make the batter ahead of time and store it in the refrigerator for up to 24 hours. However, the baking powder may lose some of its potency, resulting in less fluffy pancakes.
Q: Can I substitute the plant-based milk?
A: Yes, you can use any type of plant-based milk such as almond milk, soy milk, or oat milk.
Q: Can I make the pancakes without baking powder?
A: Baking powder is essential for making the pancakes fluffy, so it's not recommended to skip it. However, if you don't have baking powder, you can use 1 teaspoon of baking soda and 2 teaspoons of vinegar as a substitute.
Q: Can I add other fruits or toppings?
A: Yes, you can add other fruits such as strawberries or bananas, or toppings such as maple syrup, vegan butter, or chopped nuts.
Q: Can I freeze leftover pancakes?
A: Yes, you can freeze leftover pancakes in an airtight container or freezer bag for up to 1 month. Reheat in the toaster or microwave before serving.