You can never go wrong with pasta, right? You only need to pair it with a delicious homemade sauce to create a different dish each time!
In summer, especially when it's hot, I love to make lighter dishes like pasta salads or this Creamy lemon Alfredo linguine. So creamy, light and refreshing! Yum!
Introduction about Creamy lemon Alfredo linguine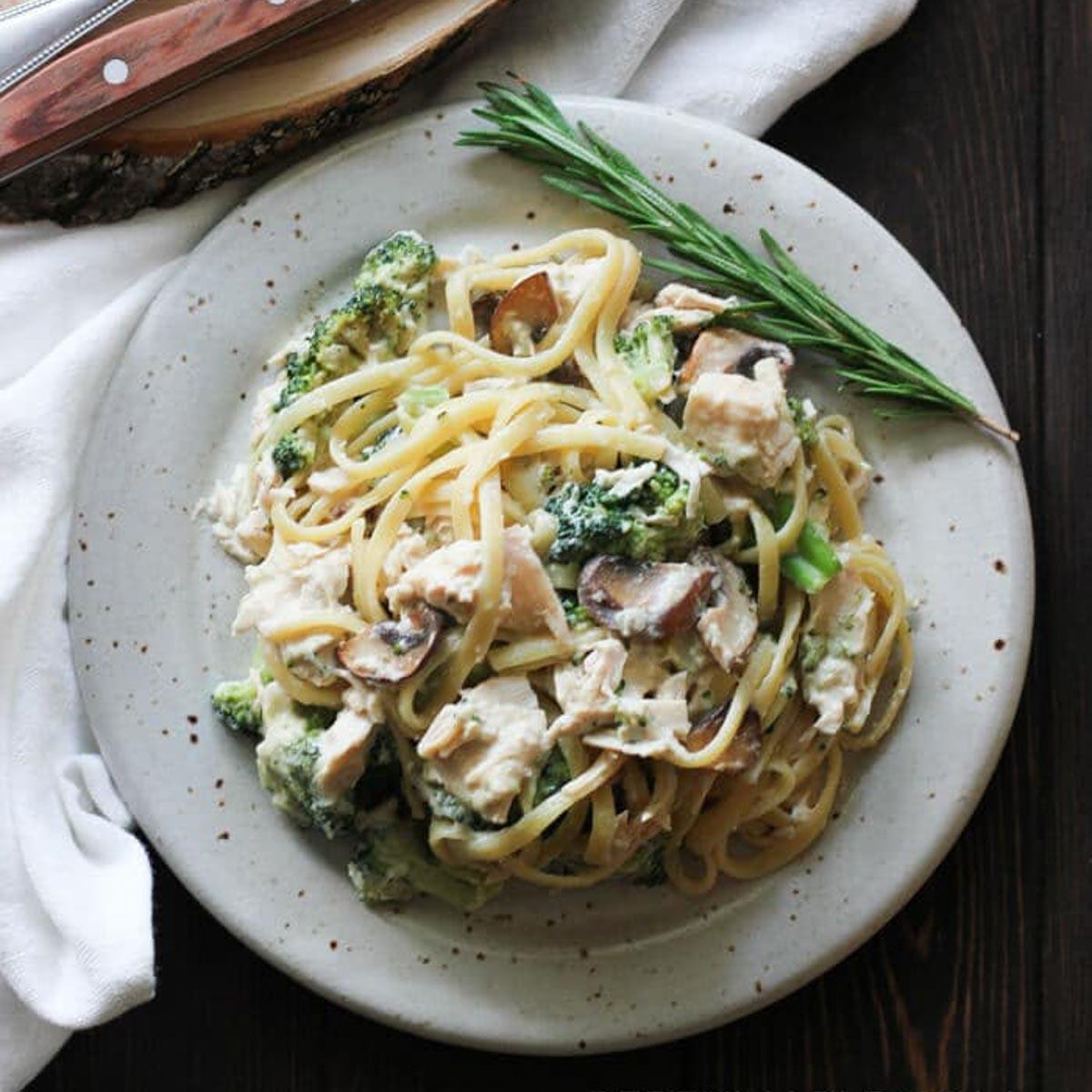 To achieve a creamy texture without using heavy cream, I simply use cauliflowers. Yes, cauliflowers are the perfect base to make creamy sauces like bechamel sauce, Alfredo sauce or vegan Mac'n cheese. It's a very smart option because you don't only skip dairies, calories and fats, but you also get a good amount of veggies without even noticing! And you won't be able to taste it.
If you are following a vegan diet and you don't care about plant-based, you can use soy cream or any vegan store-bought cream. But, in my opinion, homemade is always a better and healthier option.
I roasted some pine nuts and bread crumbs with oregano, chili, salt and pepper to add some crunchiness and taste to the creamy sauce. The result was an explosion of flavors, so I really recommend not to skip that step!
You can use any kind of pasta. I used linguine but honestly this choice was purely because that's what I had on hand.
Short pasta works just as well.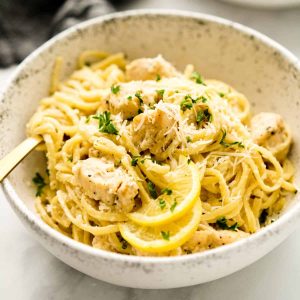 Creamy lemon Alfredo linguine
plant-based, vegan friendly
Ingredients
ingredients for the sauce

350 grams cauliflower florets fresh or frozen120 ml/ 1/2 cup water60 grams/ 1/2 cup cashews, soaked overnight1 organic lemon, juice and zest1 tsp sea salt1/2 clove garlic or more if you like3 tbsp extra virgin olive oil

Ingredients for the linguine

200 grams linguine or any pasta of choice

To serve

1 tbsp extra virgin olive oil1 tbsp dried oregano2 tbsp panko breadcrumbs1/2 tsp chili flakespinch sea saltpinch black pepper, ground1 tbsp pine nuts1/2 organic lemon, zest
Instructions
Remember to soak the cashews overnight or you won't achieve a creamy texture. If you forget to soak them overnight, just place them in a bowl and cover with hot boiling water for at least 30 minutes.

Cut the cauliflower into florets and cook in a steamer or in boiling water until soft and tender. This will take about 20 minutes. Drain and set aside to cool.

Place the cauliflower in a food processor with 120 ml of water and blend until creamy.

Add the cashews, lemon juice and zest, salt, garlic, extra virgin olive oil. Blend until completely smooth. Place the sauce in a large bowl. 

Heat 1 tbsp extra virgin olive oil in a small saucepan. Add the bread crumbs, oregano, salt, pine nuts and chili flakes and cook until crispy and golden.

Cook the linguine following the package instructions.

Drain the linguine and reserve 1 tbsp of cooking water.

Add the pasta to the sauce bowl together with the cooking water and toss until well coated.Serve immediately with the bread crumbs and some lemon zest.
Nutritional ingredients
Here are the nutritional ingredients of Creamy Lemon Alfredo Linguine, per serving:
Calories: 550
Fat: 37g
Saturated Fat: 19g
Cholesterol: 90mg
Sodium: 540mg
Carbohydrates: 39g
Fiber: 2g
Sugars: 2g
Protein: 14g
It's important to note that the nutritional value of Creamy Lemon Alfredo Linguine may vary depending on the specific ingredients and preparation methods used. Cream, butter, and cheese are some of the main ingredients in this dish, which contribute to its high fat and calorie content.
However, the dish does contain some fiber and protein from the pasta, which can help to balance out the meal. If you're looking to make this dish healthier, you can try using low-fat milk or cream, and reducing the amount of butter and cheese.
Serving Suggestions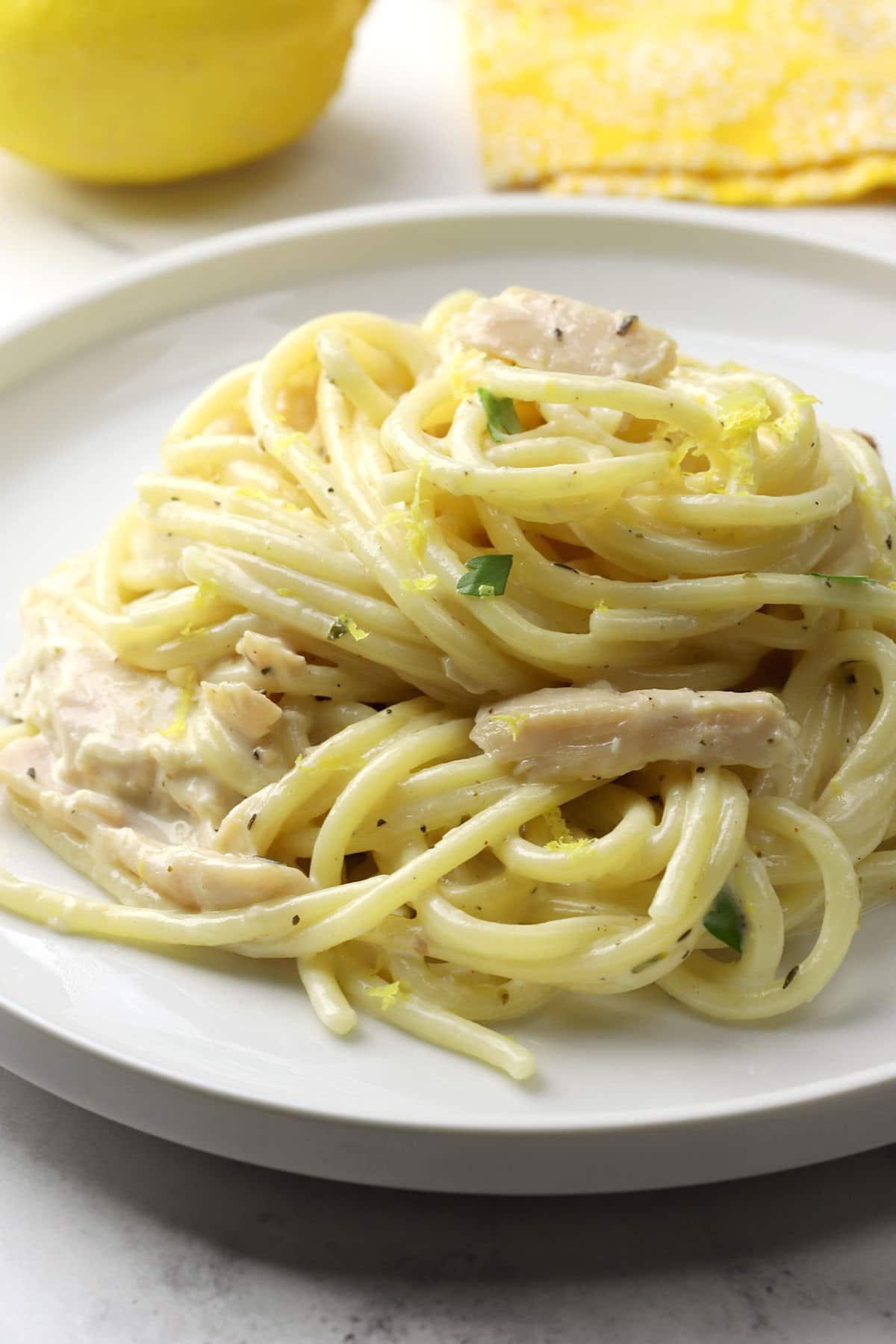 Here are some serving suggestions for Creamy Lemon Alfredo Linguine:
Add protein: Serve the pasta with grilled chicken, shrimp, or salmon to add some extra protein to the dish.
Pair with a salad: Serve the pasta with a side salad dressed with a light vinaigrette to add some freshness and balance out the richness of the pasta.
Add veggies: Toss some steamed or roasted vegetables like broccoli, asparagus, or zucchini into the pasta to add some extra nutrients and texture.
Top with herbs: Sprinkle some fresh parsley or basil over the pasta to add some color and freshness to the dish.
Serve with garlic bread: Serve the pasta with garlic bread or breadsticks to soak up any leftover sauce.
Pair with white wine: Serve the pasta with a chilled glass of white wine, such as Pinot Grigio or Sauvignon Blanc, to complement the lemon and cream flavors.
By following these serving suggestions, you can create a complete and satisfying meal with Creamy Lemon Alfredo Linguine as the main attraction. The addition of protein, veggies, and herbs can help to round out the meal and add some extra flavor and nutrition.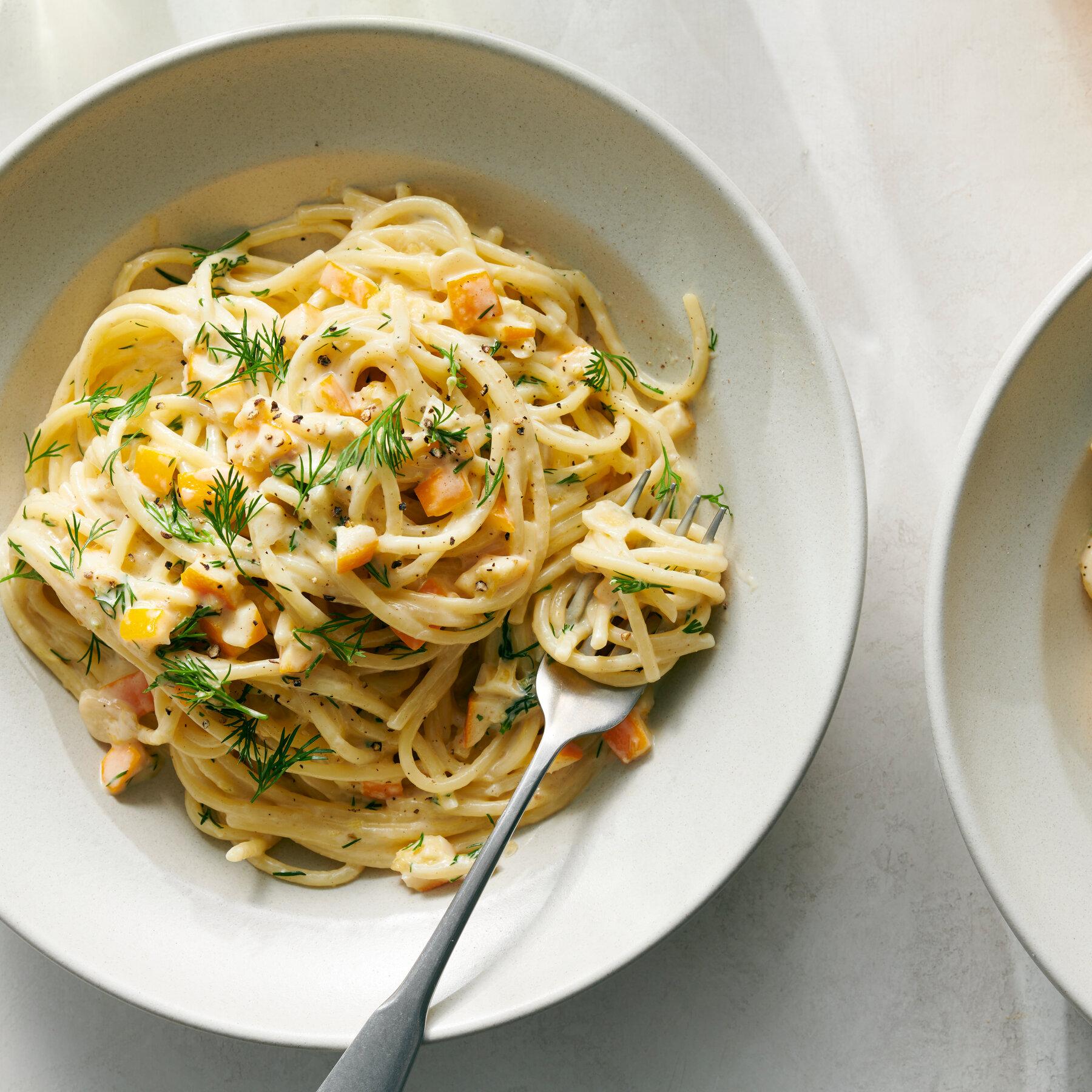 In conclusion, Creamy Lemon Alfredo Linguine is a simple and delicious pasta dish that combines the richness of Alfredo sauce with the tanginess of lemon.
While it is a high-fat and calorie dish, it can be balanced out with the addition of protein, vegetables, and a side salad. With the addition of some fresh herbs and a glass of white wine, Creamy Lemon Alfredo Linguine can be transformed into a complete and satisfying meal that's perfect for any occasion.