I love the tropical flavors of Mango and passion fruit pie! It's like a vacation in a pie. This recipe is Vegan, gluten-free, soy free, refined sugar-free, plant-based (no processed ingredients), and super yummy!
The crust is made of oat flour and almond flour and the filling is creamy and dense thanks to the coconut cream and fresh mango. I wish I could wake up to a slice of this beauty every single day!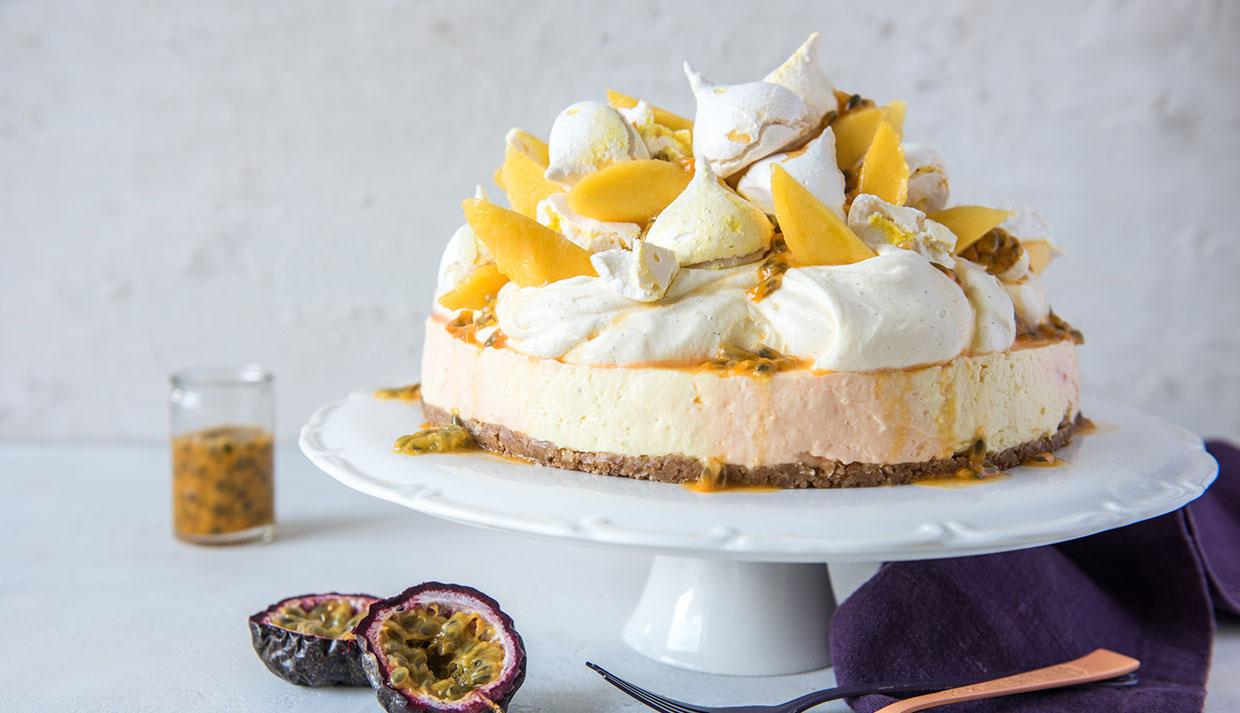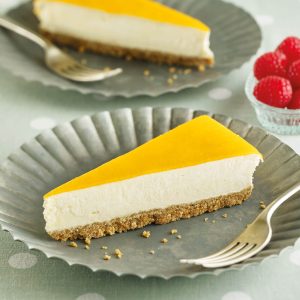 Mango and passion fruit pie
Vegan, GF, refined sugar-free, dairy free, plant-based
Ingredients
Ingredients for the crust
150 

grams 

oat flour (GF if needed)

50 

grams 

almond flour

5

pitted medjooles dates soaked if needed

2

tbsp 

agave syrup

3

tbsp 

coconut oil, melted

1/2

tsp 

pink salt
Ingredients for the filling
300 

grams 

fresh mango ( about one medium), peeled and chopped

60 

ml 

fresh passion juice (about 5)

1

tbsp 

lemon juice

300 

ml 

almond milk

80 

grams 

full fat coconut cream (solid part of a can)

1

tbsp 

coconut oil, melted

1

tsp 

vanilla bean paste

80 

grams 

maple syrup or agave or 2 tsp stevia powder

1 1/2

tbsp 

corn starch

2

tsp

agar powder
Instructions
Make the filling
Cut the passion fruits in halves, and pass them through a sieve to remove the seeds. Keep the juice.

Place the mango chunks, passion fruit juice, almond milk, vanilla and maple syrup in a food processor or a blender. Blend until completely smooth.

Pour the mixture into a medium saucepan. Add coconut oil, coconut cream, corn starch and agar powder and whisk to combine.

Heat over medium-high heat and bring to a brief boil. Simmer for a couple of minutes, until it starts to thicken.

Pour over the tart base. Let cool completely, then place in the refrigerator to set for 2 hours.

Garnish with fresh berries, mini meringues, edible flowers.
Make the crust
Place the dates in a small ball and cover with warm water.

In a food processor, combine almonds and oats and blend until finely ground.

Add vanilla and pink salt and blend to combine.

Add the pitted dates, agave and coconut oil and blend until the dough resembles wet sand.

Press the dough into the lightly greased tart tin.

Poke some holes into the bottom of the crust with a fork.

Remove and cool completely.