Tofu katsu onigirazu with kaniwa seeds are Japanese "sushi sandwiches". They are perfect for brunch, a picnic or to take to work and the best part is that you can fill them with all your favorite ingredients!
Tofu katsu is a pan-fried panko-crusted tofu. Panko is a particular Asian type of bread crumbs that you can find in Asian stores. You can replace it with regular breadcrumbs.
I love to fill my Tofu katsu onigirazu with lots of veggies and fruits (this time I used mango, so yum!). You can cook regular sushi rice or mix it with some healthier grain like quinoa or Kaniwa seeds (these are very similar to quinoa). I usually don't add any salt to the rice because the filling is tasty enough to me.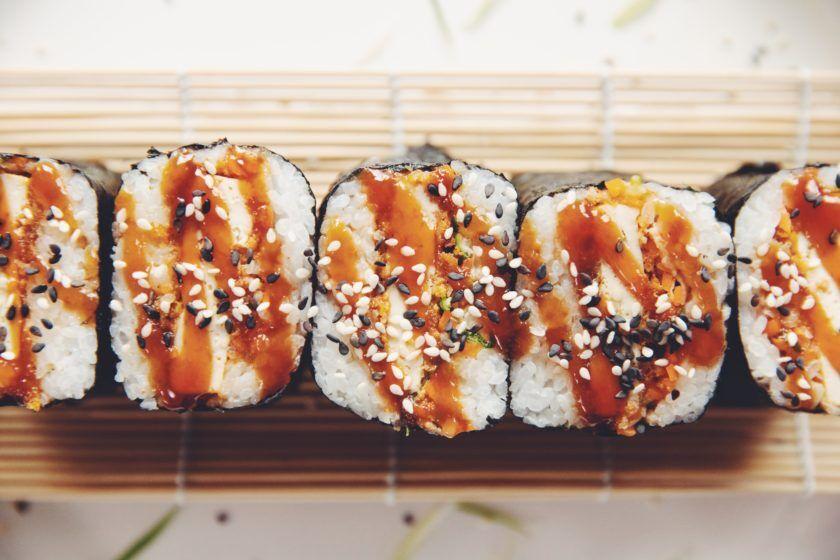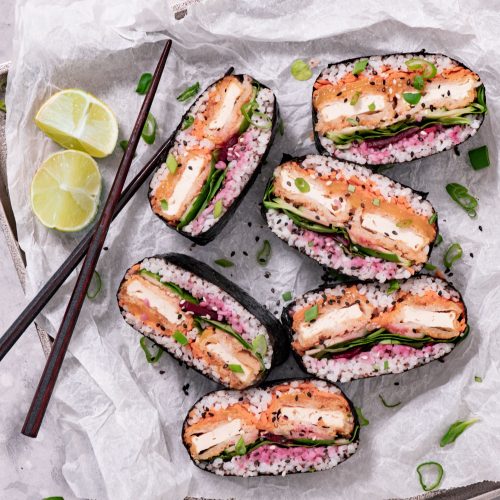 Tofu Katsu Onigirazu
Vegan, refined sugar free, dairy free
Ingredients
200 

grams 

firm tofu

60 ml/ 1/4 cup

soy sauce

2

tbsp 

all purpose flour

1/2

cup 

aquafaba

1/2 to 1

cup 

panko or regular bread crumbs

sunflower oil for frying

200 

grams 

sunflower oil for frying

20 grams /2 Tbsp

Kaniwa seeds optional

4

nori sheets

1/2

cup 

carrots, grated

1/4

cup 

pickled beetroot

handful baby spinach

1/4

of a cucumber

1/4

of a mango
Instructions
Make the riceIn a large bowl, wash the sushi rice with lots of water. Drain and rinse several times, until the water is clear. This is very important to make the rice sticky enough to hold its shape.

Cook the rice according to the package instructions. I like to cook the rice into a steamer. Let it cool down completely.  If you chose to use the kaniwa seeds, cook them together with the rice, or cook them apart and combine them once cooked.

Make the tofu katsuDrain the tofu: Wrap the tofu with paper towel and place it on a plate. Weigh it down with a heavy object for 30 mins to drain the water.

Cut tofu horizontally (about 7 mm thick), then into 12 even pieces

Pour some soy sauce into a medium bowl and add the tofu. Cover each piece with the soy sauce and leave it to marinate for 30 mins.

Prepare three large plates, one with plain flour, another with chickpea brine and the third one with breadcrumbs. 

Coat each tofu square in flour, then in chickpea brine and finally in breadcrumbs. Make sure you press each side of the piece into the flour and breadcrumbs well to achieve an even coating on all sides.

In a non-stick frying pan, heat some sunflower oil on medium high heat.

Cook the tofu pieces on both sides until golden brown and crispy. Remove from the pan and wrap into paper towel to remove oil excess. 

Assemble the onigirazuPrepare the ingredients for the filling: cut the cucumber and mango in thin slices, grate the carrots, wash and dry the baby spinach.

On a smooth surface, place the nori sheet,  glossy side down.

Place about 2 tbsp of rice in the center, and form a square shape perpendicular to the edges. 

Add a thin layer of each ingredient and finish with another square of rice.

Fold the edges of the nori sheets to close the onigirazu. Wrap in plastic paper and place in the fridge for half an hour so that the seaweed becomes softer.
Fact about Tofu katsu onigirazu with kaniwa seeds
Tofu katsu onigirazu with kaniwa seeds is a Japanese dish that combines Western and Japanese cuisine. It's a sandwich-style rice ball containing tofu katsu, which is a vegan version of the traditional Japanese dish, tonkatsu (breaded and deep-fried pork cutlet).
The kaniwa seed is a grain similar to quinoa and is often used as a substitute for it. They are a good source of protein, fiber and minerals.
Tofu katsu onigirazu with kaniwa seeds is usually made by wrapping sushi rice and filling in a sheet of nori seaweed. Nori helps hold rice and filling together, making for a convenient and portable meal.
The dish is usually served with a dipping sauce, such as soy sauce or tonkatsu sauce, and can be enjoyed as a snack or snack.
Nutritional ingredients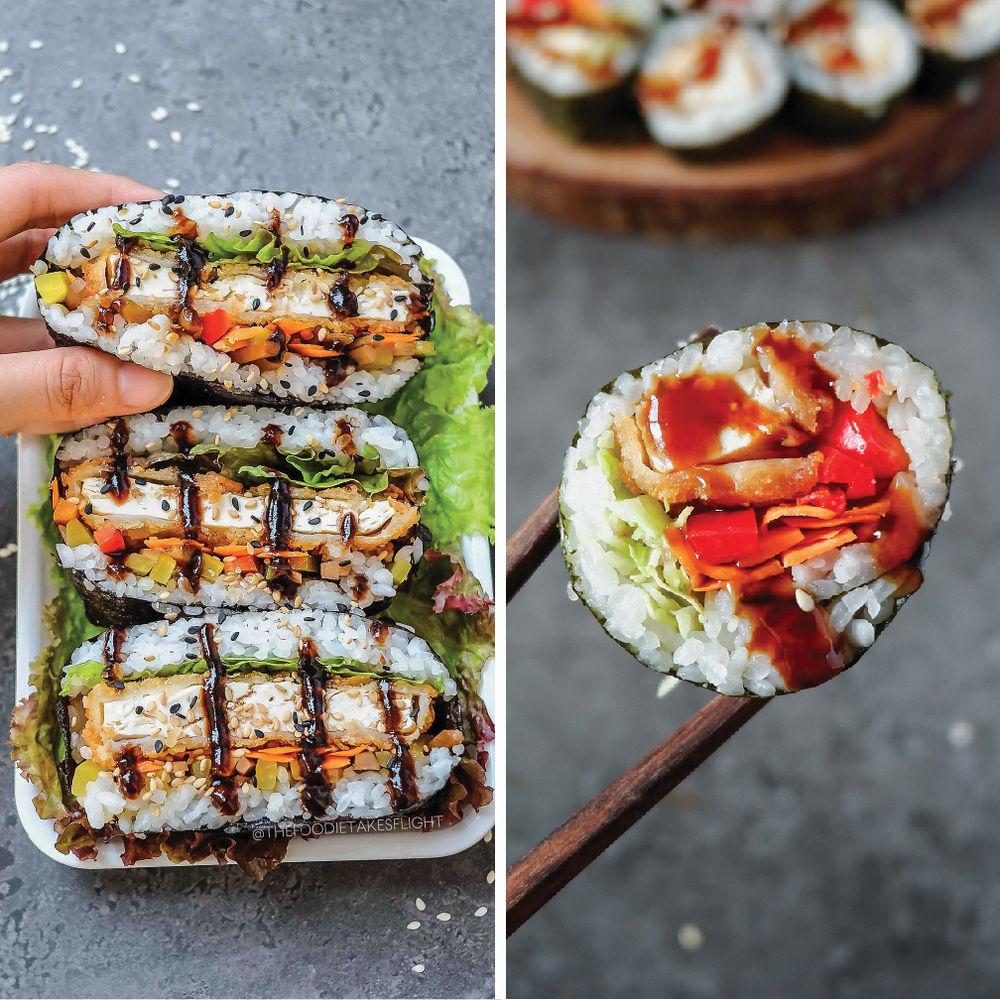 The nutritional ingredients of Tofu katsu onigirazu with kaniwa seeds may vary on the specific recipe and ingredients used, but here are some general nutritional facts:
Tofu: Tofu is a good source of protein, containing all nine essential amino acids that the body needs. It is also low in calories and fat, making it a healthy alternative to meat-based proteins. Tofu is also rich in minerals such as calcium, iron, and magnesium.
Rice: Sushi rice, which is commonly used to make onigirazu, is a good source of carbohydrates. It is also low in fat and contains small amounts of protein and fiber.
Nori: Nori seaweed is a good source of iodine, which is important for thyroid health. It is also rich in minerals such as calcium, iron, and magnesium.
Kaniwa seeds: Kaniwa seeds are similar to quinoa and are a good source of protein, fiber, and minerals such as iron, calcium, and magnesium. They are also gluten-free and low in fat.
Vegetables: Onigirazu may include various vegetables such as lettuce, cucumber, and avocado, which provides vitamins, minerals, fiber, and antioxidants.
Sauce: The sauce used to accompany the onigirazu can vary, but common options include soy sauce or tonkatsu sauce. These sauces are generally high in sodium and should be consumed in moderation.
Serving Suggestions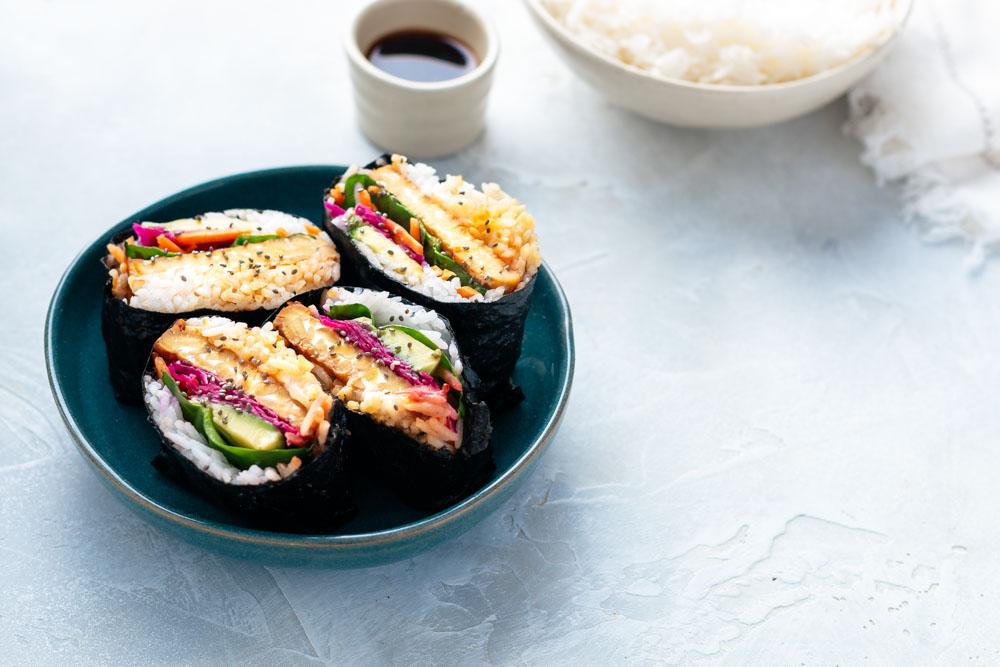 Here are some serving suggestions for Tofu katsu onigirazu with kaniwa seeds:
Bento box: Tofu katsu onigirazu with kaniwa seeds can make a great addition to a Japanese-style bento box. You can pack it alongside other Japanese dishes such as edamame, pickled vegetables, and tamagoyaki.
Picnic or lunchbox: Onigirazu is a convenient and portable meal, so it is an excellent option for picnics or packed lunches. You can wrap the onigirazu in parchment paper or plastic wrap to keep it fresh and easy to transport.
Appetizer: Cut the onigirazu into bite-sized pieces and serve them as an appetizer at a party or gathering. You can also serve the onigirazu alongside a dipping sauce like ponzu or teriyaki sauce.
Salad: You can use the ingredients from the onigirazu to make a salad. Simply chop the vegetables and tofu katsu into bite-sized pieces and mix them with cooked kaniwa seeds. You can also add a dressing of your choice, such as a ginger-miso dressing.
Breakfast: Onigirazu can also be a great breakfast option. Serve it with a side of miso soup and some sliced fruit for a balanced and satisfying morning meal.