This tart has an almond oat crust with a creamy vanilla & raspberry filling.  So delicious, light and healthy! This recipe is vegan, gluten free, soy free, refined sugar free and low in calories! Yes, my kinda dessert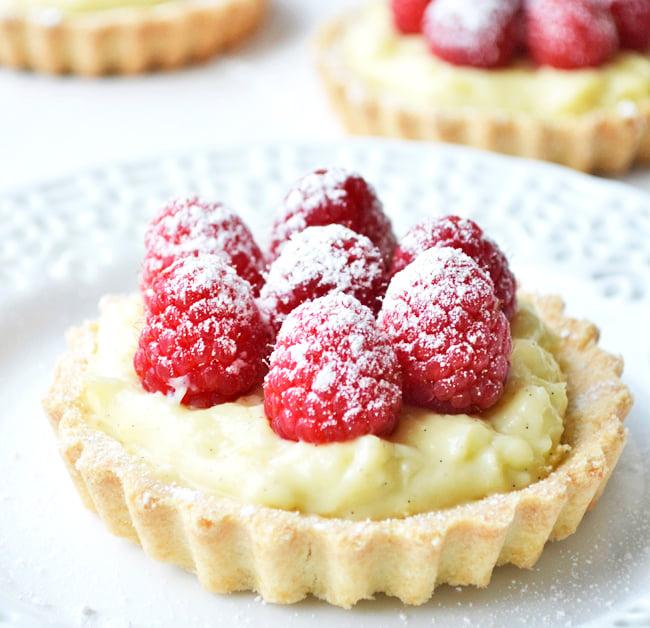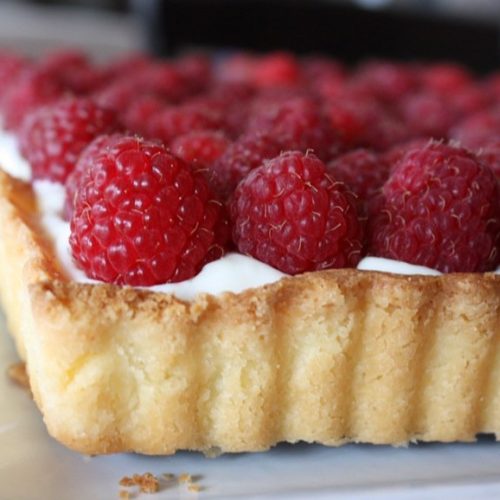 Vanilla Raspberry tart
Vegan, gluten free, refined sugar free, soy free
Ingredients
100 

grams 

For the base: almonds

120 

grams 

gluten free oats

1/4

tsp 

pink salt

50 

grams 

coconut oil, melted

1/2

tbsp 

maple syrup

5

dates, pitted

200 

grams 

For the filling: raspberries (fresh or frozen)

2

tbsp 

maple syrup

200 

grams 

coconut cream

200 

ml 

rice milk

60 

ml 

maple syrup

2

tsp 

vanilla bean paste

1/8

tsp 

pink salt

1/2

tsbp

corn starch

1

tsp 

agar powder
Instructions
Make the base: Preheat oven to 170C /330 F degrees.

In a food processor, add almonds, oats and salt and blend until finely ground.

Add the dates and melted coconut oil and blend until the mixture resembles wet sand.

Press the mixture firmly into a lightly greased tart pan with removable bottom. Poke some holes into the bottom of the crust with a fork.

Bake in the preheated oven for about 10-12 minutes.

Cool down completely and place in the freezer whilst making the filling.

Add the raspberries and 2 tbsp maple syrup to a medium size pot set over high heat.

Bring the mixture to a boil, once boiling use a fork to break down and mash the berries. Continue to cook for 10 minutes or until the jam has reduced and thickened by 1/3.

Remove from the heat and let cool.

Place the raspberry compote, coconut cream, rice milk, vanilla bean paste and maple syrup in a food processor and blend until completely smooth.

Place the mixture into a medium saucepan, add agar agar and corn starch and whisk until well combined.

Heat over medium-high and bring to a brief boil, stirring continuosly. Continue to cook until it starts to thicken.

Remove from heat, transfer to a bowl and let cool down a little before pouring the mixure over the base.

Let cool down completely before placing in the refrigerator to set for at least 3 hours.
Cooking tips Vanilla Raspberry tart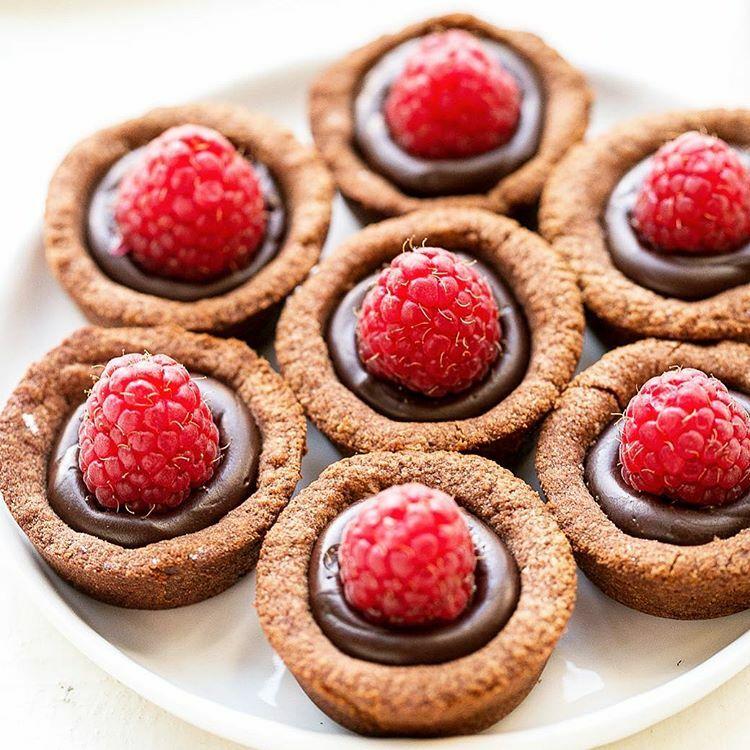 Use fresh raspberries: Fresh raspberries will add a burst of flavor and a nice texture to your tart. Be sure to pick ripe, plump raspberries and rinse them thoroughly before use.
Make your own tart shell: Making your own tart shell from scratch will give your tart a unique taste and texture. You can use a recipe for a basic sweet pastry dough or a shortbread crust, and then bake it until golden brown. This process, akin to crafting the perfect cookie base for vanilla ring cookies, ensures a delightful foundation for your tart.
Blind bake the tart shell: To prevent the tart shell from getting soggy, it's important to blind bake it before adding the filling. Simply line the shell with parchment paper or aluminum foil and fill it with baking weights or dried beans. Bake it for about 15-20 minutes, then remove the weights and bake it for another 5-10 minutes until golden brown.
Use high-quality vanilla extract: Vanilla is the star of this tart, so it's important to use a high-quality vanilla extract or vanilla bean. The vanilla will give the tart a rich, creamy flavor that complements the tartness of the raspberries.
Make a smooth pastry cream: The pastry cream is the key to a delicious Vanilla Raspberry tart. Be sure to follow the recipe carefully and whisk the cream until it's smooth and silky. You can also strain the cream through a fine-mesh sieve to remove any lumps or bumps.
Layer the raspberries on top of the pastry cream: To create a beautiful, layered effect, place the raspberries on top of the pastry cream in a circular pattern. You can also sprinkle some powdered sugar or chopped nuts on top for added flavor and texture.
Chill the tart before serving: Once the tart is assembled, chill it in the refrigerator for at least an hour before serving. This will help the pastry cream set and make it easier to slice and serve.
Serving Suggestions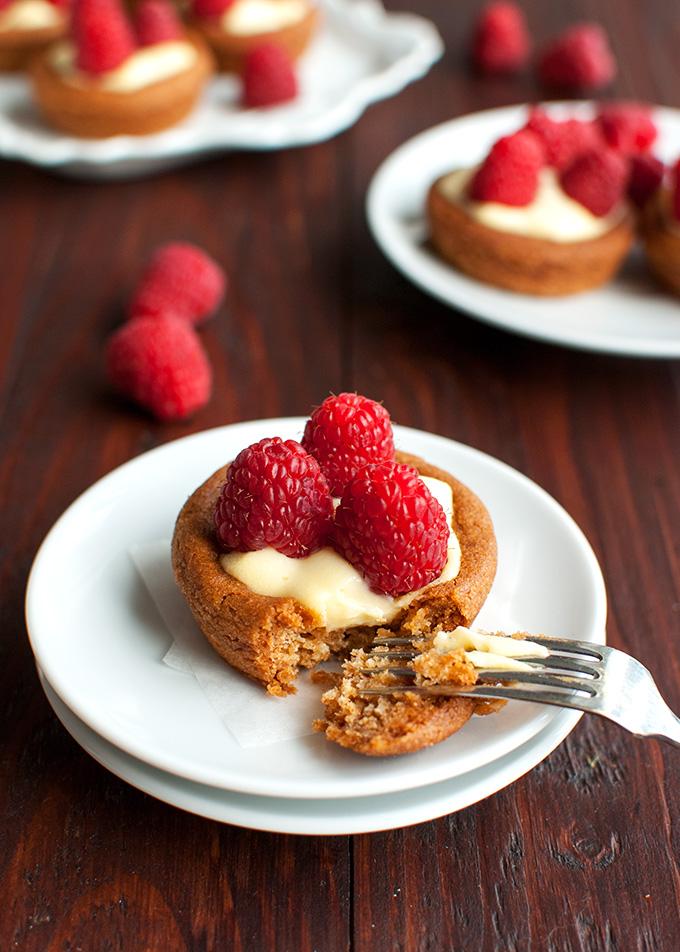 Here are some serving suggestions for your delicious Vanilla Raspberry tart:
Serve it with a dollop of whipped cream: A dollop of whipped cream on top of each slice of tart is a classic serving suggestion that complements the sweetness of the tart, similar to how a dollop of whipped cream enhances the enjoyment of Oreo vanilla cookies.
Drizzle it with raspberry coulis: Raspberry coulis is a sweet sauce made from fresh raspberries that is perfect for drizzling over the top of the tart. It adds an extra burst of raspberry flavor to each bite.
Top it with fresh raspberries: Garnish the top of the tart with a handful of fresh raspberries for a beautiful presentation and an extra pop of flavor.
Serve it with vanilla ice cream: Vanilla ice cream is the perfect acccompaniment to this tart. The creamy vanilla flavor pairs well with the tartness of the raspberries.
Pair it with a cup of coffee or tea: Enjoy a slice of tart with a hot cup of coffee or tea for a cozy and comforting dessert experience.
Add some chocolate shavings: For an extra touch of decadence, sprinkle some chocolate shavings over the top of the tart before serving. The chocolate will pair well with the vanilla and raspberry flavors.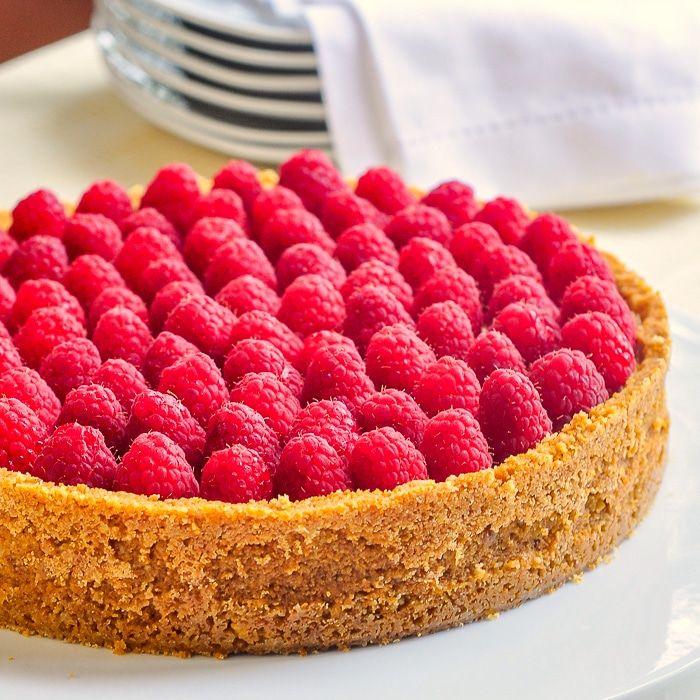 In conclusion, a Vanilla Raspberry tart is a delightful dessert that combines the creamy sweetness of vanilla with the tartness of fresh raspberries.
With a homemade tart shell, smooth pastry cream, and a beautiful arrangement of raspberries on top, this dessert is sure to impress your guests and satisfy your sweet tooth. Whether served with whipped cream, raspberry coulis, or vanilla ice cream, it's a perfect finish to any meal. Enjoy!