Store-bought cakes are always high in sugar, in dairies, in saturated fats and in calories. That's the reason why even if I'm invited by someone to celebrate my own birthday, I bring the cake. I know, it's weird.So this is the recipe I created for my birthday this year!
Blackberry Chai layer cake is made of three layers of soft chai sponge cake frosted with blackberry jam and vegan butter cream. Since I wanted the cake to be tall and impressive, I made thick layers of sponge cake. Of course, you can reduce the amount of ingredients to get thinner layers!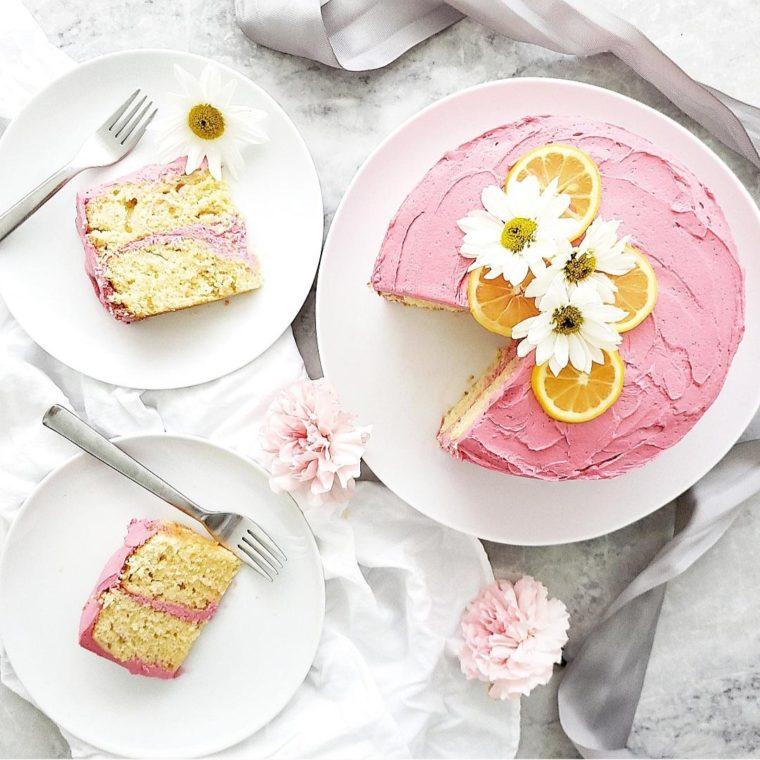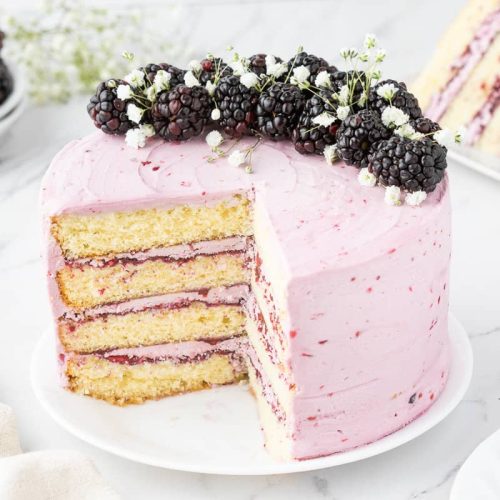 Blackberry Chai layer cake
vegan, refined sugar free, soy free, dairy free
Ingredients
Ingredients for the chai sponge cake

420 grams all purpose flour 3 tsp baking powder1 tsp baking soda 1 Tbsp ground cinnamon1 1/2 tsp ground cardamom 1 tsp gound ginger 1/2 tsp ground nutmeg 1/2 tsp ground cloves 1/2 tsp salt 380 ml unsweetened almond milk 1 tsp vanilla bean paste 2 tsp apple cider vinegar 270 grams golden caster sugar 130 grams coconut oil or vegan butter, softened

Ingredients for the blackberry jam

2 cups blackberries (fresh or frozen) 1 Tbsp lemon juice 2 Tbsp agave or maple syrup

Ingredients for the blackberry jam

2 cups blackberries (fresh or frozen) 1 Tbsp lemon juice 2 Tbsp agave or maple syrup
Instructions
Make the chai sponge cakeGrease and flour three 15cm/6-inch round cake pans.

In a small bowl, pour in the milk and apple cider vinegar. Set aside for 10 minutes.

In a medium bowl, whisk together the flour, cinnamon, cardamom, baking powder, baking soda, ginger, nutmeg, cloves, and salt.

In a bowl of a food processor, add sugar and softened coconut oil. Beat until fluffy, 1 minute. Add the milk and vanilla; beat on low speed until well-incorporated.

Pour the dry ingredients into the wet ingredients and fold gently until just combined. Do not over-mix. Divide the batter among the 3 prepared cake pans. 

Bake at 180C degrees for 25 minutes or until a skewer comes out clean. The sponges will be lightly browned and beginning to pull away from the sides.

Remove and cool 10 minutes before turning the cakes onto a wire rack to cool completely.

Make the blackberry jam Add the blackberries, agave and lemon juice to a medium size pot set over high heat. 

Bring the mixture to a boil, once boiling use a potato masher or fork to break down and mash the berries.

Continue to cook for 10 minutes or until the jam has reduced and thickened by 1/3. Remove from the heat and let cool.

Make the buttercreamIn a food processor, combine all the ingredients and slowly beat until fluffy. Don't over mix.

Assemble the cakePlace one cake layer on a serving plate. Spread 1/3  of the buttercream over the cake and layer with about 2 tbsp of jam. Repeat with the remaining cake layers. 

Be careful not to over fill your layers or the cake will be hard to slice. 

Lightly frost the outside of the cake. Chill 30 minutes. 

Serve or store in the fridge for up to 3 days.
Fact about Blackberry Chai layer cake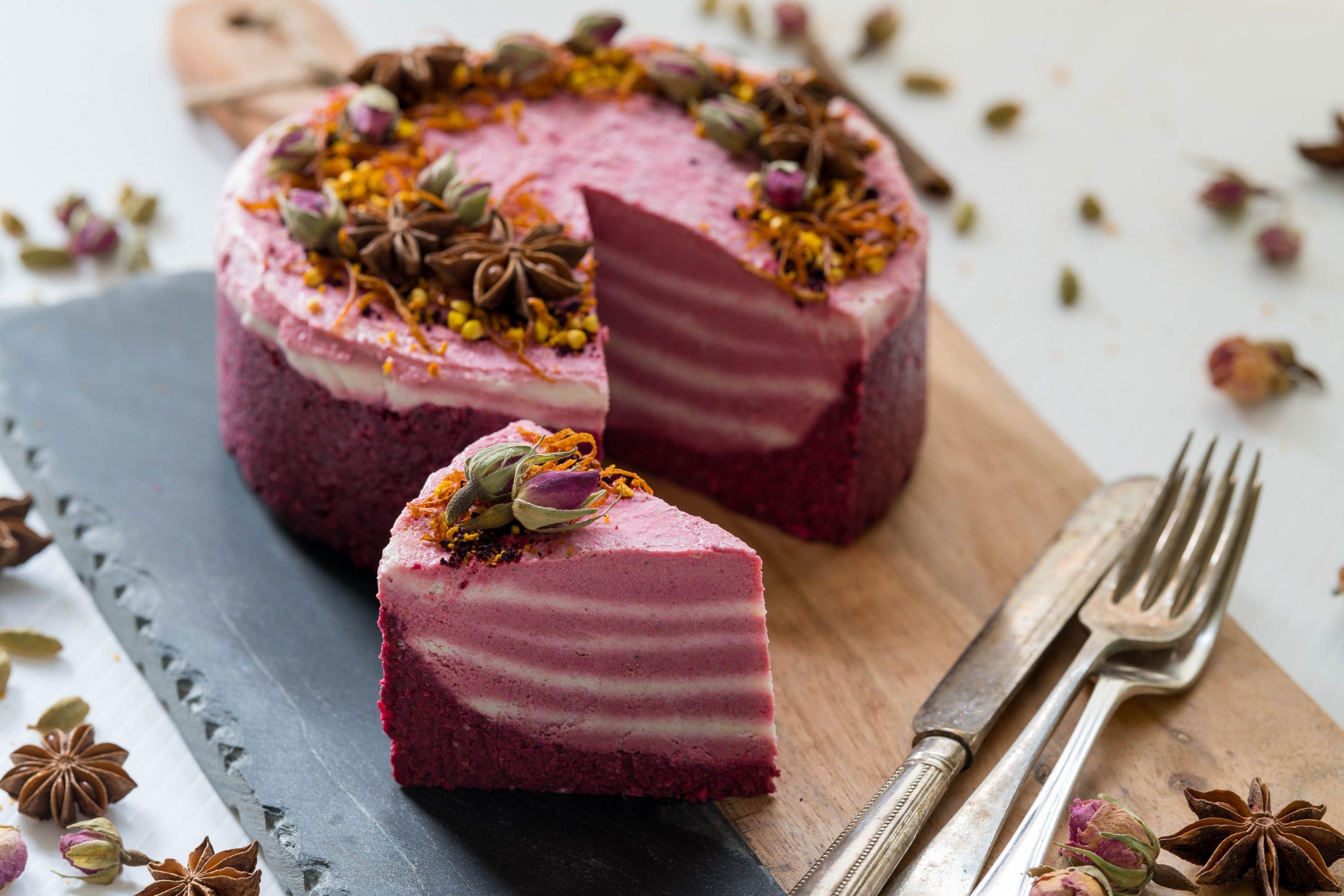 Blackberry Chai layer cake is a delicious and unique dessert that combines the fruity sweetness of blackberries with the warm and spicy flavors of chai tea. This cake is made up of layers of moist and fluffy cake that are filled with a creamy chai-spiced frosting and fresh blackberries.
Chai tea is a traditional Indian tea that is made by steeping black tea with a blend of spices such as cinnamon, cardamom, ginger, and cloves. This tea adds a warm and spicy flavor to the cake and pairs well with the sweet and tangy blackberries.
Blackberries are a good source of fiber, vitamins, and antioxidants, while spices like cinnamon and ginger have been shown to have anti-inflammatory properties and aid in digestion.
The cake can be made with a variety of flours, such as all-purpose flour, almond flour, or whole wheat flour, on your dietary preferences and needs. It can also be made gluten-free by using gluten-free flour.
Blackberry Chai layer cake is a perfect dessert for fall and winter, as the warm spices and fruity flavors are comforting and festive. It makes a great addition to any special occasion or holiday gathering, and is sure to impress your guests.
Nutritional ingredients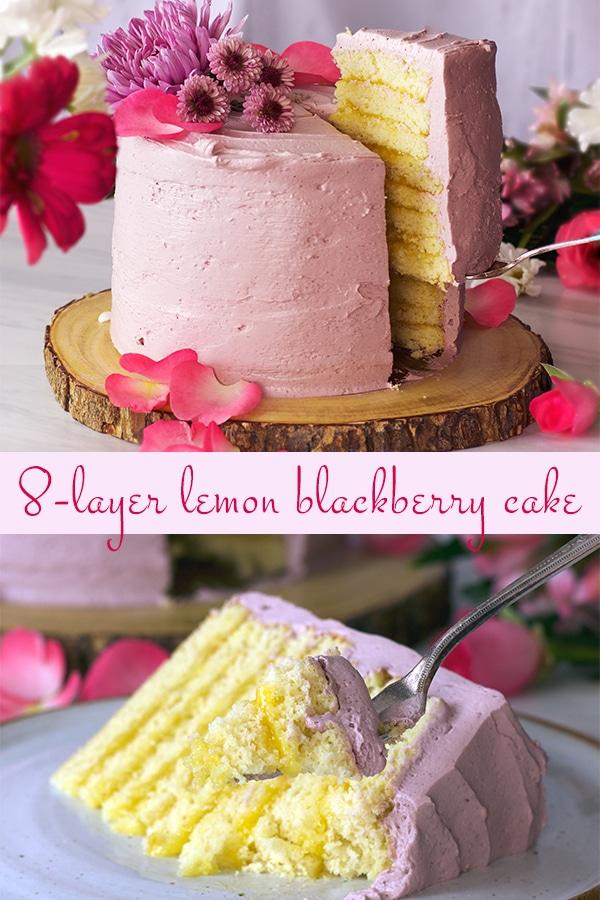 The nutritional ingredients of Blackberry Chai layer cake may vary on the recipe and the specific ingredients used. However, here are some general nutritional facts about the ingredients commonly used in this cake:
Blackberries: Blackberries are a good source of dietary fiber, vitamin C, vitamin K, and antioxidants. A cup of blackberries (140g) contains approximately 62 calories, 1g of protein, 15g of carbohydrates, 8g of fiber, and 0.7g of fat.
Flour: The type of flour used in the cake can vary, but most commonly used flours are all-purpose flour, almond flour, or wheat flour. A cup of all-purpose flour (120g) contains approximately 455 calories, 13g of protein, 95g of carbohydrates, 3g of fiber, and 1g of fat.
Sugar: Sugar is used to sweeten the cake and can contribute a significant amount of calories and carbohydrates. A cup of granulated sugar (200g) contains approximately 774 calories, 0g of protein, 200g of carbohydrates, and 0g of fat.
Eggs: Eggs are used to bind the ingredients together and add moisture to the cake. One large egg (50g) contains approximately 70 calories, 6g of protein, 1g of carbohydrates, and 5g of fat.
Butter: Butter is used to add richness and moisture to the cake. One tablespoon of butter (14g) contains approximately 100 calories, 0.1g of protein, 0g of carbohydrates, and 11g of fat.
Overall, Blackberry Chai layer cake is a delicious dessert that can be enjoyed in moderation as part of a balanced diet.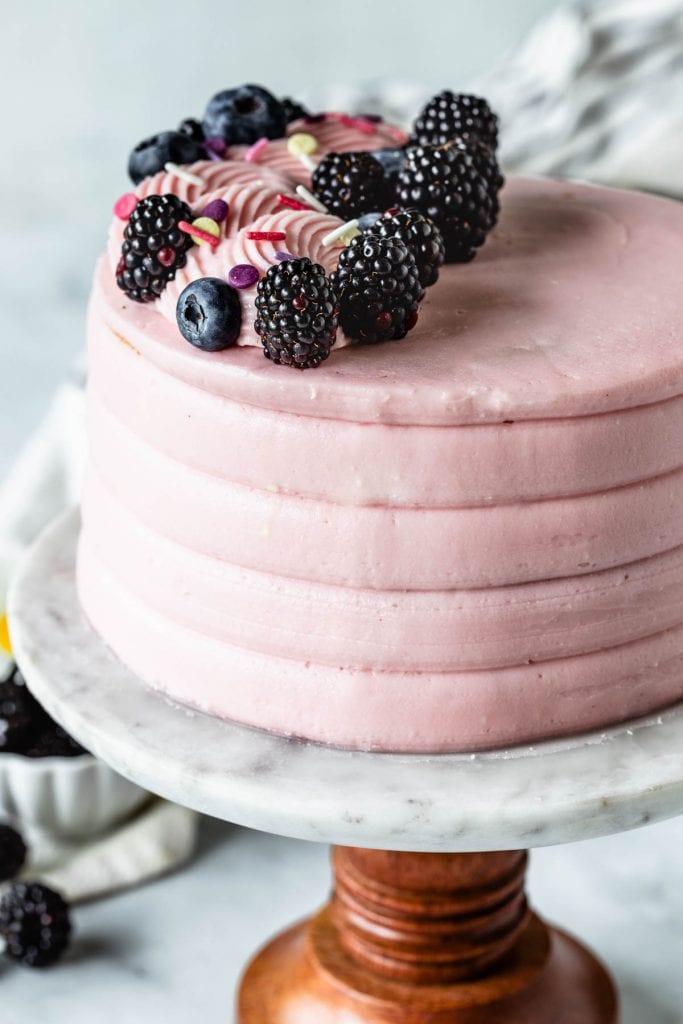 In conclusion, Blackberry Chai layer cake is a flavorful and unique dessert that combines the sweet and tangy taste of blackberries with warm and spicy chai tea flavors.
This cake is not only delicious but also nutritious, as it contains ingredients like blackberries and spices that are rich in and other beneficial nutrients. Whether you're looking for a festive and comforting dessert for the holidays or just a special treat for a dinner party, Blackberry Chai layer cake is definitely worth trying.
By experimenting with different flours and sweeteners, you can customize the cake to your dietary preferences and make a dessert that everyone will love.