Blueberry and chocolate tart with hazelnut crust. Isn't this a match made in heaven? And paired with blueberries it's even better!This tart is vegan, gluten free and refined sugar free. The cashew filling is so rich and creamy and it goes so well with the crunchy crust!
It's very important to soak the cashews to get a perfectly smooth texture, so don't skip this step! If you forgot to soak the cashews overnight, you can soak them in boiling hot water for 1 hour.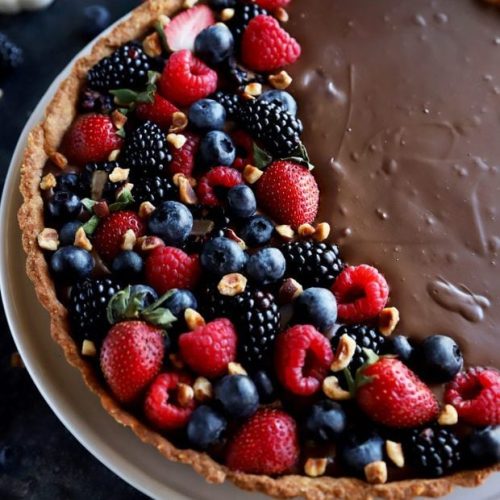 Blueberry and chocolate tart with hazelnut crust
vegan, gluten free, refined sugar free, soy free
Ingredients
Ingredients for the base

100 grams hazelnuts 120 grams gluten free oats 5 grams raw cacao powder 1/4 tsp pink salt 50 grams coconut oil, melted5 Medjooles dates, pitted and soaked

Ingredients for the blueberry layer

100 grams cashews soaked overnight 120 grams fresh blueberries 140 grams coconut cream 40 grams coconut oil melted 40 grams maple syrup or agave

Ingredients for the chocolate layer

150 grams cashews, soaked overnight 100 grams coconut cream 30 grams coconut oil, melted 60 ml maple syrup 10 grams raw cacao powder 1 tsp vanilla bean paste 1/8 tsp pink salt
Instructions
Make the basePreheat oven to 170C degrees.

In a food processor, add hazelnuts, oats, cacao powder and salt and blend until finely ground.

Add the dates and melted coconut oil and blend until the mixture resembles wet sand.

Press the mixture firmly into a lightly greased tart pan with removable bottom. Poke some holes into the bottom of the crust with a fork.

Bake in the preheated oven for about 10-12 minutes.

Cool down completely and place in the freezer whilst making the filling.

Make the blueberry layerDrain and rinse the cashews.

Place them in a food processor together with the rest of the ingredients and blend until completely smooth.

Pour over the blueberry layer.

Place in the freezer to set for at least 2 hours.

Remove from freezer a couple of hours before eating. Garnish with fresh blueberries, edible flowers, cacao nibs and coconut chips.

You can keep the tart in a closed container for up to 5 days in the refrigerator.
Fact about Blueberry and chocolate tart with hazelnut crust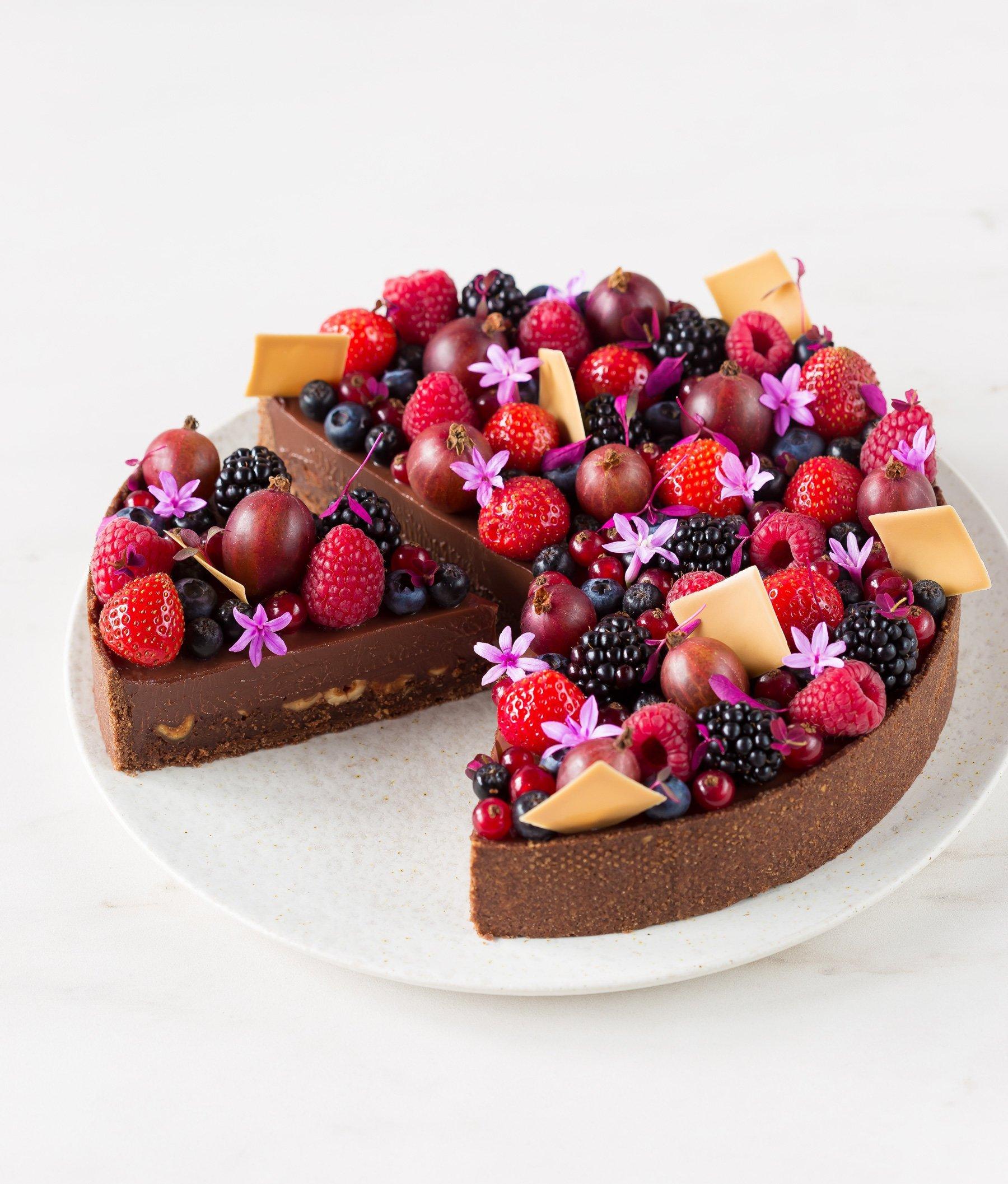 Blueberry and chocolate tart with hazelnut crust is a delicious and unique dessert that combines the sweet and tart flavors of blueberries with the rich taste of chocolate and the nutty crunch of hazelnuts.
The crust of this tart is made from ground hazelnuts, flour, butter, and sugar, which is then baked until golden brown and crispy. The filling is a mixture of fresh blueberries and melted chocolate, which is poured into the crust and chilled until firm.
Blueberries are a good source of antioxidants and vitamins, while hazelnuts are high in healthy fats and fiber. Chocolate, especially dark chocolate, is also rich in antioxidants and flavonoids that have been shown to have health benefits.
This tart is not only delicious but also a nutritious dessert option that can be enjoyed on special occasions or as a sweet treat after a meal.
Cooking tips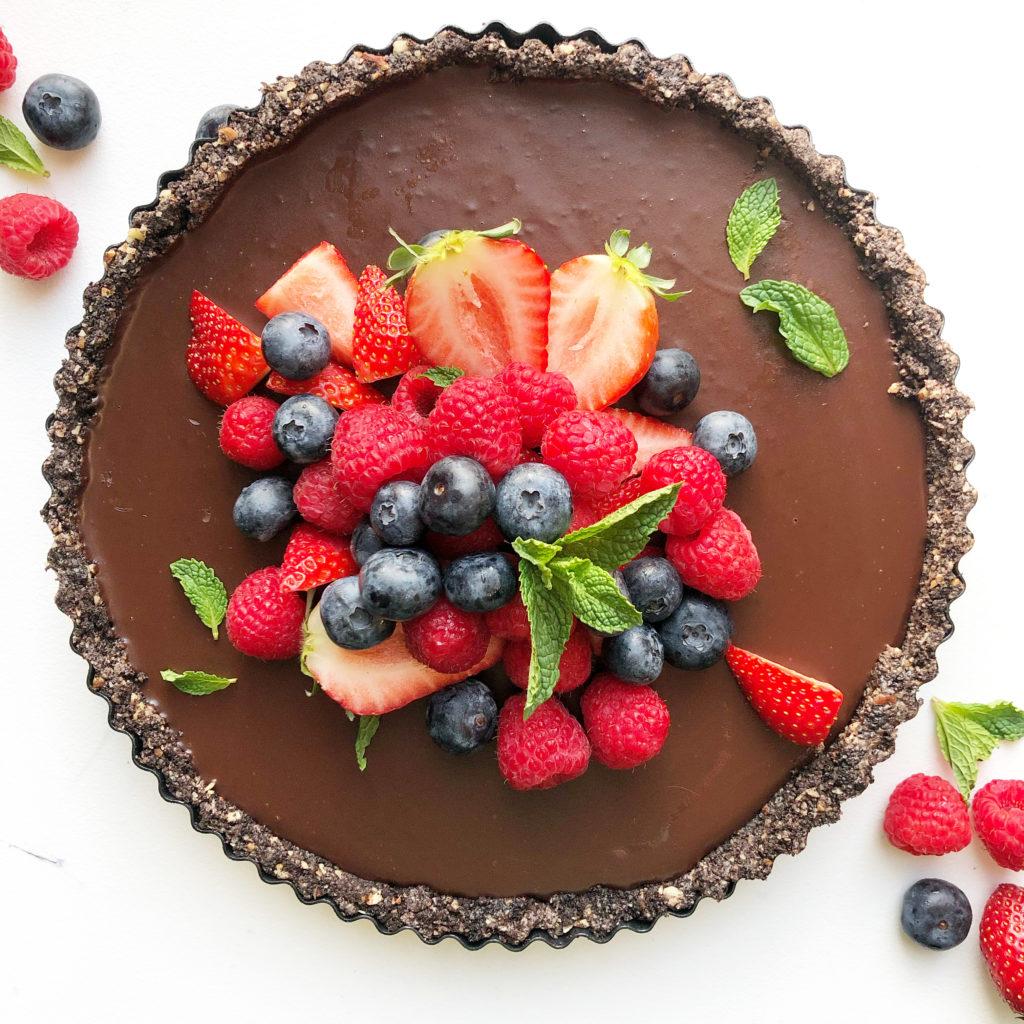 Here are some cooking tips for making a delicious blueberry and chocolate tart with hazelnut crust:
Toast the hazelnuts: Toasting the hazelnuts before grinding them will enhance their nutty flavor and give the crust a nice crunch. Simply place the hazelnuts on a baking sheet and toast them in the oven for 10-12 minutes at 350°F (175°C), then let them cool before grinding.
Use a food processor to make the crust: A food processor makes it easy to grind the hazelnuts and mix the crust ingredients together. Pulse the hazelnuts until they are finely ground, then add the flour, butter, sugar, and salt and pulse until the mixture comes together.
Press the crust firmly into the pan: Use the back of a spoon or a flat-bottomed measuring cup to press the crust mixture firmly into the bottom and sides of the tart pan. This will help ensure that the crust is even and won't crumble when slicing the tart.
Melt the chocolate slowly: Melt the chocolate in a double boiler or in the microwave on low power, stirring frequently to prevent burning. Be careful not to overheat the chocolate, as it can seize and become grainy.
Chill the tart before slicing: Chill the tart in the fridge for at least 2 hours or overnight before slicing. This will help the filling set and make it easier to slice the tart cleanly.
By following these cooking tips, you can make a delicious and impressive blueberry and chocolate tart with hazelnut crust that is sure to wow your guests.
Serving Suggestions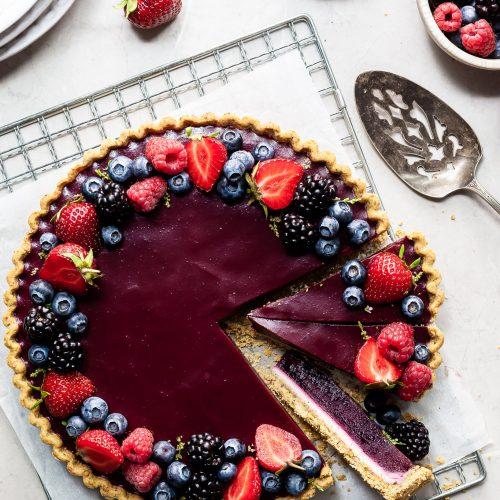 Here are some serving suggestions for your blueberry and chocolate tart with hazelnut crust:
Whipped cream: Top your tart with a dollop of whipped cream for a classic and simple topping that complements the flavors of the blueberries and chocolate.
Fresh blueberries: Arrange a handful of fresh blueberries on top of the tart for a pop of color and added sweetness.
Chocolate shavings: Use a vegetable peeler to shave thin curls of chocolate over the top of the tart for an elegant and decadent finish.
Hazelnut praline: Make a hazelnut praline by caramelizing sugar and hazelnuts in a skillet, then spreading the mixture out on a piece of parchment paper to cool and harden. Once hardened, break the praline into small pieces and sprinkle them over the top of the tart.
Vanilla ice cream: Serve a scoop of vanilla ice cream alongside a slice of the tart for a delicious and indulgent dessert.
By trying out these serving suggestions, you can enhance the flavors of your blueberry and chocolate tart with hazelnut crust and create a beautiful and mouth-watering dessert that everyone will enjoy.