When life gives you lemons, throw them back and ask for chocolate! Or make this delicious lemon custard pie.
The Lemon Custard Pie filling is creamy, sweet and tangy.. you're not gonna miss egg yolks and butter!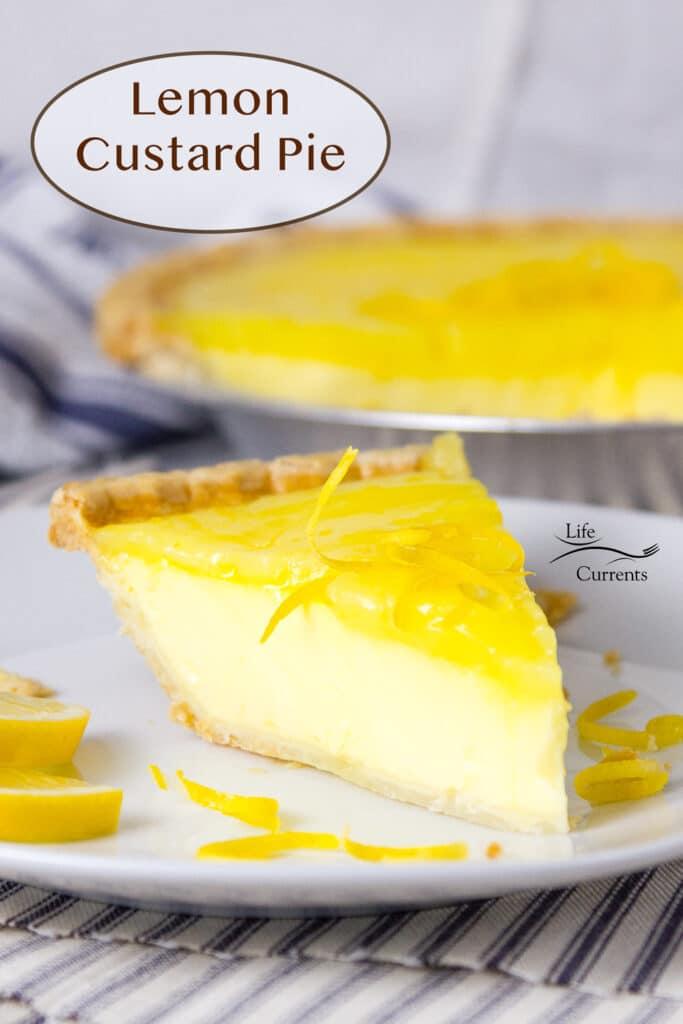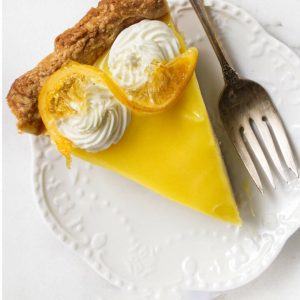 Lemon custard pie
Vegan, gluten free, refined sugar free, soy free, easy
Ingredients
175 

grams 

almond flour

3

dates, pitted

1

Tbsp 

coconut oil, melted

1

Tbsp 

lemon juice

1/2

tsp  

salt

350 

grams 

full fat coconut cream

150 

grams 

maple syrup

35

grams 

coconut oil, melted

2

arge lemons, zest and juice

2

tsp 

vanilla bean paste

1

tsp 

agar agar powder

1/2

tsp 

turmeric powder
Instructions
Preheat oven to 170°C degrees.

Place the almond flour, dates, coconut oil, lemon juice and salt into a food processor. Pulse several times until the mixture resembles wet sand. 

Press the crust mixture firmly into a lightly greased tart pan. Poke some holes into the bottom of the crust with a fork. Bake for 8-10 minutes until fragrant. Remove and cool completely.

Place all the ingredients in a small saucepan, and whisk to combine. Heat on medium heat and bring to a brief boil. Reduce heat and simmer for a couple of minutes or until it starts to thicken. 

Remove from heat and pour into the prepared base. Let it cool down to room temperature, then place in the refrigerator to set for at least 2 hours.
Nutritional ingredients of Lemon Custard Pie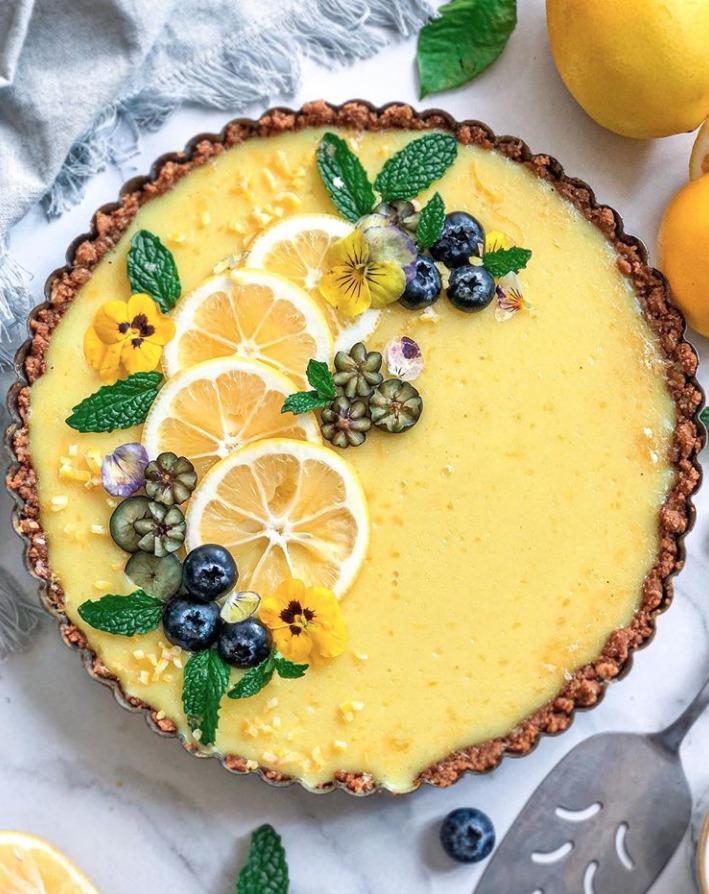 Here are the nutritional ingredients of a typical Lemon Custard Pie, per serving (based on a recipe that serves 8):
Calories: 402

Total Fat: 20g

Saturated Fat: 11g

Cholesterol: 189mg

Sodium: 209mg

Total Carbohydrates: 48g

Dietary Fiber: 0g

Sugars: 33g

Protein: 8g
Lemon custard pie is a rich and indulgent dessert that is high in calories and fat due to the use of butter, cream, and sugar in the custard filling and pastry crust. However, it also contains some beneficial nutrients from the eggs, including protein and vitamins A and D. It's important to enjoy this dessert in moderation as part of a balanced diet.
Cooking tips Lemon Custard Pie
Here are some cooking tips to help you make a perfect Lemon Custard Pie:
Use fresh lemons: Fresh lemons will give your pie a bright, tangy flavor that can't be matched by bottled lemon juice. Make sure to zest the lemons before juicing them; the zest will add extra lemon flavor to the custard.

Blind bake the crust: To prevent a soggy crust, blind bake the pastry crust before adding the custard filling. Line the pastry with parchment paper and fill with pie weights or dried beans, then bake until lightly golden.

Use a water bath: To ensure even cooking and prevent cracking, bake the custard in a water bath. Place the pie dish in a larger baking dish and fill the larger dish with hot water until it comes halfway up the sides of the pie dish.

Don't overmix the custard: Overmixing the custard can cause it to become too thick and curdled. Mix the custard ingredients until just combined, then strain the mixture through a fine-mesh sieve to remove any lumps.

Chill the pie before serving: Once the pie is baked, let it cool to room temperature, then chill it in the refrigerator for at least 2 hours before serving. This will allow the custard to set and make it easier to slice and serve.
By following these cooking tips, you can create a delicious and impressive Lemon Custard Pie that will be the highlight of any dessert table.
Serving Suggestions
Here are some serving suggestions for Lemon Custard Pie:
Whipped cream: Top each slice of Lemon Custard Pie with a dollop of whipped cream for a light and airy contrast to the rich and creamy custard.

Berries: Serve the pie with a side of fresh berries such as raspberries, blueberries, or strawberries. The tartness of the berries will pair well with the sweetness of the custard.

Mint leaves: Garnish each slice of pie with a few fresh mint leaves for a pop of color and a refreshing flavor.

Lemon zest: Sprinkle a little extra lemon zest over the top of the pie for a burst of citrus flavor.

Vanilla ice cream: Serve warm slices of Lemon Custard Pie with a scoop of vanilla ice cream for a delicious and decadent dessert.

Tea or coffee: Pair a slice of Lemon Custard Pie with a cup of hot tea or coffee for a cozy and comforting dessert experience.
These serving suggestions will help you enhance the flavor and presentation of your Lemon Custard Pie and make it an unforgettable dessert for any occasion.
In conclusion, Lemon Custard Pie is a delicious and refreshing dessert that is perfect for any occasion. With its rich and creamy custard filling infused with tangy lemon flavor and buttery pastry crust, this pie is a true delight for the taste buds.
Whether you're serving it at a dinner party or enjoying it as a sweet treat at home, Lemon Custard Pie is a dessert that will leave you and your guests satisfied and craving more.
Follow the cooking tips and serving suggestions to make the perfect Lemon Custard Pie that will impress everyone.